Bigfork track teams take 6th, 10th in state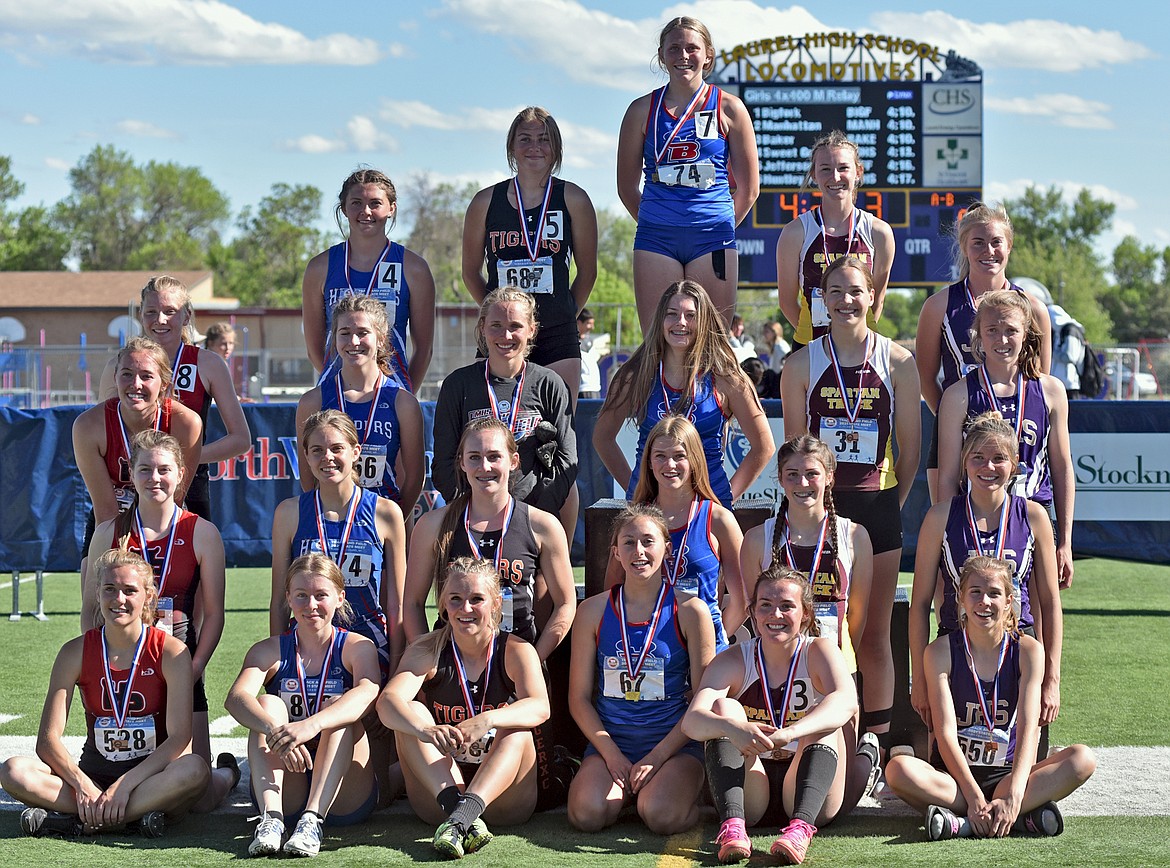 The Valkyries 4X400 relay team of Audrey Buenz, Chloe Raats, Coralyn Shillam and Afton Lambrecht receive their gold medals at the state track meet in Laurel Saturday. Whitney England/For the Eagle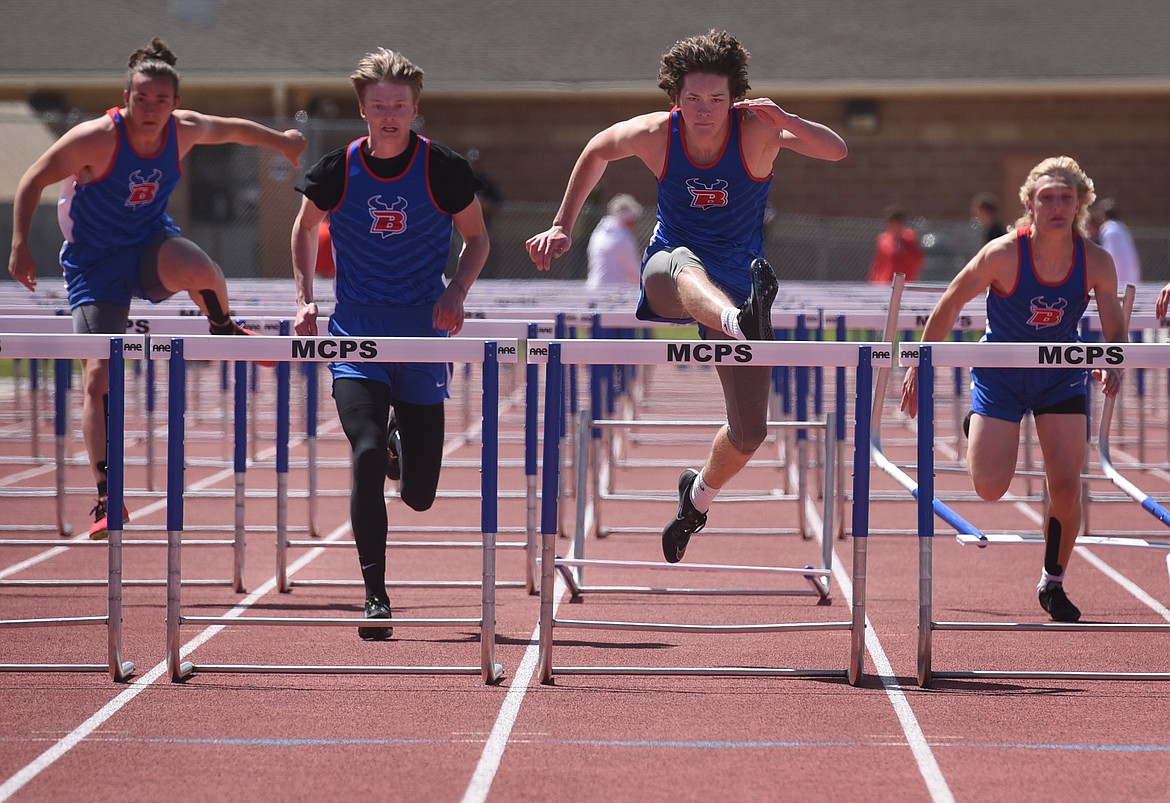 Isak Epperly clears the final hurdle on his way to winning the 110 hurdles at the Western B Divisional Meet in Missoula Saturday. Wyatt Duke (left) was third, Jordan Betts (far left) was third and Wyatt Johnson (right) took fifth. Jeremy Weber/Bigfork Eagle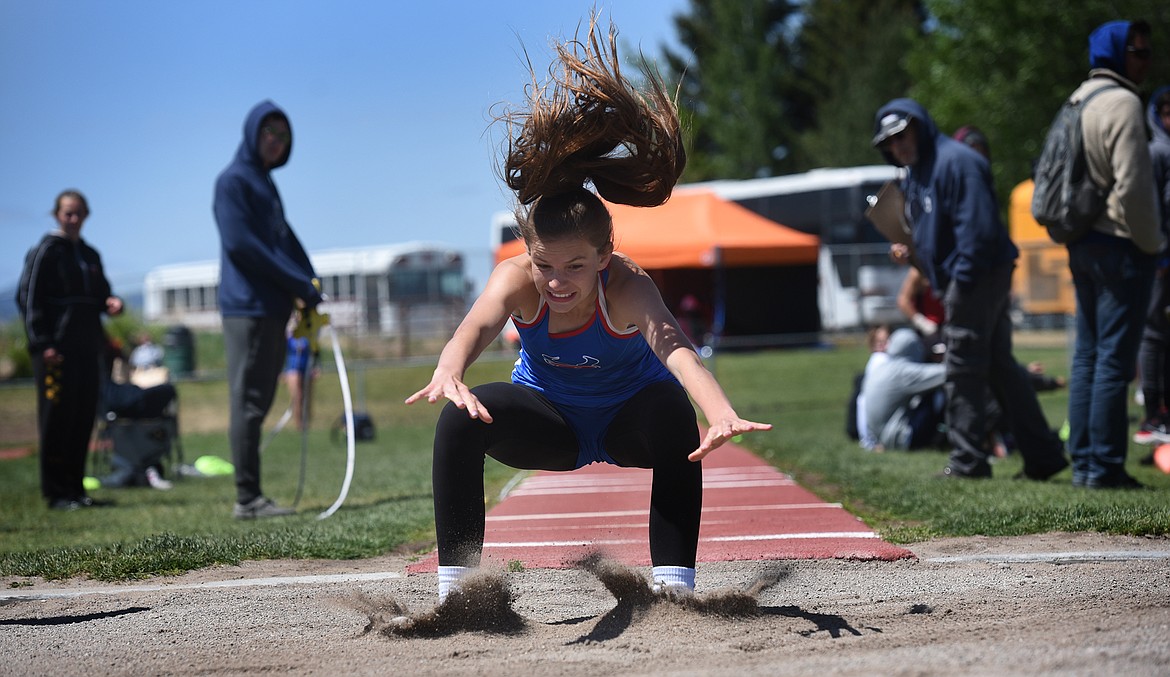 Ellie Jordt finished fourth in the triple jump Saturday with a leap of 29 feet, 10.5 inches. Jeremy Weber/Bigfork Eagle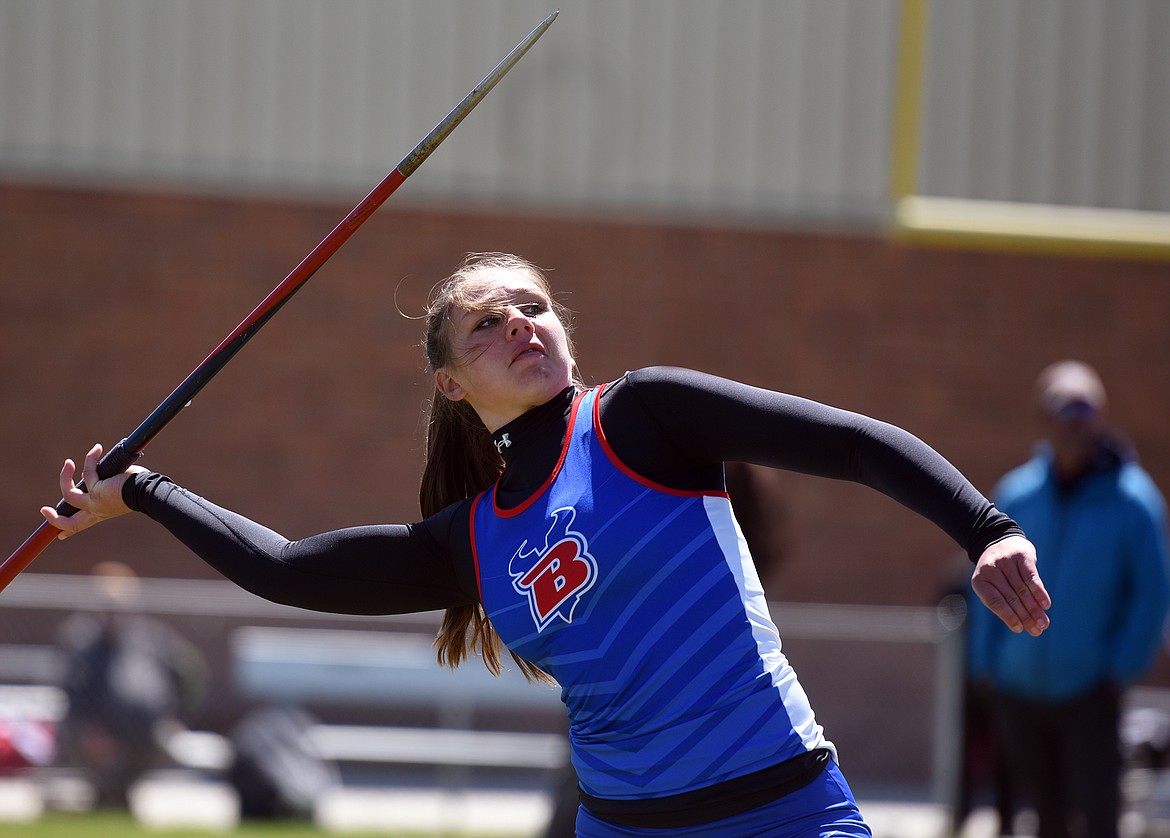 Madison Chappuis was second in the javelin at the Western B Divisional track meet in Missoula Saturday with a toss of 102 feet, 1 inch. Jeremy Weber/Bigfork Eagle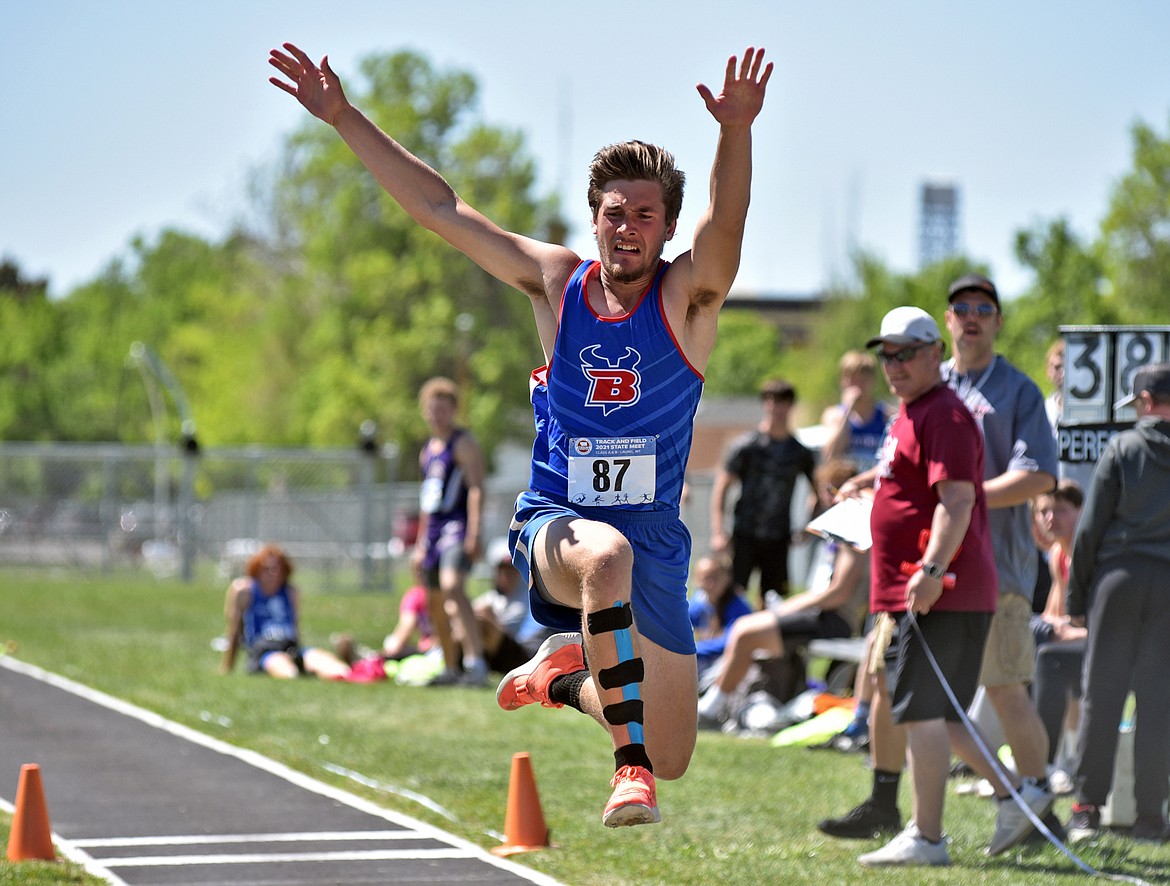 Cormac Benn leapt 39 feet, 5.75 inches to finish 11th in the triple jump at the state track meet in Laurel Saturday. Whitney England/For the Eagle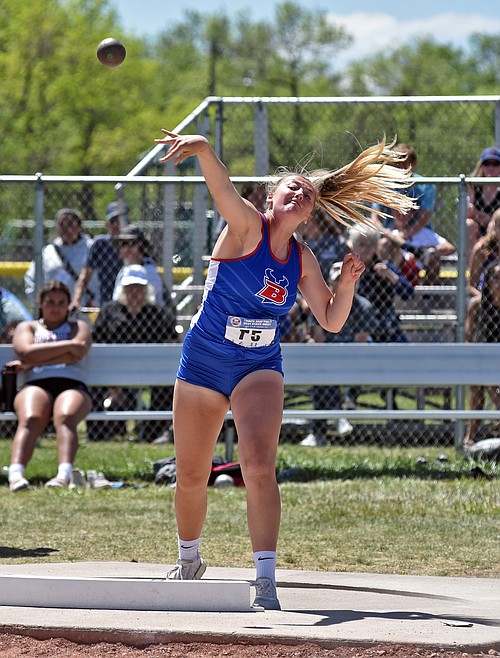 Scout Nadeau threw a personal best 37 feet, 1.25 inches to finish fourth in the shot put at the state track meet in Laurel Saturday. Whitney England/For the Eagle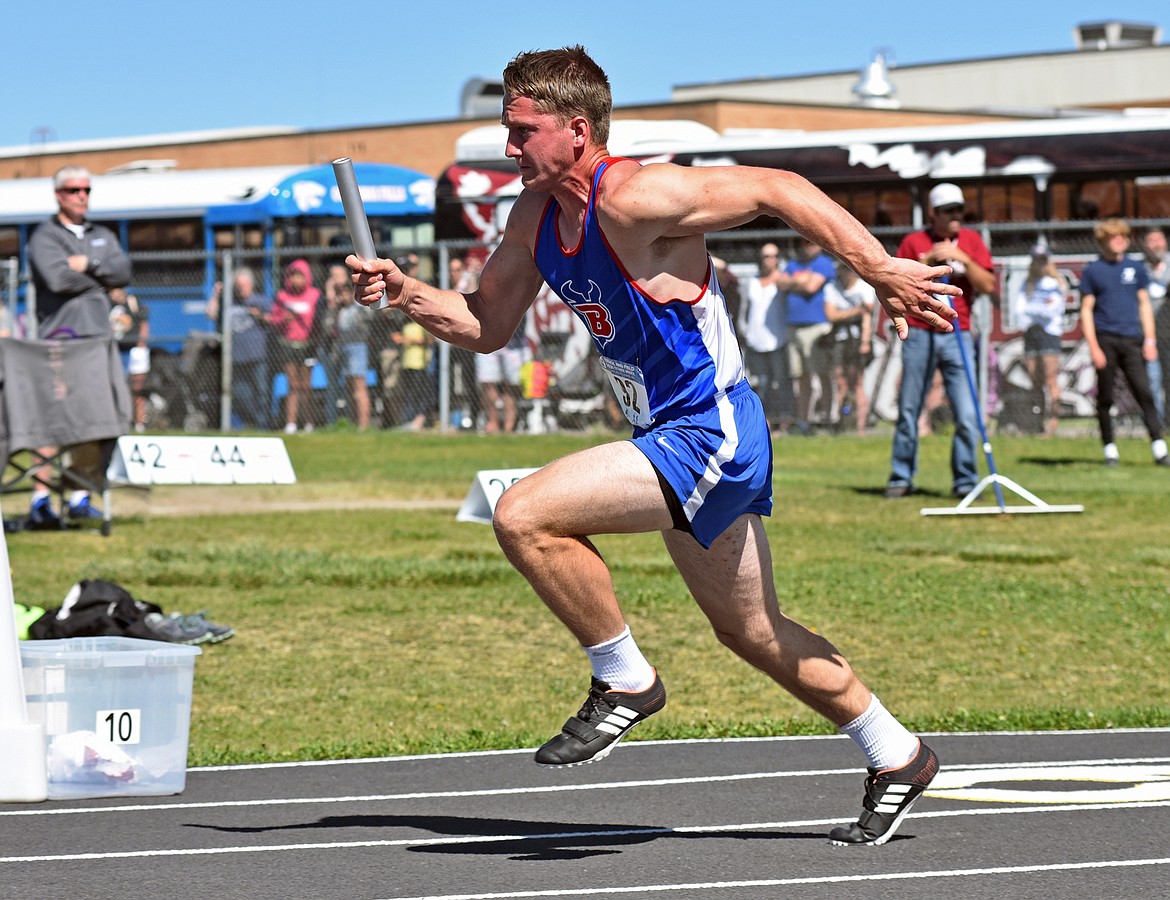 Joseph Farrier runs the first leg of the 4X100 relay for the Vikings at the state track meet in Laurel Saturday. Whitney England/For the Eagle
Afton Lambrecht anchors the 4X400 relay team for the Valkyries at the state track meet in Laurel Saturday. Bigfork won the race with a season-best time of 4:10.11. Whitney England/For the Eagle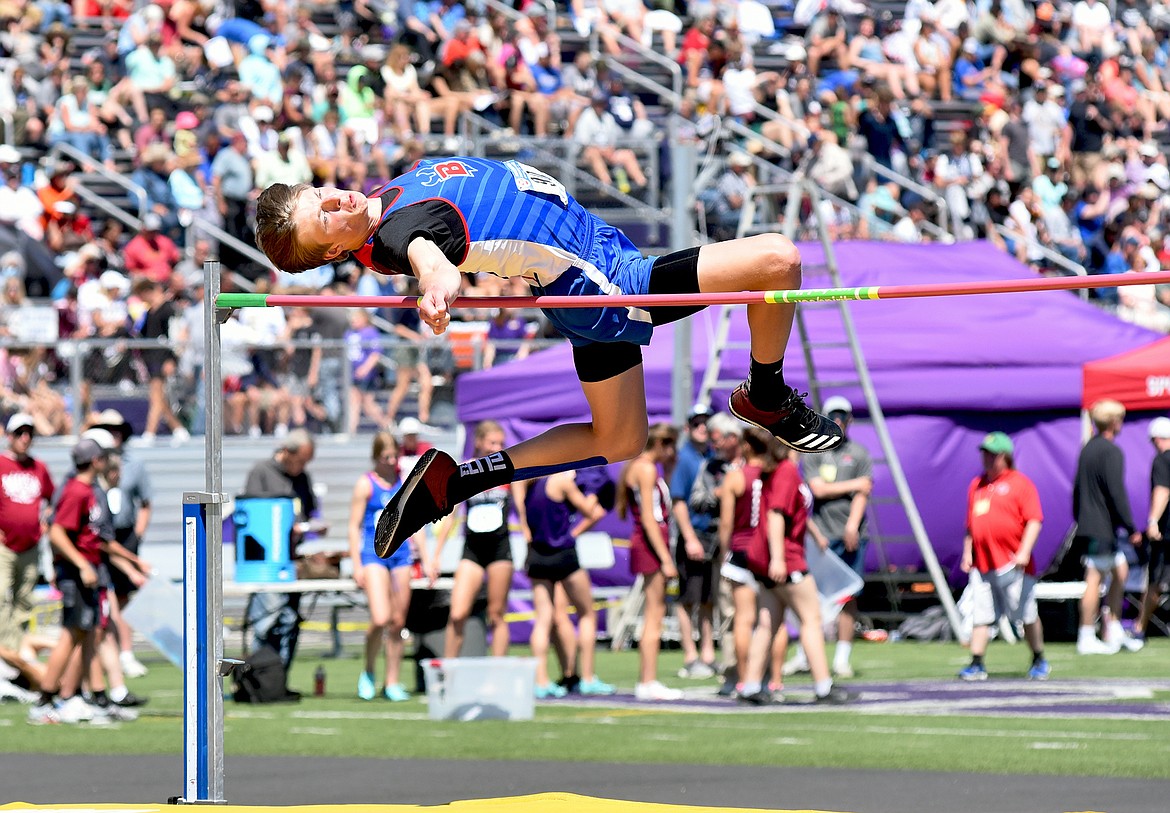 Wyatt Dukes leaps to a third-place finish in the high jump at the state track meet in Laurel Saturday. Whitney England/For the Eagle
Previous
Next
by
JEREMY WEBER
For the Eagle
|
June 2, 2021 2:40 AM
The Bigfork track and field season came to a close in Laurel over the weekend as the Vikings came away with a sixth-place finish while the Valkyries tied for 10th among Class B teams at the state track meet.
After dominating at both the district and divisional level, the Vikings won only one event and managed just three top-three finishes while the Valkyries also won one event, their only top-three finish.
Seth Osborne had the top finish for the Vikings, clearing 13 feet, 9 inches to win the pole vault by a foot over second-place Aden Graves of Sidney.
Isak Epperly earned a second-place finish in the 110 hurdles, running a personal-best time of 15.59 seconds to finish just seven hundredths of a second behind Jefferson's Braden Morris while Wyatt Duke cleared 6 feet, 2 inches to finish third in the high jump.
The Valkyries 4X400 relay team of Audrey Buenz, Chloe Raats, Coralyn Shillam and Afton Lambrecht earned a state title in their event, running their best time of the season (4:10.11) to edge out Manhattan's time of 4:10.16.
Cormac Benn had a fourth-place finish in the long jump for the Vikings, leaping 20 feet, 4.75 inches while Jack Jensen was fifth in the 1,600 with a time of 4:34.78.
The Vikings 4X100 relay team of Joseph Farrier, Benn, George Bucklin and Noah Kinslow ran a season-best 44.36 to finish fourth.
Scout Nadeau threw a personal best 37 feet, 1.25 inches to finish fourth in the shot put while the 4X100 relay team of Jessy Frey, Lambrecht, Raats and Buenz ran a season best time of 50.77 seconds to finish fourth.
Bigfork State Track Results
VIKINGS
100 Meter Dash
Joseph Farrier 11.85
1,600 Meter Run
Jack Jensen 4:34.78 PR
110 Meter Hurdles
Isak Epperly 15.40 PR
Wyatt Duke 16.23
Wyatt Johnson 16.72
300 Meter Hurdles
Jordan Betts 43.08
Wyatt Johnson 45.39
Isak Epperly 46.29
4X100 Relay
Joseph Farrier, Cormac Benn, George Bucklin, Noah Kinslow 44.36
4X400 Relay
Jackson Abney, Maddox Mater, Shelton Woll, Cormac Benn 3:36.60
Shot Put
Levi Taylor 42 feet, 6.5 inches
Braeden Guse 42 feet, 1.75 inches PR
Silvestre Rodriguez 37 feet, 3 inches
Discus
Silvestre Rodriguez 107 feet, 2 inches
Joseph Farrier 104 feet
Javelin
Shelton Woll 139 feet, 8 inches
High Jump
Wyatt Duke 6 feet, 2 inches
Cormac Benn 5 feet, 10 inches
Levi Taylor 5 feet, 8 inches
Pole Vault
Seth Osborne 13 feet, 9 inches
Wyatt Herd 12 feet
Shelton Woll 11 feet
Long Jump
Cormac Benn 20 feet, 4.75 inches
Levi Peterson 19 feet, 6 inches PR
Triple Jump
Cormac Benn 39 feet, 5.75 inches
Levi Peterson 39 feet, 2.5 inches
VALKYRIES
100 Meter Dash
Jessy Frey 13.54
200 Meter Dash
Chloe Raats 27.61
400 Meter Race
Chloe Raats 1:04.22
Afton Lambrecht 1:04.73
Coralyn Shillam 1:05.54
Danika Bucklin 1:05.60
800 Meter Run
Micah Dunham 2:42.72 PR
Tabitha Raymond 2:46.93
1600 Meter Run
Grace Stewart 6:11.55
Tabitha Raymond 6:29.69 PR
3200 Meter Run
Grace Stewart 13.25.36
300 Meter Hurdles
Ashlyn Savik 52.67 PR
Ellie Jordt 52.68 PR
4X100 Relay
Jessy Frey, Afton Lambrecht, Chloe Raats, Audrey Buenz 50.77
4X400 Relay
Audrey Buenz, Chloe Raats, Coralyn Shillam, Afton Lambrecht 4:10.11
Shot Put
Scout Nadeau 37 feet, 1.25 inches PR
Quinlan Nissen 30 feet
Discus
Scout Nadeau 102 feet, 4 inches PR
Quinlan Nissen 88 feet, 8 inches
Callie Gembala 85 feet, 4 inches PR
Javelin
Zoey Albert 113 feet, 8 inches PR
Zoe Guffin 93 feet, 3 inches
High Jump
Inga Turner 4 feet, 10 inches PR
Pole Vault
Allie Reichner 8 feet
Addison Reichner 7 feet, 6 inches
Long Jump
12 Inga Turner 15 feet, 2.75 inches
Audrey Buenz 14 feet, 6 inches
Triple Jump
Ellie Jordt 29 feet, 1 inch
---