Morley finishes 19th in 10,000-meters at Olympic Trials
by
JEREMY WEBER
For the Eagle
|
June 30, 2021 2:15 AM
Makena Morley's bid to represent the U.S. in the Women's 10,000 meters at next month's Tokyo Olympics came up short Saturday, but the Bigfork native is not disappointed.
"It was a great experience and I was super excited to even be able to race against those runners," she said. "That was probably the best field the women's 10K race has ever seen at the Olympic Trials and it was amazing to just be a part of that."
Morley, a four-time high school cross-country champion turned professional distance runner who signed a pro deal with shoe company Asics last summer, finished 19th in the highly competitive race, which featured the event's largest field of runners ever at a U.S. Olympic Trials with 41 runners.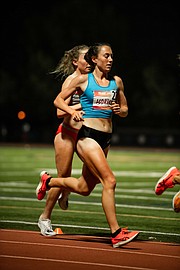 Morley's time of 33:02.87 was nearly two minutes behind Emily Sisson's winning time of 31:03.82, a new Olympic Trials record in the event. Sisson, Karissa Schweizer and Alicia Monson earned spots on Team USA with their finishes.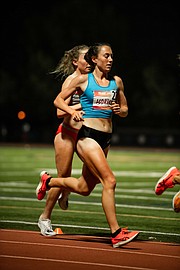 Originally scheduled to start in the late afternoon Saturday, the women's 10,000 meter race was moved to 11 a.m. to help combat the triple-digit temperatures at Hayward field on the campus of the University of Oregon in Eugene.
Morley admits that she was not fully prepared to battle that kind of heat.
"My finish definitely wasn't up to what my fitness level is, but I did not train for that kind of heat and that is my fault. I learned some lessons that will help me in the future," she said. "It was definitely a mistake not to do heat training and I paid the price for that, but it was still amazing to be able to race against all of those great women."
After graduating from Bigfork High School, Morley continued running at University of Colorado-Boulder where she helped her team to a first-place finish at the 2018 NCAA Cross Country Championships while finishing eighth in the nation individually. She was named to the All-America second team in the outdoor track 10,000-meters three times as a Buffalo and earned All-America First-Team honors in the 5,000-meters in 2019.
Morley missed out on her senior year with the Buffaloes in 2020 due to the COVID-19 pandemic, but graduated with degrees in Anthropology and English.
"I was pretty sad when it first happened, not being able to have that last year with my school and the rest of the team," she said. "It did give me more time to figure out which direction I wanted to go with my running in the future, so that was good."
The four-time defending champion of the Missoula Half-Marathon now resides in Bozeman, where she is training for the start of this fall's road racing circuit, which begins with the Falmouth Road Race in Massachusetts August 15.
---