Pendlay puts up top performance for Vikings at state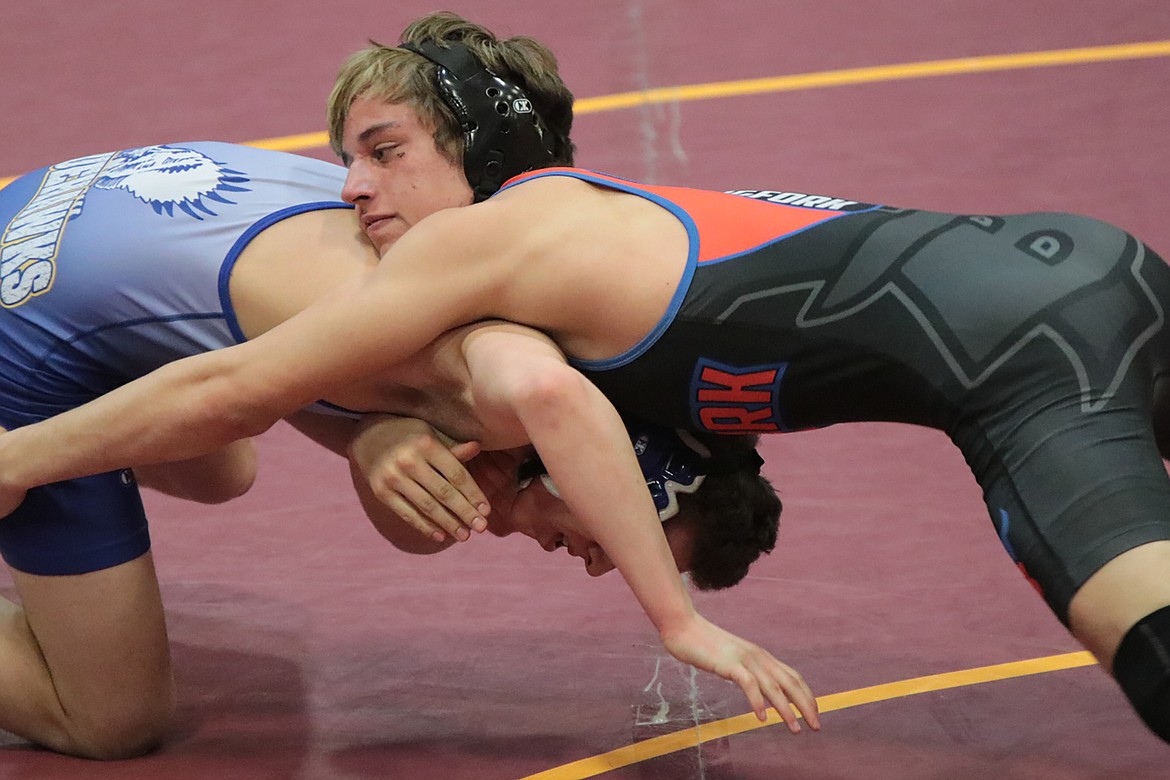 Photo: Vaughn Pendlay went 2-2 for the Vikings at the Class B/C State Wrestling Tournament in Shelby. (Sally Anderson photo)
by
JEREMY WEBER
For the Eagle
|
March 10, 2021 2:10 AM
Vaughn Pendlay had the top performance for the Vikings at the Class B/C State Wrestling Tournament in Shelby over the weekend, going 2-2 in the 152-pound division as Bigfork finished 25th.
Pendlay opened the meet with a loss to Glasgow's Colten Fast, but bounced back to pin Fort Benton/Big Sandy's Cade Ball in 1:32 in the first round of the consolation bracket. Pendlay earned an exciting sudden-victory win over Thompson Falls wrestler Shane Reishus in the second round of the consolation bracket before losing a 5-0 decision to Huntley Project's Garrett Sholley in the third round.
Traic Fainter and Joseph Ferrier each picked up wins in their opening matches as well as the rest of the Vikings each went 1-2.
Bigfork finished with eight wins and 14 losses at the tournament.
MHSA B/C State Championships Results for Bigfork
103
Traic Fainter
Champ. Round 1 - Traic Fainter (Bigfork) won by major decision over Damon Adkins (Glasgow) (MD 16-7)
Quarterfinal - Riley Davis (Baker) won by fall over Traic Fainter (Bigfork) (Fall 3:18)
Cons. Round 2 - Trevor O`Hara (Fort Benton/Big Sandy) won by fall over Traic Fainter (Bigfork) (Fall 2:00)
120
Angus Anderson
Champ. Round 1 - Jase Frederick (Poplar) won by fall over Angus Anderson (Bigfork) (Fall 2:17)
Cons. Round 1 - Angus Anderson (Bigfork) won by fall over Zach Gee (Columbus/Absarokee/Park City) (Fall 1:42)
Cons. Round 2 - Decker Milender (Superior/Alberton) won by decision over Angus Anderson (Bigfork) (Dec 7-1)
132
Ryder Nollan
Champ. Round 1 - Ashton Christman (Huntley Project) won by decision over Ryder Nollan (Bigfork) (Dec 11-5)
Cons. Round 1 - Ryder Nollan (Bigfork) won by fall over Donnie Steen (Baker) (Fall 2:55)
Cons. Round 2 - Tommy Sawyer (Anaconda) won by fall over Ryder Nollan (Bigfork) (Fall 3:58)
145
Shelton Woll
Champ. Round 1 - Canyon Casterline (Circle) won by decision over Shelton Woll (Bigfork) (Dec 8-1)
Cons. Round 1 - Shelton Woll (Bigfork) won by fall over Bayley Genereux (Fort Benton/Big Sandy) (Fall 2:59)
Cons. Round 2 - Colt Crawford (Arlee) won by decision over Shelton Woll (Bigfork) (Dec 8-5)
152
Vaughn Pendlay
Champ. Round 1 - Colten Fast (Glasgow) won by fall over Vaughn Pendlay (Bigfork) (Fall 1:14)
Cons. Round 1 - Vaughn Pendlay (Bigfork) won by fall over Cade Ball (Fort Benton/Big Sandy) (Fall 1:32)
Cons. Round 2 - Vaughn Pendlay (Bigfork) won in sudden victory over Shane Reishus (Thompson Falls) (SV-1 7-5)
Cons. Round 3 - Garrett Sholley (Huntley Project) won by decision over Vaughn Pendlay (Bigfork) (Dec 5-0)
170
Joseph Ferrier
Champ. Round 1 - Joseph Ferrier (Bigfork) won by fall over Hunter Dare (Huntley Project) (Fall 5:09)
Quarterfinal - Austin Vanek (Cut Bank) won by fall over Joseph Ferrier (Bigfork) (Fall 2:27)
Cons. Round 2 - Cael Giles (Fairfield/Augusta) won by decision over Joseph Ferrier (Bigfork) (Dec 3-0)
205
Isaac Bjorge
Champ. Round 1 - Cade Buchanan (Huntley Project) won by fall over Isaac Bjorge (Bigfork) (Fall 2:53)
Cons. Round 1 - Isaac Bjorge (Bigfork) won by fall over Marcos Gallegos (Baker) (Fall 1:41)
Cons. Round 2 - Kolter Bouma (Fairfield/Augusta) won by fall over Isaac Bjorge (Bigfork) (Fall 4:09)
---