Eagle Bend clubhouse slated for completion this fall
by
MACKENZIE REISS
Bigfork Eagle
|
March 24, 2021 2:05 AM
Golfers will be able to tee off at Eagle Bend Golf Club this Friday, but won't be able to retire in the clubhouse after their game just yet. The new clubhouse is still under construction and once completed, will replace the former building that was lost to a fire last February. Director of Golf Mike Wynne expects the new clubhouse to be finished by this Thanksgiving.
The clubhouse will be on a single level with a restaurant, bar and kitchen in the eastern wing, while the golf shop, lockers and offices will occupy the western side. Wynne said Eagle Bend ownership is making a substantial investment to improve the hospitality aspect of the clubhouse, which will be the "crown jewel" of the new facility.
"We're hoping that, not only is this going to be a great place to play golf, but that next year it will also be a destination restaurant," Wynne said, noting that the type of restaurant has yet to be confirmed.
Swank Enterprises is the general contractor on the project, which broke ground last fall. To date, the foundation has been laid and exterior walls have been framed out, according to time lapse footage of the site.
"They have been working diligently all through the winter, even in the coldest temperatures," Wynne said. The club will continue to share updates as construction progresses on their website.
But even last year's fire couldn't put a damper on golf season. Eagle Bend brought in tents and trailers to serve as a temporary home for the club — including important amenities like restrooms and a restaurant — and knew then that they'd likely be using them again for the 2021 season.
"This is not a surprise or nothing new — we were planning it all along," Wynne said.
The large tent worked to the club's advantage last year as they were able to open the walls to provide an open-air feel and allow guests to spread out.
"Everything was kind of like a picnic," he noted. "It worked really well for the time."
Despite the switch to temporary structures, membership at Eagle Bend has continued to climb. Wynne credits the increase in activity to the coronavirus pandemic, which inspired more people to engage in outdoor activities, along with the influx of newcomers to the Flathead Valley.
This year, Eagle Bend will be minimizing what's known as "outside play" — permitting non-members to play at Eagle Bend for the day.
"Over the course of time, the participation on the golf course has gone from a strong public usage to more of a strong member usage. Our membership has grown substantially even from two years ago," Wynne explained. "In order for us to maintain that level of golf that we like to provide and service we like to provide … we're going to throttle back on the access people have to Eagle Bend."
The club has allowed outside play based on space available and will be further curtailing that number going forward.
"We only have so much time in the day, room on the golf course … Our job primarily is to make sure the members have the best possible experience," Wynne said. The club will allow a set number of outside players each day, a figure which has yet to be decided upon.
"I think that it's going to vary depending on the time of year and the weather," he noted.
Eagle Bend is currently home to between 390 and 400 members.
"We sold more memberships last year than we have in the past five or six years combined," Wynne said. "It's a pretty exciting time to be a member at Eagle Bend … it's definitely on the upswing."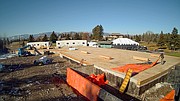 About the club:
Eagle Bend Golf Club is a 27-hole course located at 297 Eagle Bend Drive in Bigfork. Eagle Bend opens this Friday, March 26. Mike Wynne, Director of Golf, is available for tours and to answer questions. Contact him at mikew@golfmt.com or (406) 837-7384.
---