Park announces ticketed entry for West Entrance and St. Mary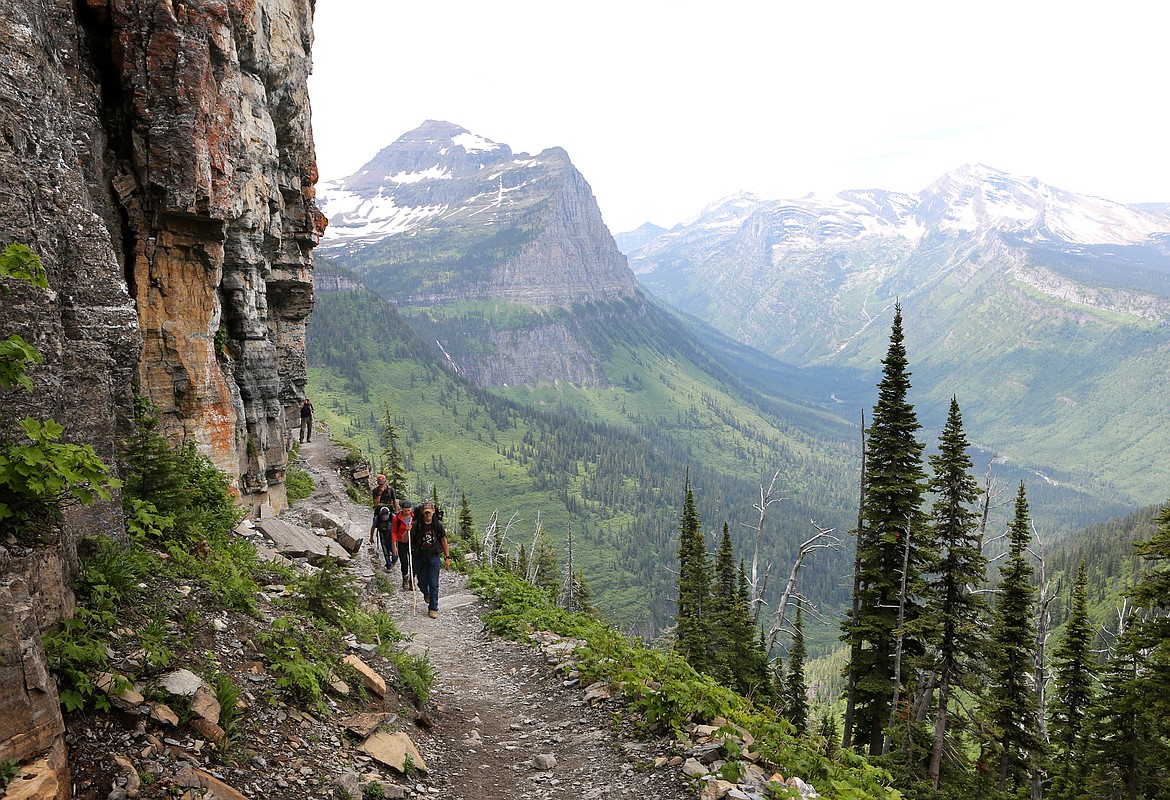 Hikers travel along the Highline Trail in Glacier National Park. Mackenzie Reiss/Bigfork Eagle
by
KIANNA GARDNER
Daily Inter Lake
|
March 24, 2021 2:15 AM
Glacier National Park has unveiled plans for a new ticketed entry system for the 2021 season that will apply to those traveling the congested Going-to-the-Sun Road corridor.
Park Superintendent Jeff Mow went over the details of the plan Thursday evening during an online community presentation that drew hundreds of listeners.
As it stands, ticketed entry only will be required for 11 hours of the day from 6 a.m. to 5 p.m. from June 1 through Labor Day, tentatively. Visitors will not need to schedule their entry ahead of time if they enter the park outside of that time-frame.
Ticketed entry will only apply to the West Entrance and St. Mary — two areas that serve as shove-off points to the Going-to-the-Sun Road. Visitors will not need to schedule their entry ahead of time for North Fork, Two Medicine or Many Glacier, though Mow noted temporary closures will occur at those locations when various areas reach capacity.
When individuals purchase their entry tickets they will pay a one-time $2 fee to recreation.gov. Regardless of where you are entering the park, a 7-day pass will need to be purchased as well, as is expected in a normal season.
Single-day passes are not available, but when visitors purchase their 7-day pass upon scheduling their entry at the two ticketed entry points, they will be able to enter all seven days. If an individual has already purchased a season pass or a senior pass, they will only need to pay the one-time $2 fee upon scheduling their entry.
In addition, vehicles that arrive with reservations at a campground, lodge, chalet or campground do not need a ticket. Visitors who have reservations to go on a horseback ride, boat ride, guided hike or other permitted commercial use also do not need a ticket, nor do landowners or tribal members.
PARK SPOKESWOMAN Gina Kerzman told the Daily Inter Lake Friday morning that at least 50% of the tickets will be made available 30 to 60 days ahead of time and the remainder will be made available 48 hours in advance of dates. Kerzman said exact percentages have time-frames for ticket availability that have yet to be set in stone and it is possible that closer to 70% of tickets will be made available at least one month in advance.
The number of tickets that become available 48 hours in advance will be determined by three estimation methods: how many people gain entrance without needing a ticket, how many are in the corridor for their 7-day visit, and how many entered outside of the 11-hour ticketed window.
"If people arrive without a ticket they will be turned away," said Mow, who added they will be directed to an internet-secure area of the park where they can try to snag a ticket for the day.
MOW TOLD meeting attendees the new system will likely only be in place for the 2021 season. Officials made the switch because they believe it will tackle issues associated with the ongoing COVID-19 pandemic such as staffing shortages, and road construction projects such as those scheduled to take place along U.S. 2 between Hungry Horse and Essex.
Those challenges are specific to this season and are ones he believes can be alleviated with the ticketed entry system. Mow emphasized he does not foresee the procedure extending to the 2022 season, and if that did become part of the plan, a lengthy public approval process would need to occur.
He also said the system will provide an added level of certainty for those entering the park.
During the 2020 season, park officials had to turn folks away at the West Entrance because other areas such as Logan Pass and Avalanche were reaching capacity in the early morning hours. Capacity was also limited due to the pandemic.
"What we were seeing is people would show up, ready to start their day and we'd have to turn them away," Mow said.
It is the hope that a ticketed system, combined with the reopening of the park's eastern entrances, will reduce congestion at the West Entrance, which served as the only entry and exit point to the Going-to-the-Sun Road last year.
The Blackfeet Nation chose to keep the entrances closed last year in order to reduce any transmission of the coronavirus to reservation residents, but earlier this week, tribal leaders announced they will be open for the 2021 season.
Details surrounding the ticketed system are still unfolding and visitors are encouraged to visit the Glacier National Park website to stay updated on the situation.
Reporter Kianna Gardner can be reached at 758-4407 or kgardner@dailyinterlake.com
---