Retriever rescued by Bigfork Fire after falling through ice on Echo Lake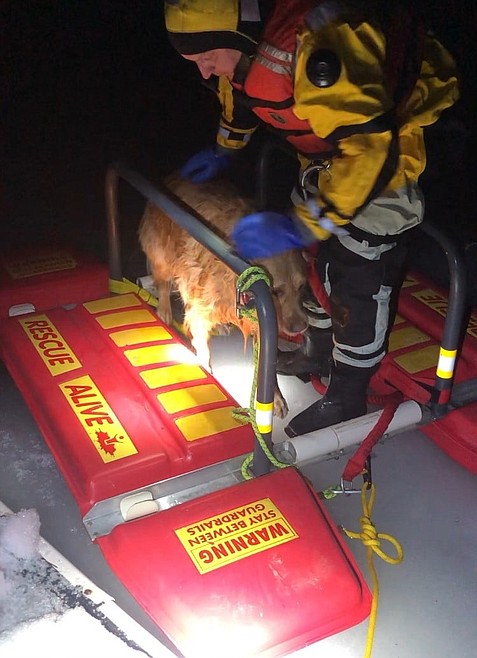 Fletcher Anderson rescues Buster, a Golden retriever that fell through thin ice into Echo Lake Sunday evening. Courtesy Bigfork Fire Facebook
by
MACKENZIE REISS
Bigfork Eagle
|
March 24, 2021 2:05 AM
A Golden retriever was rescued by the Bigfork Fire Department Sunday night after falling through the ice on Echo Lake and nearly drowning. Dispatch received a call at 8:49 p.m. from Echo Lake resident Jan Lord who had been enjoying the evening scenery when she heard a loud, splashing sound coming from the water.
"The splashing just got heavy and I thought, 'Oh no, it's gotta be one of the dogs,'" Lord recalled. "I was looking at the stars and then hearing that sloshing and then the whining and seeing him struggle out there was just heartbreaking."
She grabbed a flashlight and ran to her neighbor's house but saw their yellow Lab safely at home so she continued to the next house over to notify the dog's owners.
She could see the dog, which Lord said was named Buster, about 40 to 50 feet away from her dock. A volunteer with Bigfork Fire was on scene within minutes and soon more firefighters arrived, bringing with them a special "Rescue Alive" ice sled. The sled allows rescuers to traverse safely across thin ice by distributing their weight, making it possible for them to reach Buster.
"The dog was very tired from trying to get back onto the ice and was clinging to the ice with its front paws when it was rescued," Interim Chief Jeremy Patton told the Eagle in an email. Six rescuers from the department along with one deputy from the Flathead County Sheriff's Office assisted with the rescue, working together to bring Buster back to shore.
Lord estimated that the dog had been treading water for approximately 40 minutes. He is expected to make a full recovery.
"I was so upset and just a wreck … That poor dog could hardly walk," Lord said. She noted that this time of year can be dangerous for pets since they don't know the dangers of thinning ice and can be easily distracted chasing deer or other animals.
"Dogs just get on the scent and boom they're gone," Lord said. "You just have to be vigilant."
---