Spring sports teams ready for action this week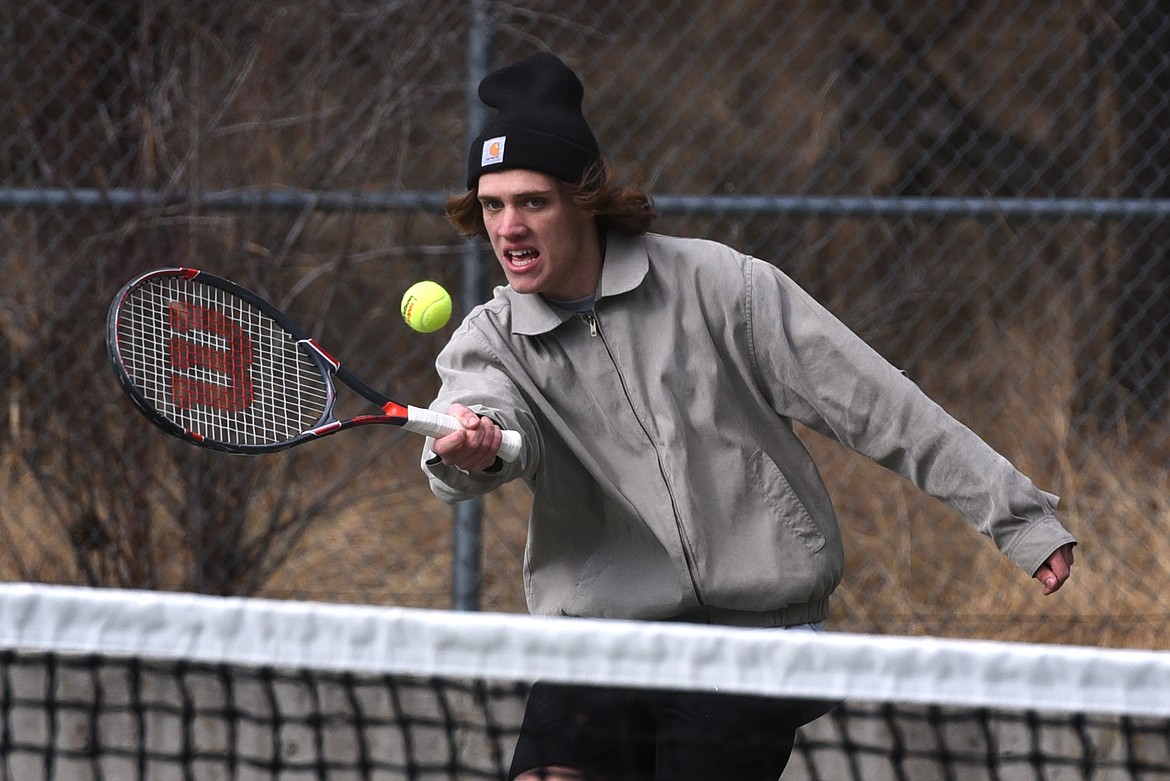 Eli Sarri makes a play on the ball during tennis practice Monday. Bigfork opens the season at Mission next week. Jeremy Weber/Bigfork Eagle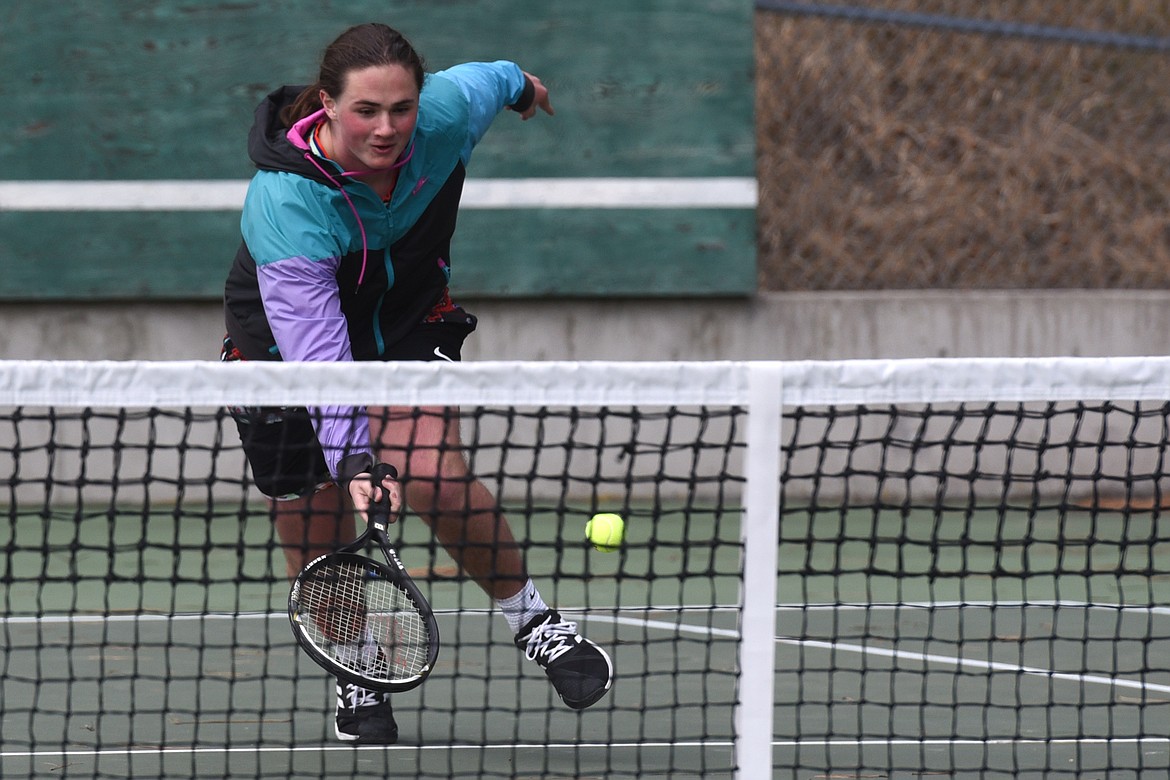 Andrew Porrovecchio makes a lunge for the ball during Vikings tennis practice Monday afternoon. Jeremy Weber/Bigfork Eagle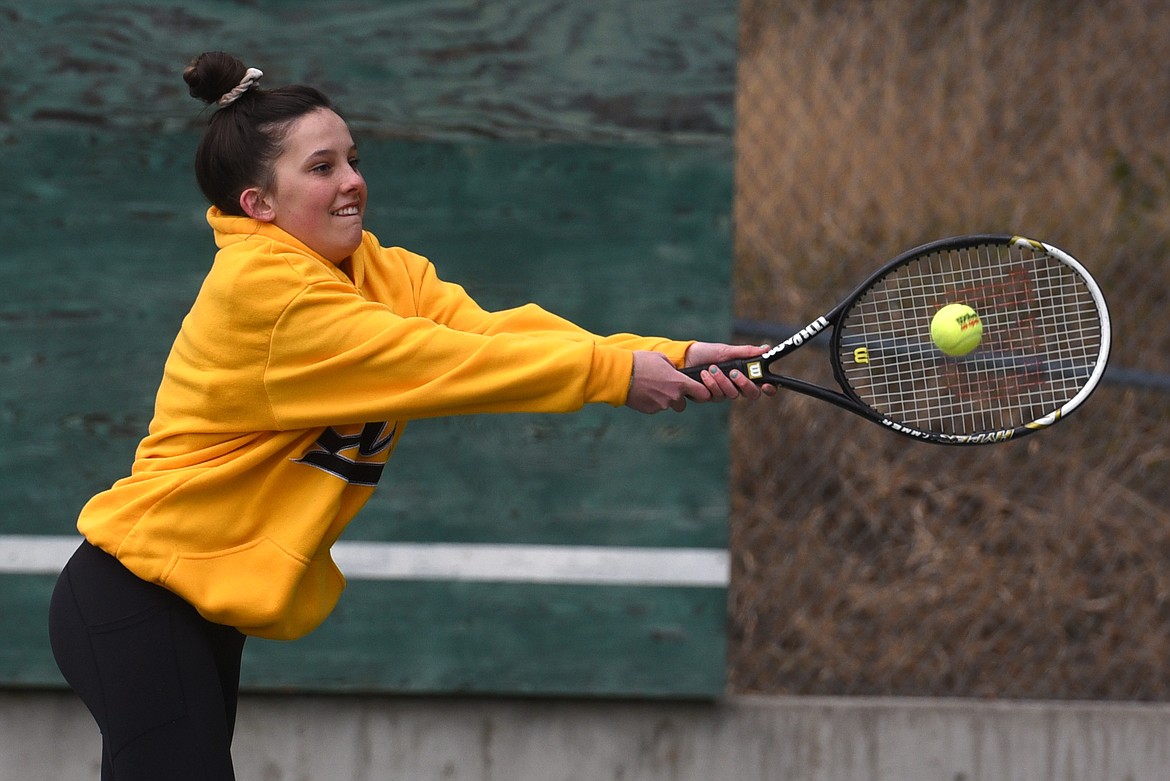 Callie Martinez practices her backhand during practice Monday. Jeremy Weber/Bigfork Eagle
Previous
Next
by
JEREMY WEBER
For the Eagle
|
March 31, 2021 2:40 AM
Bigfork High School's spring sports teams will see their first action of the season over the next week-and-a-half as competition begins for track and field, tennis and golf.
The track season will get underway Saturday as the Vikings and Valkyries host their first home meet of the season beginning at 10 a.m. The teams will be in action again just a few days later as they compete at the Flathead Invitational at Legends Stadium in Kalispell Tuesday before making the trip to compete in Frenchtown next Saturday.
Bigfork's golf teams have been hard at work getting ready for their season, which gets underway in Eureka April 9 and 10.
Head coach Brett Damaskos says he is disappointed that last year's teams, which would have featured 12 seniors, were unable to compete due to the COVID-19 pandemic, but is happy to be back on the course this year.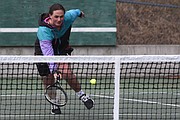 "Our girls team had a real chance of winning state last year, which is pretty hard to swallow with what wound up happening. That team was our first girls squad to place at state when they came in second in 2019 and they had a real shot of winning it all last year," he said. "Right now, we are really just trying to figure out what we have as far as golfers go. We have many players who are just starting to learn how to play golf, so we are in teaching mode essentially. We have some players with a little experience, but with as much as they have missed in the last year we are still learning what they are capable of as well."
Damaskos has 19 golfers this season, but only two with high school tournament experience in senior Cole McManaway and junior MacKenzie Holton.
Along with his two returning players, Damaskos has high hopes for freshman Colin Wade, who has quite a bit of experience playing on the team's home course at Eagle Bend.
The opening tournament of the season will be a two-day affair in Eureka as Bigfork will play at Indian Springs Golf Club April 9 and the Wilderness Club April 10.
The Vikes and Vals will be at home for the Steve Hullett Invitational Tournament at Eagle Bend April 15 and will also host divisionals May 11 and 12.
As for goals for this season, Damaskos says he is just glad to be back on the course with the opportunity to get to know his players again.
"We just want to get these kids some experience with golf this season. I don't want to cast any assumptions that we might be team contenders this year because we just don't know much about these golfers yet," he said. "I just want to see every one of them improve this year and have them finish the season with a desire to come back."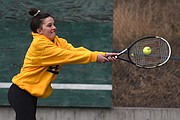 Bigfork's tennis season is also set to get underday next week as the Vikes and Vals travel to Mission Tuesday and Superior on Thursday.
New head coach Hayden Condon says he has roughly 10 boys and 10 girls on this year's squads, including seniors Juniper Johnson and Justice West.
Condon inherits a Bigfork tennis program that has seen much success in recent years, including a second-place finish at state by the Valkyries in 2019 and a third-place finish by the Vikings in 2018.
Bigfork's first home meet is scheduled for April 17.
---