Lake monitoring program and research high points for bio station
by
KIANNA GARDNER
Daily Inter Lake
|
March 31, 2021 2:30 AM
Although the COVID-19 pandemic prompted the Flathead Lake Biological Station to cancel several on-station educational visits and move many of its community outreach programs to an online platform, the organization's 2020 annual report shows its lake monitoring program and other research projects didn't skip a beat.
Researchers at the station, which is owned and operated by the University of Montana, monitored over 770 samples from Flathead Lake. The work was performed in partnership with the Confederated Salish and Kootenai Tribes and Montana Fish, Wildlife and Parks.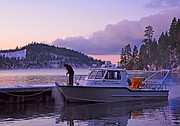 The report states the importance of the sampling — made possible via a grant from the Montana Department of Natural Resources and Conservation — cannot be overstated. The samples, which are sent to the university's microscopy lab for analysis, help researchers detect any aquatic invasive species, such as zebra mussels.
According to the report, none of the samples collected last summer that have been analyzed thus far have shown any indication of an infestation in the Flathead Watershed, which is the only major river system in the continental United States without an invasive mussel presence.
"These days the future seems more uncertain than ever, but for now we can all sleep a little more soundly knowing there are people standing watch to keep our waters free of invasive species," the report states.
Also on the monitoring front, the station was able to start a new regional program called "Monitoring Montana Waters," following a generous philanthropic investment.
The program, led by Rachel Malison, focuses on working with citizen scientists and watershed groups to establish basic water-quality monitoring of streams, rivers and lakes throughout the state. The initiative will build on the station's decades of research by helping design effective monitoring plans, develop written sampling and analysis, offer one-on-one training in sampling methods with experienced researchers and more.
Water sampling efforts, along with other programs at the bio station, are vital in ensuring Flathead Lake's water quality remains pristine. According to the report, the state of the lake is still "clean and blue," an accomplishment the facility attributes to its many partners and continued funding from the Flathead Lake Protection Association's "Keep it Blue" license plates.
"This collaborative commitment to our mission of vigilant research and monitoring continues to result in vast scientific discovery and has created one of the best long-term ecological and water quality records in the world," the report notes, adding that the station's data was also used in a recently published study that focuses on long-term summertime vertical temperature profiles in more than 100 lakes across the world.
Researchers on the project determined climate change is causing disparity in surface and deep-water lake temperatures, which could have a significant impact on freshwater ecosystems. While more research is needed to determine the future of lake ecosystems, the study serves as an important step toward a better scientific understanding and, according to the report, "wouldn't have been possible without the decades of extensive monitoring and modeling efforts of the Flathead Lake Monitoring Program and those who support our work."
Outside of regular and new monitoring efforts, last year also proved to be a big one for advancing various large-scale research projects.
For example, Nanette Nelson and Bob Hall initiated a new project studying the content and fate of mercury in the fishes and food web of Flathead Lake, and Erin Sexton advanced her work on transboundary pollution.
Flathead Lake Bio Station Executive Director Jim Elser, along with a team of international researchers, also discovered a link between the improvement in wastewater treatment and potentially harmful changes in nutrient ratios that could pose threats to biodiversity and ecosystems of freshwater lakes.
And finally, Flathead Lake Bio Station Associate Research Professor Clint Muhlfeld spearheaded research that identified a specialized species of coldwater stonefly living in high elevation streams fed by melting glaciers, snowfields and groundwater springs. The stoneflies are protected by the Endangered Species Act and appear to have persisted despite glacier loss, even in areas deglaciated since the Little Ice Age over 170 years ago.

Elser and Muhlfeld's projects were published in the prestigious Proceedings of the National Academy of Sciences, a peer-reviewed multidisciplinary scientific journal that serves as the official journal of the National Academy of Sciences.
It has published original research, scientific reviews, commentaries and letters since 1915.
To read the bio station's complete annual report, go https://flbs.umt.edu/newflbs/
Reporter Kianna Gardner may be reached at 758-4407 or kgardner@dailyinterlake.com
---