Bigfork qualifies additional track athletes for state meet
by
JEREMY WEBER
For the Eagle
|
May 5, 2021 2:45 AM
Two more Vikings qualified for the state meet and Bigfork won six events last week as the track team was in action at the Whitefish ARM meet.
Jack Jensen set a new personal record of 4:41.09 to win and qualify for state in the 1,600-meter race and Levi Taylor cleared a new personal best height of six feet to win and qualify in the high jump as the Vikings took third at the meet as a team.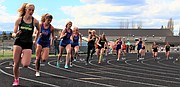 Whitefish won the meet with 150 points, Frenchtown was second with 121 and Bigfork finished with 111.
Several Vikings set new PRs at the meet as Seth Osborne won the pole vault by tying his best height of 12 feet, 6 inches and Jordan Betts set a new PR of 43.86 seconds to win the 300 hurdles. Jensen's new PR of 11:09.17 in the 3,200 earned him second place in the race while Shelton Woll's toss of 137 feet, 6 inches in the javelin was also a new PR and earned him second place.
Wyatt Duke was a winner in the 110 hurdles with a time of 16.72 seconds while Betts was second at 18.57. Cormac Benn won the long jump with a leap of 20 feet and was third in the triple jump at 41 feet, 1.5 inches.
The 4X100 relay team of Joseph Farrier, George Bucklin, Noah Kinslow and Benn took second with a time of 45.45 seconds.
In girls action at the meet, the Valkyries finished with 120 points to finish second behind Whitefish's 175.
The Valkyries did not win any events but did finish in the top three 13 times at the meet.
Bigfork's throwers had another strong meet as Olivia Ellison took second in the shot put with a new PR of 33 feet, 3.5 inches, second in the discus with a PR toss of 106 feet, 8 inches and third in the javelin with season-best throw of 96 feet, 6 inches.
Scout Nadeau set a new PR of 31 feet, 8.5 inches to finish third in the shot put and Madison Chappuis threw the javelin 103 feet, 11 inches to set a new PR and earn second place.
Allie Reichner cleared 8 feet, 6 inches to take third in the pole vault and Audrey Buenz was third in the long jump with a new PR leap of 15 feet, 1.5 inches.
In the running events, Ashlyn Savik was second in the 300 hurdles with a time of 53.33 seconds and third in the 100 hurdles with a new PR of 17.86 seconds.
Buenz tied for third in the 100-meter dash with a time of 13.60 seconds, Coralyn Shillam was third in the 200-meter dash with a time of 28.85 seconds and Chloe Raats was third in the 400.
The 4X100 meter relay team of Jessy Frey, Afton Lambrecht, Raats and Buenz took second with a time of 52.32 seconds.
Several Bigfork athletes were in action at the Western ABC Top-10 meet in Hamilton after press time Tuesday. The Vikings and Valkyries will be in Missoula Saturday for the KLH Memorial Meet.
Head tennis coach Hayden Congdon says his boys and girls teams are playing well as he continues to determine who will be playing singles and doubles at the end of the season.
The teams were in action against Anaconda and Troy last week. The results are as follows:
Bigfork at Anaconda (Thursday)
Girls
1 Singles : Beckey Dienhart (Anaconda) def. Callie Martinz (Bigfork) 6-4, 6-2
2 Singles : Juniper Johnson (BF) def. Mariam Law (A) 6-1, 6-1
3 Singles : McColl Miller (BF) def. Joselyn Fullmer (A) 6-2, 6-0
4 Singles : Emma Berreth (BF) def. Keilana Clark (A) 6-1, 6-1
1 Doubles : Dana Saari/Ashlyn McGill (BF) def. Keilana Clark/Farahbeth Barrington (A) 6-0, 6-0
2 Doubles : Cassidy Reichenbach/Tessa Troyer (BF) def. Samantha Staley/Keira Skocilich (A) 6-3, 6-4
JV Doubles (Pro-set) : Jade Sisler/Avery Passons (BF) def. Gracee Hoscheid/Teaghan Hintz (A) 8-5
Boys
1 Singles : Blane Barrows (BF) def. Canyon Hurley (A) 6-0, 6-2
2 Singles : Andrew Porrovecchio (BF) def. Liam Villasenor (A) 6-1, 6-4
3 Singles : George Brown (BF) def. Will Griffis (A) 6-3, 7-5
1 Doubles : Justus West/Caden Leonard (BF) def. Liam Villasenor (A) 6-1, 6-1
2 Doubles : Liam Villasenor/Canyon Hurley (A) def Landen Livingston/Logan Livingston (BF) 6-4, 4-6, 6-3
Bigfork at Troy (Saturday)
Girls
1 Doubles : Dana Saari/Ashlyn McGill (BF) def. Abby Osborn/Devynn Cummings (Troy) 6-1, 6-0
2 Doubles : Cassidy Reichenbach/Tessa Troyer (BF) def. Emma Pena/Sierra Gardner (T) 6-1, 6-2
Boys
1 Singles : Shamus Sedler (T) def. Landen Livingston (BF) 3-6, 6-4, 6-4
2 Singles : Logan Livingston (BF) def. Winter Sedler (T) 6-3, 1-6, 6-1
---