Bigfork Soccer Club doubles membership, seeks additional coaches
by
MACKENZIE REISS
Bigfork Eagle
|
May 12, 2021 2:15 AM
For Club President Adam Baumann, the Bigfork Soccer Club is a labor of love — and it's one that's growing quickly. The league offers both recreational and competitive play to Bigfork youth and has more than doubled to 200 members over the past two years. Part of the increase in interest is due to the pandemic as parents looked for outdoor ways to entertain their children, but Baumann said soccer was on an upswing even before COVID hit.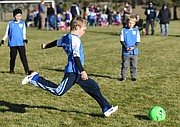 "It's growing in the valley rapidly, which is awesome," he noted.
Bigfork Soccer Club runs a recreational soccer program, the Bigfork Bandits, for kids pre-K to 8th grade with an all-volunteer staff made up mostly of parents who contribute their time as coaches for their budding athletes. The club has been around in some form for about 20 years, Baumann estimated, and in the last four years they expanded to offer a competitive team, the Bigfork Storm.
Baumann said that once children reach 5th or 6th grade, they start making a decision about which sports they want to stick with. In previous years, many might have opted for competitive basketball or football programs in the area, but now have the opportunity to take their soccer skills to the next level, too.
"Offering these competitive opportunities at a younger age is helping us grow even more," he said.
Bigfork Soccer Club provides two seasons of play for both leagues: a springtime session that starts in April and another one in the fall.
The rec league plays local teams from Whitefish, Kalispell and Columbia Falls, while the competitive team tackles opponents from across the state within the Montana Youth Soccer Association. The Club also sponsors skills clinics, bringing in specialist coaches and players to work with kids to develop goalkeeping, scoring and ball-handling skills.
"Sports was a huge part of my life growing up as an outlet for me — I don't know where I would be if I hadn't had those opportunities. It kept me out of trouble, for sure," Baumann said. "Soccer is special and I think soccer is a really accessible sport. Any kid can come kick a soccer ball around. Having this program available in a community like Bigfork is really important."
To meet the demands of the growing teams, Baumann said, the club is greatly in need of more coaches and referees.
"We need someone to step up and coach and people are intimidated to do that," he explained. "We'll have more competitive teams in the fall than we've ever had. I can guarantee that. We just need to find out who's out there. Who played soccer in Bigfork that's still around and wants to help out?"
Anyone interested in sharing their soccer experience or who wants to sign up to play should visit the club's website at www.bigforksoccer.org or send an email to bigforksoccer@gmail.com.
Locals are also invited to cheer on the Bigfork rec team during their final games of the season on Saturday May 15 at Carlyle Johnson Park beginning at 9 a.m. with the final game of the day starting at 1:30 p.m.
---