Track teams sweep district meet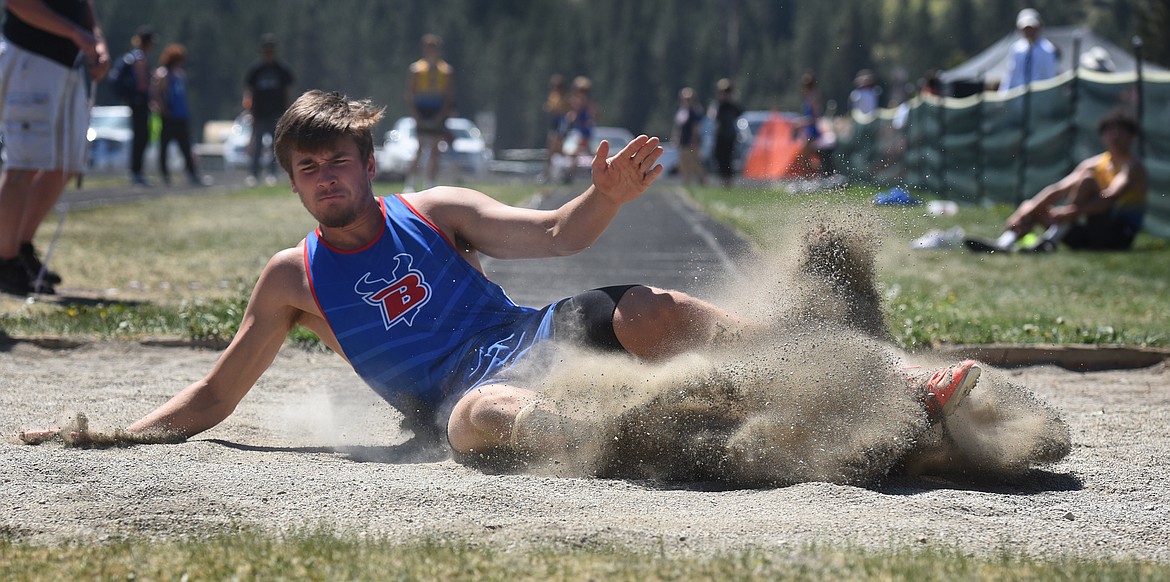 Cormac Benn comes in for a landing on his record-setting leap of 21 feet, 5 inches in the long jump in Eureka Saturday. (Jeremy Weber/Bigfork Eagle)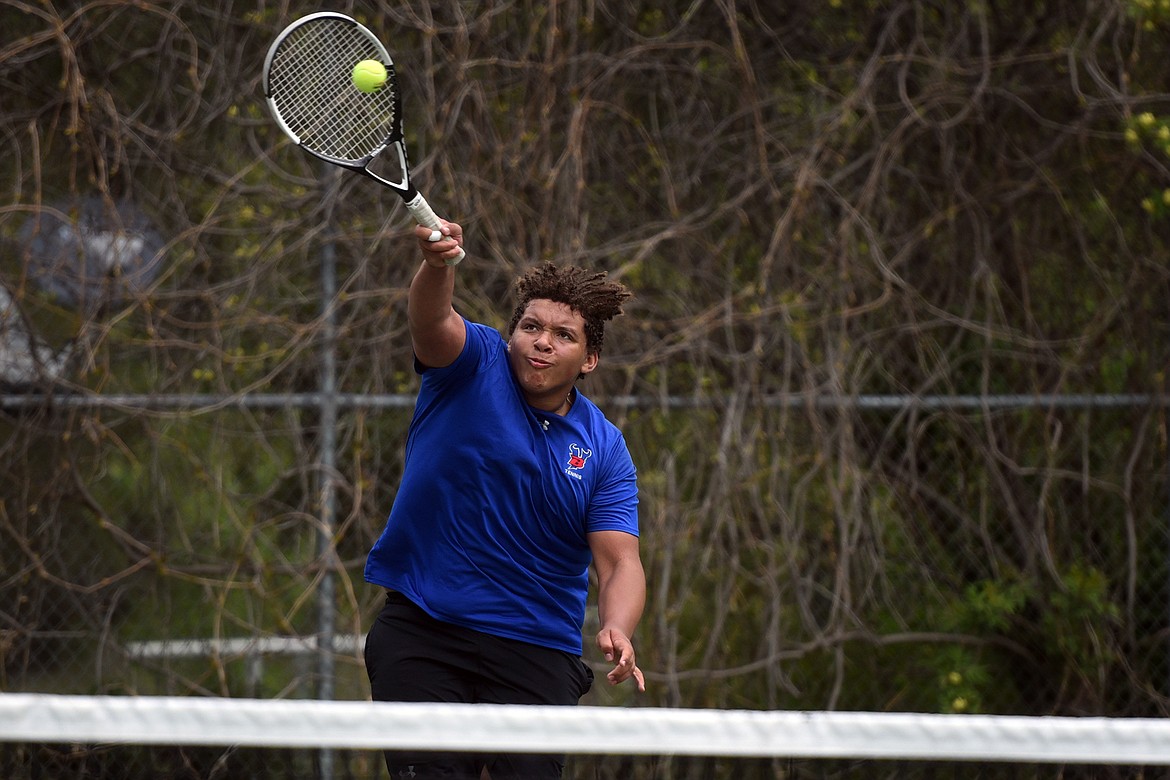 George Brown uses an overhand shot to land a point during action at the divisional tennis tournament in Bigfork Thursday. Brown is one of 16 Bigfork tennis players who advanced to the state tournament in Missoula this week. (Jeremy Weber/Bigfork Eagle)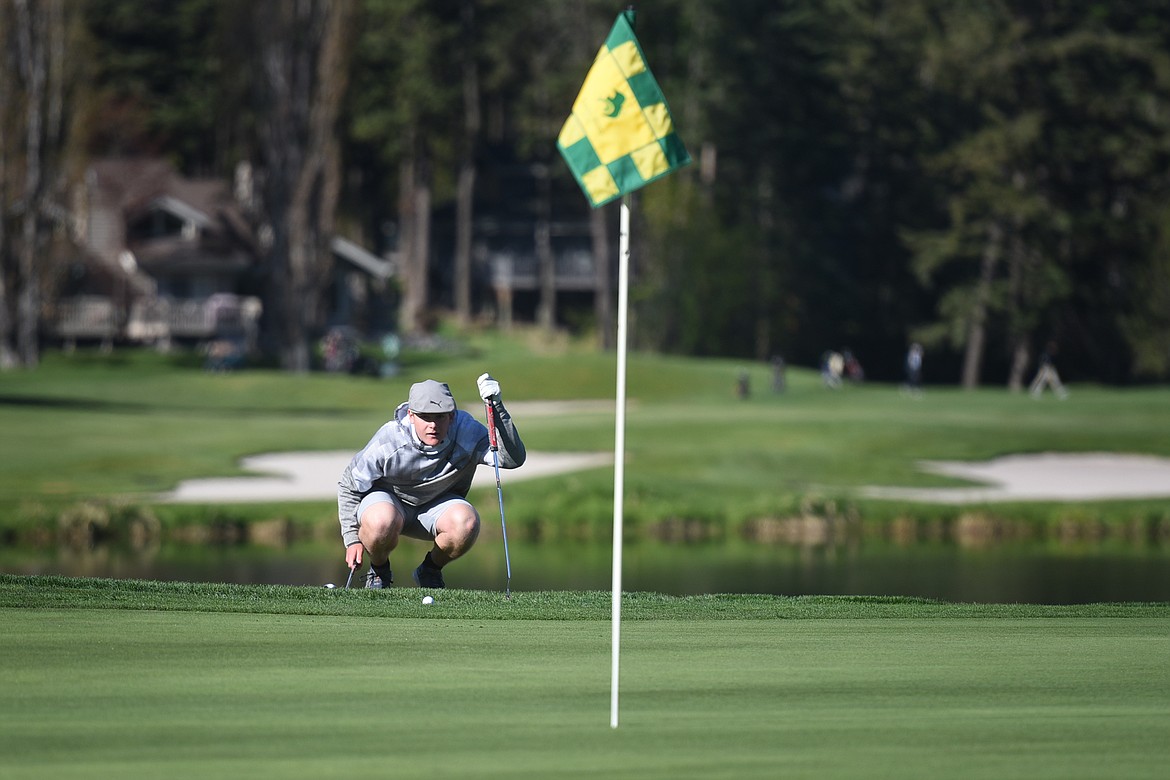 Colin Wade lines up his shot at Eagle Bend Golf Course during the divisional tournament Wednesday. Wade will make the trip to state this week after finishing second at divisionals. (Jeremy Weber/Bigfork Eagle)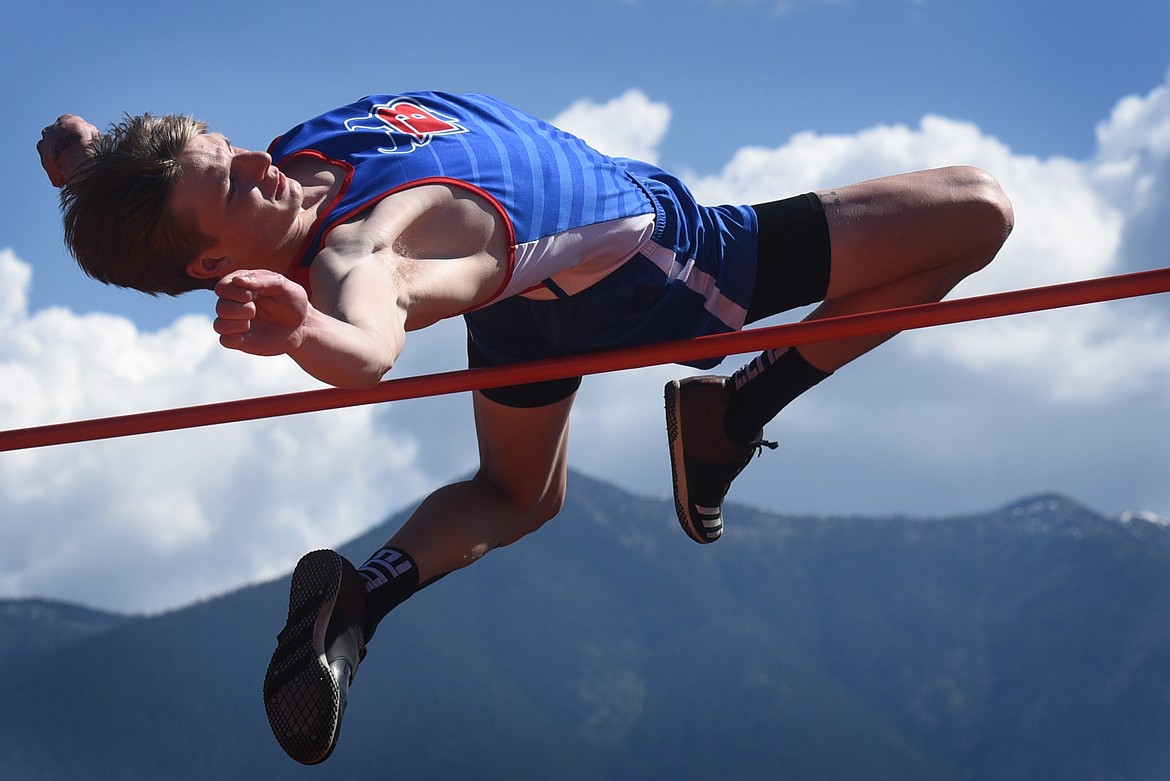 Wyatt Duke narrowly missed setting a new district record in the high jump Saturday, winning the event by clearing 6 feet, 6 inches. (Jeremy Weber/Bigfork Eagle)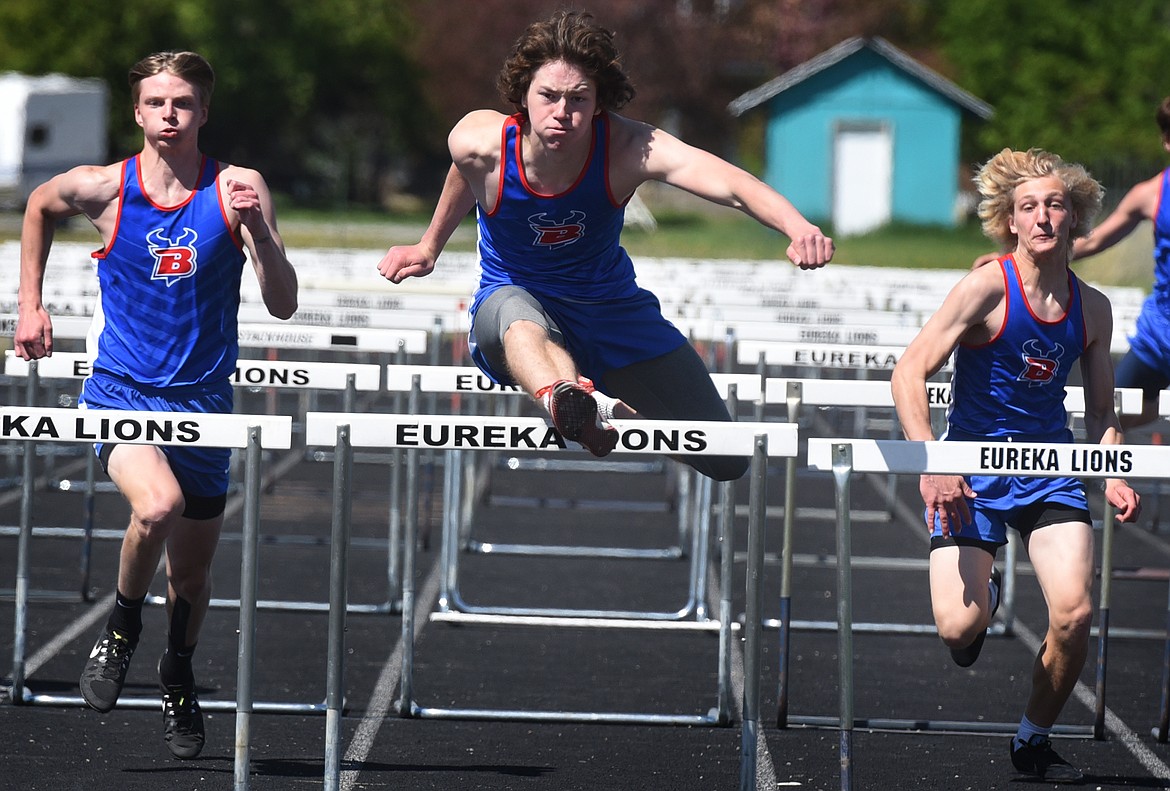 Isak Epperly outpaced his teammates to win the 110 hurdles at the district track meet in Eureka Saturday. The Vikings took the top five spots in the event. (Jeremy Weber/Bigfork Eagle)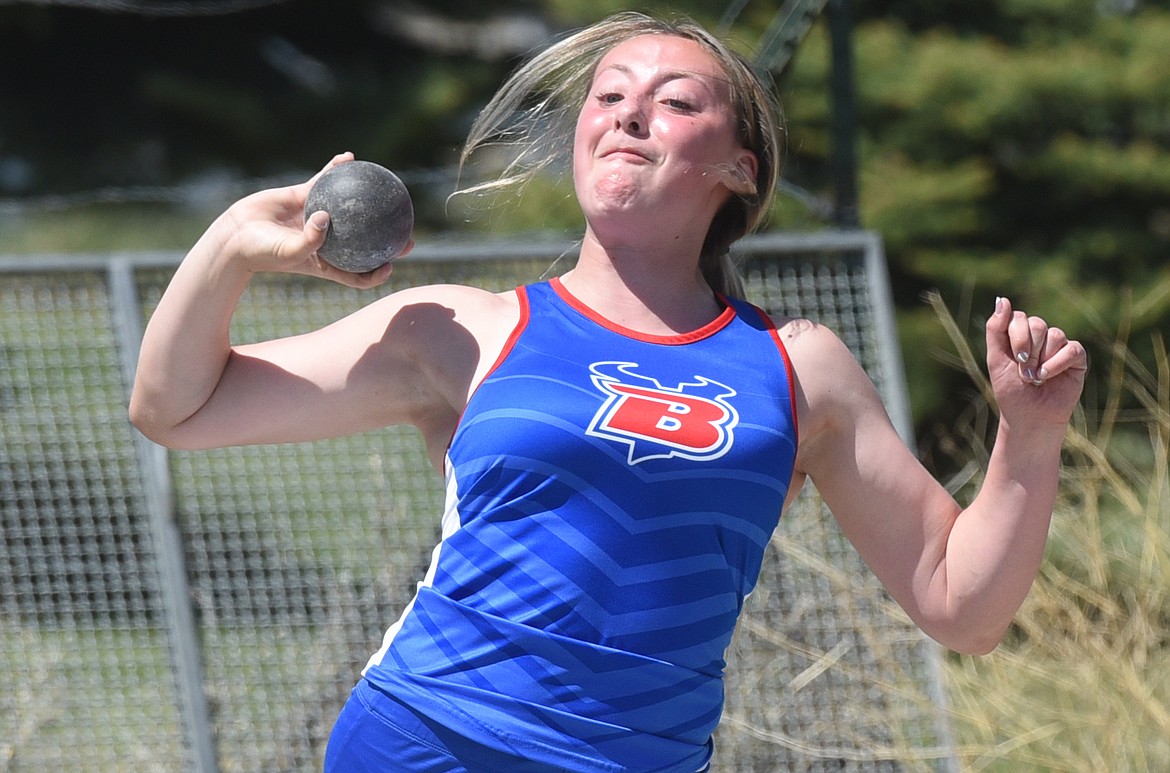 Scout Nadeau's new personal best throw of 34 feet, 1 inch won her their district title at Eureka Saturday. (Jeremy Weber/Bigfork Eagle)
Previous
Next
by
JEREMY WEBER
For the Eagle
|
May 19, 2021 2:00 AM
Bigfork's Cormac Benn knew he had already secured the district title going into his last leap at the long jump pit at the district track meet in Eureka Saturday. All that remained in question was whether he would walk away with the all-time district record at the end of the day.
His previous jump of 21 feet, 4.25 inches a few moments before was already a personal best, but was tantalizingly just short of the district's all-time mark. With one last sprint down the runway, Benn leapt into the air already a champion, but landed a record holder.
Benn's leap of 21 feet, 5 inches capped a dominant day for both Bigfork track teams as the Vikings and Valkyries each won District 7B titles by wide margins, the boys winning by 154 points over Eureka while the girls outpaced second-place Thompson Falls by 173. Combined, the teams will be sending more than 50 athletes to this weekend's Divisional Meet in Missoula.
The Valkyries took the top three places or more in five events on their way to 277 points on the day and also came away with district titles in both relay races.
Ashlyn Savik took first in both hurdle events as Bigfork swept the top three spots in both the 100 and 300 meter races. Addison Reichner was second in the 100 hurdles while Allie Reichner was third and Ellie Jordt took second and Zoey Albert was third in the 300 hurdles.
Jessy Frey set a new PR of 27.66 seconds to win the 200-meter dash while Chloe Raats also set a new PR of 1:02.61 to earn first in the 400.
Scout Nadeau, Madison Chappuis and Delcy Stewart all recorded new PRs in the shot put as Bigfork took five of the top six places. Nadeau's toss of 34 feet, 1 inch won the title while Chappuis was third, Olivia Ellison took fourth, Quinlan Nissen was fifth and Stewart was sixth.
Jody Detlaff of Thompson Falls won the discus, but the Valkyries took the next five places as Ellison was second, Nadeau took third, Nissen was fourth, Callie Gemabla was fifth and Stewart took sixth.
The Valkyries top three javelin throwers all set new PRs to sweep the medal stand in the event as Chappuis took first at 107 feet, 3 inches, Albert was second at 99 feet, 11 inches and Zoe Guffin took third with a toss of 96 feet, 9 inches.
The 4X100 relay team of Frey, Raats, Audrey Buenz and Afton Lambrecht finished in 52.15 seconds to win their race by more than three seconds while the 4X400 relay team of Buenz, Raats, Lambrecht and Coralyn Shillam won their race by a whopping 26 seconds.
No Viking won more than one individual event as Bigfork used a true team effort to finish the day with 258 points. The Vikings swept the medal stand in three events and took four of the top six places in two more on their way to the district title.
The Vikings dominated the hurdle races, taking the top three spots in the 300 hurdles and the top five places in the 110 meter race.
Jordan Betts set a new PR of 43.27 seconds to win the 300 hurdles while Wyatt Johnson was second and Isak Epperly was third.
In the 110 hurdles, Epperly was the winner at 16.01 seconds while Wyatt Duke was second, Johnson was third, Betts took fourth and Cole Knopik was fifth.
Duke narrowly missed setting a new district record in the high jump, clipping the back of his heel on the bar during his final attempt at 6 feet, 8 inches. Duke cleared 6 feet, 6 inches to win the event while Benn took second, Elliot Sanford was third, Levi Taylor was fifth and Bryce Gilliard was sixth.
Seth Osborne set a new PR of 13 feet, 9 inches to win the pole vault for the Vikings while Jack Jensen's new PR of 4:30.68 won him the district title in the 1,600-meter race.
The Vikings also took the top two spots in the triple jump as Levi Peterson won the event with a leap of 40 feet, 7.5 inches while Benn was second at 38 feet, 8.5 inches.
The Vikings 4X100 relay team of Farrier, Benn, George Bucklin and Noah Kinslow edged out Mission to win the event with a time of 45.33 seconds while the 4X400 relay team of Jackson Abney, Shelton Woll, Kinslow and Johnson won their race by more than 13 seconds.
The Vikes and Vals will be in action at the Divisional Meet in Missoula Friday and Saturday.
In other Bigfork sports action last week, the Valkyries golf team shot a 476 to finish fourth at the divisional tournament at Eagle Bend and earn a spot at the state tournament in Billings this week.
Katie Hummel narrowly missed qualifying individually as she finished 16th at 114. Sydney Slawter was 20th with a 118, Ava Hall shot a 121 to finish 22nd, Mackenzie Holton was 24th at 123 and Brooklyn Kallenberger was 44th at 153.
Colin Wade will be making the trip to Billings for the Vikings after taking second at the divisional tournament after shooting a 76, just five strokes behind winner Zeke Boos of Loyola.
The Vikings finished seventh as a team with a score of 432 as Landon Byerman was 35th at 110, Ian McMann was 47th at 121, Cole McManaway took 52nd with a 125 and Oscar Lee shot a 126 to finish 54th.
In tennis action, Bigfork will be sending eight boys and eight girls to the state tennis tournament in Missoula this week.
Justus West, Blane Barrows, George Brown and Dylan Porrovecchio will be playing singles for the Vikings while the doubles teams of Andrew Porrovecchio and Kaden Leanord and Landon and Logan Livingson also qualified for state.
For the Valkyries, Juniper Johnson, Emma Berreth, Anika Ranson and McColl Miller will be playing singles at state along with the doubles teams of Callie Martinz and Dana Saari and Ashlyn McGill and Tessa Troyer.
Results and scores from the divisional meet in Bigfork were not made available before press time.
---