Bigfork boys and girls take Western B Divisional track titles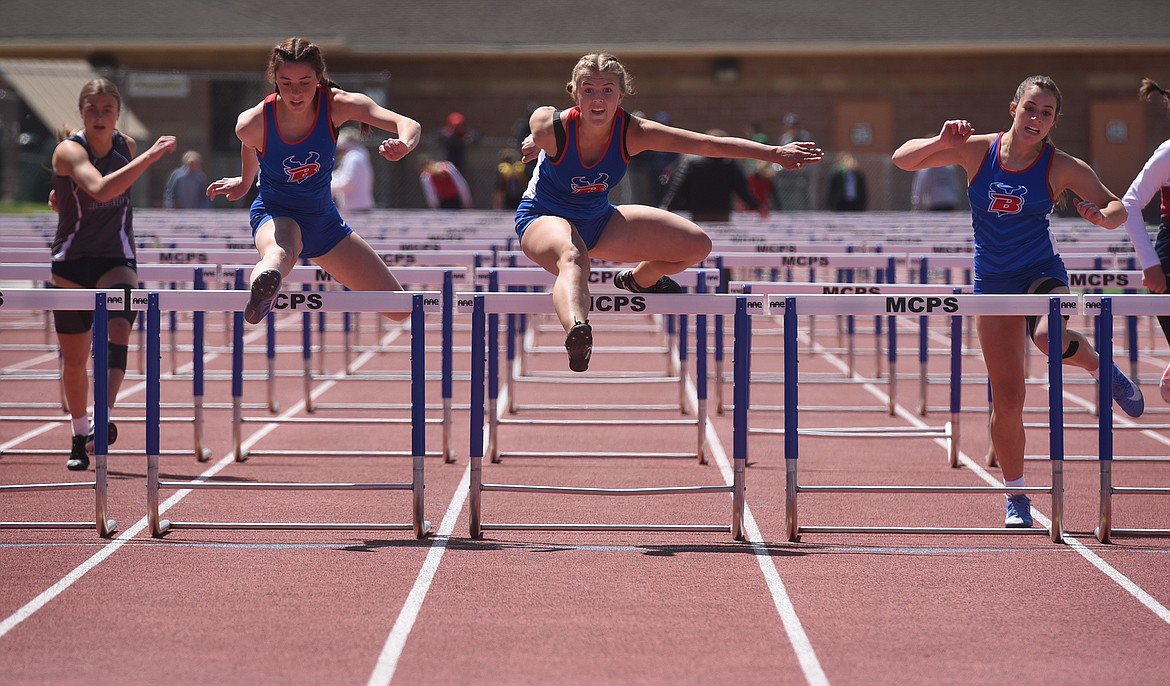 Ashlyn Savik (middle) clears the final hurdle on her way to winning the 100 hurdles Saturday while teammate Addison Reichner (left) was second and Allison Reichner (right) finished third. Jeremy Weber/Bigfork Eagle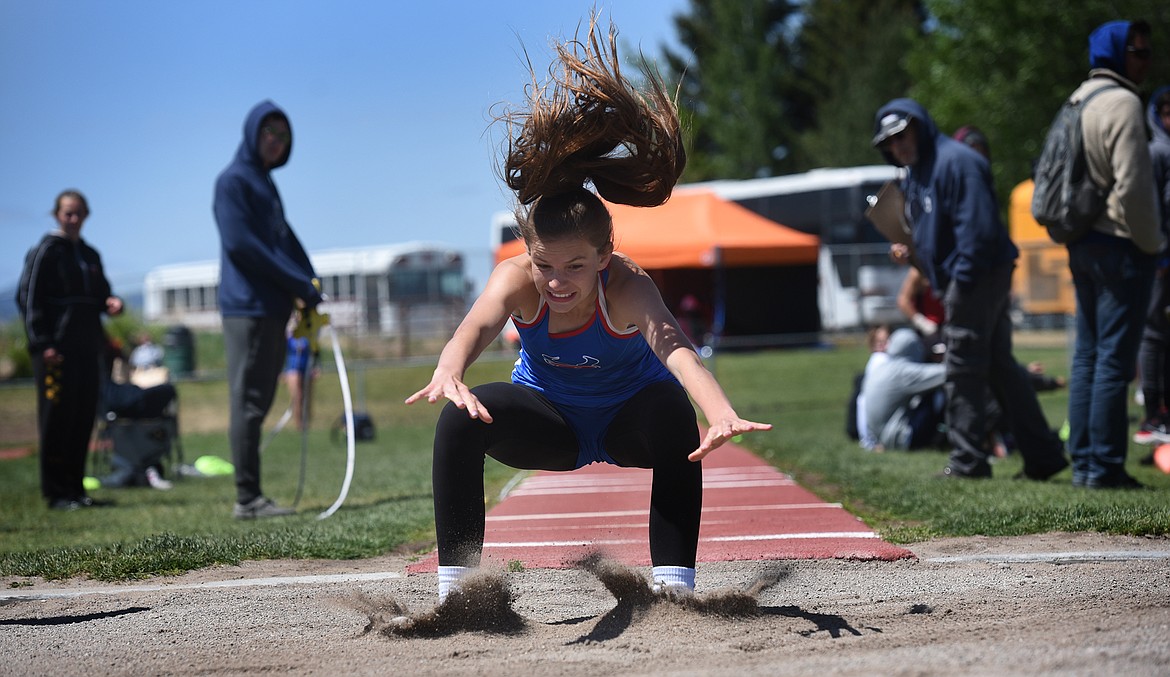 Ellie Jordt finished fourth in the triple jump Saturday with a leap of 29 feet, 10.5 inches. Jeremy Weber/Bigfork Eagle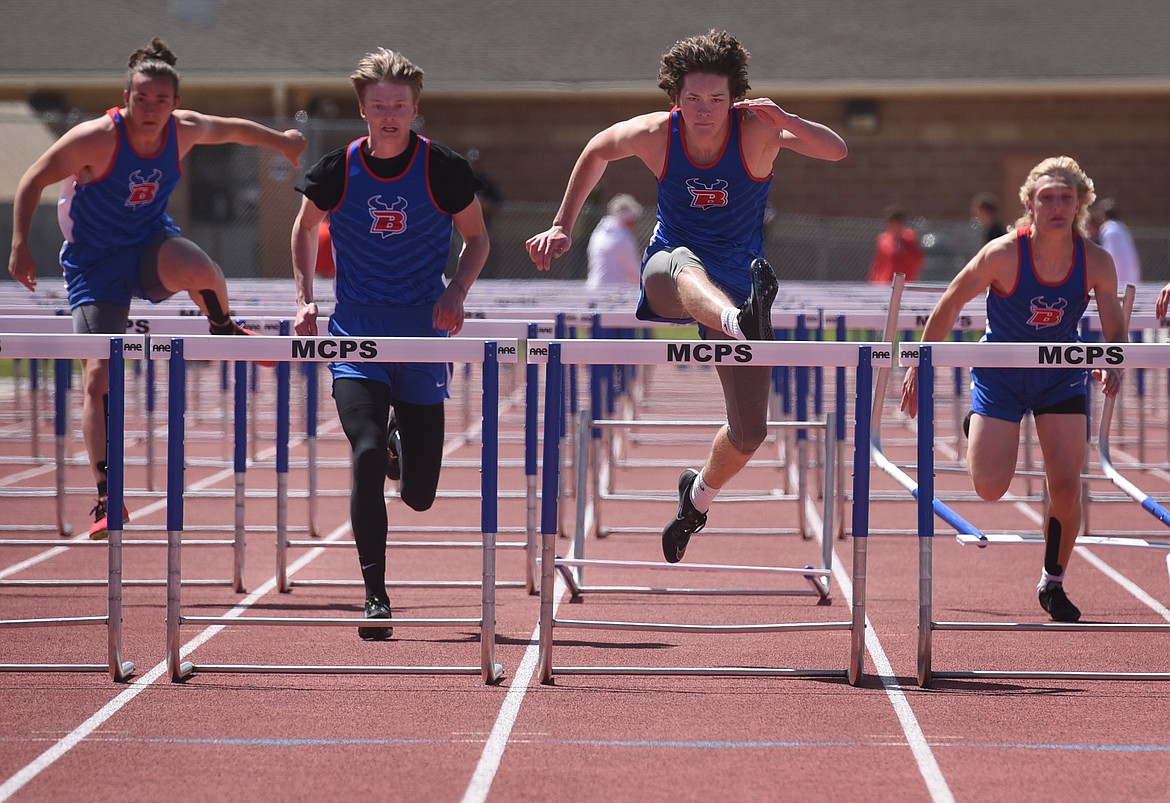 Isak Epperly clears the final hurdle on his way to winning the 110 hurdles at the Western B Divisional Meet in Missoula Saturday. Wyatt Duke (left) was third, Jordan Betts (far left) was third and Wyatt Johnson (right) took fifth. Jeremy Weber/Bigfork Eagle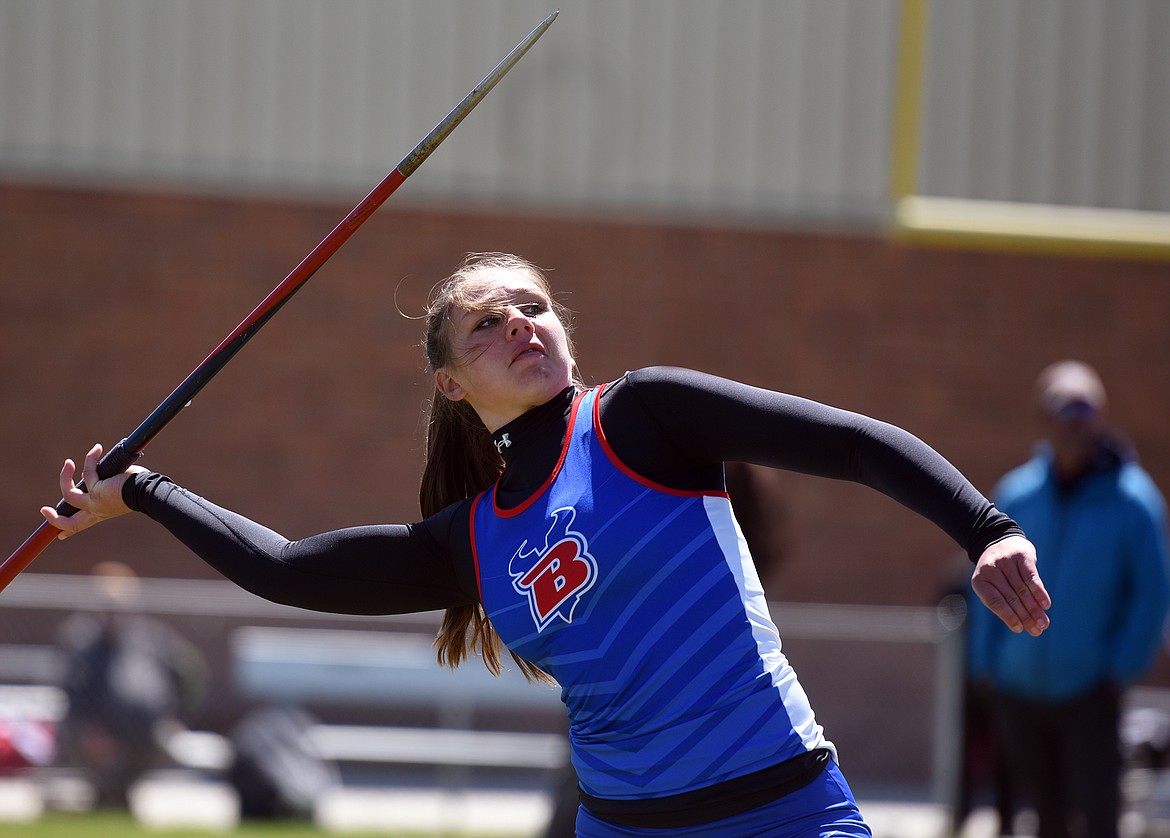 Madison Chappuis was second in the javelin at the Western B Divisional track meet in Missoula Saturday with a toss of 102 feet, 1 inch. Jeremy Weber/Bigfork Eagle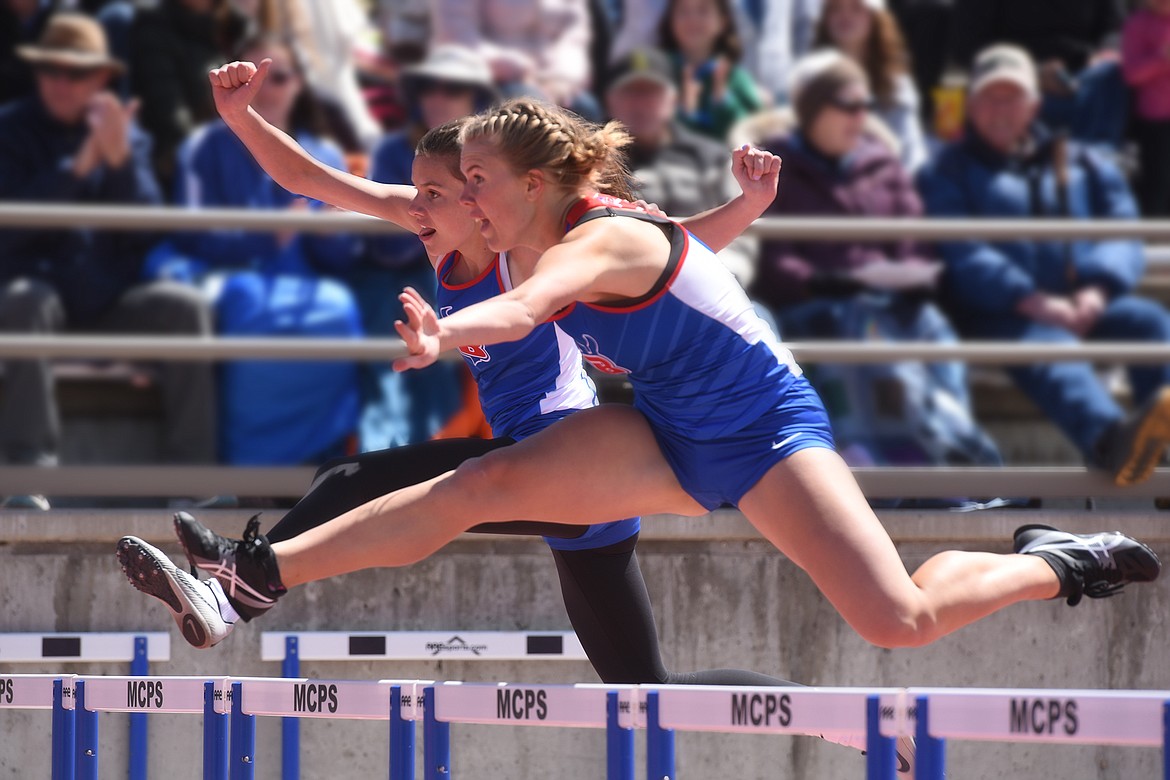 Ashlyn Savik (front) and Ellie Jordt clear the final hurdle in the 300 hurdles in Missoula Saturday. Jeremy Weber/Bigfork Eagle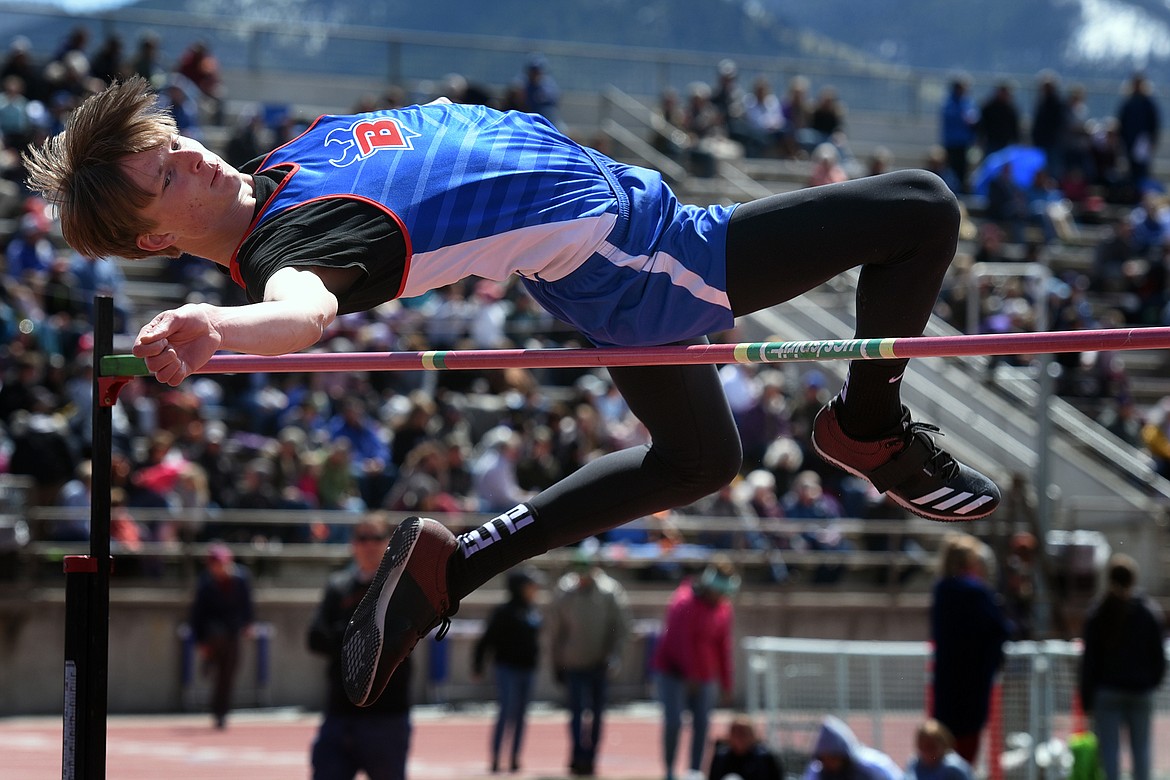 Bigfork's Wyatt Duke clears 6 feet 4 inches to win the Western B divisional high jump title at MCPS Stadium in Missoula Saturday. Jeremy Weber/Bigfork Eagle
Previous
Next
by
JEREMY WEBER
For the Eagle
|
May 26, 2021 2:40 AM
Bigfork's sports teams saw much success in a busy week as tennis and golf competed at the state level while the Vikings and Valkyries track teams dominated the Western B Divisional track meet in Missoula.
The Vikes and Vals both more than doubled the scores of the next closest school as both teams ran away with Western B Divisional track titles in Missoula over the weekend.
Bigfork looked unstoppable in the short hurdle events, sweeping the top three spots in the boys 110 and girls 100 meter events with the boys taking five of the top 10 spots in their race.
Jordan Betts was a winner in the boys 300 hurdles, Wyatt Duke continued his dominance in the high jump by clearing 6 feet, 4 inches for the divisional title, Levi Peterson leapt 39 feet, 9.5 inches to earn the triple jump title and Seth Osborne won the pole vault with a height of 12 feet, 6 inches as the Vikings finished with 167 points. Loyola Sacred Heart and Eureka tied for second place with 74 points each.
The Vikings top three 110 hurdlers each set new personal records as Isak Epperly won the race with a time of 15.86 seconds while Duke was second at 16.34 and Betts ran a 17.02 to finish third. Wyatt Johnson also qualified for state with a fifth place finish while Cole Knopik was seventh.
Jack Jensen was narrowly edged out in the 1,600, falling to Justin Morgan of Thompson Falls by less than half a second, and also took fourth in the two-mile race.
Cormac Benn had a trio of second-place finishes in the triple jump, long jump and high jump while Peterson set a new PR of 18 feet, 11.75 inches to take third in the long jump.
Both Viking relay teams took second in their races as the 4X100 relay team of Joseph Farrier, Benn, George Bucklin and Noah Kinslow set a new PR of 44.58 seconds while the 4X400 relay team of Jackson Abney, Maddox Mater, Shelton Woll and Benn also set a PR with a time of 3:36.66.
The Vikings throwers also had a strong showing, taking three of the top five spots in the shot put. Braeden Guse threw 40 feet, 10.5 inches to finish third while Levi Taylor was fourth and Silvestre Rodriguez was fifth.
Rodriguez and Farrier both qualified for state in the discus as Rodriguez finished fourth and Farrier sixth while Woll was fourth in the javelin with a PR toss of 145 feet, 3 inches and third in the pole vault after clearing 12 feet.
The Valkyries won only five events at the meet, but used their depth to compile 201 team points, far ahead of the 91 points put up by second place finisher Thompson Falls.
Like their Viking counterparts, the Valkyries hurdlers dominated the meet, sweeping the top three spots in the 100 and taking two of the top three spots in the 300 meter race.
Again, all three 100 hurdle racers set PRs as Ashlyn Savik won the race with a time of 16.59 seconds while Addison Reichner was second at 17.08 and Allison Reichner was third at 18.08.
Ellie Jordt was second in the 300 hurdles with a new PR of 51.99 while Savik set a PR of 52.12 to finish third.
Chloe Raats was a winner in the 400 with a time of 1:03.02 while Scout Nadeau tied her best throw of 34 feet, 1 inch to win the shot put.
Both relay teams also recorded their best times of the season to win their races as the 4X100 team of Jessy Frey, Afton Lambrecht, Raats and Aubrey Buenz ran a 51.89 while the 4X400 team of Buenz, Raats, Coralyn Shillam and Lambrecht ran a 4:16.30.
The Valkyries had 13 other top-three finishes as Frey was second in the 200 and third in the 100, Danika Bucklin took third in the 400, Micah Dunham was third in the 800, Grace Stewart took second in both the 1,600 and 3,200 races, Quinlan Nissen was third in the shot put, Nadeau was second in discus, Madison Chappuis was second in the javelin and Inga Turner was second in the long jump.
In tennis action, Justus West was third and Blane Barrows finished fourth in Missoula last week as the Vikings tennis team took fourth at the state meet.
After a bye in the opening round, Barrows fell in his first match of the tournament but bounced back with five straight victories before losing to teammate West in the third-place match.
West won his first two matches before falling to eventual champion Jake Bellamah of Loyola Sacred Heart. West bounced back by winning his final two matches, including edging out Barrows for third.
Emma Berreth fell in her opening match but bounced back with three straight wins as the Valkyries finished ninth at the tournament.
The doubles team of Callie Martinz and Dana Saari won their opening match before falling to eventual champions Grace Daniel and Ava Bellamah of Loyola. Martinz and Saari earned a win in their next match before being eliminated in the next round.
The Valkyries golf team shot a combined 946 to earn 10th at the state tournament in Billings as Katie Hummel shot a 220 to lead Bigfork with a 35th place finish.
Sydney Slawter was 43rd at 226, Mackenzie Holton shot a 231 to earn 48th, Brooklyn Kallenberger was 65th at 269 and Ava Hall shot a 275 to finish 67th.
Colin Wade, the lone qualifier for the Vikings, finished 10th after shooting a 90 on day one and 79 on the second day for a combined score of 169.
---