Riding to remember
by
MACKENZIE REISS
Bigfork Eagle
|
May 26, 2021 2:15 AM
Twelve years ago on May 23, local motorcycle enthusiasts Richard "Hog Dick" Fliehler, 56, and Mitchell Allen Kopczyk, 50 lost their lives in a car accident near Bigfork. In their memory, friend John Pettigrew began a poker run with all proceeds going to local veterans organizations. This weekend, hundreds of motorcycle riders will begin their excursion at A Bar in Ferndale, with stops at Swan Bar, Maverick's, Buffalo Saloon, Bigfork VFW and Boozefighter Clubhouse before returning to the origin point for a barbecue, silent auction and raffle. Signups start at 11 a.m. and riders depart at 1 p.m.
"We get [riders] from all over the country — People that knew Dick and Mitch, and people that just come to join the crowd," Pettigrew said. "It's turning out to be one of the largest motorcycle gatherings in northwest Montana."
Fliehler served four years in the Army and later worked as a craftsman, known as a jack-of-all-trades and "a phenomenal leather-worker," Pettigrew said.
Fliehler used to ride his Harley past Pettigrew's log yard in the late '70s. Back then, there were few other motorcyclists around, so Pettigrew took matters into his own hands, followed Fliehler home and introduced himself. What followed was a fast friendship, driven by a mutual interest in vintage bikes and building things.
"Dick was pretty well known around here — he worked for me for years," Pettigrew said. "We would take a job on and sometimes it would be four to six months."
Kopczyk was a craftsman too, specializing in handmade log furniture, and all three men were members of the motorcycle club the Montana Legends. To join their ranks, members have to own a bike that is at least 25 years old.
"It started as a bunch of young guys with old bikes, now it's a bunch of old guys with young bikes," Pettigrew said with a laugh.
After Fliehler and Kopczyk's accident, the annual ride, then known as the Hogdick and Mitch Memorial Run, kept their memory alive while doing good in the local community. The event has since been renamed the Montana Legends Memorial Poker Run for the Vets and is expected to draw upwards of 190 riders this Saturday. This year's event will also recognize the passing of fellow motorcyclist, Glen Wessel.
Participants can buy as many poker hands as they like for $10 each and enjoy a dinner of pulled pork, brats, burgers and Pettigrew's famous coleslaw while listening to the musical stylings of the the Jim and Joe Show, Kenny James Miller Band and Livingston and Friends. Organizers will be raffling off a 2004 Harley-Davidson Road King or $5,000 cash with tickets going for $20 each and just 2,000 available. The silent auction will feature items donated from businesses across the state ranging from jewelry and art to food and gift baskets. Camping will also be available in the field behind the A Bar.
The event raises $40,000-50,000 each year for Flathead Valley veterans, Pettigrew noted. The funds are dispersed amongst more than a dozen organizations that help veterans such as the Bigfork VFW, Montana Veterans Homes in Columbia Falls and the Northwest Montana Veterans Stand Down and Food Pantry in Kalispell, among others.
"They certainly appreciate it," he said. "You can see what an impact we make to all these guys."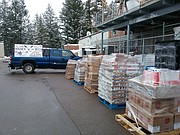 ATTEND THE EVENT
The Montana Legends 12th annual Memorial Poker Run for the Vets will be held Saturday, May 29 at the A Bar in Ferndale. Registration is at 11 a.m. and riders depart at 1 p.m. There will be a barbecue, silent auction and raffle at A Bar. Camping is available on site.
---