Bigfork Rotary looks toward holiday season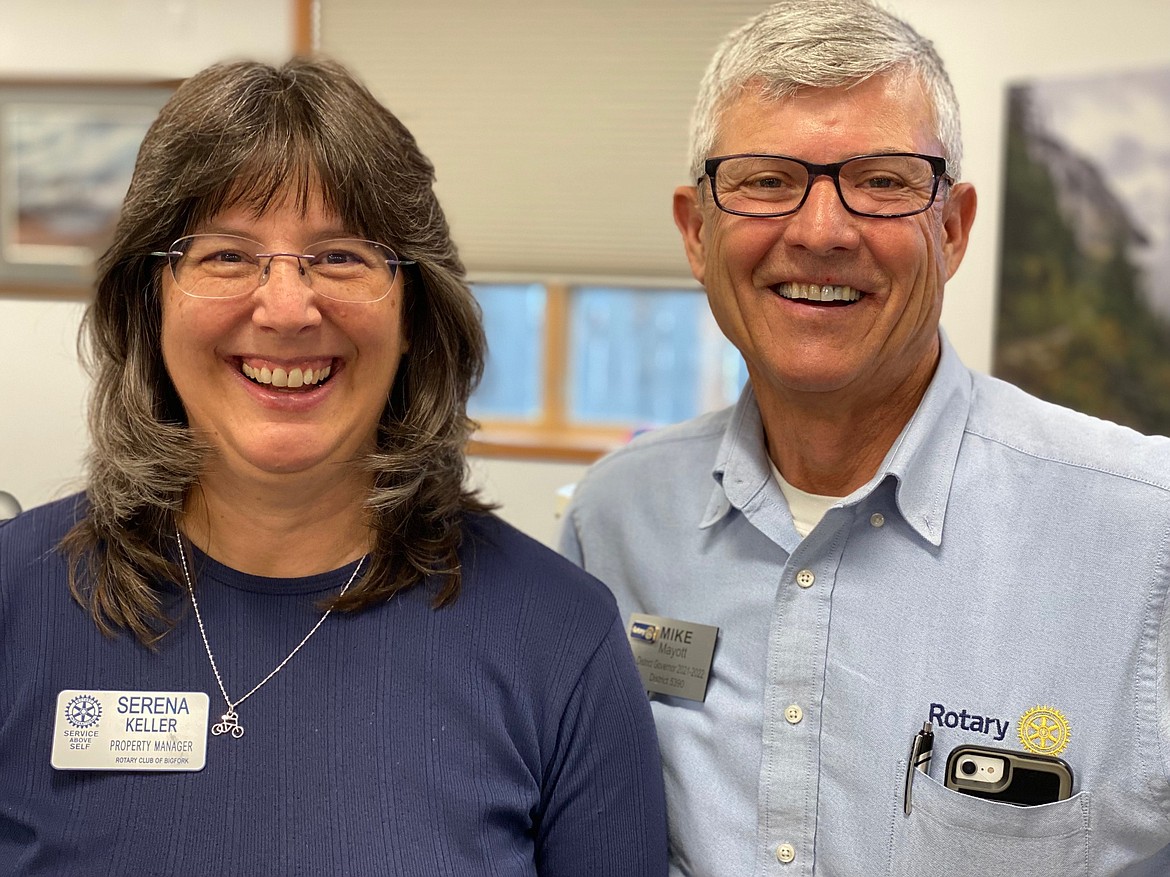 Bigfork Rotary President Serena Keller with Rotary District Governor Mike Mayott at their most recent meeting.
by
TAYLOR INMAN
Bigfork Eagle
|
November 10, 2021 12:00 AM
Bigfork Rotary Club is celebrating its 20th anniversary this year, and President Serena Keller said the organization is gearing up for a couple of important events this holiday season. She said unfortunately, plans to celebrate the anniversary were thwarted by the pandemic, but it doesn't stop the Rotary from helping folks in Bigfork.
Keller said she first joined Rotary three years ago after knowing other members and admiring what they were trying to do.
"Rotary is composed of a number of professionals and a number of retirees who had very interesting careers and who are ready to roll-up their sleeves and make things happen in Bigfork," Keller said.
Many of their members are involved in other groups like the Community Foundation for a Better Bigfork and the Chamber of Commerce, as well as members who have reach in other sectors, making it easy to tell what needs there are across the community.
"What we've found is when you get a number of people that have feelers out in other volunteer organizations in their community, there was a hub, or a nexus of people who really know what was going on and what was needed, and what kind of groups were trying to accomplish smaller things," Keller said.
Rotary is a national organization with international reach. According to the official Rotary website, there are 35,000 clubs across the globe. Keller said every year there is a theme, and this year it is "Serving to Change Lives." She said one of the programs Bigfork Rotary is most proud of is their backpack program, where they supply food insecure students with meals to last over the weekend.
"That program has evolved to include not just high school students, but middle and elementary students to make sure there is always food available for them in the schools," Keller said. "It's so well-known that all of the funds that go towards the backpack program get into the hands of kids that need it, that we have been very successful fundraising and making sure that program continues."
Keller said in light of the many recent suicides across the Flathead, Rotarians are also looking at ways to support students with their mental health. She said part of this might include brainstorming with students themselves, but also reaching out to the vast network of Rotary clubs across the United States.
"Across the Rotary organizations, you have this tremendous resource of professionals all over the country who are looking for outreach in similar ways, so you don't necessarily have to reinvent the wheel," Keller said. "You can go to the Rotary organization and start drawing from ideas and suggestions that other Rotarians have also tried to solve these problems with and bring those tools to your own club. So, this is a new thing we have some members interested in, "
For their holiday season, the club works closely with guidance counselors at the schools to buy Christmas presents for students in need.
"They can be things that if you don't have any money can make a lot of difference," she said. "For example, one student asked us for a tool set so he could just repair things in the rental he was staying in, because he couldn't live at home. So you know, just to tighten a door knob, to fix your car, just to be able to afford a tool set,"
Keller said she and other Rotarians look for projects like these that can really make a big difference in someone's life. She said the Rotary also sponsors students who are interested in participating in a foriegn exchange program.
Currently, Bigfork Rotary is working with Harvest Foods and the Bigfork Fire Department to prepare for their holiday food basket giveaway. Keller said the groups work to put together holiday meal baskets for families in need. She said the basket includes recipes and anything else needed to prepare a traditional holiday dinner. She said those will be ready to go out in mid December, probably before school lets out for winter break.
Bigfork Rotary meets every Wednesday at noon in the Community United Methodist Church. Keller said anyone is welcome to come join in on a meeting and learn more about what Rotary does. Applications to become a Rotarian are available if anyone is interested in becoming involved. Bigfork Rotary is also currently looking for a new caterer after their most recent one retired. Anyone interested can contact rotaryclubbf@gmail.com.
---