One more week: Vikings seniors reflect on emotional season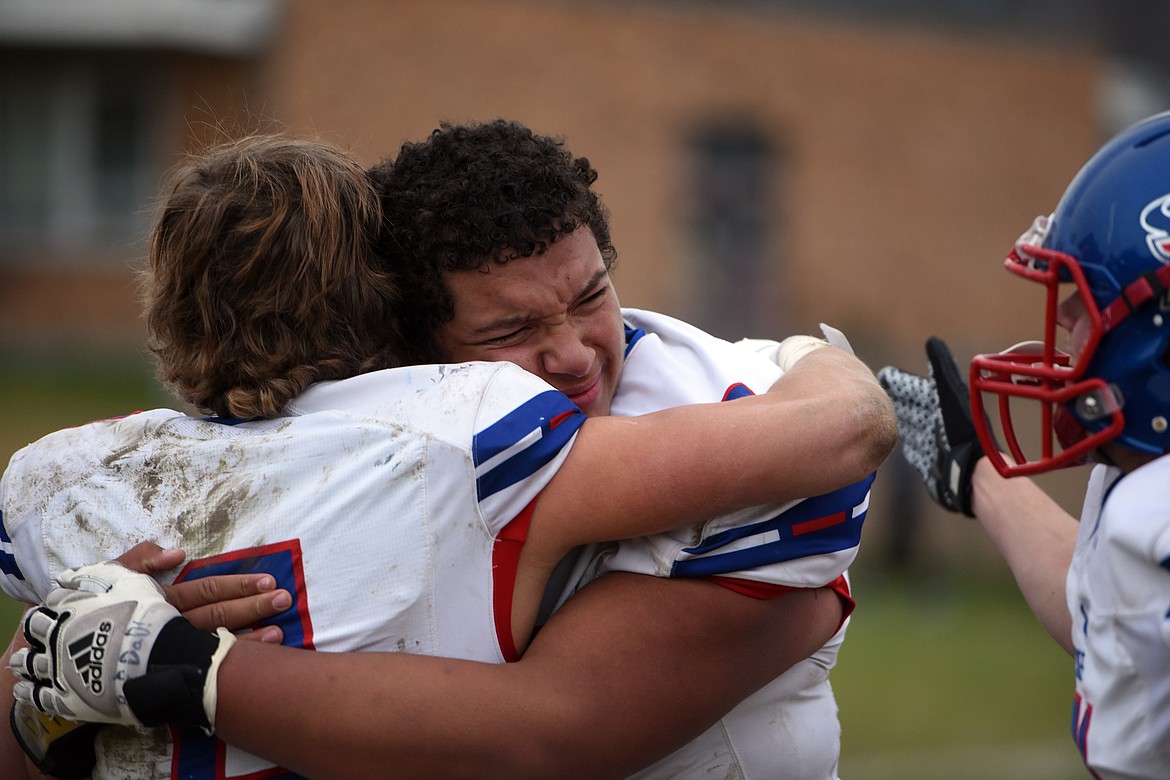 Bigfork's George Brown hugs teammate Patrick Wallen as the Vikings celebrate their 7-3 win at Eureka in the state semifinals Saturday. (Jeremy Weber/Bigfork Eagle)
by
JEREMY WEBER
For the Eagle
|
November 16, 2021 12:00 PM
When they stepped onto the practice field for the first time this season on a wet, foggy morning in August, Bigfork's Vikings had no idea the trials they would face in the coming months.
Ahead of them lay a minefield of challenges, both on and off the field.
Over the next three months, these teens would face some of the toughest moments of their young lives, learning not only about football, but also about life, friendship and family.
As this Vikings squad sit poised to play for Bigfork's first football state title in 11 years, it's seniors took a moment Monday to look back at what this team has already accomplished.
Under the leadership of head coach Jim Benn, this team's 12 senior players, along with their senior student manager, have fought their way through a 3-6 season in 2019 and a 5-4 campaign in the middle of a global pandemic in 2020.
For the core group of friends, many of whom had been playing football together since the fourth grade, the goal was simple.
"We just didn't want to be denied. We came into the season knowing what we were capable of and we put in a lot of hard work to get to where we are now. We just wanted to go as far as we can, and we wanted to do it together," lineman Braeden Guse said.
"We have always been a pretty tight group, but it has really shown this year," quarterback Patrick Wallen added. "This senior group, we knew it was our do-or-die year. We have always been close, but even more so this season.
The Vikings season got off to a roaring start with a 27-0 win at Cut Bank Sept. 3 and a 48-6 victory over Conrad the following week. Bigfork survived a 20-19 test against Jefferson in the third week of the season and dominated Whitehall 54-6 the following week.
That's when tragedy struck.
It was in the days following that win over Whitehall when the team lost one of its own. Junior Dane Hansen took his own life, becoming the latest in a string of teenage suicides in the Flathead Valley, leaving his friends and teammates devastated.
For many of the Vikings, Hansen's death brought a new perspective to football, and life.
"I think it brought a whole new meaning to this season for us. For a lot of us, we were truly experiencing grief for the first time in our lives. We learned that there is always a bigger reason for everything and we need to hone in on that reason," student manager Liz Hyde said. "We had to figure out why we are doing this and why football even matters. It's because of the people you are with, the rest is just a game."
Reeling from the loss of their friend, the Vikings returned to one of the few places where they could escape the world, the football field.
"It was really difficult for all of us to go through something like that, but it helped bring us all together," lineman George Brown said. "After that, we had one purpose, winning for someone who couldn't be with us. I want to win for him, and I know the rest of the team does as well. It made us work that much harder. We learned that you can't take anything for granted. You have to cherish each moment given to you."
"What happened really solidified our brotherhood. We learned that we have to keep everyone together - somehow," Guse added. "It was something terrible that was incredibly hard to move past, almost impossible. We know that if we can keep playing together, for him, then we honor him."
Playing together is exactly what the Vikings did.
The team earned an emotional 42-0 win when they returned to the field to face Loyola Oct. 1.
After a 48-0 Homecoming win over Anaconda, the Vikings suffered back-to-back losses to Eureka and Florence-Carlton to close out the regular season.
Entering the playoffs as the third seed, the Vikings knew that only road games awaited them on their playoff run. While many teams would fold under the pressure of consecutive losses and the prospect of no more home games, the Vikings only came together that much more.
"I think we have grown even closer during this playoff run. We have had to play on the road and when you travel with your best friends, you just become that much closer," Guse said. "It's led to that do-or-die mentality that we just want one more week together."
"I don't think we are really as worried about winning as we used to be. We are more focused on getting to play with one another and getting to keep doing that just a little bit longer," wide receiver George Bucklin added. "The only way to keep it going is by winning. At this point, it's all about us getting to stay together for one more week."
With strong support from their fans, the Vikings earned their spot in the state title game with road wins at Glasgow, Townsend and Eureka.
"The support that our community has shown us through everything has been amazing. All the way over in Glasgow, I saw people in the stands that didn't even have kids on the team," Wallen said. "In Townsend, we had more fans there than they did. In Eureka, half the school or more and half the town was there. We are very appreciative to have a community that backs us like that."
In earning a chance to avenge their Oct. 22 loss to Florence this Saturday, the Vikings have kept their goal alive - one more week.
"We just want to keep this going. We know it is something special and we care about the guy that is right next to us, no matter who that is," running back Levi Taylor said. "It's sad that this is our last week and it will be hard for a lot of us knowing that Friday is the last time this group will get to practice together. I think we have done the best we could for as long as we could. That's all we could ask for."
Win or lose, this group of Vikings knows this season is about more than just football.
"We have truly learned the meaning of family and friendship this season," tight end Vaughn Pendlay said. "Hopefully, that is something we can pass down to future vikings."
---