After school program ACES finds their forever home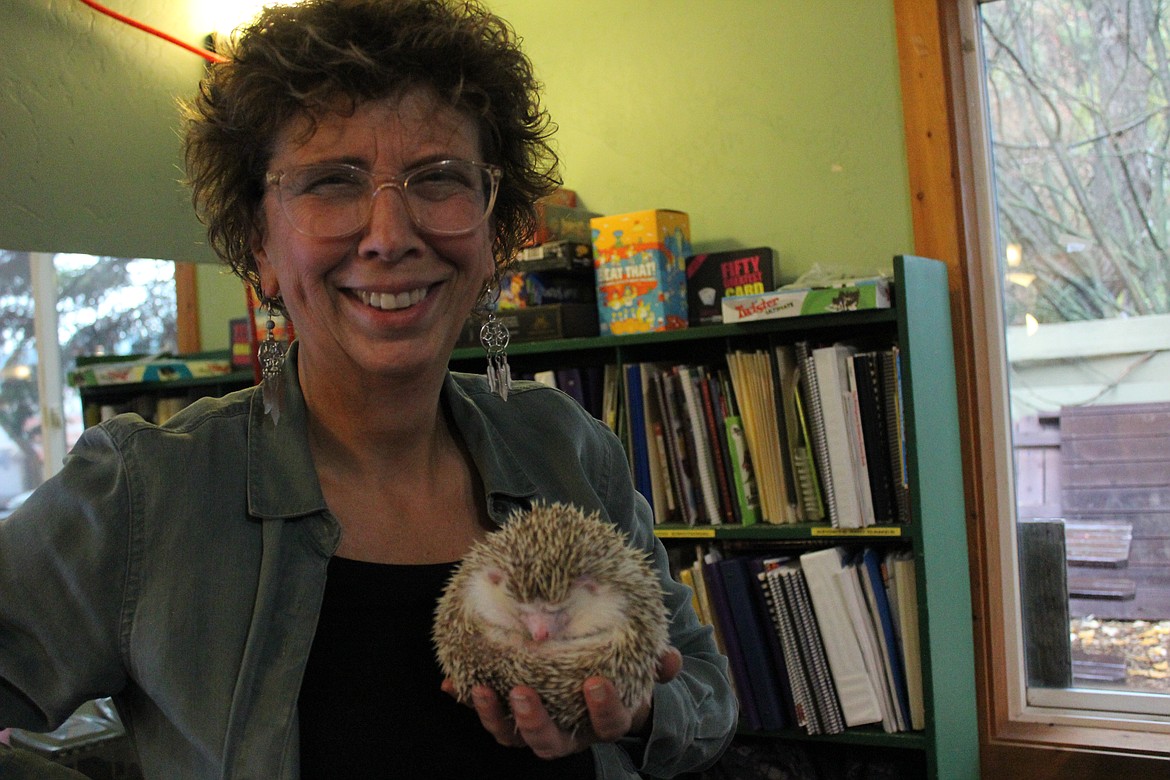 ACES Executive Director with their class pet, Meatball the hedgehog.
by
TAYLOR INMAN
Bigfork Eagle
|
November 24, 2021 12:00 AM
Bigfork's after school program ACES has found a new home in the former senior center building, which was auctioned off to the nonprofit at the beginning of the month. ACES Executive Director Cathy Hay said the organization was able to raise over $200,000 in a two-week timeframe in order to have around $500,000 prepared for the auction. The purchase means the program has found a permanent home for the first time since its inception.
"In about 10 days, I just went to some of our donors in the community and they went and talked to other people in the community, and we all came together and we made a plan and Glacier Bank gave us a loan just like that, which was really awesome because we're a nonprofit…" Hay said. "So yeah, we came up with enough financing to bid up to $500,000 if we wanted to and we got it for the reserve, which was $375,000,"
Hay said ACES had their first home in the basement of the children's theater when the program began over a decade ago. But when new owners bought the building, the organization moved into a house around the corner on Commerce Avenue, which sits right beside the former senior center. The location allowed them to be closer to the school, but still presented some challenges. Hay said she was thankful at the time to find any building at all.
"Honestly, when we lost our lease down at the corner, we looked everywhere, and I mean everywhere for property. We were trying to find a place where we didn't have to bus the kids and it wasn't an option for the school to bus the kids...and we couldn't find anything. So it was this kind of lost feeling, like 'what do we do, how do we keep it going?'" she said.
Hay said that could have been the end of ACES as they knew it. But they got a lease in their current building and continued their mission of providing a place where children could stay after school to play educational games, build friendships and have fun.
"It's very important to my staff and I that people understand ACES is not a daycare...we do educational things, we partner with community organizations like the Bigfork Art and Cultural Center, and last summer the Flathead Lake Biological Center came and did some classes.
"I think that's a thing that I'm proud of, is that we can collaborate with the community and offer opportunities to kids that don't get them because they're parents work," Hay said.
Hay started putting on after school programs 20 years ago to fill a dire need in the community. She said before her program started, there were no good options for working parents who had young children in school.
"I knew families that were literally sending their 6- and 7-year-olds home on a bus, and the kids would walk home and amuse themselves or whatever for a half hour or 45 minutes until mom and dad got off work. That terrified me a little bit, it also was such a huge worry for working parents.
"There were a few activities for students but for the young ones, there wasn't anything," Hay said.
She said having a program like ACES takes the burden off of working parents and gives their children an opportunity to participate in many different activities for a low cost.
"We really try to reach out to the lower income kids. So any child that qualifies for the free and reduced lunch program at school, they only attend for ten dollars a month, that's all they have to pay," Hay said. "So, if they came every day, that's 50 cents a day and they get dinner and a snack, and homework help...we've also had a lot of foster kids come through the program and we don't charge them. It gives foster parents a break."
ACES stands for art, community service, education and sports. Hay said they take a day each week to focus on one of these themes. Maybe the group spends Monday focusing on art and doing activities at the BACC, and Tuesday they will do some community service projects.
"It's their favorite thing. They love community service," Hay said. "We took the older kids and had them put corn stalks downtown. They tied all the cornstocks, decorated downtown a little bit. You give the little kids window cleaner and a rag, they'll clean all of the windows in downtown.
"They really love giving back. They really love the community, and that's one of the most important things we do."
Hay said one of her favorite things ACES does is their summer camps, which are themed. She said one of the kids' favorites is circus camp, where they get to learn gymnastics, magic and clowning.
"I always want to do an educational component but I kind of disguise it. So we do a lot of magic, which is basically science. They learn how to make balloon animals and they dress-up, so acting in a way, telling jokes — we teach them how to tell a good joke," Hay said.
The new location offers the program a lot of possibilities. Hay would like to demolish the current building on the lot and rebuild from the ground up, but those next big steps come with time.
"We just bought a building for $375,000, so that's the next phase. What are we going to do? Are we going to renovate and make it usable the way it is, or will we tear it down and rebuild. It's such a nice lot and it's big and there's room to expand and grow, so I'm hoping one day we have a new building and then we can start fresh instead of fixing up things," she said.
More than anything she'd like to see the new location offer a chance for the program to grow.
"I have visions for definite growth. I had 80 kids last summer with 20 on a waiting list, so that tells you right there we need a facility for 100 kids. Bigfork is going to keep growing, and maybe the population isn't growing too much right now, but I see a younger generation where it used to be more of a retirement community. So there's going to be more of a need for after school programs," she said.
To find out more information about ACES, go to acesafterschool.com or call 406)-837-5439.
Bigfork Eagle Editor Taylor Inman can be reached at editor@bigforkeagle.com or 406-758-4433.
---