Vikings finish out Class B football playoffs in second place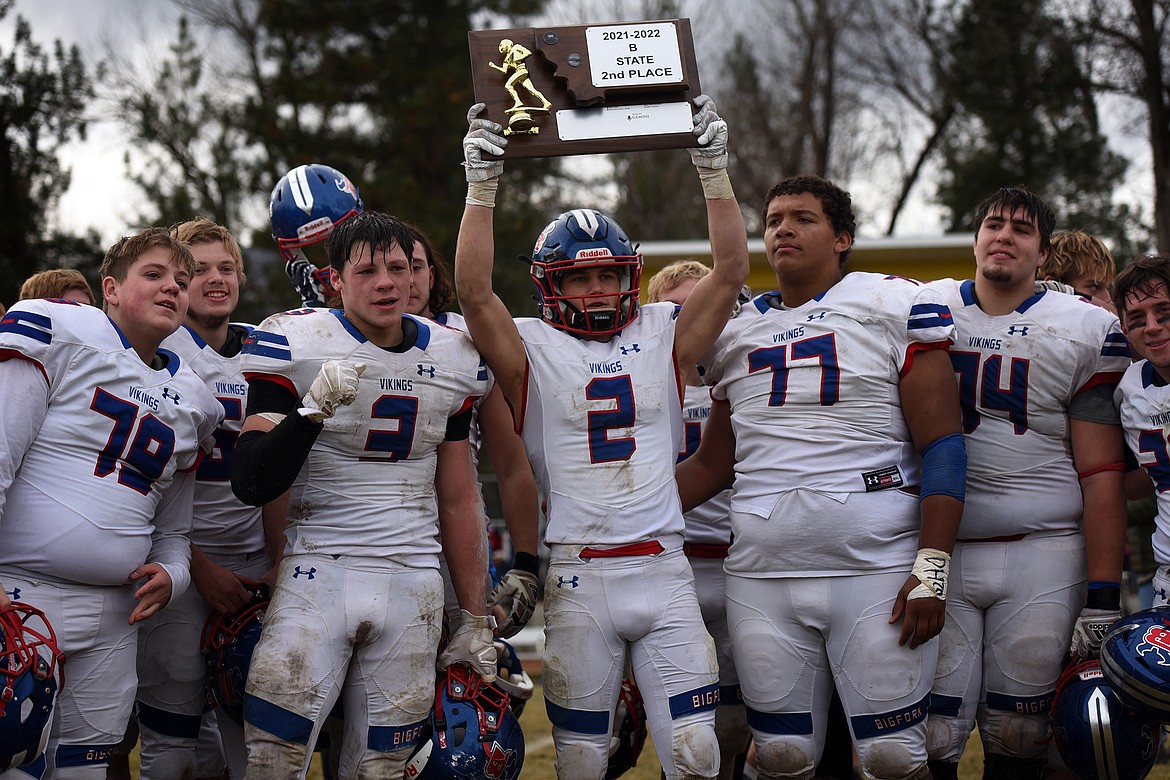 The Vikings celebrate with the second Class B state second-place trophy in Florence Saturday. (Jeremy Weber/Bigfork Eagle)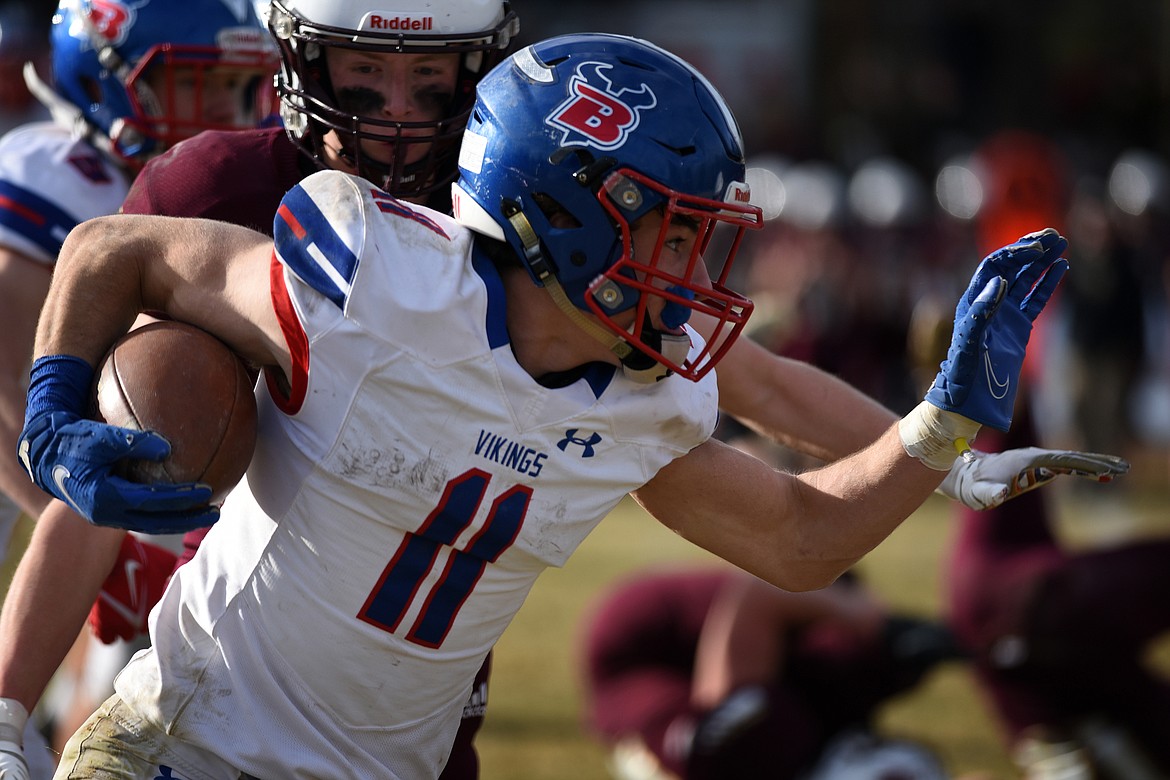 Bigfork's George Bucklin looks for room to run against the Florence defense in the Class B state title game Saturday. (Jeremy Weber/Bigfork Eagle)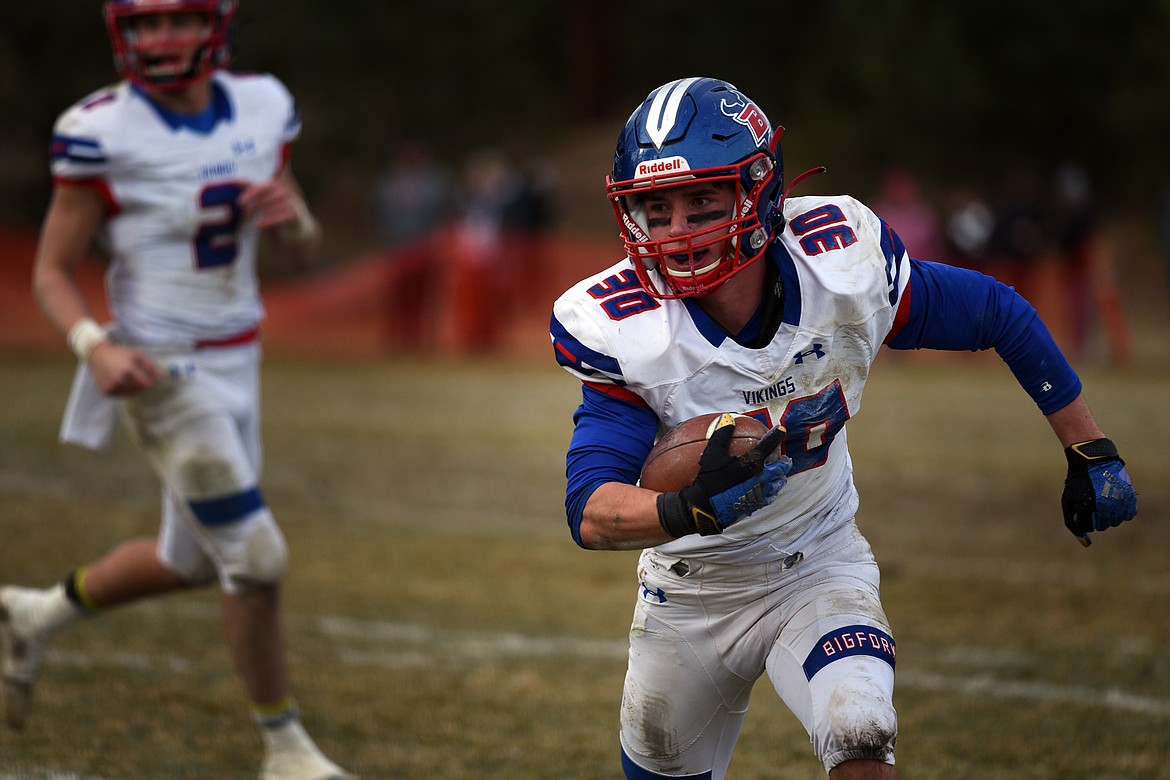 Bigfork's Wyatt Herd runs for a chunk of his 44 rushing yards in the fourth quarter of the Class B state title game in Florence Saturday. (Jeremy Weber/Bigfork Eagle)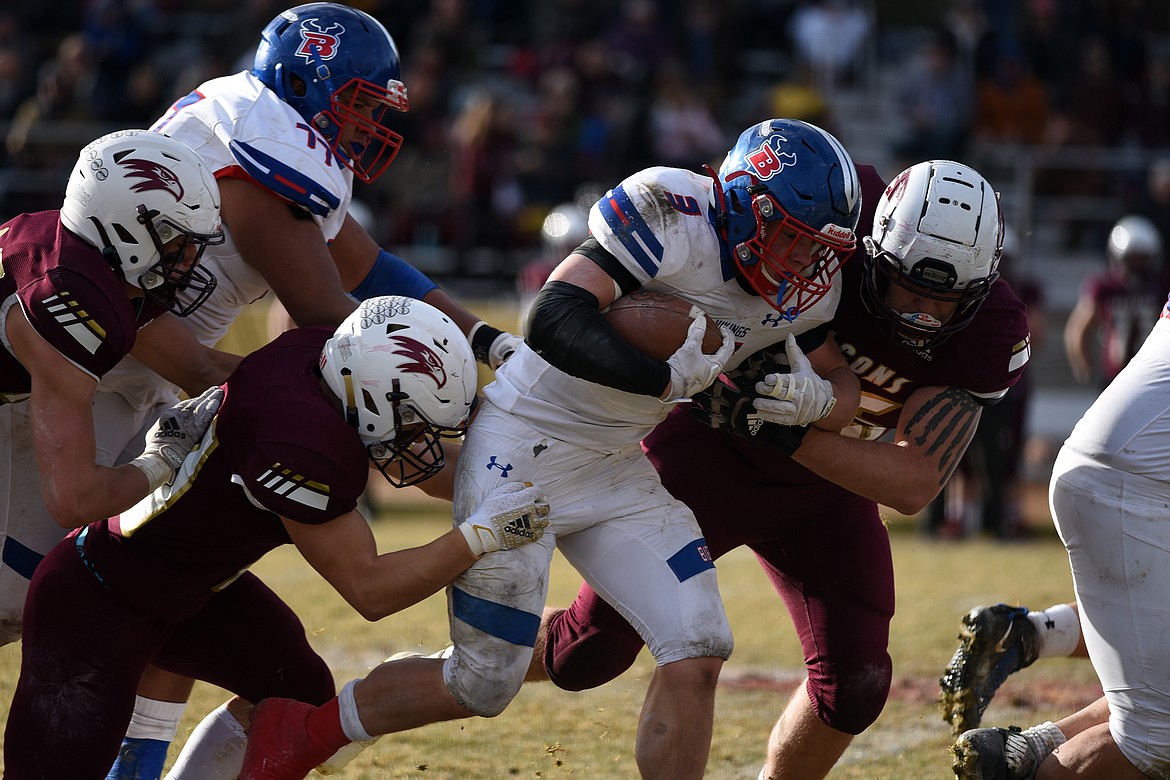 Bigfork running back Levi Taylor fights the Falcons for extra yards in the Class B state title game in Florence Saturday. (Jeremy Weber/Bigfork Eagle)
Bigfork's Joseph Farrier looks to find a running lane in the second quarter of the Class B state title game in Florence Saturday. (Jeremy Weber/Bigfork Eagle)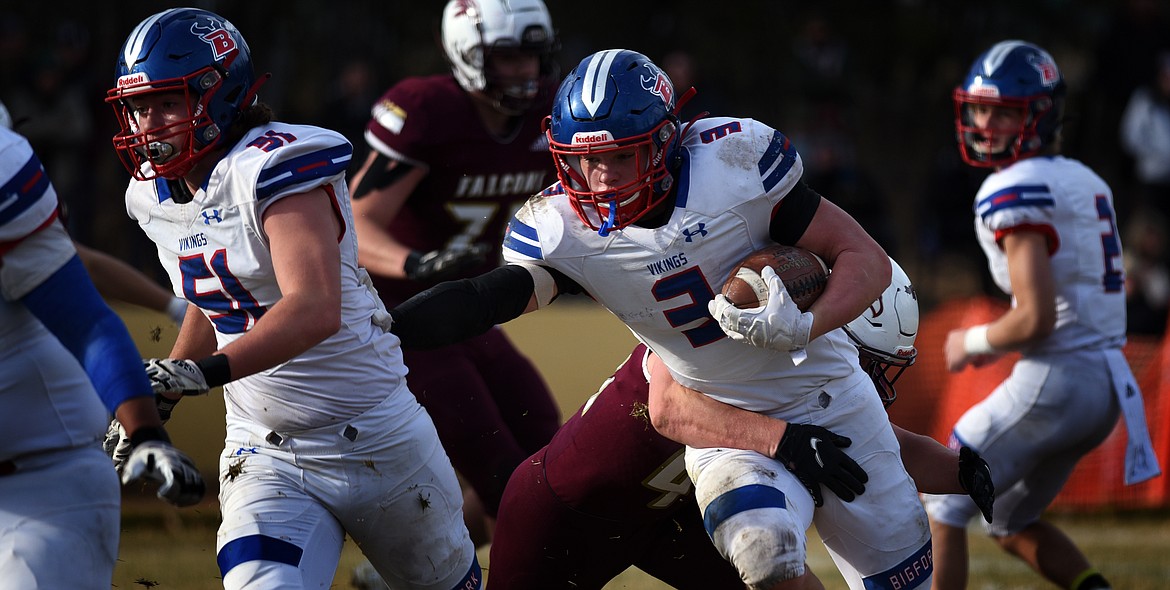 Viking Jordan Betts (51) leads the way for running back Levi Taylor (3) in the fourth quarter of the Class B state title game in Florence Saturday. (Jeremy Weber/Bigfork Eagle)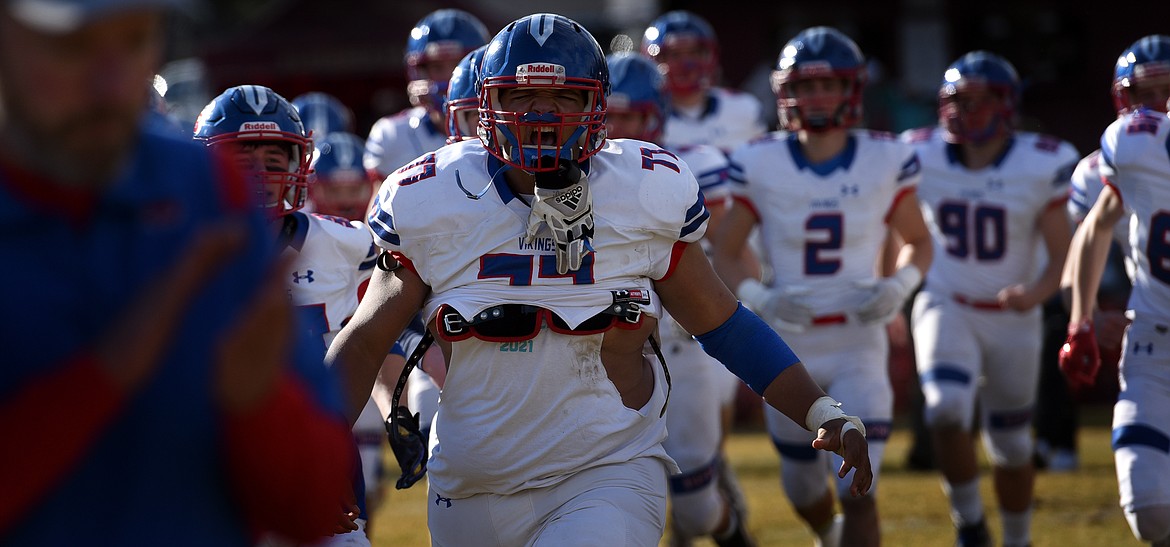 Senior lineman George Brown leads the Vikings onto the field for the Class B state title game in Florence Saturday. (Jeremy Weber/Bigfork Eagle)
Previous
Next
|
November 24, 2021 12:00 AM
The Vikings storybook run through the Class B football playoffs came to an end in the championship game at Florence Saturday as Bigfork fell to the top-ranked Falcons 42-0 to finish their season with nine wins and three losses.
After a promising 10-play opening drive by the Vikings fizzled in Falcon territory, the teams fought to a scoreless tie after one quarter. The Falcons found their offense after the opening quarter, scoring 21 points in both the second and third quarters to pull away for the title.
Despite the loss, Vikings head coach Jim Benn was pleased with his team's performance.
"I am really proud of our kids, that's all there is to it. There is nothing for them to hang their heads about," he said. "There are some teams that are just tough matchups for each other. We were a tough matchup for Townsend because of our size and physical play and Florence was a tough matchup for us because they run a true spread offense. They get a lot of one-on-one opportunities and they can dictate matchups because of that. It makes them tough for anybody. A typical high school team that runs the spread offense has one or two really good receivers. They have four, maybe five or six."
The Falcons got 299 of their 427 yards of total offense through the air while the bulk of Bigfork's 177 yards came from their ground attack (150).
George Bucklin led the Bigfork attack with 70 rushing yards on 11 carries and added another 12 receiving yards on three catches.
Wyatt Herd finished with 44 yards on four carries late in the game while Levi Taylor added 24.
Vikings quarterback Patrick Wallen finished 7 for 15 passing for 27 yards and added another 32 on the ground.
The Bigfork defensive effort was led by Jackson Abney, who finished with 6.5 tackles while Jordan Betts had six, Taylor added 5.5 and Jeremiah Venegas had four.
For Benn, who was coaching in his first state championship, the game's outcome was just part of how he measured his team's success this season.
"I think the biggest takeaway from this season is what a group of people that are working together without regard to individual accolades can do. If I had to use one word to sum up this group, it would be "Character,'" he said. "The leadership that has developed with this group over the past two years has been very satisfying to see as a coach. Those are the things that I really want to see. I want to win games - I'm a competitive human being - but winning is an all-encompassing thing that doesn't necessarily mean who has the best score on the scoreboard. These kids are absolutely winners because they do things the right way."
---