Sports roundup: Vikings football improves to 5-0
Viking Caleb Riedesel (13) holds off a Columbia Falls defender Tuesday. (Jeremy Weber/Bigfork Eagle)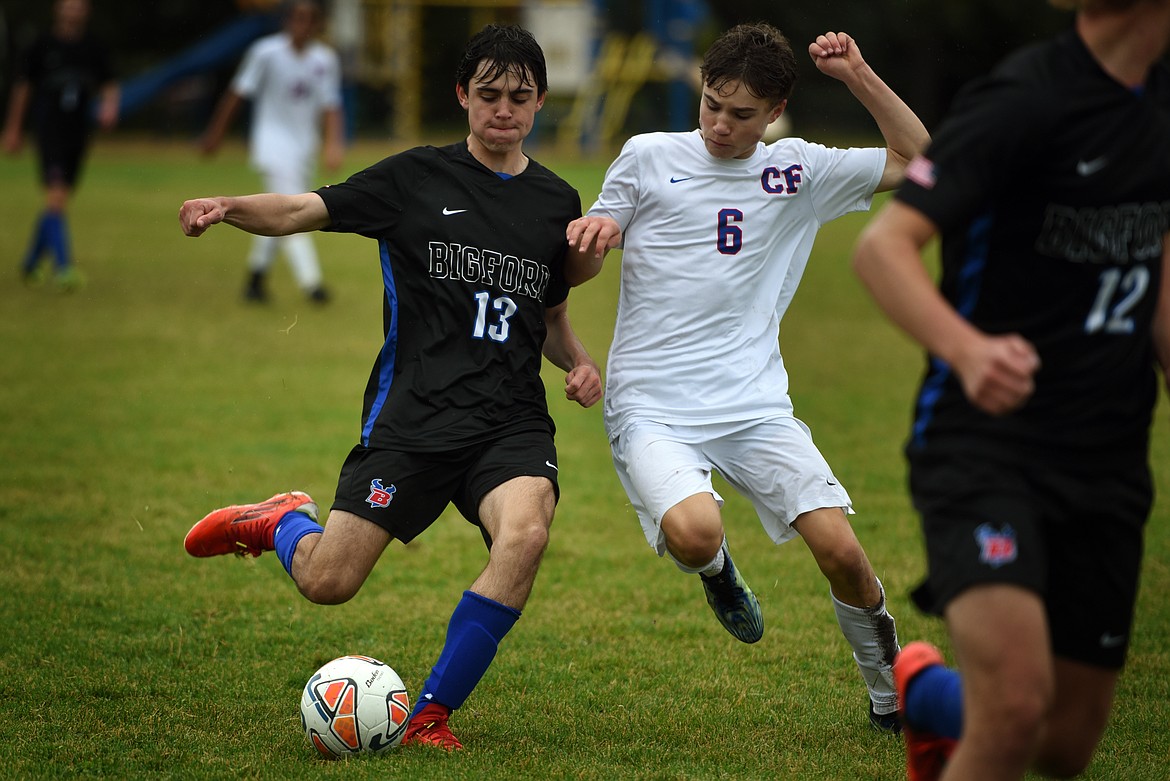 Viking Caleb Riedesel (13) holds off a Columbia Falls defender Tuesday. (Jeremy Weber/Bigfork Eagle)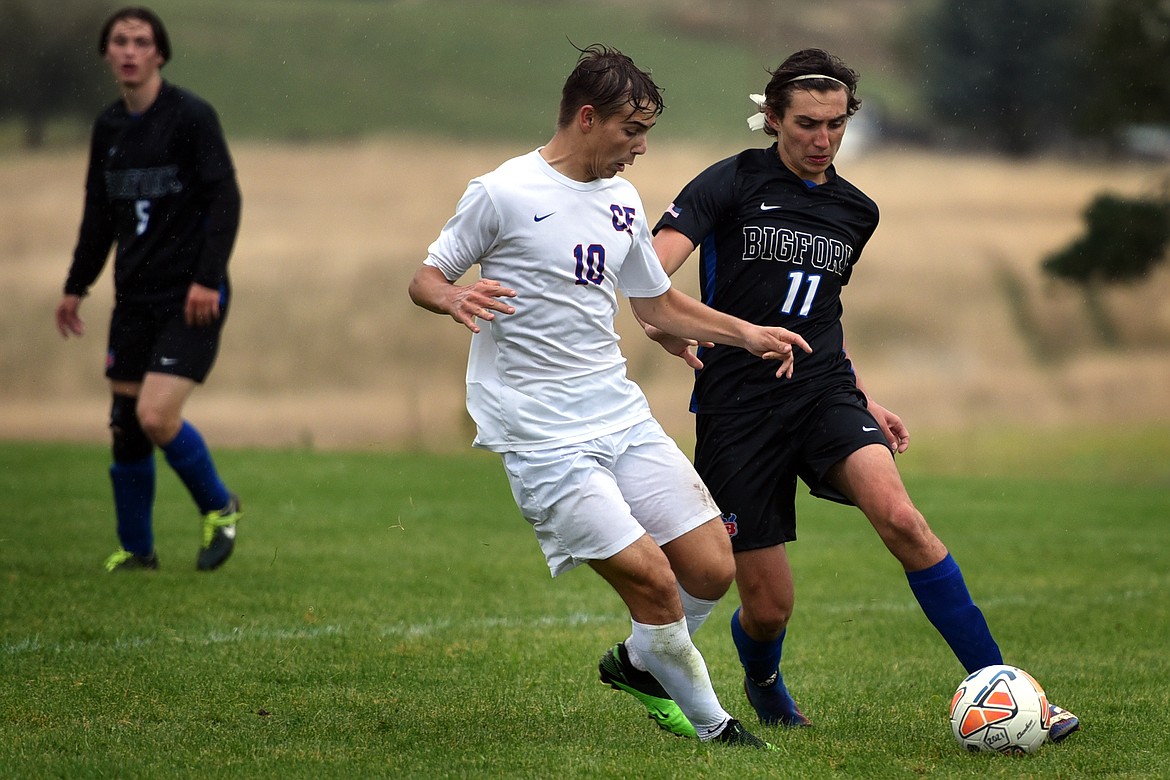 Viking Landon Byerman (11) looks to move the ball past a Columbia Falls defender Tuesday. (Jeremy Weber/Bigfork Eagle)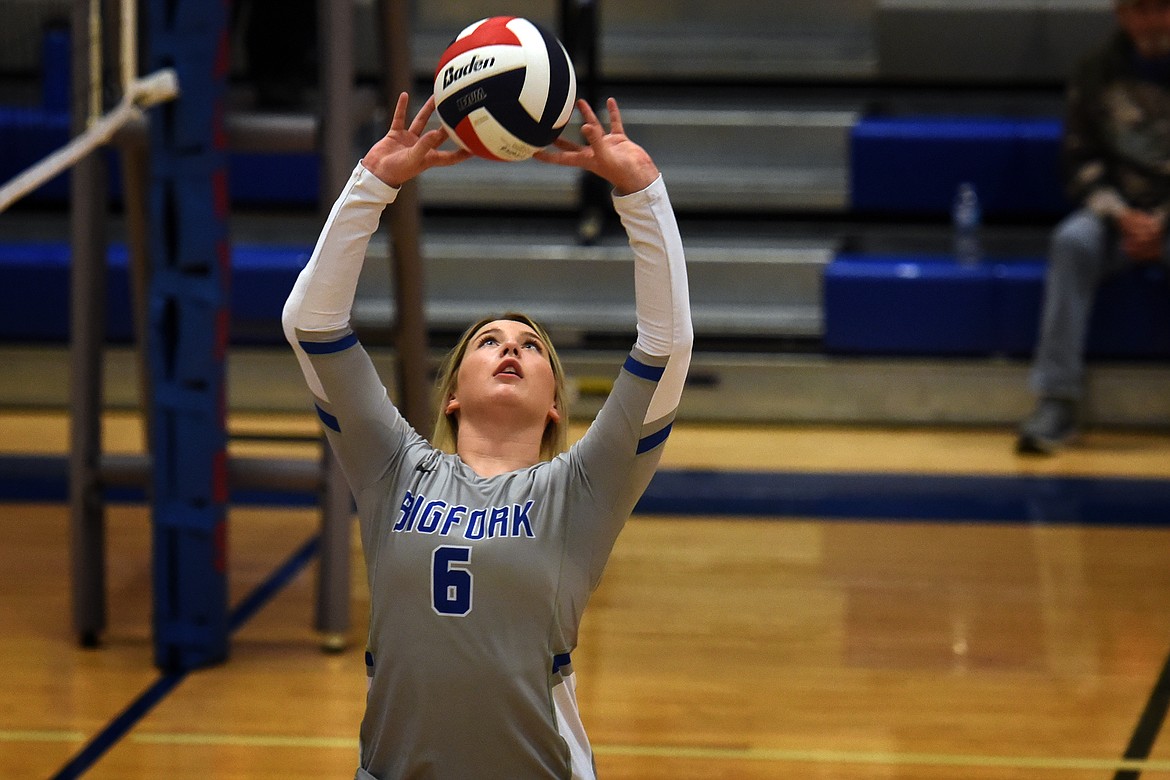 Jessa Newton sets the ball for a teammate against Thompson Falls Saturday. (Jeremy Weber/Bigfork Eagle)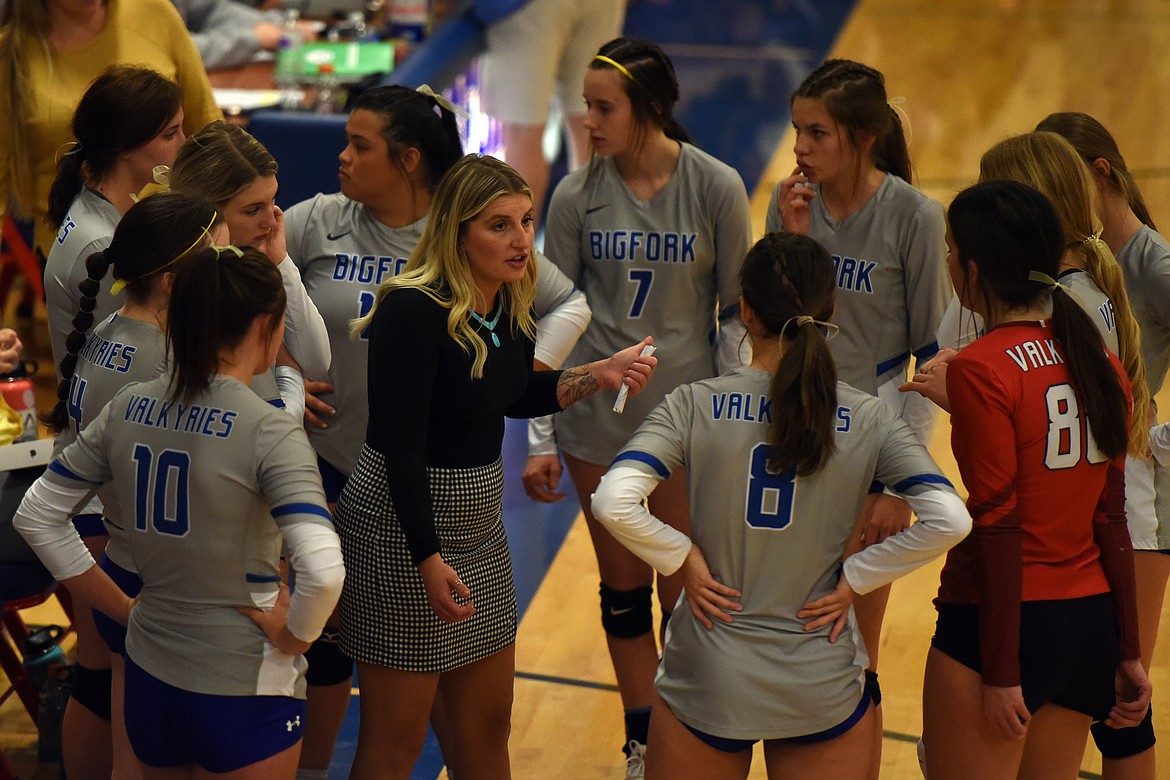 Valkyries head coach Ariel Stallknecht talks with her team between sets against Thompson Falls Saturday. (Jeremy Weber/Bigfork Eagle)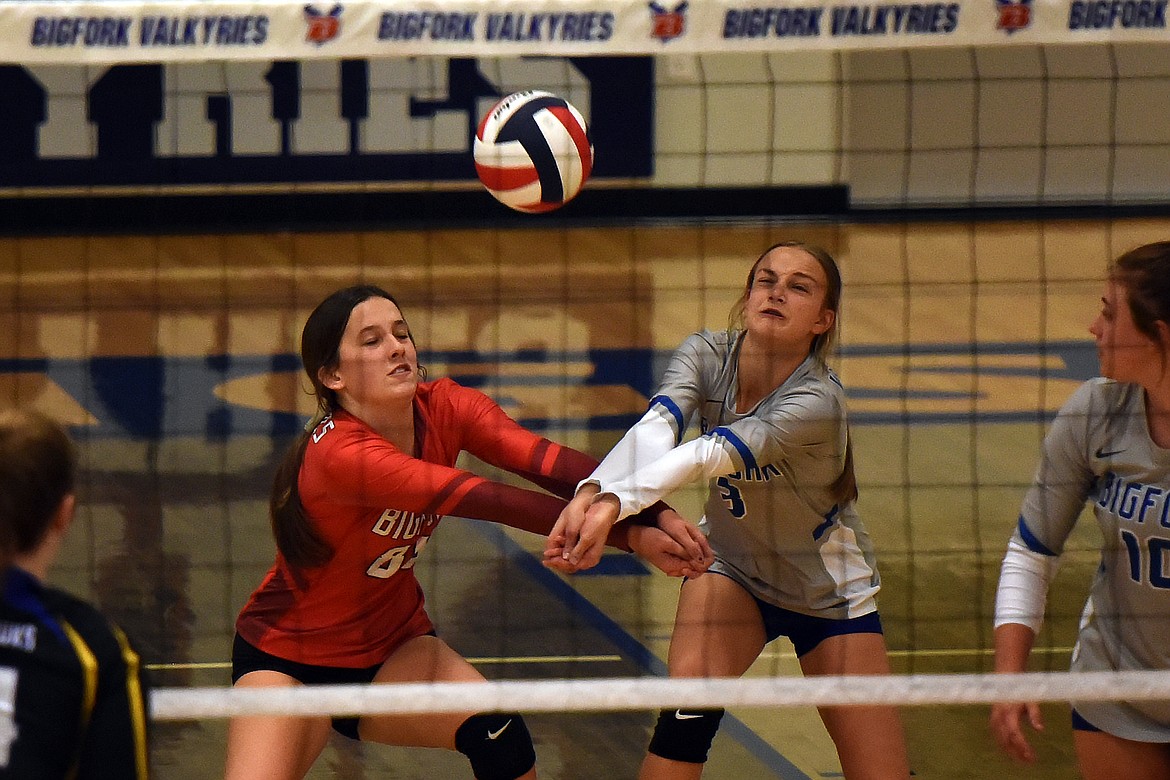 Bigfork's Callie Martinz (88) and Isabella Ellison (3) both attempt to receive a serve from Thompson Falls during the second set Saturday. (Jeremy Weber/Bigfork Eagle)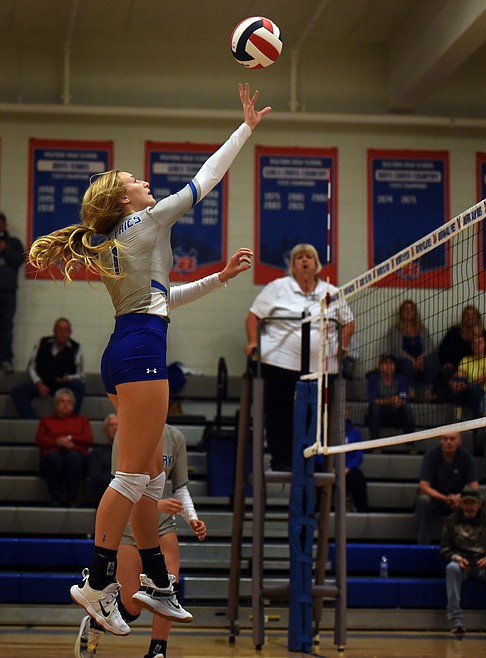 Bigfork's Inga Turner jumps high to tip the ball against Thompson Falls Saturday. (Jeremy Weber/Bigfork Eagle)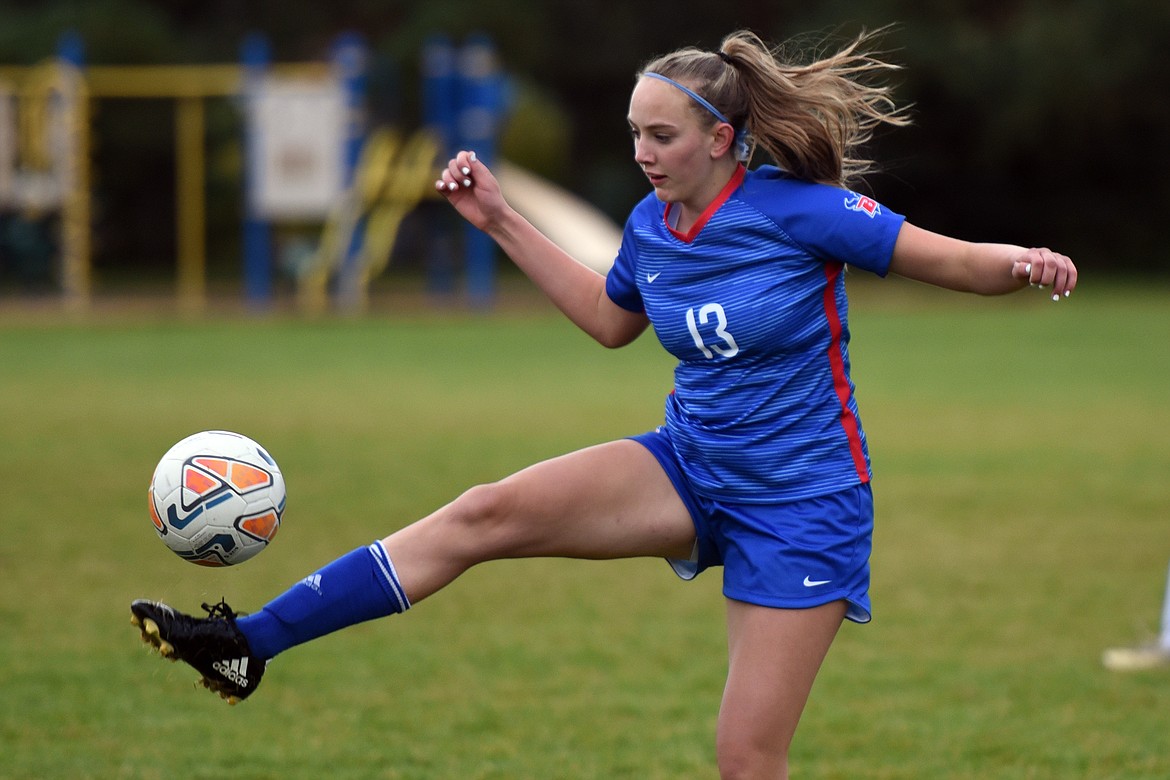 Valkyrie Callie Gembala knocks down a pass during action against Columbia Falls Tuesday. (Jeremy Weber/Bigfork Eagle)
Previous
Next
by
Jeremy Weber Bigfork Eagle
|
October 6, 2021 12:00 AM
It was a tough week for Bigfork High School sports as the students dealt with the tragic loss of junior Dane Hansen. Emotions were high Friday as his teammates on the football team traveled to face rival Loyola in Missoula, as they were Thursday as the soccer teams played in Polson.
Letters from the Thompson Falls student body were presented to the Bigfork student section after the volleyball matchup Saturday evening in a show of support from the Blue Hawks.
FOOTBALL
The Vikings football team improved to 5-0 with a one-sided road victory Friday as Bigfork picked up a win at Loyola-Sacred Heart for the first time in recent history.
"We played very focused and showed a lot of resiliency in the face of something that is very tough to deal with," head coach Jim Benn said. "We were ready to play and were not going to be denied a win this time."
Bigfork dominated both sides of the ball, amassing 377 yards of total offense while holding the Rams to just 176 yards in the contest.
Senior running back Levi Taylor led the Vikings attack, rushing for 161 yards and two touchdowns on just seven carries while Isak Epperly led the receiving corps with 88 yards on five receptions.
Senior quarterback Patrick Wallen turned in an excellent performance for the Vikings, completing seven of his eight passes for 120 yards and a touchdown, a 20-yard strike to Nick Walker in the second quarter, and also ran for a 16-yard score in the third quarter.
George Bucklin also scored for the Vikings on a 3-yard run and Jackson Abney returned an interception 86 yards for a touchdown in the win.
"Pat played as good a game at quarterback as I have had a kid play. He was very dialed in to what he was doing and added a great game to what is already a nice season for him," Benn said. "Nick Walker added an incredible catch in the end zone and Jackson Abney's interception was beyond description. The Loyola kid caught it and all of a sudden the ball is in Jackson's hands and he is running the other way. It was a strong performance all the way around."
Bigfork received the game's opening kick and needed just three plays to score as Taylor broke free for a 55-yard run to the end zone to give the Vikings an early lead. Bigfork added 21 more points in the quarter to take a 28-0 lead after 12 minutes of play and led 35-0 at the half.
Jeremiah Venegas led the Vikings defense with six tackles (four solo) in the win while Wyatt Herd added 4.5, Bucklin had 3.5 and Taylor and Jordan Betts added 2.5 each.
The Vikings will be back home Friday as they celebrate Homecoming against 0-6 Anaconda at 7 p.m.
VOLLEYBALL
The Valkyries volleyball squad came up just short Saturday in a battle of district unbeatens, falling to Thompson Falls in five sets, 25-22, 16-25, 22-25, 25-19 and 3-15.
The Valkyries opened the match on a tear, scoring the first seven points of the opening set before the Blue Hawks used a 13-1 run to go up 13-8. Kills by Isabella Ellison and Alexis Saari, along with a pair of aces by Jessa Newton, helped Bigfork regain the lead at 16-15, but the teams continued to trade points down the stretch.
With Bigfork up 24-22, Mackenzie Holton's set found its way to Inga Turner, whose kill gave Bigfork a 25-22 victory in the opening set.
After dropping the next two sets to fall behind 2-1, Bigfork used a 6-1 run in the middle of the third set to grab a 23-16 lead. A kill by Turner later gave the Valkyries a 25-19 win in the set to push the match to a fifth and deciding set.
It was all Blue Hawks in the final set, though as Thompson Falls pulled away to take the set 15-3 and the match 3-2.
Zoey Albert led the Valkyries attack with 10 kills while Ellie Jordt and Saari each had seven and Turner added six.
Callie Martinz had six aces to lead the Bigfork serving attack while Newton added four. Newton also added 18 assists while Makenzie Holton added 12. Turner anchored the Valkyries defense at the net with two solo blocks and three block assists while Martinz had 20 digs.
With the loss, the Valkyries fall to 4-1 in district play and 5-4 overall this season.
The team will be back in action Thursday against Troy for Homecoming at 5:30 p.m. before travelling to Arlee Saturday and Thompson Falls Tuesday.
SOCCER
Both Bigfork soccer teams maintained their hold on third place in the conference last week as the Vikings fell to Columbia Falls 6-0 Tuesday but bounced back with a 2-1 win over Polson Thursday. The Valkyries came up short against Columbia Falls 4-3 Tuesday but tied with Polson 2-2 Thursday.
The Vikings are 3-3 in conference play and 4-5 overall while the Valkyries are 2-3-1 in conference and 5-4-1 overall.
Scout Nadeau scored twice and Brette Guenzler added another goal for Valkyries Tuesday as they came up just short against the Wildkats. Lily Tanko assisted on two of the goals.
Guenzler scored on an assist from Tanko and Chloe Raats assisted on a goal by Nadeau in the first half as Bigfork led Polson 2-1 at the half Thursday. Haislea Sternick scored for Polson in the 41st minute and the Valkyries had to settle for a 2-2 draw.
Both teams were in action at home against Libby after deadline Tuesday and will play at Whitefish Thursday.
CROSS COUNTRY
Several vikings runners set new personal records Saturday as the Bigfork boys took second at the Mission Shadow Duels.
Jack Jensen (17:32), North Nollan (18:28), and Ty Anderson (20:38) each set Personal Records finishing second, 17th, and 48th respectively. Colton Ballard set a Season Record of 19:47 to finish 36th while Elliot Sanford finished sixth, Ryder was 14th and Elijah Albert finished 52nd.
For the Valkyries, Mahali Kuzyk finished 22nd (22:38) and Erika Dowling was 28th (23:59).
---