Bringing cars back to life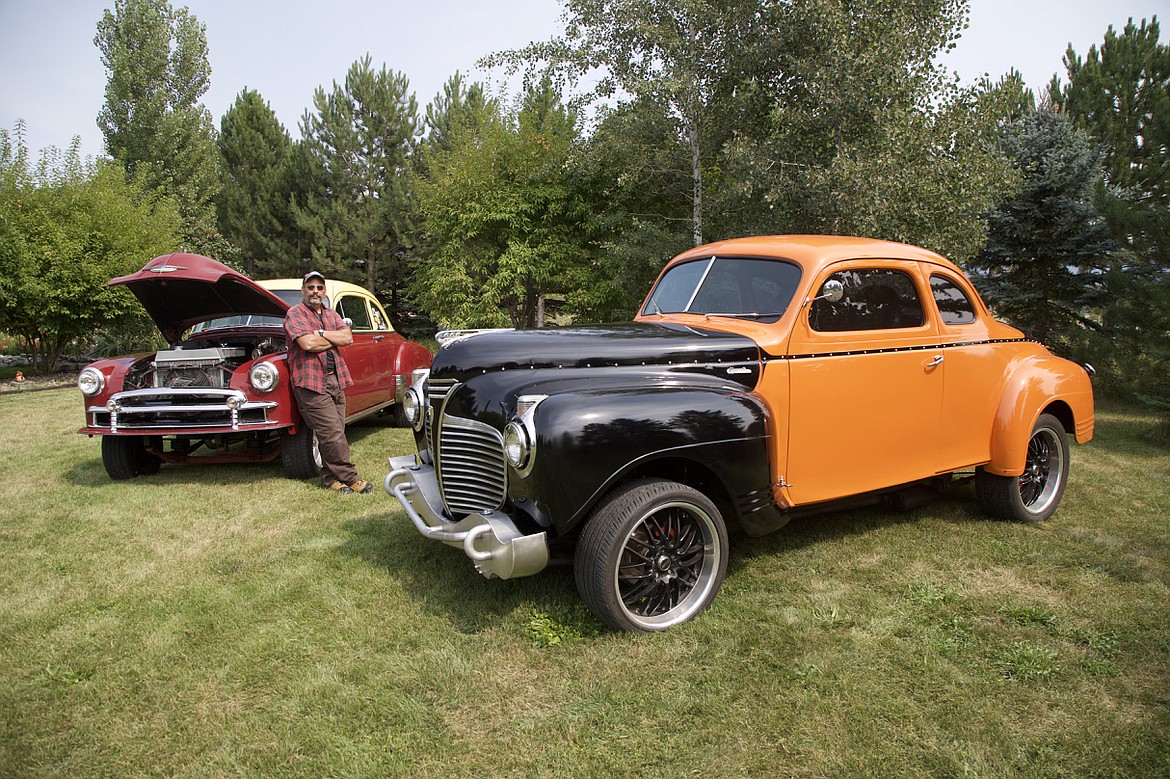 Steve Melkioty with his restomods - a classic care restoration with some modern modifications. On the left is a 1950 Chevy Business Coupe, and on the right is a 1941 Plymouth Business Coupe. (Kay Bjork photo)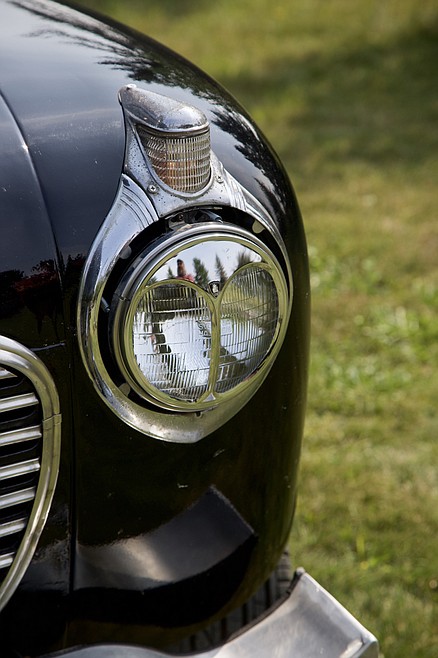 Details such as headlights give each car its own personality. (Kay Bjork photo)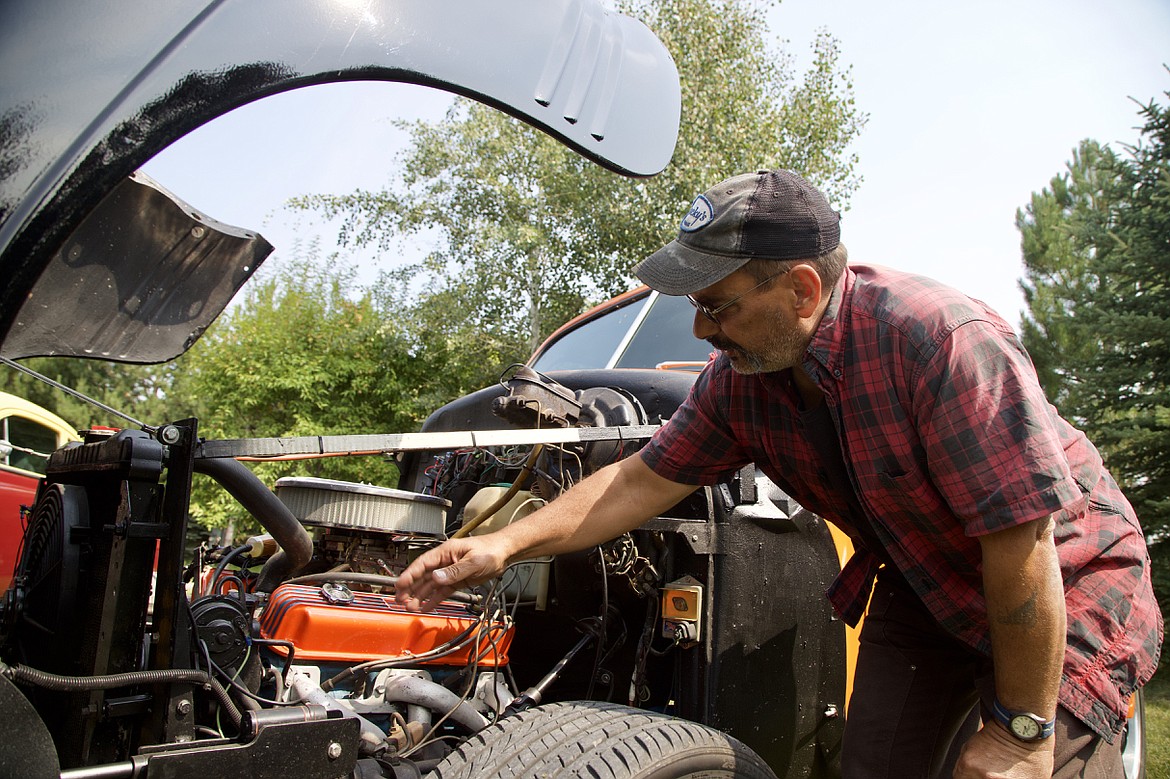 Steve Melkioty opens the font tilt hood on a 1941 Plymouth to reveal the new engine work. (Kay Bjork photo)
Previous
Next
by
Kay Bjork For the Eagle
|
September 1, 2021 12:00 AM
The skeleton was barely visible. Brush and trees circled the site and grew up through the rusted, gutted car. The 1941 Plymouth Business Coupe looked like hopeless junk – but not to a restomod builder like Steve Melkioty. So they cut the old car out of the Idaho woods, loaded it on a trailer and transported it to Melkioty's home in Creston.
Melkioty passion for cars began as a star-struck kid when he saw a hot rod racing down the street. He started working on cars at 15 and by 18 bought his first car, a 1957 Chevy Gold V Bel Air that he worked on tirelessly to rebuild and get back on the road. But as a young father working overtime, he had to put aside some of his boyhood dreams. It was another 37 years before he built another street rod.
He worked as an automotive mechanic, so for 25 years his passion for cars was channeled in a different, more practical direction.
"I am proud to say I am a mechanic," Melkioty said. "Old school mechanics rebuild or make new parts, while a lot of today's technicians are part changers."
In 2004, he found an even more rewarding way to share his passion for cars and auto mechanics when he became a shop teacher at Bigfork High School where he taught automotive, diesel, welding and fabrication in a program that allowed students to work on cars and even added a spray booth with funds from a donor. He strove to inspire and encourage students and one of his favorite mottos was, "Just because you have never done it, doesn't mean you can't do it."
It was a philosophy he employed himself when working to transform a dead car into a working showpiece.
It was his students who inadvertently led him to another restoration. They were on class trip to a drag race in Phoenix when he became excited to work on a street rod again. This time it was the students who were doing the encouraging. "You can do it, Mr. Mel."
After some thought and chewing the fat with friends he landed on a 1950 Chevy two-door business couple he found on Craigslist. The frame restoration was already complete so he left seller Jay Robertson with the promise that he would finish the full restoration – and he did – after 120 12-hour days of labor.
"I spent time where it was meaningful," Melkioty said.
That included staying manufacturer specific and a new Chevy engine, even though an off-brand engine could offer more affordable power. He vapor-blasted the frame, completed some cutting and welding, did the Bondo work and painted it maroon, as Robertson had suggested.
The car was named "Clair" in memory of his beloved yellow lab and was featured in National Chevy Association magazine.
His next project was the Plymouth cut out of the Idaho woods. As a history buff, he picked the 1941 Plymouth because he wanted a pre-war car. The car also had an interesting history as the first car model to make an incredible Pan-American road trip often on roadless terrain, over mountains and through rivers.
The first challenge was to replace the drivetrain, engine and suspension. Then he set out to configure a tipping front clip to allow him to lift the hood over the front bumper. The finishing touches included a black and pumpkin orange body, adding to the already eye-catching quality of the unique car.
Melkioty says he restores cars, not to show off, but to inspire young people's interest in old cars and their history.
You can see Mel and his cars at the Rumble in the Bay car show in Bigfork (if it doesn't rain – that's where he draws the line), and both cars will be for sale. He loves the cars, but he loves the process more. When they are done, he is ready to release them to someone who will enjoy them – and maybe even catch an eye and ignite a fire in another young kid, for these cars and their history.
Rumble in the Bay
The 13th annual Rumble in the Bay celebrates "The Year of the Convertible – Taking the Top Off for Bigfork" on Labor Day Weekend. The event begins on Saturday, Sept. 4 with a poker run around Flathead Lake. Registration is at the Buffalo Saloon & Casino at 10:30 a.m. and the run held from 11 a.m. – 4 p.m. with seven stops.
Sunday's car show is held downtown from 10 a.m. – 3 p.m. featuring vintage cars, trucks and motorcycles with a fly over at noon and an award ceremony at 3 p.m. Food trucks and games will also be on site.
The Bigfork Chamber and The Veterans at Bigfork VFW Post 4042 host this event with proceeds benefitting the Bigfork VFW's High School Scholarship Program.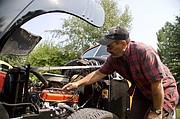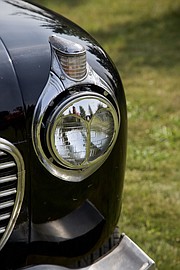 ---