Sports roundup: Vikings football stays undefeated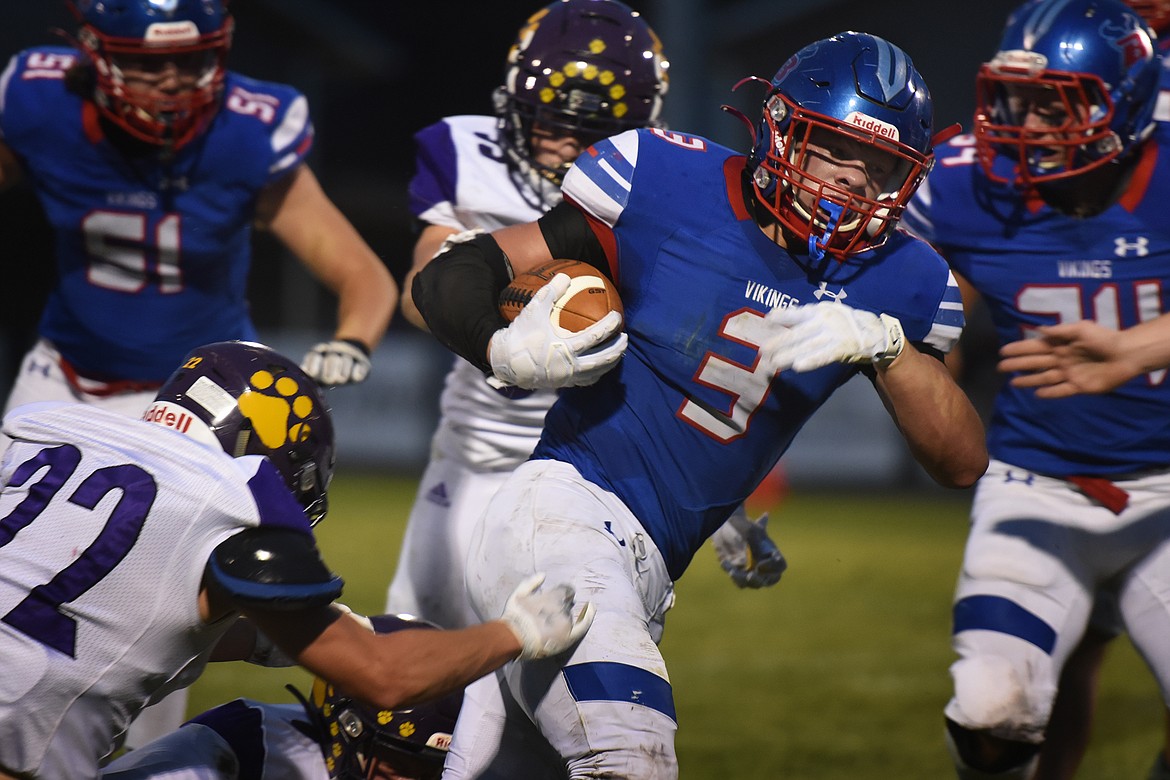 Bigfork's Levi Taylor plows forward for several of his game-high 108 rushing yards against Jefferson Friday. (Jeremy Weber/Bigfork Eagle)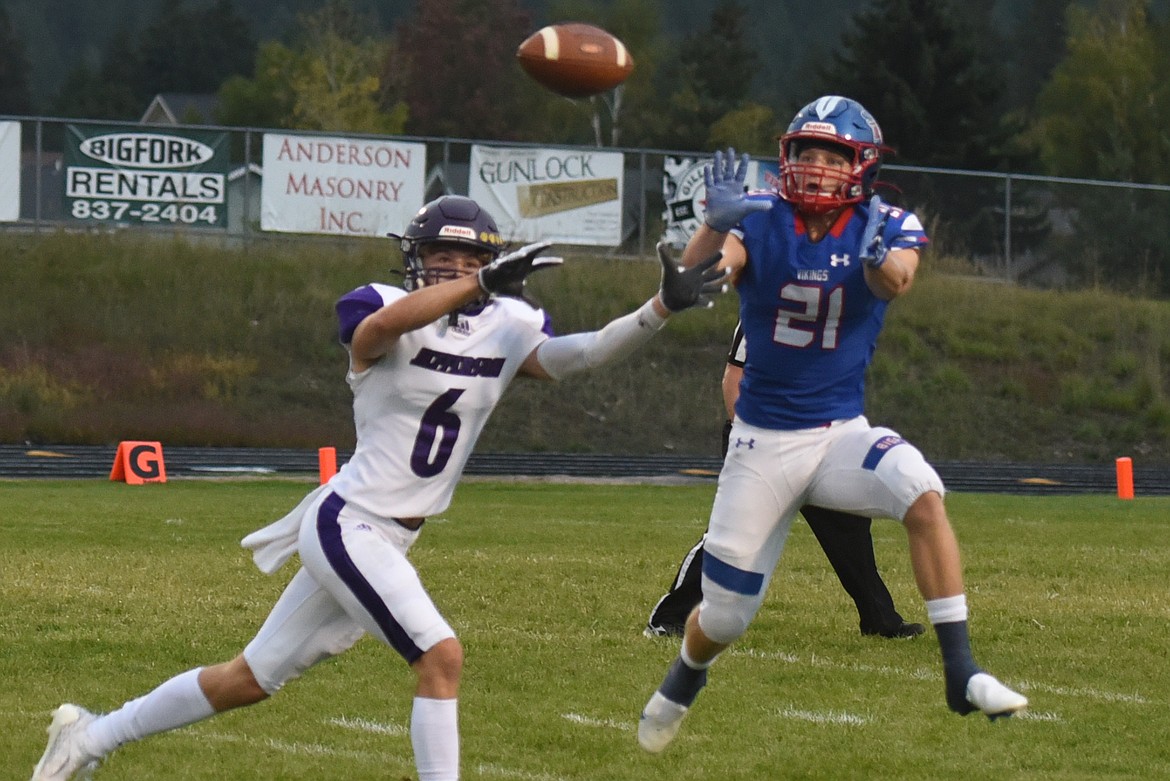 Bigfork defender Jackson Abney looks to intercept a pass intended for Jefferson's Joey Visser in the first quarter Friday. (Jeremy Weber/Bigfork Eagle)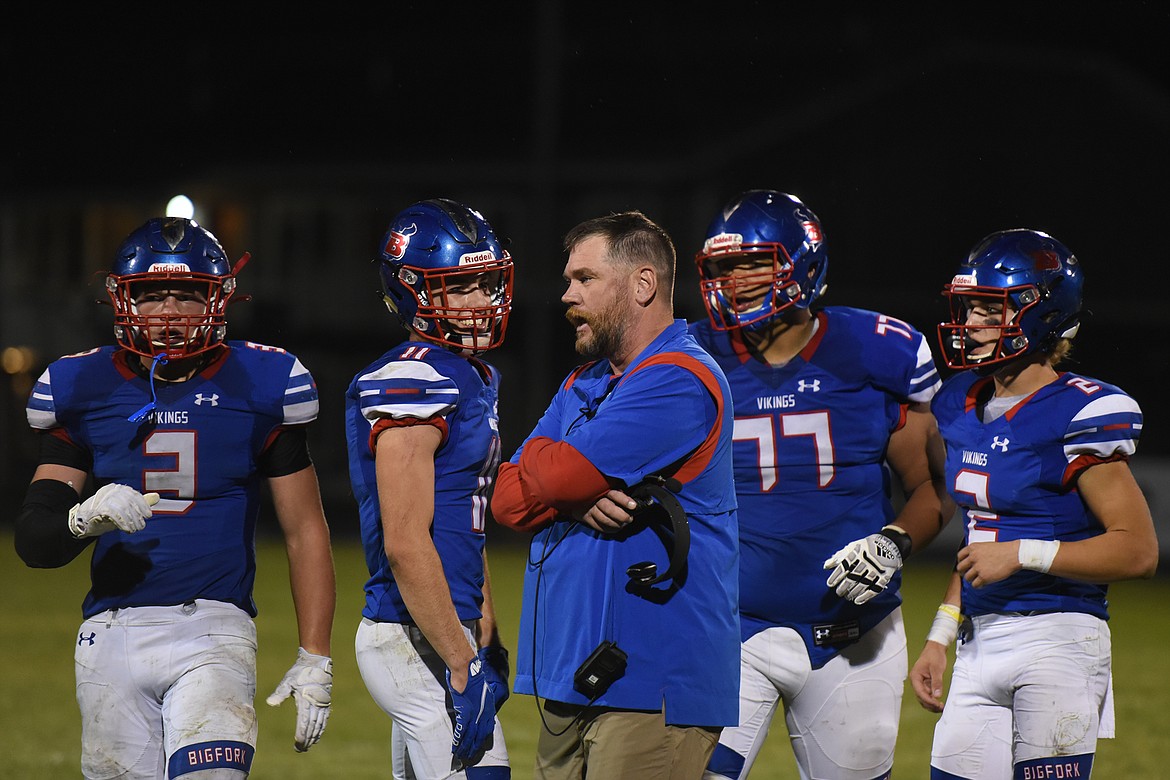 Bigfork head football coach Jim Benn consults with his team during a timeout late in the fourth quarter against Jefferson Friday. (Jeremy Weber/Bigfork Eagle)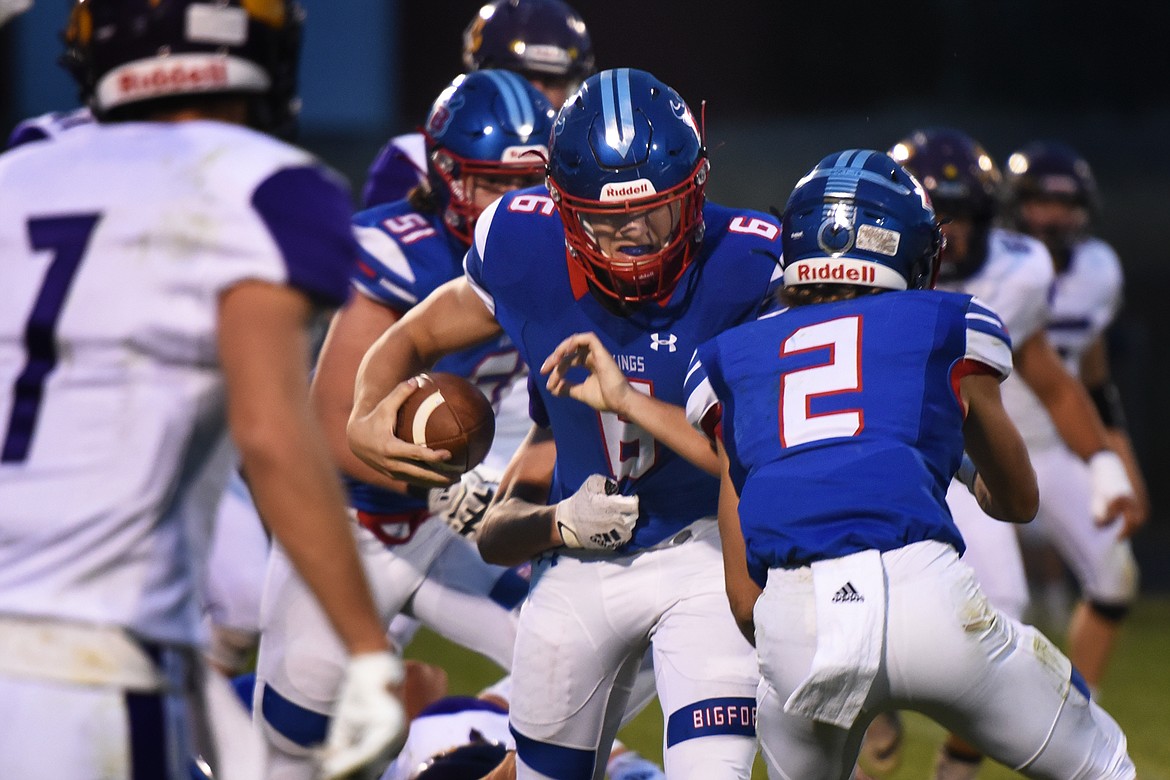 Bigfork's Nick Walker (6) looks to make a return after stripping the ball from a Jefferson receiver Friday. (Jeremy Weber/Bigfork Eagle)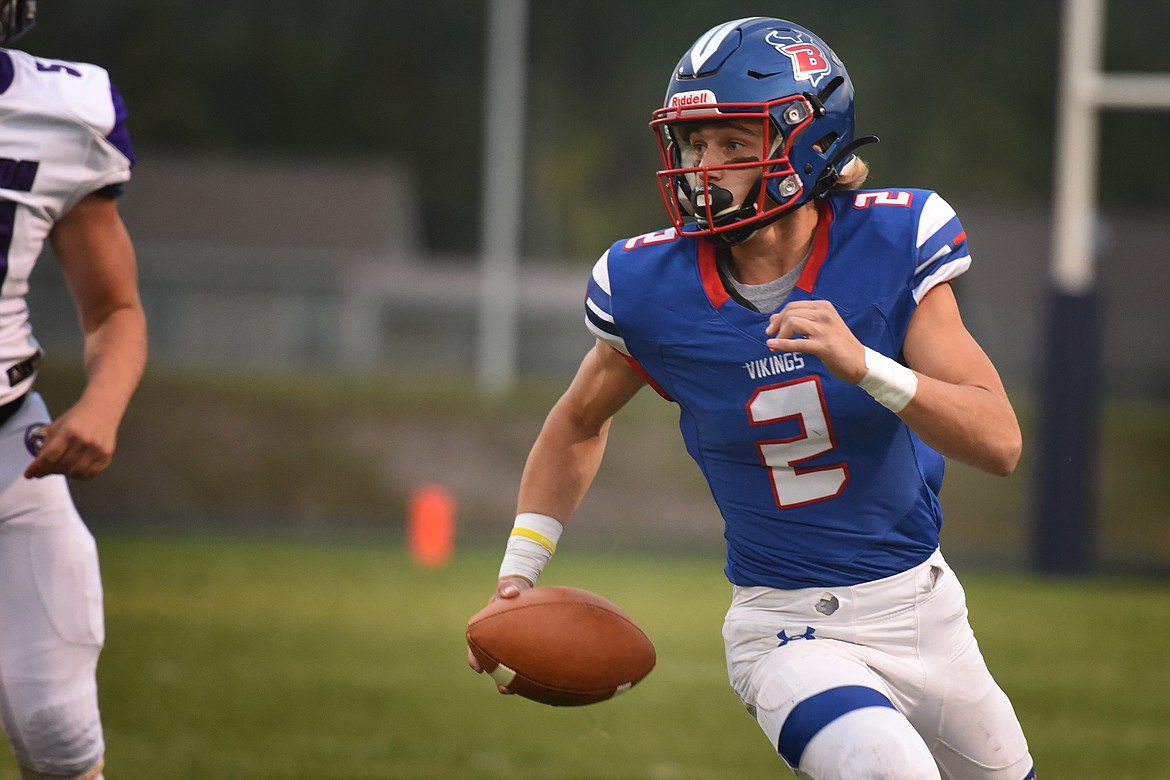 Bigfork quarterback Patrick Wallen looks for an open receiver in the first quarter against Jefferson Friday. (Jeremy Weber/Bigfork Eagle)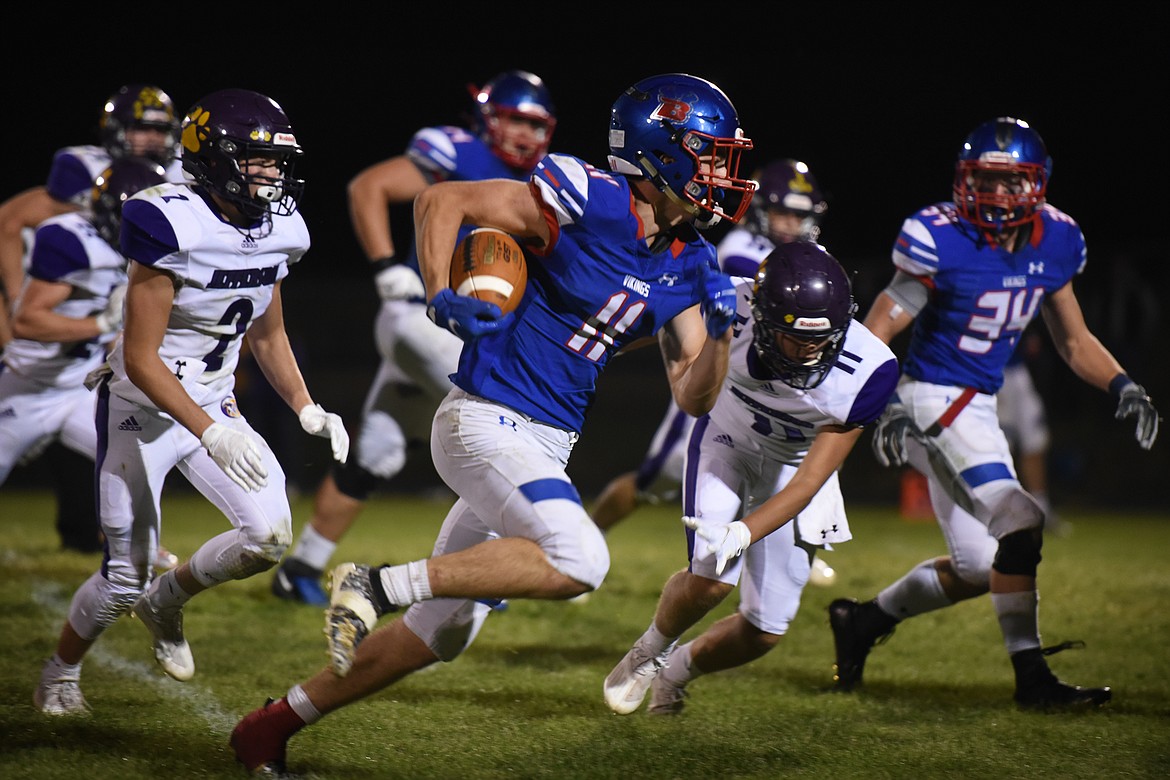 Viking George Bucklin outruns the Jefferson defense on his way to a 46-yard touchdown in the fourth quarter Friday. (Jeremy Weber/Bigfork Eagle)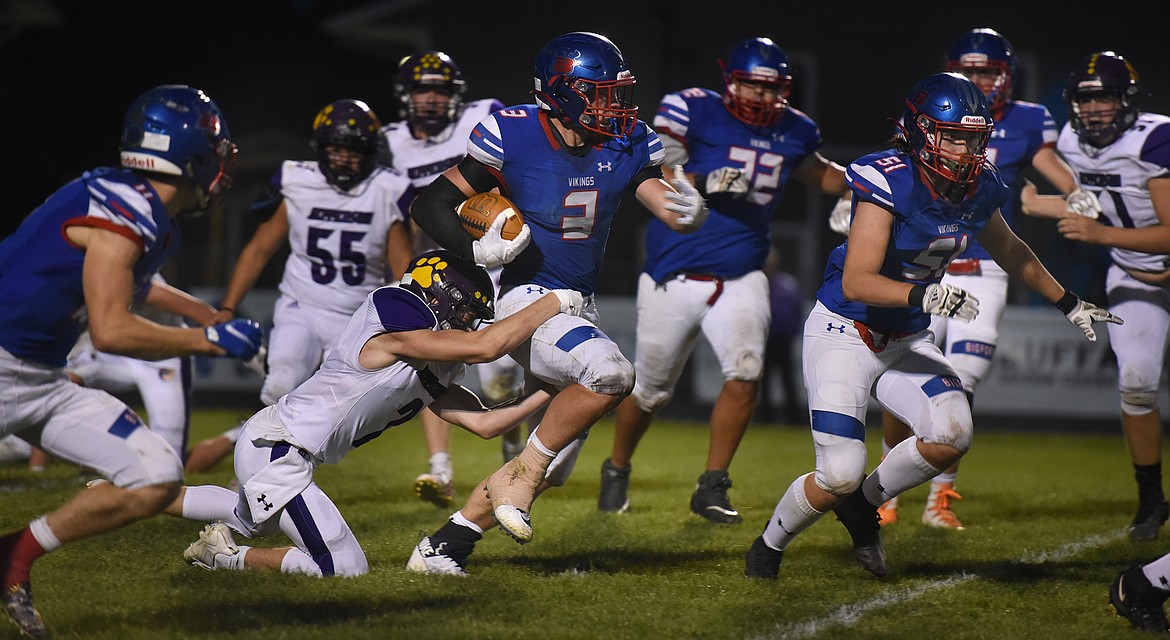 Bigfork running back Levi Taylor runs past a Panther defender Friday in the Vikings' 20-19 win over Jefferson. (Jeremy Weber/Bigfork Eagle)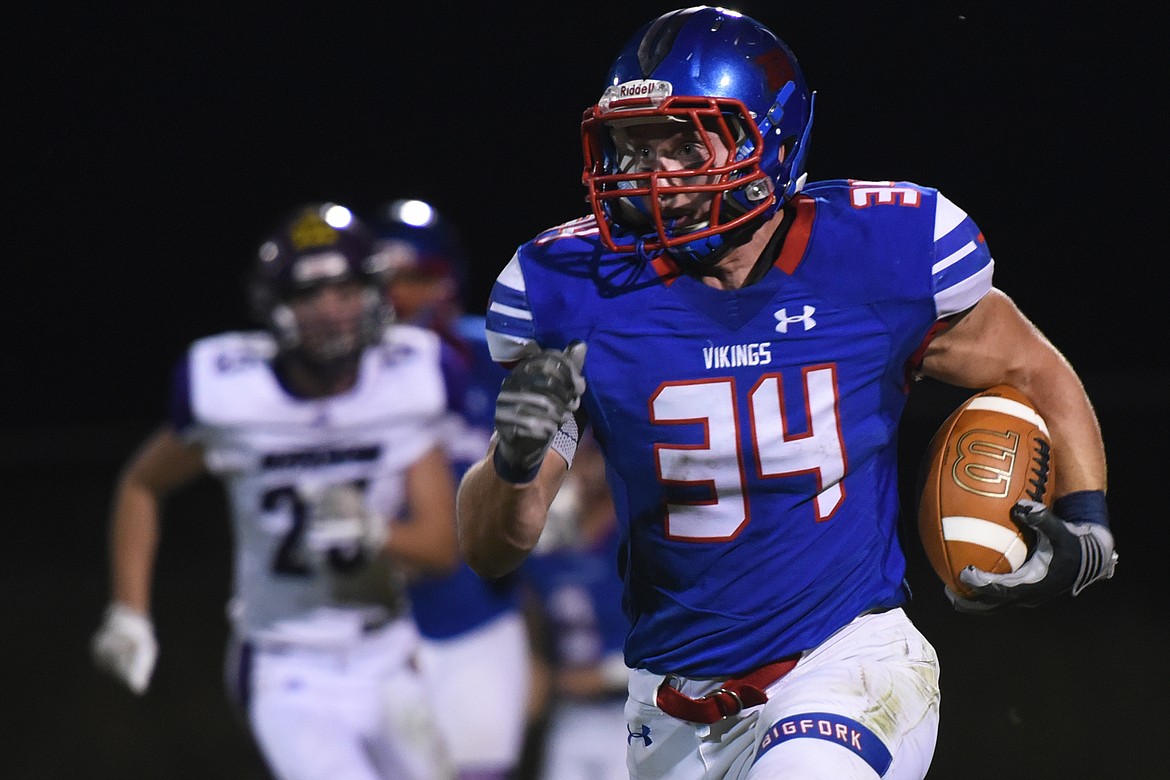 Bigfork's Joseph Farrier breaks free for a 36-yard touchdown run in the second quarter against Jefferson Friday. (Jeremy Weber/Bigfork Eagle)
Previous
Next
by
JEREMY WEBER
For the Eagle
|
September 22, 2021 12:00 AM
Another exciting week of Bigfork High School sports saw the Vikings football team pick up a narrow victory while the volleyball and soccer teams also notched wins.
FOOTBALL
The Vikings survived a close game with the Jefferson Panthers Friday evening, coming away with a 20-19 win to stay undefeated this season.
Bigfork improved to 3-0 as a 2-point conversion try that would have given Jefferson the lead with 2:35 to play was intercepted by Isak Epperly.
In what appeared to be a battle between two evenly matched teams, Jefferson got on the scoreboard first with a two-yard run by quarterback Braden Morris to cap a 11-play drive with 3:57 to play in the opening quarter.
Bigfork answered with a 10-play, 60-yard scoring drive of their own on the Vikings' next possession as Joseph Farrier found a running lane to the end zone from 14 yards out with nine seconds to play in the first quarter. A 2-point conversion try was no good and the Panthers took a 7-6 lead into the second quarter.
The Vikings got the ball back early in the second quarter when Nick Walker ripped the ball from the hands of Panthers receiver Joey Visser.
Farrier broke free for another long run six plays later, racing up the middle of the field for a 36-yard touchdown. A missed extra point left Bigfork with a 12-7 lead with 9:24 to play in the first half.
Jefferson answered with a 2-yard scoring run by Dylan Root a few minutes later, but the PAT was blocked by the Vikings, leaving Jefferson with a 13-12 lead at the half.
After a scoreless third quarter, Bigfork's George Bucklin found an opening for a 48-yard touchdown run to give the Vikings back the lead early in the fourth quarter. Farrier caught a pass for a 2-point conversion and Bigfork led 20-13 with 8:51 to play.
The Panthers answered with an 11-play, 59-yard scoring drive to cut the lead to 20-19 before Epperly's interception on the 2-point try sealed the win for Bigfork.
Running backs Levi Taylor and Bucklin led the Bigfork ground attack with 108 and 107 yards respectively while Bucklin added another 85.
Bryce Gillard finished with nine tackles to lead the Bigfork defense while Wyatt Johnson added 7.5 and Epperly had 6.5.
The Vikings play their third straight home game Friday as they celebrate Senior Night against Whitehall at 7 p.m.
SOCCER
The Valkyries soccer team picked up a conference win over Polson last week, downing the Lady Pirates 2-1.
Brette Guenzler scored on an assist from Haley Schara in the match's 58th minute and Braeden Gunlock added the winning goal on an assist from Maddison Chappuis in the 69th minute.
Bigfork outshot Polson 34-10 in the win as Valkyrie keeper Catherine Panor finished with eight saves.
Traic Fainter scored twice for the Vikings in their matchup with the Pirates last week as Bigfork came away with a 2-1 victory.
Both Bigfork teams were at home against Whitefish Tuesday after press time and will travel to face Libby Thursday.
VOLLEYBALL
The Valkyries volleyball squad won its match against Mission Tuesday, but saw their matchup with Plains postponed Thursday as Plains High School battled covid-19 issues.
The Valkyries made short work of the Lady Bulldogs in St. Ignatius Tuesday, sweeping the match 25-12, 25-22 and 25-15.
Inga Turner and Zoey Albert each recorded nine kills in the victory while Turner also had Bigfork's only block and ace of the contest,
Makenzie Holton had 15 assists while Jessa Newton added eight and Callie Martinz had 24 digs.
The Valkyries were at Troy Tuesday evening after press time and will play at Eureka Saturday before hosting Plains Monday.
CROSS COUNTRY
The Vikings took 29th in the large Mountain West Classic in Missoula over the weekend. Jack Jensen led the way as he placed 129th with a time of 18:09.2 while Elliot Sanford was 159th, Ryder Nollan was 160th, North Nollan was 202nd, Bo Modderman was 259th, Colten Wroble finished 286th and Colton Ballard was 293rd.
For the Valkyries, Tabitha Raymond was 111th with a time of 22:17.5 while Mahali Kuzyk was 129th and Erika Dowling was 202nd.
The teams will be at the Thompson Falls Invite Thursday.
---