Bigfork to compete in Class A beginning in 2023-24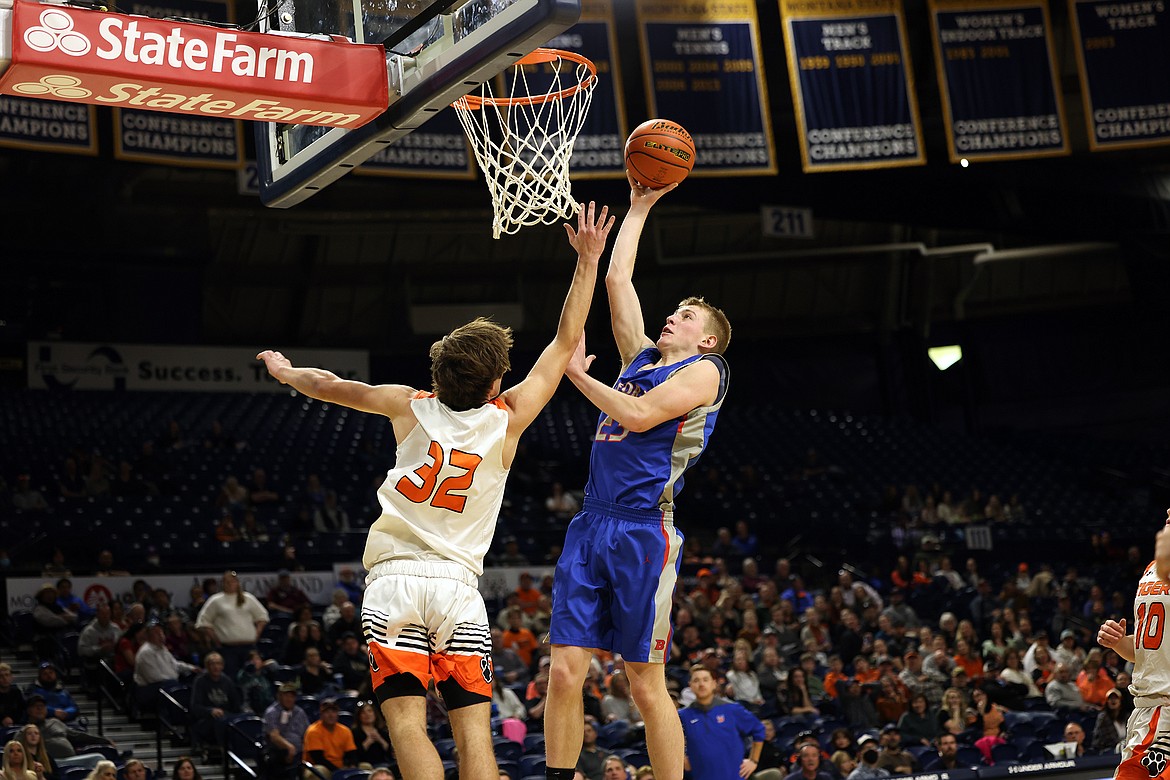 Bigfork's Cole Knopik goes up for a shot during the Class B State Basketball Tournament in March. The Vikings and Valkyries will be making the move to Class A beginning in the 2023-24 season. (Jeremy Weber/Bigfork Eagle)
by
JEREMY WEBER
For the Eagle
|
April 13, 2022 2:50 PM
The Vikings and Valkyries of Bigfork will be making the move to Class A beginning in the 2023-24 school year, the Montana High School Association announced Wednesday.
The move was just one of many announced after the MHSA's regularly scheduled Executive Board regular meeting on Monday and Tuesday.
"I think all of the changes over the past few years have caused some influx into some areas around the state and that leads to change," Bigfork Athletic Director Matt Porrovecchio said. "It's been in the conversation for a while, that whole going up or going down. Now we just know for sure."
Bigfork has tentatively been placed in the Northwest Conference for basketball, volleyball, track and field, football, wrestling, golf and tennis, where it will join Columbia Falls, Whitefish, Libby, Polson, Browning and Ronan. Cross country will compete with the Northern Division, as will swimming and soccer (the same division swimming and soccer have already been participating in).
District and division assignments are tentative with final action on alignment to be taken at the November Executive Board Meeting.
It will not be the first time in Class A for the Vikes and Vals, as both squads competed in Class A as recently as 2008.
"We've been there before and it's kind of nice," Porrovecchio said. "We were in Class A when I started here, so I am familiar with both. Now, we get to play all of the schools in the area, like Columbia Falls and Whitefish as conference games again."
While Bigfork has competed well with Class A schools over the past few years, only time will tell how they will fit into their new classification.
"It's hard to look back and compare. It's like apples and oranges. Teams are better, conferences are better, things are just always changing. I like to think we will be pretty competitive. I know our football team struggled at the tail end of our last time in Class A, but we have rebounded and have beaten some A schools. We beat a really good Polson team season before last," Porrovecchio said. "You are going to have your highs and lows, but it should be fun and exciting. It will be something new and different."
No matter the ramifications, Porrovecchio says he is excited about the move.
"It's a big deal and it will be fun for the school and the community. I'm sure there are some that won't be excited about it, but in the end it's about providing a great experience for our kids no matter what classification we are in," he said. "I don't think the value of the sport or the experience changes based on your classification."
---