Vikings return loaded roster as they look to pick up where they left off last season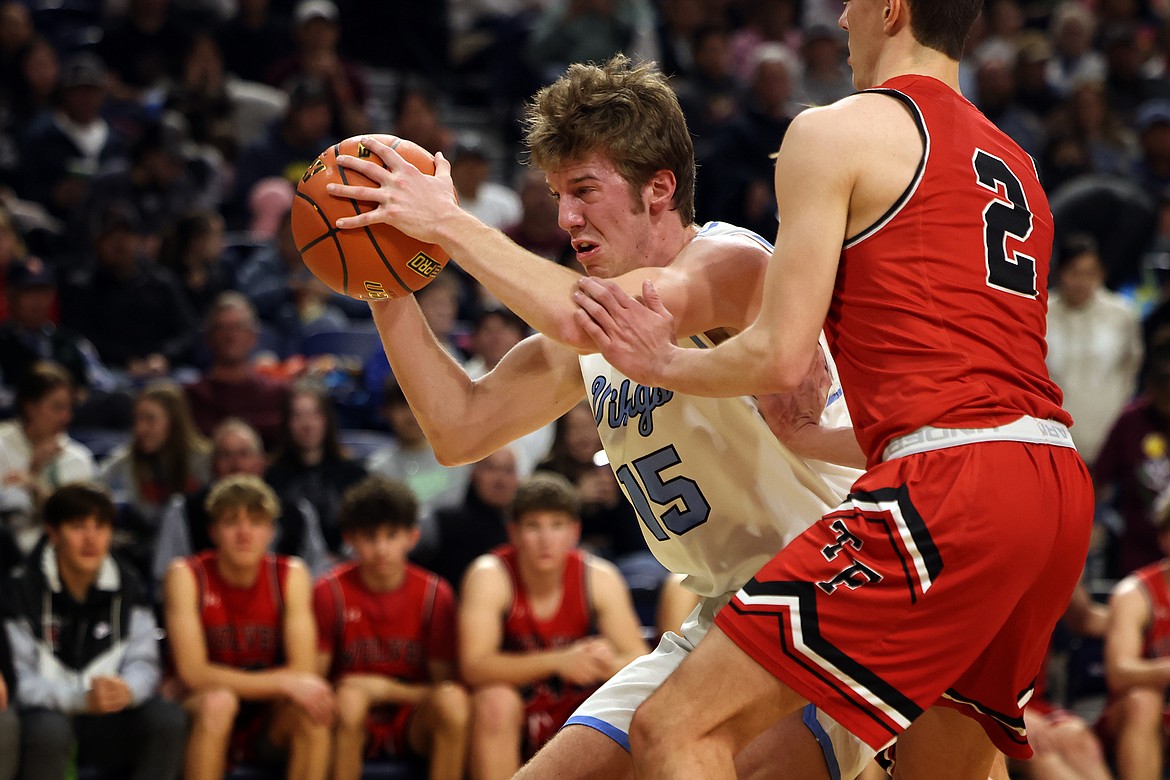 Bryce Gilliard is one of 10 returning players from last season's Vikings basketball squad. (Jeremy Weber/Bigfork Eagle)
by
JEREMY WEBER
For the Eagle
|
December 7, 2022 12:00 AM
A year after reaching the State B semifinals, the Vikings basketball squad is back looking for more in 2022-2023 as they return 10 players, including three starters.
Led by a pair of senior All-State selections from a year ago in Isak Epperly and Bryce Gilliard, the Vikings look poised to once again challenge for a state title in a season which head coach John Hollow jokingly says may be his easiest year of his coaching career.
"I'm excited. I think it's going to be a really enjoyable season. Most of these kids have been playing varsity with me for two or three years now, so they really know the system and what we are wanting to accomplish," Hollow said. "I don't know if I have ever had this many guys coming back from a previous season. This is a very experienced group of players. Honestly, it's been making my life a little bit easier as a coach. I feel like it is really coming together this year."
Joining Epperly and Gilliard will be fellow returning starter and All-Conference First Team selection Colin Wade (junior) along with First Team selection Nick Walker (senior).
The Vikings come into the season having dominated during summer league play, going 17-2 while taking on tough competition in larger schools at Gonzaga and elsewhere.
"I feel like we really grew as a team this summer. We grew together not so much on the court as off it. Our camaraderie and communication, which can be a lot more important than x's and o's, just really seems to be there for us heading into this season," Hollow said.
The concept of a more closely-knit Vikings squad is a scary proposition for opponents as the Vikings are coming off a 2021-22 season in which they went 16-3 against Class B competition.
"I think the only thing we can do is to get better offensively. We were already a really good defensive team last year and we are just a year older. We have a real chance to do great things, I just have to step back and not mess it up," Hollow said.
The Vikings open the season at the Class A Tip Off in Frenchtown this weekend, where they will face Stevensville at 9 a.m. Friday and defending Class A state champion Butte Central at 7:30 p.m. Saturday.
"Butte Central won state last year and should be a pretty solid early matchup for us since they are returning quite a few guys," Hollow said. "Stevensville shouldn't be quite as tough, so that will be a good one for us to open up with."
Conference play is scheduled to get underway at Eureka Tuesday. The district tournament will also take place in Eureka beginning Feb. 17 while Divisionals will be in Anaconda the following week.
The State B Tournament will be in Great Falls.
"I talked with the boys about our goals this season. Realistically, we think we can compete for a state championship, but I want us to just enjoy the season. I know that sounds cliche, but it's true," Hollow said. "We are going to have a row to hoe moving forward and we will have to continue to get better, but we need to enjoy the moment and the ride together and get better each week. If we do that, everything should take care of itself at the end of the year."
---