Orphaned Montana cubs find home with Pittsburgh billionaire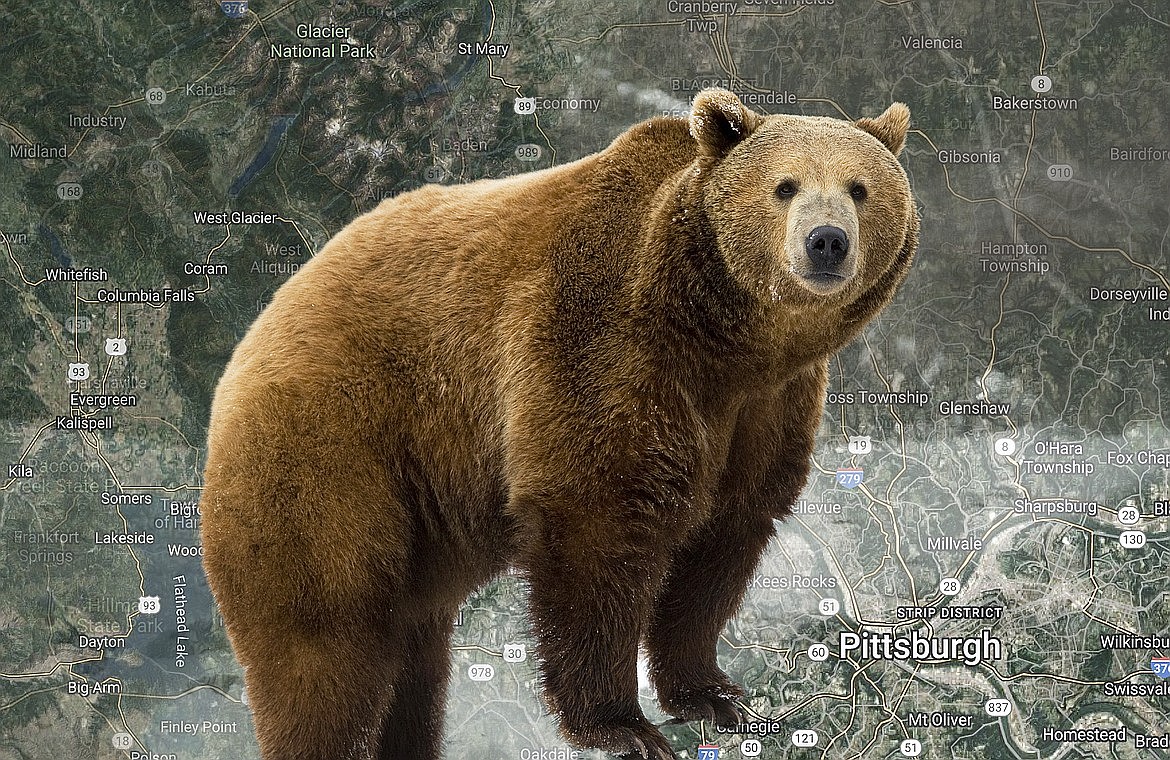 by
JEREMY WEBER
For the Eagle
|
December 14, 2022 12:00 AM
What happens to orphaned bear cubs rescued from the wilds of Montana?
In the case of the pair of grizzly cubs rescued near Lupfer Meadows in July of this year, the answer is the opportunity to live on the private estate of a billionaire minority owner of the Pittsburgh Steelers.
The Wilderness Wildlife Center in Bulger, Pennsylvania (formerly Rivendale Wildlife Sanctuary) is part of Rivendale Farms, an ultra-modern operation with robotic milking systems for its cattle and mobile, solar-powered sheds for its chickens. Its owner since 2015 is film producer and Pittsburgh Steelers co-owner Thomas Tull, who has a net worth of $2.8 billion, according to Forbes.
After going into the bear business, the facility received the two cubs from Montana Fish, Wildlife and Parks as its first residents in early August. While the facility reports the bears have adjusted to their new home, are growing and doing well, they were tight-lipped about any other information (including the bear's new names), citing security concerns.
"They are doing well living in large enclosures," said Dr. Jonathan Bergmann, veterinarian for Wilderness Wildlife Center. "They are growing well and they have great personalities. They seem to be enjoying it here."
According to Bergmann, the cubs now weigh more than 140 pounds each and are just one pair that now call the Wilderness Wildlife Center, which is closed to the public, home.
"We are a large rescue, but our goal is not to exhibit them for people. We have an amazing facility, but we don't want anyone trying to see the animals. Our philosophy is not to make a profit off the animals. We just want them to be able to come here and live their lives," Bergmann said. "We don't have anything to hide. We just don't want people thinking this is something they can come out and see. It's extreme, but the safety and security of the animals is our top priority. We want to let our animals live as natural a life as they possibly can and we feel very strongly about that."
While the Lupfer pair are reported to be enjoying the Wilderness Wildlife Center's ursine version of the witness protection program, they are lucky.
According to Montana Fish, Wildlife and Parks, each year the organization is tasked with finding new homes for an average of two orphaned bear cubs.
The process, if successful, is quick, not easy, and takes a bit of luck. If it is not successful, the FWP has no choice but to euthanize the bears.
According to Education Bureau Chief Laurine Wolf, the FWP has only four weeks to find orphaned grizzly bears a new home.
"This is a species that grows pretty rapidly and our facility is not set up to hold bears of a large size. We focus on cubs that are less than a year old. We have to work fast to find a facility with enclosures that can house them safely," she said. "This is a species that lives a long time in captivity, upwards of 30 years. If we don't have proper placement secured quickly, we have no choice but to euthanize them. I always hope every year that I don't have to place any bears at all. We would very much prefer to see these bears remain in the wild."
The luck component involves timing and availability of a suitable new home.
While many places would like to take in orphaned bear cubs, the FWP requires facilities to have available space and accreditation through the Zoological Association of America (ZAA) or the Association of Zoos and Aquariums (AZA).
Getting ZAA and AZA accreditation is no easy task. The ZAA has a 33-page list of requirements while the AZA's stipulations are a daunting 118-page document. The process can easily take years.
"The challenge that we have had historically has been finding places with the available space that these animals need. The only way the spots open up is if a facility builds a whole new facility, which is very expensive, or if a bear ages out (dies). We also won't place a bear just anywhere. Their new home must be AZA or ZAA accredited and that makes it a bit more challenging," Wolf said. "We require accreditation because we want to make sure our cubs are going to the best facility possible. It is very important to us that wherever they go has sound business planning and financial management. We want to make sure the zoo is sustainable. We don't want to place a cub at a facility and then see it go bankrupt four years later."
To help with this, the FWP maintains a list of accredited facilities that have openings for bears.
"We want to make sure these bears are going to a place where they are going to get the best care possible with a good habitat and adequate space," Wolf said. "We also want to make sure they are getting good enrichment and veterinary care."
In the case of the two Lupfer cubs, there were two facilities with openings, according documents obtained by the Daily Inter Lake through a Freedom of Information Act request. The Woodland Park Zoo in Seattle was looking for one bear, while the Wilderness Wildlife Center was willing to take both.
While both facilities met FWP's standards, the final decision was made to send them to Pennsylvania to keep the pair together.
"It's not ideal to separate bears that come in together, but sometimes we just have to. We got lucky this time that we did not have to split them up," Wolf said.
Finally, the FWP, along with the U.S. Fish and Wildlife Service, prefers to place bears in facilities that involve an education component for the public. In a press release celebrating the rehoming of the cubs, FWP officials described the facility as "promoting conservation through education and research," though the Wilderness Wildlife Center does not offer any educational opportunities at this time.
Despite that, the Wilderness Wildlife Center, which is accredited by the ZAA and listed as an AZA-certified related facility (the level of accreditation the organization gives to private facilities), is still considered a suitable new home for the bears by the FWP.
"We like to see the bears go to a facility that has an education component, but that is more of a priority for the U.S. Fish and Wildlife Service," Wolf said. "We want these bears to be an ambassador for their species, but we are more concerned at this point that they are going to be providing a good facility for them. They (Wilderness Wildlife Center) really made a push to get their accreditation and I was impressed with how quickly they got everything done."
Once final arrangements are made, orphaned bears are carefully transported to their new homes where they reside on permanent loan. No money exchanged hands, rather the state signed a memorandum of understanding with the Pennsylvania facility. Montana law stipulates the bears and their progeny remain the property of the state of Montana and may not be sold, traded, transferred, altered, or disposed of without authorization.
The only alteration allowed is neutering of the animals to prevent reproduction.
As for keeping an eye on their loaned out bears, the FWP relies on AZA and ZAA inspections to watch over their animals.
"We don't really keep tabs on them once they reach their new facility," Wolf said. "We usually get updates from their new homes because people are excited about getting them. These facilities have to maintain their accreditation, which involves inspection. So, with as much bear placement as we do, we simply don't have time to check on them all."
Reporter Jeremy Weber can be reached at jweber@dailyinterlake.com.
---