Valkyries dominate Class A Tip Off Tournament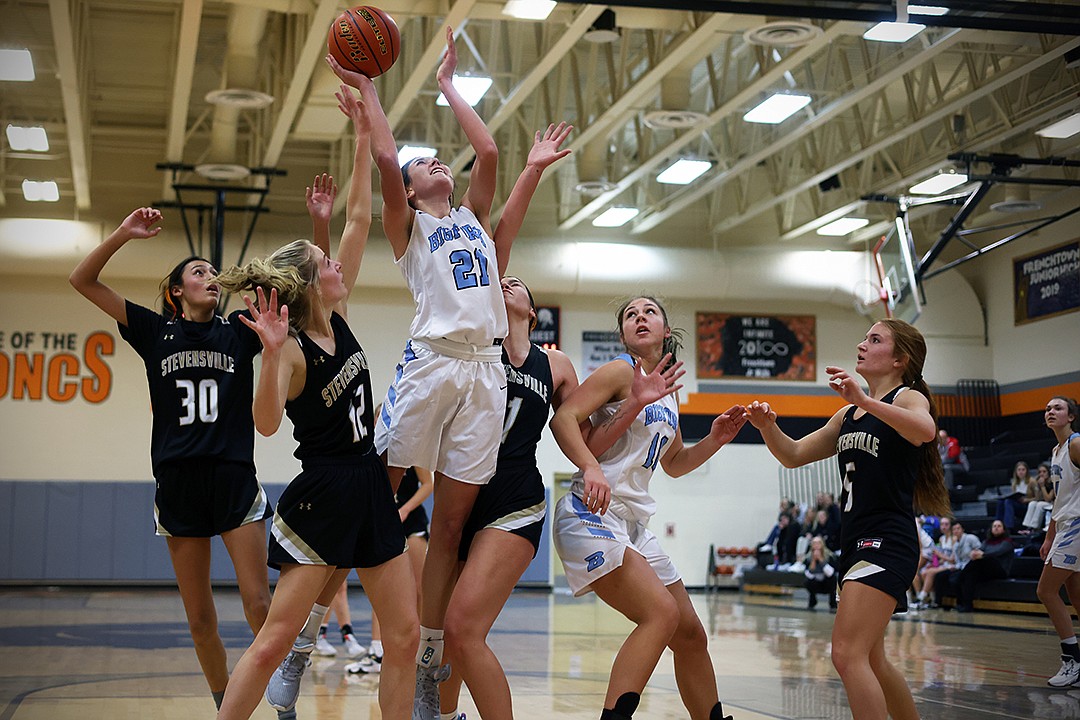 Braeden Gunlock goes up for a basket against Stevensville at the Frenchtown Tip Off Tournament. (Jeremy Weber/Bigfork Eagle)
by
JEREMY WEBER
For the Eagle
|
December 15, 2022 10:05 AM
A pair of Class A opponents provided little competition for the Valkyries to open the season as the Bigfork girls downed Stevensville and Butte Central by a combined 114 points at the Frenchtown Tip Off Tourney over the weekend.
The Valkyries nearly got a triple-double from sophomore Braeden Gunlock Friday as she finished with 17 points, 10 rebounds and nine steals in Bigfork's 58-12 win over Stevensville.
Freshman Paeten Gunlock added 12 points and six steals as the Valkyries jumped out to a 26-1 lead after one quarter and never looked back on their way to picking up the win.
Scout Nadeau finished with 10 points and five rebounds for the Valkyries in the victory while Ava Davey added nine points, two steals and a rebound.
Callie Gemballa added eight rebounds in the win.
It was more of the same against Butte Central late Saturday as the Valkyries pummeled the Lady Maroons 84-16.
The Gunlock sisters combined for 38 points as Braeden scored 21 and Paeten added 17. Braeden also recorded eight rebounds and four steals while Paeten had six steals, five rebounds and five assists.
Bigfork jumped out to a 28-0 lead after one quarter and led 61-8 at the half.
Davey finished with 13 points and six steals for the Valkyries in the win while Maddie Chappuis had six points and two rebounds and Nadeau put in four points and four rebounds.
Haley Schara came off the bench for Bigfork to put in six points and pull down six rebounds, five on the offense end.
The Valkyries were on the road at Eureka to take on the Lady Lions after press time Tuesday and will be at home Saturday as they host Mission at 3 p.m.
The Valkyries will face a good test Monday as they play host to Class A Columbia Falls before taking on Plains at home Tuesday to finish out their schedule for 2022.
---