Dean Swank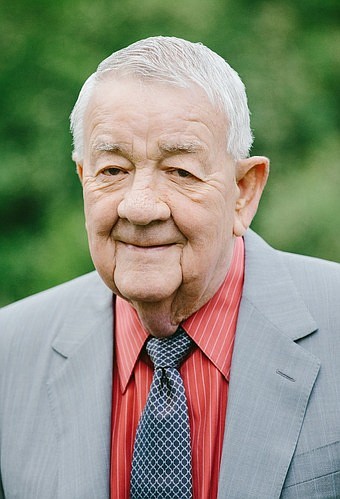 |
December 21, 2022 12:00 AM
Dean Swank, born October 29, 1937, passed away on Friday, December 16, 2022, in his home after a brief battle with cancer. He was 86.

Dean was born to DeVoe Swank and Gail Potter Swank and raised in Browning and Chester, Montana before moving to Valier to finish school.

After graduating from Valier High School in 1954, he attended Montana State University Bozeman and earned a bachelor's degree in Architectural Engineering, graduating in 1958. He married the love of his life and high school sweetheart, Barbara Henneman, in 1956 - an inspiring, 70+ year commitment to devotion and teamwork. Thereafter, the pursuit of his life's work in construction management took the couple back to Valier, where he took up a desk in the back room of his father's lumber supply business, establishing Swank Enterprises in 1959.
Dean grew up with his two siblings - younger brother, Dewey, and their little sister, Lee. He was close to his family, inheriting his father's strong character and vigorous work ethic and his mother's sense of humor. Dean was a diligent student and a standout athlete who excelled in both academics and sports. He enjoyed football, basketball, track and of course, the Montana State Bobcats. In fact, Dean cheered for the Bobcats at almost every home game until the end of his life, later viewing from the comfort of the Swank skybox at Bobcat Stadium. Some of his best memories stemmed from the university grounds, which he continued to extend to his children, grandchildren, and great-grandchildren throughout the years.

During the first few years in the construction business, Dean focused primarily on bidding/winning government-issued contracts on the Blackfeet Indian Reservation in Browning. It was here - Dean would say, years later – that solidified Swank Enterprises as his most profound professional success. His intelligence, leadership and dedication positioned the company as one of the leading commercial contractors in the state of Montana. Swank Enterprises currently employs over 250 employees and has successfully completed over 10,000 projects in the past 60 years – most notably, 30+ hospitals, including the Montana Children's Hospital in Kalispell, 100+ schools, Glacier Park International Airport, and numerous projects for the Montana National Guard, Malmstrom Air Force Base, Montana State University, and University of Montana.

But while in Valier, he had a hand in creating what he would, in his later years, consider his greatest accomplishment: his children. Derek Swank, was born in 1958, Dewey Swank, born thirteen months later in 1959, and Traci Swank, born in 1966. Some of Derek and Dewey's best memories are the days they would go out bird hunting in the Fall. Dean loved pheasant hunting the most and would often invite extended family and friends for the annual game feed – an excessive feast, or lack thereof, depending on that season's yield.

Over the years, Dean demonstrated his love for his work and his family, believing that through hard work, most anything could be achieved. Talent, he said, was overrated. While many may not have agreed with his opinions, no one can deny that he was unafraid of speaking up for what he believed in and following through on his beliefs. Dean served as President of the Montana Contractors Association in 1990 – a localized chapter of the Associated General Contractors of America (AGC) – and was awarded the Lifetime Achievement Award in 2010.

A skilled architect, Dean designed and built his home in Bigfork in 1991, where he enjoyed a life filled with family and friends in the Flathead Valley. He and Barb loved to golf and entertain. In the summer evenings, you could find him on the back patio, with his Sudoku and his newspaper, listening to the rushing water of the Swan River.
Throughout his life, Dean Swank was referred to in many ways - he was a son and a brother, a husband and father, a grandfather, and a great-grandfather. He would go on to become one of Montana's most well-known and well-respected commercial contractors and in the words of his children and those who worked for him, "a force to be reckoned with."
Dean is survived by his wife, Barbara Swank of Bigfork; his children, Derek Swank of Bigfork, Dewey Swank of Kalispell, and Traci Swank of Valier; his grandchildren, Jacqueline Foster of Kalispell, Jeffrey Swank of Columbia Falls, Jenny Swank Krasteva of Whitefish, Cody Swank of Bozeman, Kelsi Swank of Anchorage, Alaska, Carly Fessler of Davis, California, and Carter Miller of Missoula; and his great-grandchildren, Abigail Foster, Edison Foster, Aiden Swank, Liam Swank, Yoli Krastev, Mia Krasteva, and Derek Krastev.

A memorial service will be held at 2:00 pm on Tuesday, December 27, at the United Methodist Church in Bigfork.
---