Valkyries open season with 5-0 start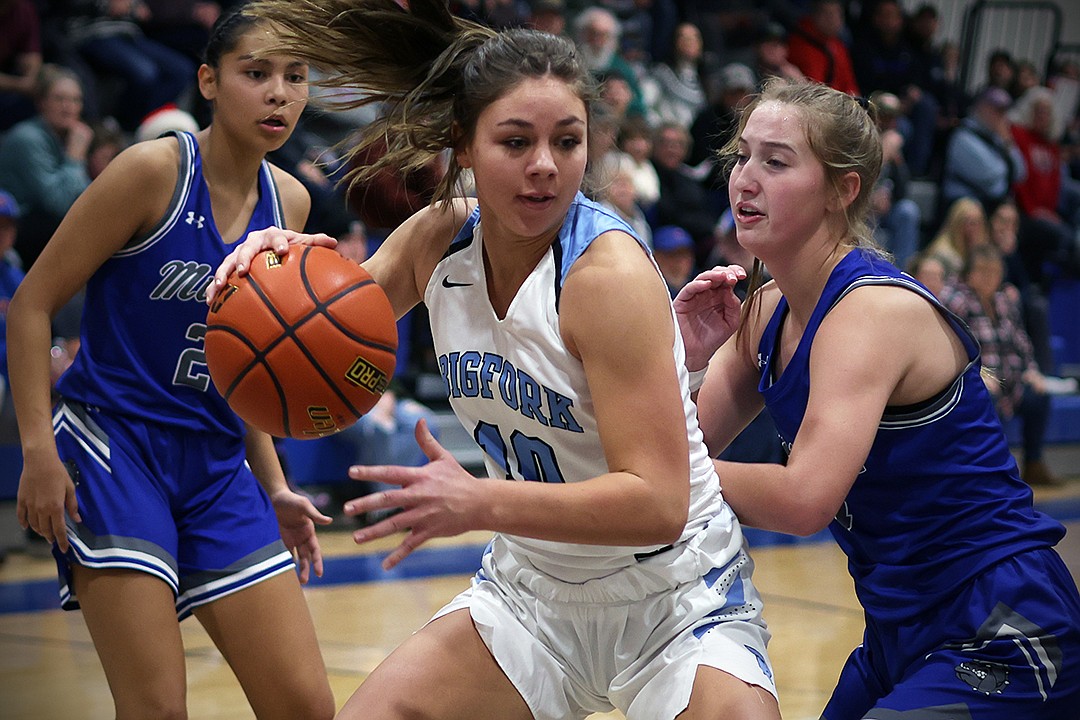 Maddie Chappuis looks to establish post position against Mission Saturday. (Jeremy Weber/Bigfork Eagle)
by
JEREMY WEBER
For the Eagle
|
December 21, 2022 8:55 AM
The Valkyries improved to 5-0 with three wins last week, downing Eureka, Mission and Columbia Falls by a combined score of 222-79.
Braeden Gunlock scored all of her game-high 30 points in the first half at Eureka Dec. 13 as the Valkyries cruised to an 87-14 victory over the Lions.
Bigfork had four players score in double figures as Ava Davey scored 18, Ellie Jordt had 13 points, and Paeten Gunlock put in 10 to go along with her sister's 30.
Along with her 30 points, Braeden Gunlock added 11 rebounds, six assists and six steals in the win while her sister Paeten added five assists and five steals.
Jordt had seven rebounds and Maddie Chappuis finished with a team-high seven assists.
The Valkyries found themselves in a tight game in the opening minutes against Mission Saturday as the teams were tied at 2-2 more than five minutes into the contest.
Bigfork led 10-7 after one quarter before stretching that lead to 28-12 at the half.
Braeden Gunlock exploded for 14 points in the third quarter as the Valkyries outscored the Lady Bulldogs 25-5 in the quarter to put the game out of reach for Mission.
Bigfork outscored Mission 13-2 in the fourth quarter as the Valkyries earned a 66-19 victory.
Braeden Gunlock led the Valkyries with 25 points, seven rebounds and six steals while Davey added 11 points and six steals.
Callie Gembala finished with seven points, 10 rebounds and four steals while Chappuis also added 10 rebounds and scored four points.
The Valkyries hosted Class A Columbia Falls Monday evening and had little trouble with the Wildkats as Bigfork led beginning to end in a 69-46 victory.
Braeden Gunlock hit a pair of threes in the game's opening moments to force an early Columbia Falls timeout as Bigfork jumped out to a 17-10 first quarter lead on the strength of eight points from Braeden and seven from Davey.
Scout Nadeau dominated the second quarter for the Valkyries, scoring 10 points in the frame as Bigfork saw its lead grow to 37-17 at the half.
Nadeau added another 10 points in the second half as the Bigfork lead grew as large as 31 midway through the fourth quarter.
Nadeau led the Valkyries in the win with 20 points, five rebounds and four steals while Braeden Gunlock finished with 16 points, 10 rebounds, six assists and four steals.
Davey scored 14 in the win and added four assists while Chappuis had four points and six rebounds.
The Vals will return from the Christmas break Jan. 5 as they go on the road to face Troy.
---