Vikings win first two district games, improve to 3-2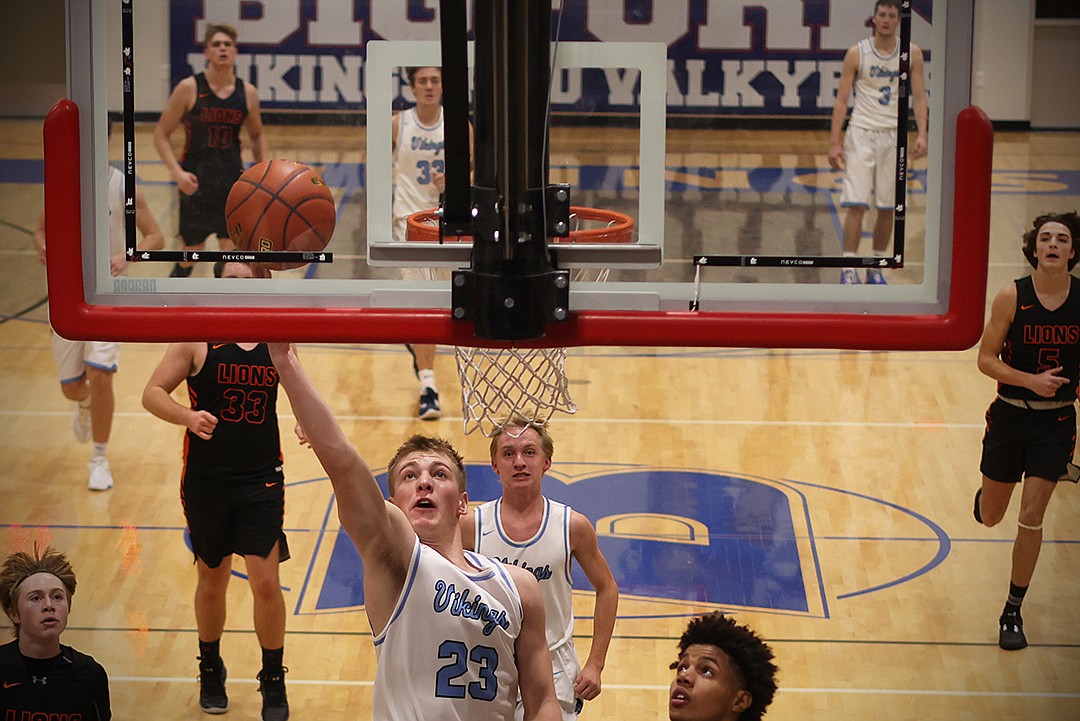 Cole Knopik flies in for a layup against Eureka Dec. 13. (Jeremy Weber/Bigfork Eagle)
by
JEREMY WEBER
For the Eagle
|
December 21, 2022 8:50 AM
The Vikings' first two district opponents provided little competition last week as Bigfork defeated Eureka by 27 Dec. 13 and Mission by 37 Saturday.
Bigfork fell to Class A Columbia Falls by five Monday and sat at 3-2 heading into the final game of 2022, a matchup with Plains after print time Tuesday.
The Vikings and Lions were tied at 11 after one quarter Dec. 13 as Bigfork played host to Eureka.
Bigfork got a pair of threes in the second quarter from Jack Jensen as the Vikings grabbed a 29-18 halftime lead.
Nick Walker scored 11 of his game-high 16 points in the second half as the Vikings pulled away to win 63-36.
Along with his 16 points, Walker added seven rebounds in the win while Jensen hit four three pointers and finished with 14 points.
Isak Epperly had six points, eight assists and four rebounds in the victory.
It was all Vikings against Mission Saturday as Bigfork jumped out to a 19-5 lead after one quarter and never looked back en route to a 71-34 win over the Bulldogs.
Walker went 3 for 3 from three-point range and led the Vikings with 28 points and eight rebounds in the win while Epperly added 12 points, five rebounds and four assists.
Thorness also scored in double figures with 10 and added five rebounds.
The Vikings fell behind 18-12 after one quarter at Columbia Falls Monday and never recovered as Bigfork fell to the Wildcats 48-43.
Epperly led the Vikings with 16 points and nine rebounds in the loss while Bryce Gilliard, Cole Knopik and Walker each scored seven.
The Vikings will return from the Christmas break Jan. 5 as they go on the road to face Troy.
---