Bigfork's Shield Arms planning large expansion
The Bigfork firearms manufacturer that began in a garage will soon be moving into its new $5 million 36,000 square foot headquarters and manufacturing complex by the end of this year.
Founded in 2017 by Brandon Zeider and Seth Berglee, Shield Arms began in Zeider's garage and has already expanded twice in the past four years.
With 41 employees currently sharing an 11,000 square foot building that serves as offices, production area, warehouse and more, Shield Arms will be looking to add more than 30 new jobs when the facility is up and running.
"Virtually every department needs to grow right now but we are out of physical space to put them in," Zeider said. "We need more people in administration, engineering, sales, marketing and more."
Originally from Indiana, Zeider is a shooting enthusiast who covered the firearms industry as a blog writer for the better part of a decade before he met Berglee while taking a shooting class.
Born in Brockton, Berglee got involved in competitive shooting while growing up in eastern Montana and attended Ohio State University on a shooting scholarship before joining the army.
Berglee was teaching a shooting class that Zeider was attending when the two met and it wasn't long before the pair were working together.
"Our friends were wanting us to make things and we saw there was a need in the market for them, so we decided to take on the challenge," Berglee said.
Taking inspiration from Psalms 28:7 (The Lord is my strength and my shield; my heart trusts in him, and he helps me. My heart leaps for joy, and with my song I praise him), Shield Arms was born.
With connections in the industry, the pair set together working out of Zeider's garage.
"When we had some ideas for products that we wanted to see and we wanted to start a company, we weren't starting from scratch," Zeider said. "We didn't have a company yet, but we knew the right people."
When the pair began working on a subcompact weapons system for the army, they were soon in need of more room. While they ultimately did not get the contract, the project led them to their first expansion.
"As a part of that project, we knew we couldn't do all of it in my garage," Zeider said. "There were requirements we couldn't meet, so we were forced to look into renting a bigger space. That was our first expansion, but we outgrew it in less than a year."
The company's first big breakthrough came with their Glock S15 magazine, which carries 15 rounds instead of the usual 10, causing Shield Arms to need expansion once again.
When a friend offered to sell them the building they are currently working from, the pair jumped at the opportunity, but it did not take long to once again outgrow the space.
"It wasn't a perfect fit for us, but we were bleeding for space," Zeider said. "We figured we would be able to operate out of here for a while, but six months later we were needing to expand once again."
When the nearby property at the corner of Hwy 35 and Halversen Drive became available, the pair leapt at the opportunity to make the land once covered in junk cars their company's new home.
With the completion of their new facility, Zeider and Berglee intend to continue to produce innovative products while bringing more jobs to the Bigfork area.
"We want to make useful products. You have those "fanboy" companies out there that make the same things, but try to make them 'cooler.' Why buy a fancy $2,000 AR that isn't any more reliable or accurate than a $1,000 one," Berglee asked. "That's the way we think. We want to give people value. We are not the most expensive company out there, but we are high quality."
"There are a lot of companies out there that make good products, but they are making the same products that other companies are making. Virtually every one of our products are unique. That sort of innovative approach has been our niche. It's what we've become known for," Zeider added. "This expansion has been a big investment, but we don't just believe in our products and the future of our company, we also believe in the people that work here. It's an investment into the community that we believe in."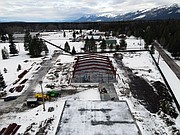 ---