Bigfork Innovations Group looks to make 'BIG' connections in 2022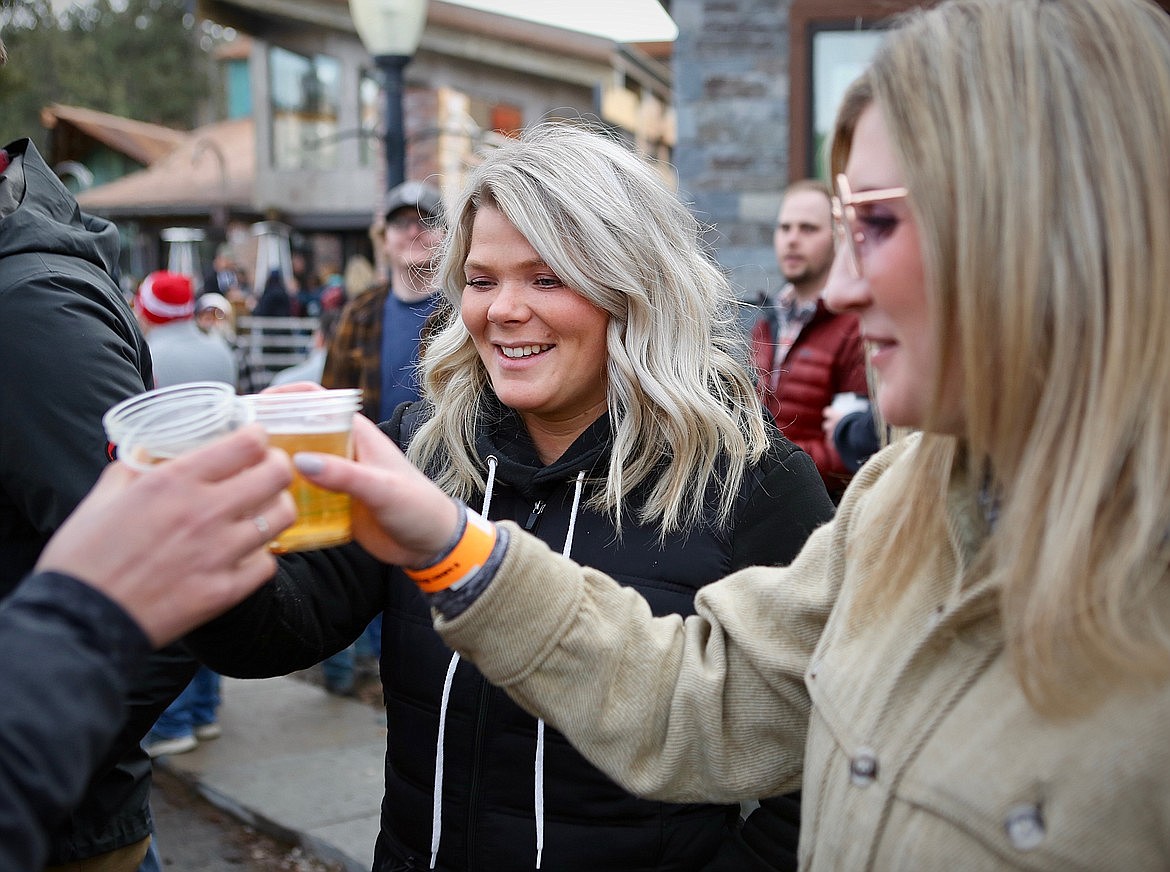 Makenzie Belisle, left, and Jordyn Seyer, right, cheers at Bigfork Brewfest in 2021. (Mackenzie Reiss/Bigfork Eagle)
by
TAYLOR INMAN
Bigfork Eagle
|
January 5, 2022 12:00 AM
Bigfork Innovations Group is one of the youngest nonprofits in Bigfork, and BIG President Darcie Fast said she's hoping the organization can continue to foster new ways to give back to the community.
BIG was founded in 2019 with the goal of sponsoring community events to highlight local attributes and to energize community based fundraising through a well planned series of Bigfork-centric events. The money raised at these events will go to fund beneficial community programs. The group took over the annual Brewfest event that takes place in March, which Fast said is their biggest fundraising event. Fast said the group tries to work with downtown businesses and do their best to keep the area clean. She said in recent years they have set up in the middle of the street to make the businesses more accessible, they have set up more garbage cans to deter littering and port-a-potties to stop public urination.
"It's just supposed to be a nice, fun outdoor party that really kind of goes right back to BIG and supporting the community…we're going for both sides of Electric Ave., both sides of downtown, and I'm pushing again for all local brewers, all Montana, and I'm hoping for 50," Fast said.
Fast said last year they cut down on the amount of beers they had available and made small changes to ensure the event wasn't too crowded. She said proceeds from events like Brewfest are growing BIG's mission. This is the first year they will be able to sponsor Bigfork Schools' baseball team.
Like many other sports teams in Bigfork, the baseball team gets their funds to operate from donations. BIG stays connected with the baseball team and other smaller nonprofits that sometimes get left behind. She said creating sustainable recreational opportunities is important to many members of the community and the BIG board. A sportsplex or an area for updated baseball and soccer fields is something Fast said many community members are hoping for.
"The soccer team doesn't even host home games…they only travel to play. So getting a sports complex— they told us they need about 40 acres to host tournaments and have fields…" Fast said.
She said hearing this from the sports teams last year was an "eye opener," and that a sports complex could be beneficial for not only school athletes, but for the community as a whole. She said some people have suggested the addition of a pool is needed, since swimmers can't practice diving in their current location. Fast also mentioned the idea of an ice skating rink that was brought up at a meeting about trail interconnectivity in December that involved many land-use groups and community members. BIG hosted their own collaborative nonprofit meeting in December, where several Bigfork nonprofits and community members presented their needs and goals. She said it's something she would like to do on a larger scale every year.
"It just seems like you need to get people in the same room and all talking and all on the same page and these big ideas happen pretty easily," Fast said.
Fast hopes that BIG can be "the pusher" for when people ask "what does Bigfork need?" She said they would throw their support behind a trail system, as an example. But for now, BIG prepares to put on their largest event of the year. Fast said Brewfest might be one of the best ways they raise money to give back to Bigfork, but at the end of the day it's an event for Bigfork itself.
"We're just so new, I know we are, but for Christ's sake we're here and we're really trying hard to make sure we give back, not just with the money, but we also want the events to be part of the community too," Fast said. "It's great that Whitefish and Kalispell come, but these are events that were started for our local people."
Brewfest 2022 is set to start on March 5.
---