Nordic center delights local cross-country skiers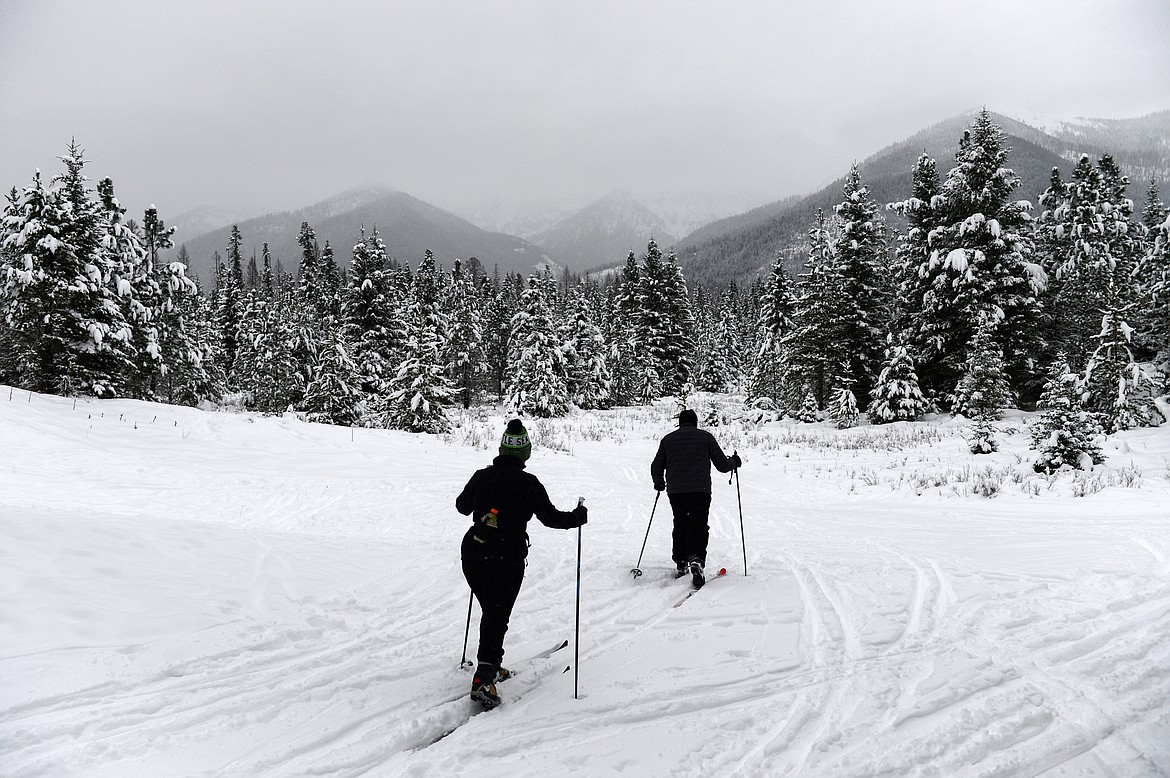 Marilyn and Pat Lee start towards the Aeneas Loop trail at the Bigfork Community Nordic Center trails on Foothill Road on Thursday, Jan. 6. (Casey Kreider/Daily Inter Lake)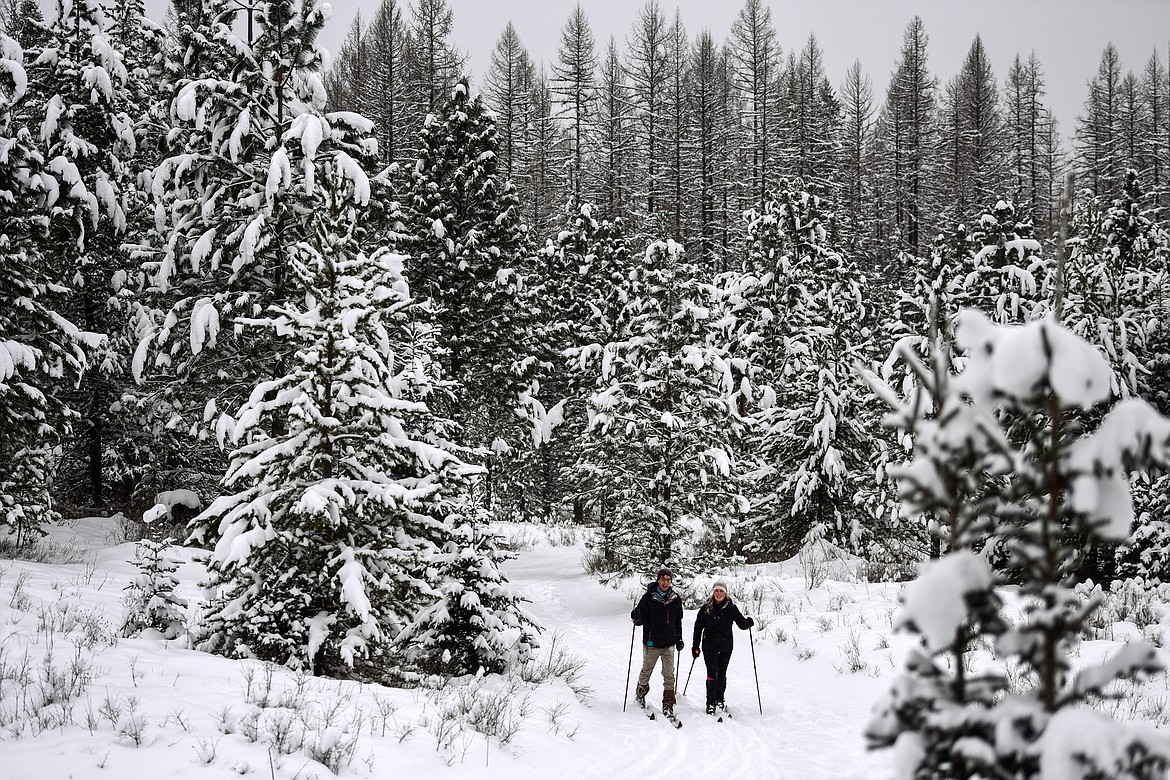 Gabe LePage and Anika Reynar cross-country ski along the Aeneas Loop at the Bigfork Community Nordic Center trails on Foothill Road on Thursday, Jan. 6. (Casey Kreider/Daily Inter Lake)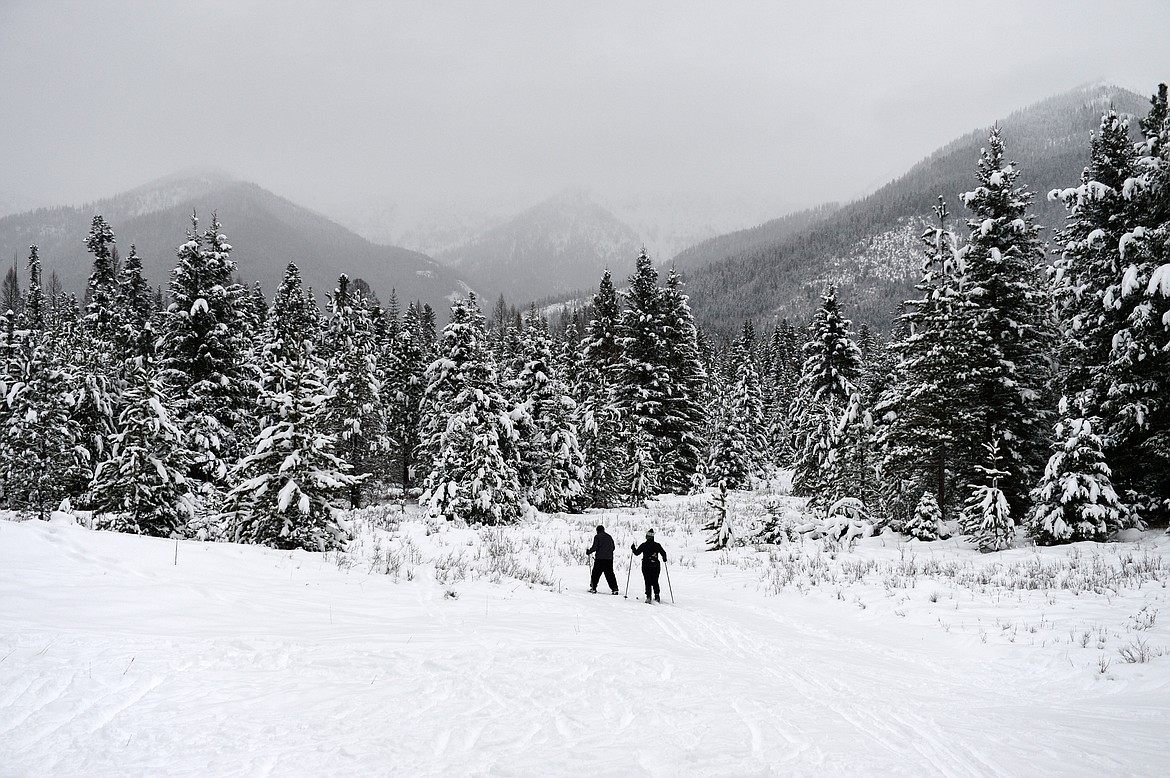 Marilyn and Pat Lee start towards the Aeneas Loop trail at the Bigfork Community Nordic Center trails on Foothill Road on Thursday, Jan. 6. (Casey Kreider/Daily Inter Lake)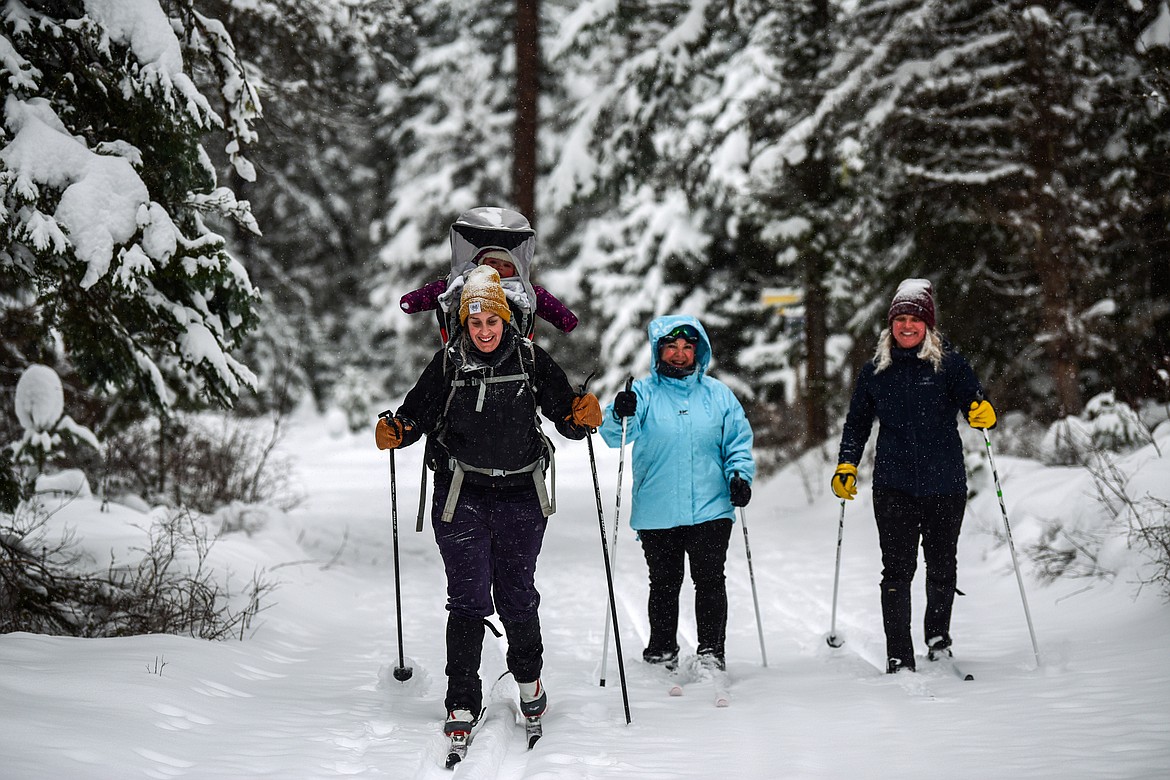 From left, Kali Tholen with 9-month-old Ila on her back, Amy Schmidt and Mattie Willette cross-country ski along the Aeneas Loop at the Bigfork Community Nordic Center trails on Foothill Road on Thursday, Jan. 6. (Casey Kreider/Daily Inter Lake)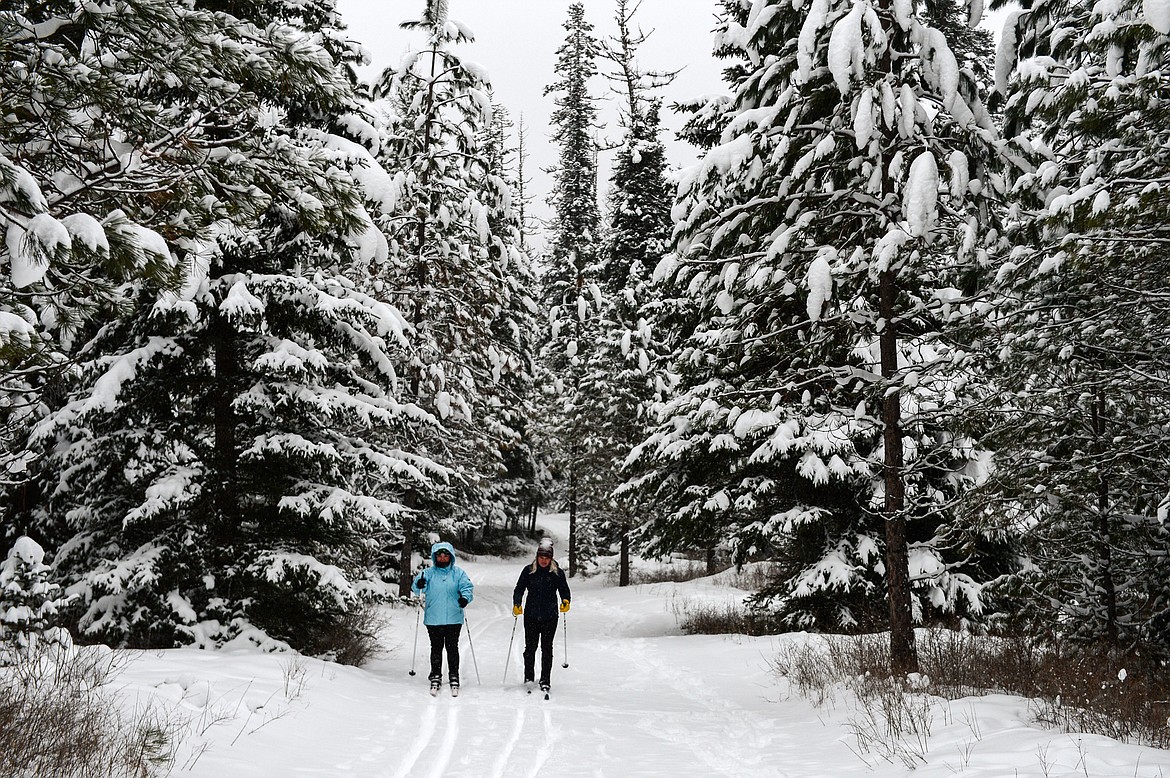 Amy Schmidt and Mattie Willette cross-country ski along the Aeneas Loop at the Bigfork Community Nordic Center trails on Foothill Road on Thursday, Jan. 6. (Casey Kreider/Daily Inter Lake)
Robert and Melissa Burns cross-country ski along the Aeneas Loop at the Bigfork Community Nordic Center trails on Foothill Road on Wednesday, Jan. 5. (Casey Kreider/Daily Inter Lake)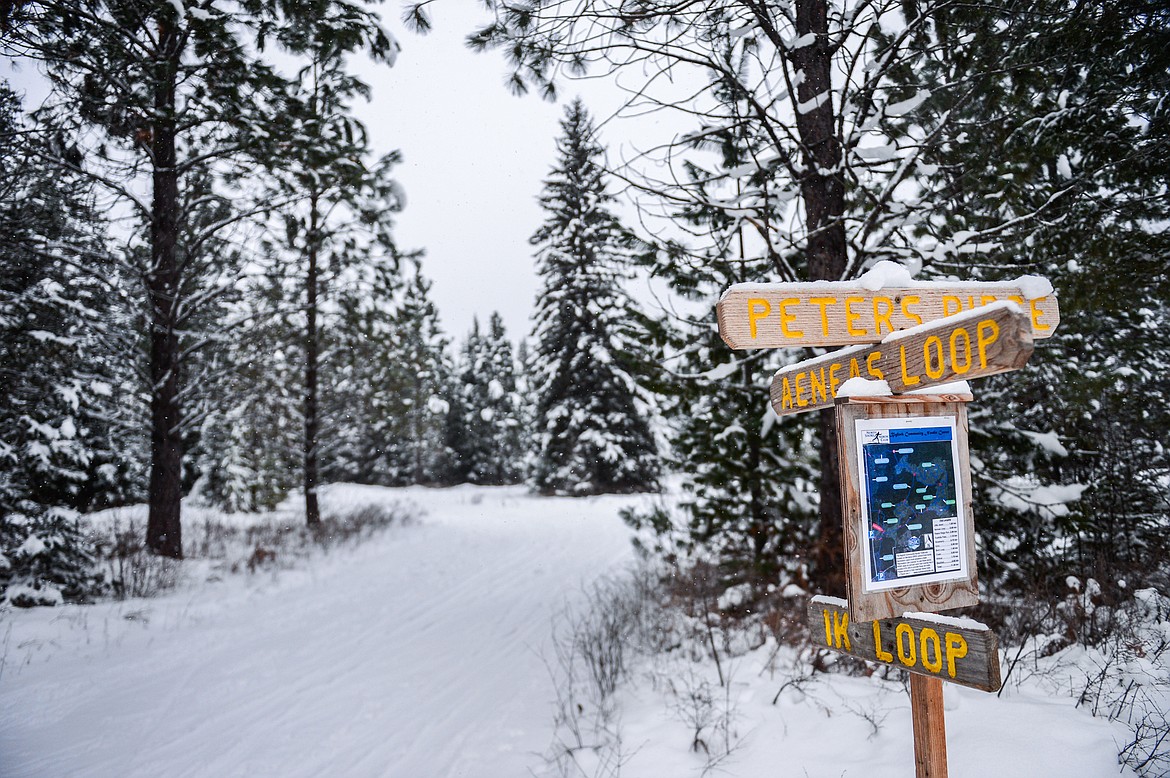 Signage and a trail map at an intersection at the Bigfork Community Nordic Center trails on Foothill Road on Wednesday, Jan. 5. (Casey Kreider/Daily Inter Lake)
Cross-country ski trails in the snow at the Bigfork Community Nordic Center trails on Foothill Road on Wednesday, Jan. 5. (Casey Kreider/Daily Inter Lake)
Previous
Next
by
TAYLOR INMAN
Bigfork Eagle
|
January 12, 2022 12:00 AM
The Bigfork Community Nordic Center is nestled in the foothills of the Jewel Basin, providing 10 kilometers of well-groomed trails and giving locals access to quality Nordic skiing for 18 years.
Dave Hadden, of the North Shore Nordic Club that maintains the trails, said the trails are busier than ever, and that every year the North Shore Nordic Club tries to make some improvements for skiers.
"Either in more terrain, more length of trail, or in new equipment…just to make incremental improvements because we're a small club, we rely on donations to make things happen," he said.
The nonprofit North Shore Nordic Club started in 2004 to provide recreational opportunities for people here in the wintertime. They began with the BCNC and later added Blacktail Mountain Nordic Trails — 25 kilometers of trails located about eight miles above Lakeside.
Hadden said when the club began, the trails around Bigfork were there but barely maintained. He said while he and other skiers were primarily looking for a place for themselves, he knew there was a need in the community for wintertime recreation.
"There was a pent-up appetite in the community for cross-country skiing and that we could really use a cross-country skiing area that had quality grooming," he said. "So Bigfork doesn't have a big ski hill, like Lakeside or Whitefish and it has a lot of backcountry and front country skiing and it's a beautiful place, but up until that point no one had made anything that specifically winter recreation-oriented, so we've tried to fill that niche,"
So the club was created, and they started maintaining the 10 kilometers of varied trails (including flat, rolling and challenging hills) in Bigfork. As a nonprofit organization, the six board of directors work to fundraise for all of their needs. At the beginning of this season, they announced the purchase of a new snowmobile for maintaining the Blacktail trails. Hadden said there is more the club wants to do in the future, like expanding to include a youth skiing program and races. But, that would require dedicated volunteers.
"The board has done some of that in the past with volunteers who have come and gone, and so it's just doing a kid's program or races, that's a very focused area of work for a club like ours, and it really requires quite a few more volunteers for each of those endeavors," Hadden said.
He said their board is very hands-on and spends most of their time maintaining the trails and fundraising for the club, which they do mostly through outreach mailers, annual appeals and the occasional grant. Hadden said he and a few other board members have been active in the club since its inception 18 years ago, but they are looking for fresh new faces.
"We really need new board members to come on board, and to take the reins and continue this community service into the future," he said.
Hadden said if the community is interested in seeing this service continue in the future, they need four new board members. He said they are also looking for a trail groomer since their current person is out with a shoulder injury for the remainder of the season.
Anyone interested in these positions can contact Hadden at paddler@centurytel.net or by calling 406- 270-3184. The BCNC is free to use for the public, but the North Shore Nordic Club asks people using the trails to only take skis or snowshoes. Skiers are also required to have a valid "Montana Recreational Use License" in accordance with Montana state law.
Up-to-date trail conditions for both trail areas can be found on North Shore Nordic Club's website northshorenordic.org.
---