Split Rock Restaurant owners hopeful for new Bigfork location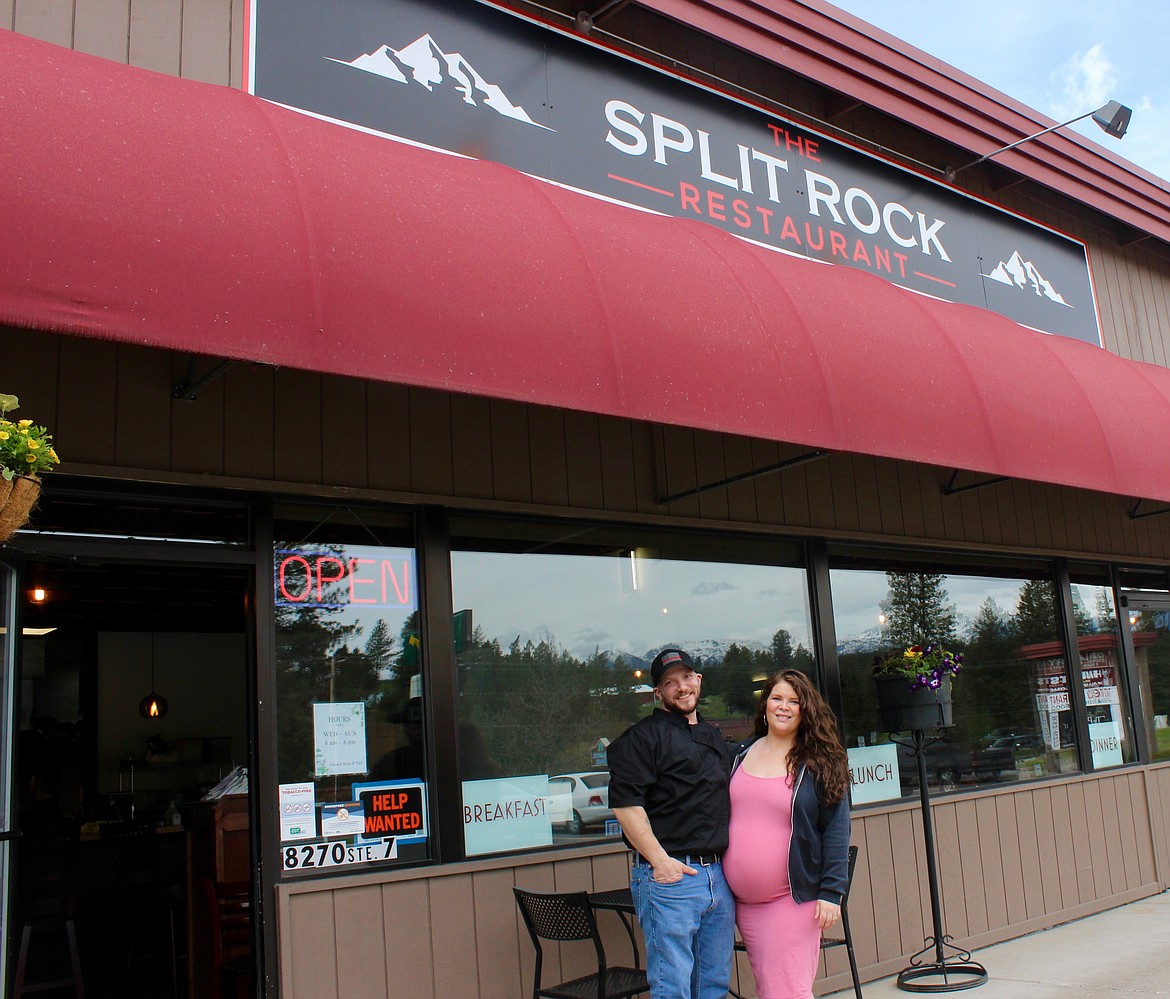 Owners Jimmy and Skye Foster stand outside of the Split Rock Restaurant at their new Bigfork location. (Taylor Inman/Bigfork Eagle)
by
TAYLOR INMAN
Bigfork Eagle
|
June 15, 2022 12:00 AM
The owners of the Split Rock Restaurant are hopeful that their new location in Bigfork could become home for the long-term, continuing their dreams of having a family-style restaurant that caters mostly to the local community.
The restaurant had its former home in the K.M. Building in downtown Kalispell. But, when the owner decided to sell the building, Split Rock Restaurant owners Jimmy and Skye Foster had to think fast if they wanted to keep their business going. Jimmy said the realization that they had a deadline to meet started to sink in and there was little help to be found during the start of the pandemic.
"You're gonna close one day, and not for any reason of your own. You know, not because you ran out of product, not because you didn't have enough employees, not because you couldn't do your job— other variables were in play. So that was a challenge mentally and logistically, especially with the restaurant industry the way it was at the time. PPP loans and other government funding were only good if you were operating. If your doors are closed and you don't have anything, you're not gonna receive any help. So, having to get the doors back open was a big undertaking, just figuring out where we were gonna go," Jimmy said.
Skye said they were fortunate to find a new building to rent within three months, though it's taken a little while to renovate the space for what they wanted. The restaurant moved into the space where When In Rome previously was off of Highway 35. With Jimmy's background in construction, they took eight months to make the space their own. This included completing an entire new kitchen, the ventilation system, fire suppression system, the dining area and more. Jimmy said it wouldn't have been possible without the help of their new neighbors and friends who he had worked construction with in the past.
"In order to get this space open in the time that we did, we couldn't have done it without our friends, our family and our locals in Bigfork at all. Like, if Sliters wasn't open, we wouldn't be open right now. And a lot of friends of mine that I've grown up with in the valley were a big part of getting this put together— a lot of new friends were really helpful. A lot of people that really just met within the last year or so," Jimmy said.
Skye said her husband has always had a dream of running a family-style restaurant. When it became a possibility, they realized that they both have the skills to make it happen.
"Jimmy's passion is in the cooking and being the brave one. He's the person for hosting and entertaining. That's where his drive kind of lies. Mine is in logistics and smaller details— the organization and the setting up of a business, managing people and hiring. Just kind of doing whatever it takes to get from point A to point B," Skye said.
Split Rock Restaurant has mostly American fare: burgers, sandwiches, breakfast foods. The Foster's said they focus on quality and consistency, sourcing ingredients from Northwest Montana when possible. They said they aren't a fine dining restaurant, but want the experience to be just as good "without making it too complicated." They aim for food that's family friendly and accessible, hoping that their customers return to find the same experience as they did the last time they paid a visit.
Jimmy's background in construction helps him to view the kitchen as a "very large piece of equipment," similar to heavy machinery. He said it "is a lot of equipment all tied together to produce a sole product." Running a kitchen also takes a lot of communication, which Jimmy also likened to a construction site. He said his passion for cooking is homegrown.
"I grew up cooking in my household and always loved food. I always loved cooking, really just anything I could cook for somebody would just make me happier than cooking for myself. Growing up around here, a family restaurant is really a great thing to have in the wintertime because you don't get to get out and socialize a lot. So, if you go to a diner and see the same people every week, that's some socializing, or getting together with your family in a place that's not around like your home table. That's one thing I grew up doing because you know, you can have nine months of winter here if you want," Jimmy said.
Jimmy said he appreciates having a place that his friends and family can go back to since many of them work out of state or return on a seasonal basis.
"People come home for the holidays. You know, their folks are here, so they may work in North Dakota or Indiana or Texas or something like that, but when it comes down to Thanksgiving and Christmas, everyone comes home," Jimmy said.
'Community is nourishment,' is part of a mission statement listed on their website: "food has served as a common medium for connection. Whether it is a cup of coffee with a friend or a family meal for ten, our passion lies in providing the quality ingredients and a beautiful space to enjoy a meal that fosters those experiences," it continues. Skye said they are trying to find their niche by taking care of the community— a breed of restaurant she and her husband said is slowly disappearing.
"I mean you have fine dining wanting to really carve itself out in the valley, and that's fine, but that doesn't necessarily serve the locals year round. It's great for a special occasion, but doesn't serve people like our friends and family. You know, the tourist season is a big part of your business, but it's not the most important part of your business. Tourist season is just a flash in the pan, if you look at the whole year, trying to connect with your locals for us is what longevity is about," Skye said.
Longevity is their main goal with this location, the Fosters said.
"20 years, we want longevity, we want to be here. We want to be a local spot. I like seeing the same faces every week. I like my regulars, I like it when I can get to know a person's name because I see 'em once or twice a week. So, more than anything longevity and integration into the community," Jimmy said.
Learn more about the Split Rock Restaurant and their menu at www.splitrock406.com.
---