BACC to hold artist talk and reception for their June exhibit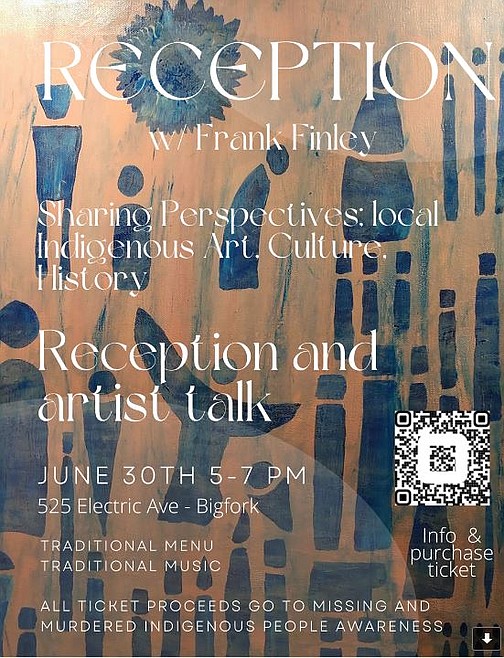 by
TAYLOR INMAN
Bigfork Eagle
|
June 27, 2022 3:55 PM
The Bigfork Art and Cultural Center will hold an artist talk and reception for their June exhibit: "Sharing Perspectives: Local Indigenous Art, Culture, History" this Thursday.
Salish Kootenai College Fine Arts Department Co-Chair Frank Finely is a member of the Confederated Salish and Kootenai Tribe and will be giving the artist talk during the event. In addition to being an artist, Finley is a scientist, college professor, business owner, and passionate caretaker and educator of his Native culture. He describes his artistic productions as varied, since he works with multiple mediums within each piece.
"It allows the piece I am currently working on to be spontaneous yet grounded in all other aspects of my work," Finley said. "I enjoy making Native regalia and tools, printmaking and painting as well as silver-working."
The BACC said Finley's pieces are all thoughtfully filled with his experience as a Native American artist and person. Much of his work is abstract in nature, such that it allows the viewer to make their own decisions or perception within each piece. He said the images he uses are based upon biographic warrior art of the Plains people, specifically the CSKT. With all of his art, Finley tries to follow a philosophy once shared with him.
"Native people should make honest art; about themselves and what they know best," Finley said. "My images and ideals I represent through my art art the starting point for discussion of the native experience,"
Attendees will hear about the historical progression of native art from Petroglyphs-ledger art-to contemporary Native art. Food will be provided by Finley's staff from the Salish Kootenai College, including fry bread bites with huckleberry butter, cherry glazed salmon, huckleberry or strawberry tarts, bullets (a venison and onion meatball in a onion based gravy) with rice or noodle dumplings. Gluten free options are available.
The BACC invites community members to join, discuss and enjoy the experience of sharing perspectives. Cost per person $45 and proceeds from ticket sales will go towards Missing and Murdered Indigenous People awareness. Find a link to purchase tickets through the QR code on the flier above, or by visiting their Facebook page where a link is posted underneath the reception's announcement. The reception begins Thursday June 30 at 5 p.m. For more information, call 406- 837-6927.
---