Valkyries fall to Jefferson in opening round of state tourney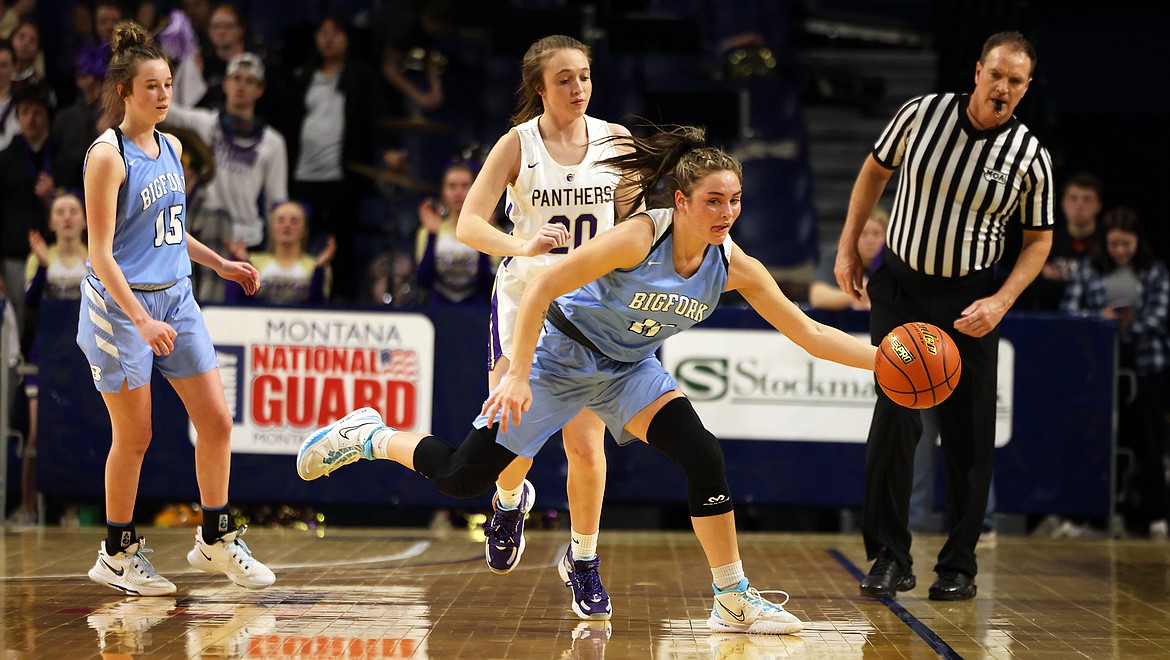 Bigfork's Emma Berreth steals a pass intended for Jefferson's MacKenzie Layng during the third quarter of opening-round action at the State B Basketball Tournament in Bozeman Thursday. (Jeremy Weber/Bigfork Eagle)
Rachel Van Blaricom and the Jefferson Panthers proved to be too much for the Valkyries in the opening round of the State B Basketball Tournament in Bozeman Thursday morning.
Van Blaricom poured in 35 points for the Panthers, who came away with a 61-55 victory.
Braeden Gunlock led Bigfork with 20 points and seven rebounds while Emma Berreth contributed 11 points, but the Valkyries found themselves down two after the opening quarter and were never able overcome the deficit.
The Valkyries forced Jefferson into 22 turnovers, helping Bigfork cut the lead to one early in the fourth quarter, but the Panthers answered with a quick run to go up 10 with 4:58 to play.
Bigfork's plan to extend the game by sending Jefferson to the foul line late in fourth quarter did little to cut into the lead as the Panthers sank 14 of 16 free throws in the final quarter and finished 19 of 22 from the foul line in the game.
With the loss, the Valkyries drop into the consolation side of the bracket, where they will face Columbus, who lost to Malta in the early-morning game, 47-40.
Jefferson - 13 12 17 19 - 61
Bigfork - 11 10 17 17 -55
JEFFERSON: Rachel Van Baricom 35, Cia Stuber 7, Mackenzie Layng 7, Dakota Edminsten 5, Brynna Wolfe 5, Izzy Morris 2.
BIGFORK: Braeden Gunlock 20, Emma Berreth 14, Madison Chappuis 9, Ava Davey 7, Scout Nadeau 3, Callie Martinz 2.
---