Vikings tame Tigers in opening round of state tourney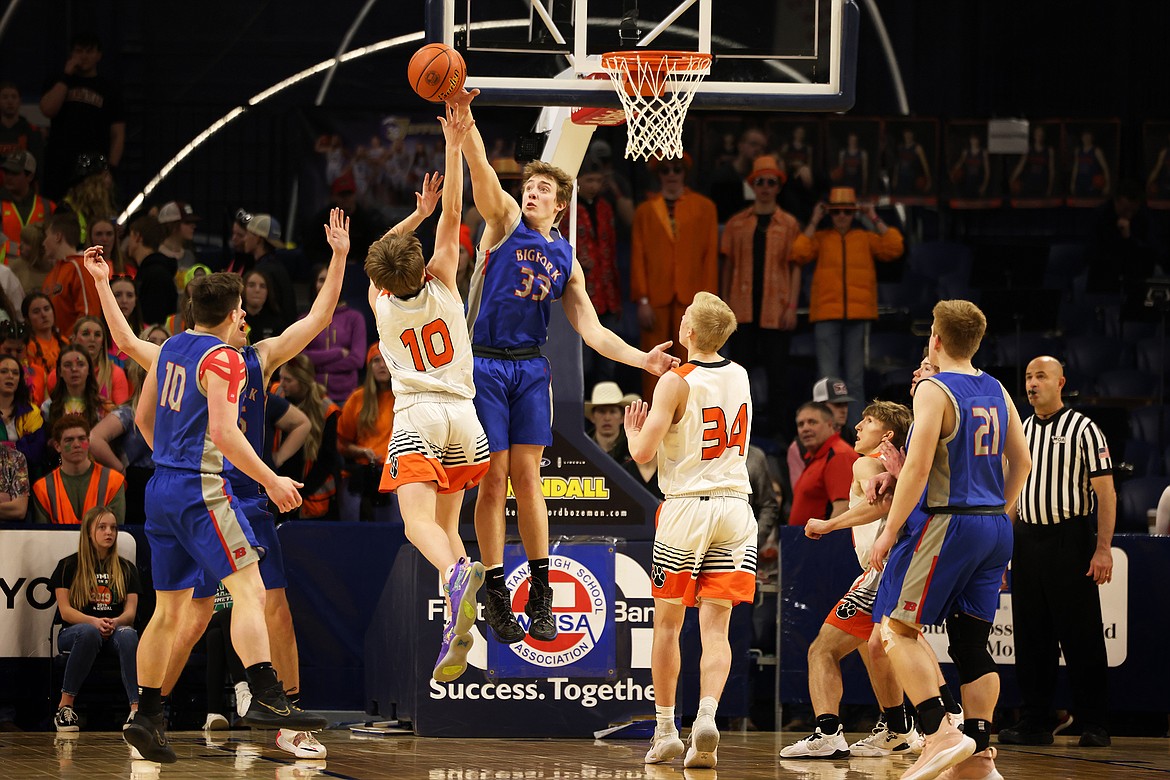 Bigfork's Nick Walker sends back a shot by Manhattan's Callin Fenno in the fourth quarter of the Vikings 55-46 win in the opening round of the State B Basketball Tournament in Bozeman Thursday. (Jeremy Weber/Bigfork Eagle)
The Vikings led for all but 40 seconds against Manhattan in the Bigfork boys opening game at the State B Basketball Tournament in Bozeman Thursday afternoon.
Led by Levi Taylor's 17 points and Bryce Gilliard's 10, the Vikings held off a feisty Tigers squad to earn a 55-46 victory and advance to a Friday semi-final matchup against Three Forks.
Bigfork jumped out to a 13-8 lead after one quarter against the Tigers, but saw that lead disappear in the second at Manhattan tied the score at 20 apiece at halftime.
Bigfork took a 38-33 lead into the fourth quarter, but the Tigers rallied to take their only lead of the contest, a one-point margin with 6:48 to play.
Taylor's tough work on the offensive boards and an unforgiving defense effort helped the Vikings pull away down the stretch.
Bigfork used nine offensive rebounds to score 12 second-chance points in the win, outscoring the Tigers in the paint, 22-12.
The Vikings will face Three Forks in the semi finals at 6:30 p.m. Friday after the No. 2 seed knocked off No. 1 seed Malta 56-54 in overtime in the opening game of the boys tourney.
Bigfork - 13 7 18 17 - 55
Manhattan - 8 12 13 13 - 46
BIGFORK: Levi Taylor 17, Bryce Gilliard 10, Colin Wade 8, Isak Epperly 6, Nick Walker 4, George Brown 4, Wyatt Johnson 2, Cole Knopik 2, Eli Thorness 2.
MANHATTAN: Markus Fenno 14, Jadon Pierce 9, Evan Douma 9, Callin Fenno 7, Corban Johnson 4, Wyatt Jones 3.
---