Valkyries down Glasgow to capture 3rd at state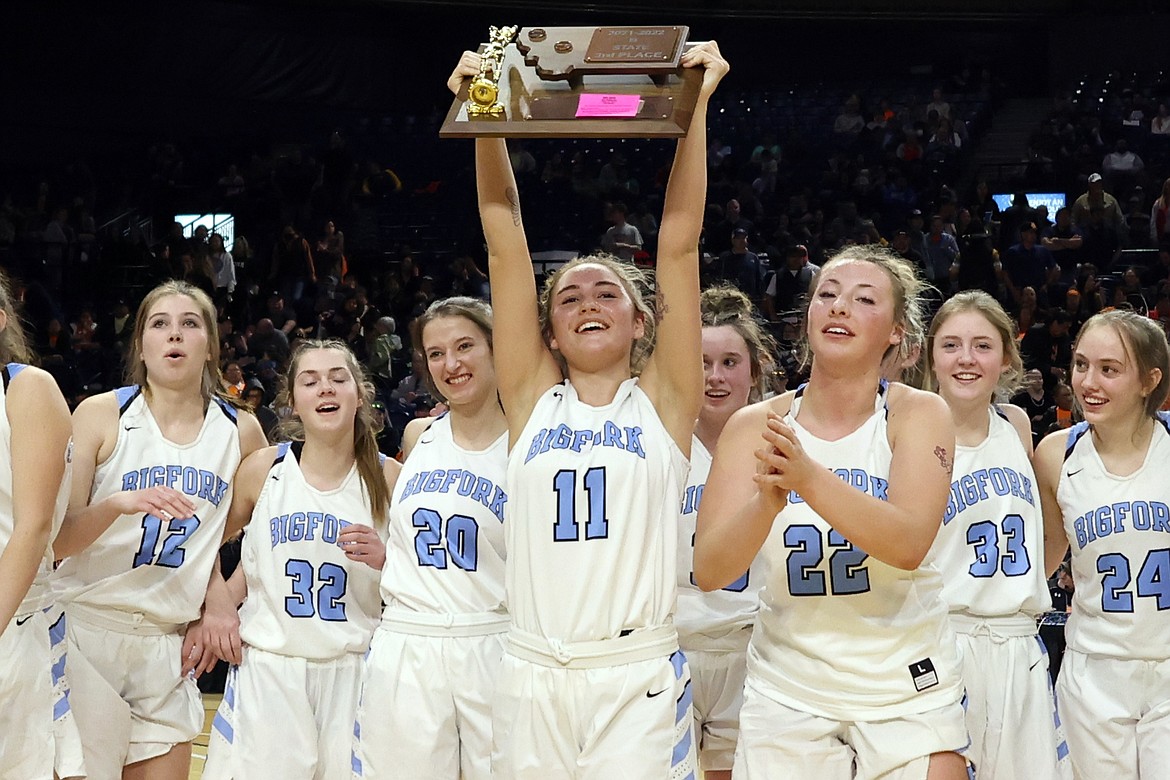 The Valkyries celebrate after downing Glasgow 59-49 to take third at the State B Basketball Tournament in Bozeman Saturday. (Jeremy Weber/Bigfork Eagle)
The Valkyries held off a late surge from Glasgow to earn third at the State B Basketball Tournament in Bozeman Saturday afternoon, downing the Scotties 59-49.
Braden Gunlock poured in 25 points and added eight rebounds (seven offensive) in the victory while Emma Berreth added 14 points and Ava Davey had 12 as Bigfork led for all but one minute in the contest.
Madison Chappuis provided energy on the boards finishing with nine rebounds as the Valkyries overcame being out-rebounded by 10 in the win.
The Valkyries led by as many as 12 in the second quarter, but saw that lead cut to five with 5:23 to play in the fourth quarter.
The lead was still five with just over four minutes to play when Gunlock knocked down a three to put the Valkyries up 53-45.
It was still 53-47 when Berreth forced a tie ball on the Glasgow side of the court with Bigfork taking possession.
The Valkyries finished on a 6-0 run to pull away for the victory.
The Valkyries finish the season 25-2.
Bigfork - 15 11 16 17 - 59
Glasgow - 8 13 12 16 - 49
BIGFORK: Braeden Gunlock 25, Emma Berreth 14, Ava Davey 12, Scout Nadeau 6, Madison Chappuis 2.
GLASGOW: Sabrina Harsh 27, Abrianna Nielsen 6, Tyann Graham 6, Daley Aune 4, Carly Nelson 4, Blaire Westby 2.
---