Valkyries down Harlem to advance to consolation final, Vikings bow out against Shelby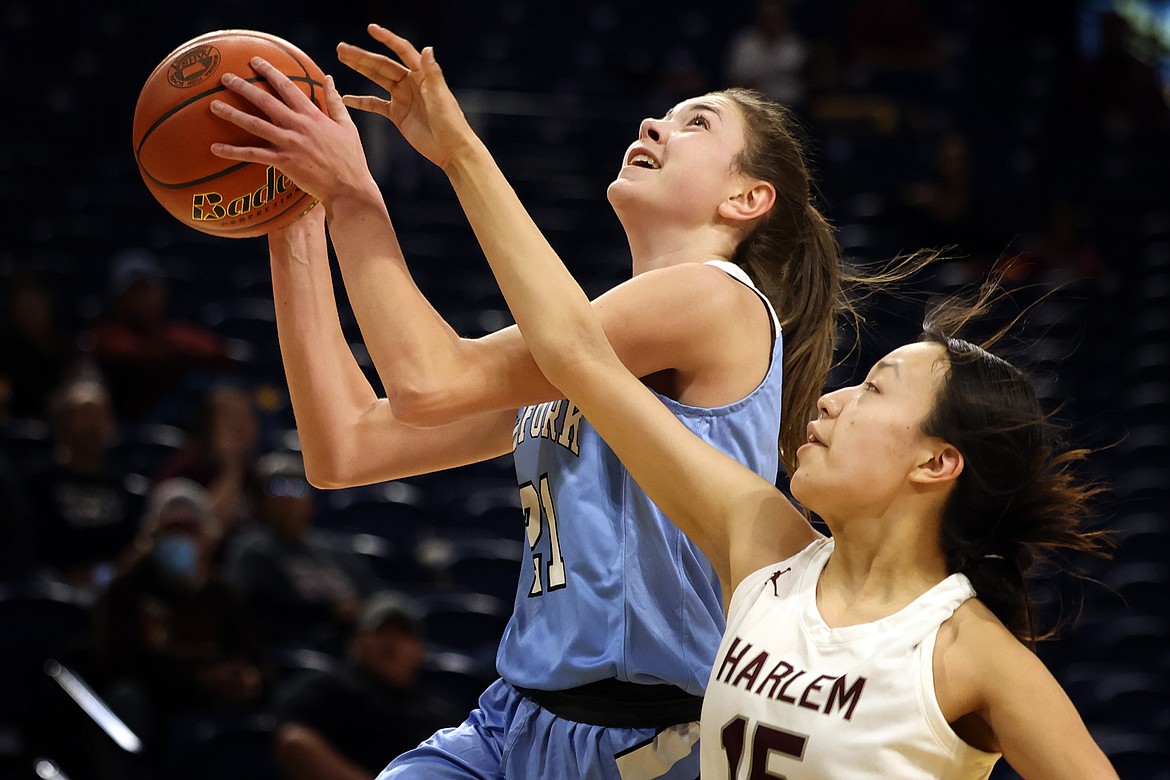 Bigfork's Braeden Gunlock goes up for two of her 21 points in the Valkyries win over Harlem in the Class B state consolation semifinals Saturday morning in Bozeman. (Jeremy Weber/Bigfork Eagle)
The Valkyries got 21 points from Braeden Gunlock, 16 from Emma Berreth and 10 from Ava Davey Saturday morning as they blew past Harlem in the Class B State consolation semifinal, 58-40.
With the win, the Valkyries advance to face Glasgow for a shot at third-place at 3:30 p.m.
Bigfork jumped out to a 17-6 lead after one quarter and never looked back as Harlem never led in the contest. Bigfork out-rebounded Harlem 32-15 in the win, led by Madison Chappuis with eight boards while Gunlock had seven.
The Vikings season came to a close against Shelby in the consolation semifinals as they fell to the Coyotes 45-40.
Shelby's 6 foot 9 inch Rhett Reynolds stifled the Vikings inside throughout the game, blocking and altering shots as Bigfork struggled to score in the paint.
Bigfork cut the Shelby lead to 25-23 early in the third quarter, but went down by as many as seven before a Colin Wade three made the score 32-28.
The Vikings continued to trail by four heading into the fourth quarter, where Shelby built a 10-point lead with six minutes to play.
An Isak Epperly three with 5:42 to play and a pair of Levi Taylor free throws cut the lead to 40-35 with 1:32 to play.
Epperly hit a runner in the lane with 57.4 second remaining to make the score 40-37, but it was as close as the Vikings would get as Shelby held on for the win.
Epperly led the Vikings effort with 12 points, while Wade added eight and Taylor and Eli Thorness each scored six.
---