Vikings win close battle with Manhattan in playoff opener, 21-16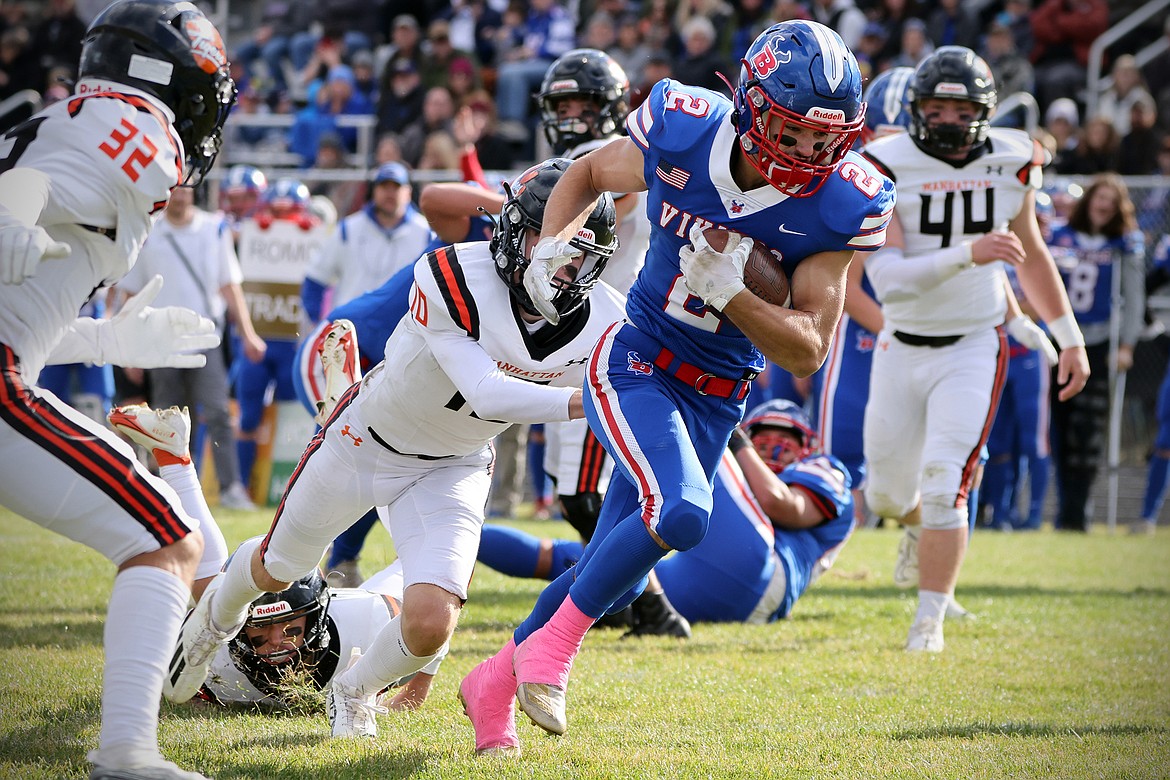 Jackson Nelson breaks free for a 10-yard touchdown run in the first quarter of Bigfork's State B playoff win over Manhattan Saturday. (Jeremy Weber/Bigfork Eagle)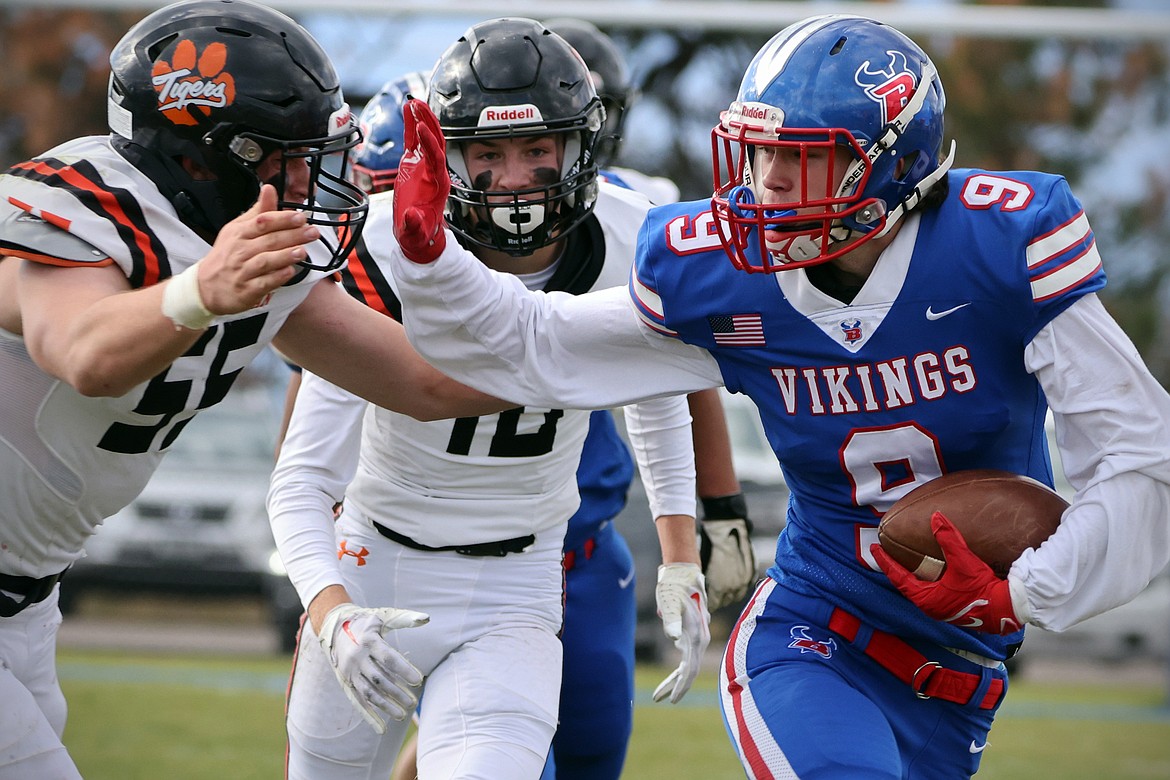 Isak Epperly uses a stiff arm to hold back a Manhattan tackler after recovering a fumble in the second quarter of Saturday's State B playoff game. (Jeremy Weber/Bigfork Eagle)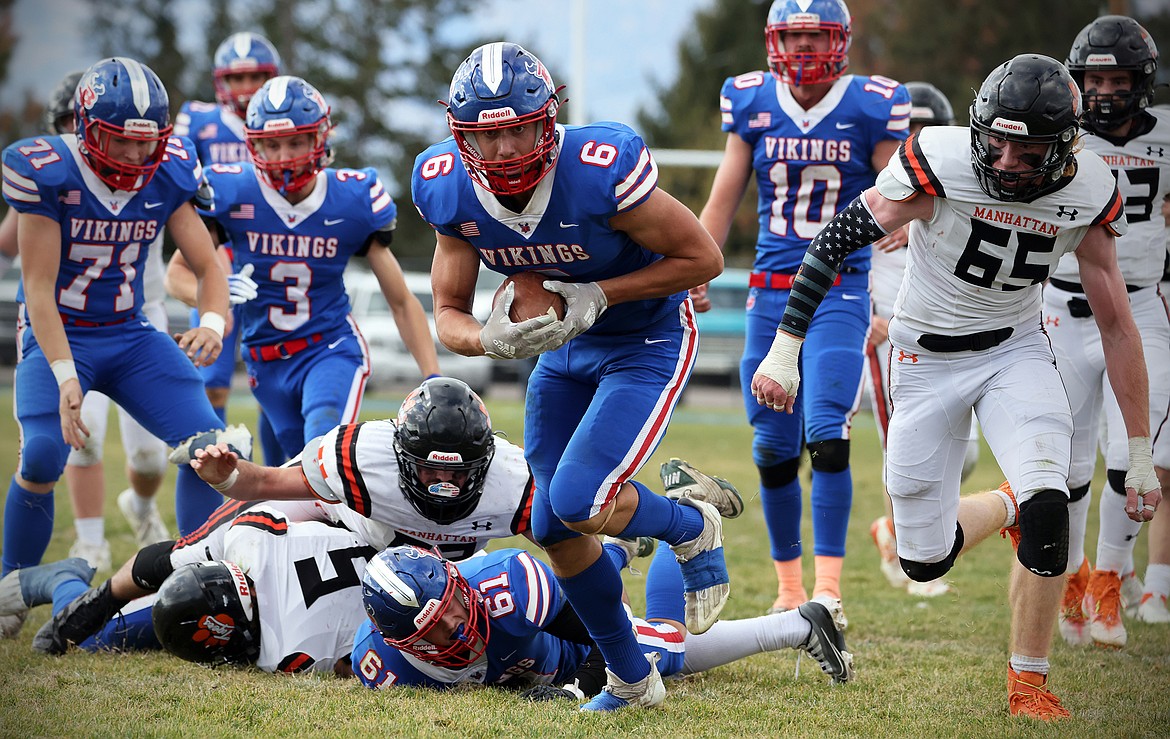 Nick Walker returns a Manhattan fumble 24 yards for a touchdown in the second quarter to Saturday's State B playoff game. (Jeremy Weber/Bigfork Eagle)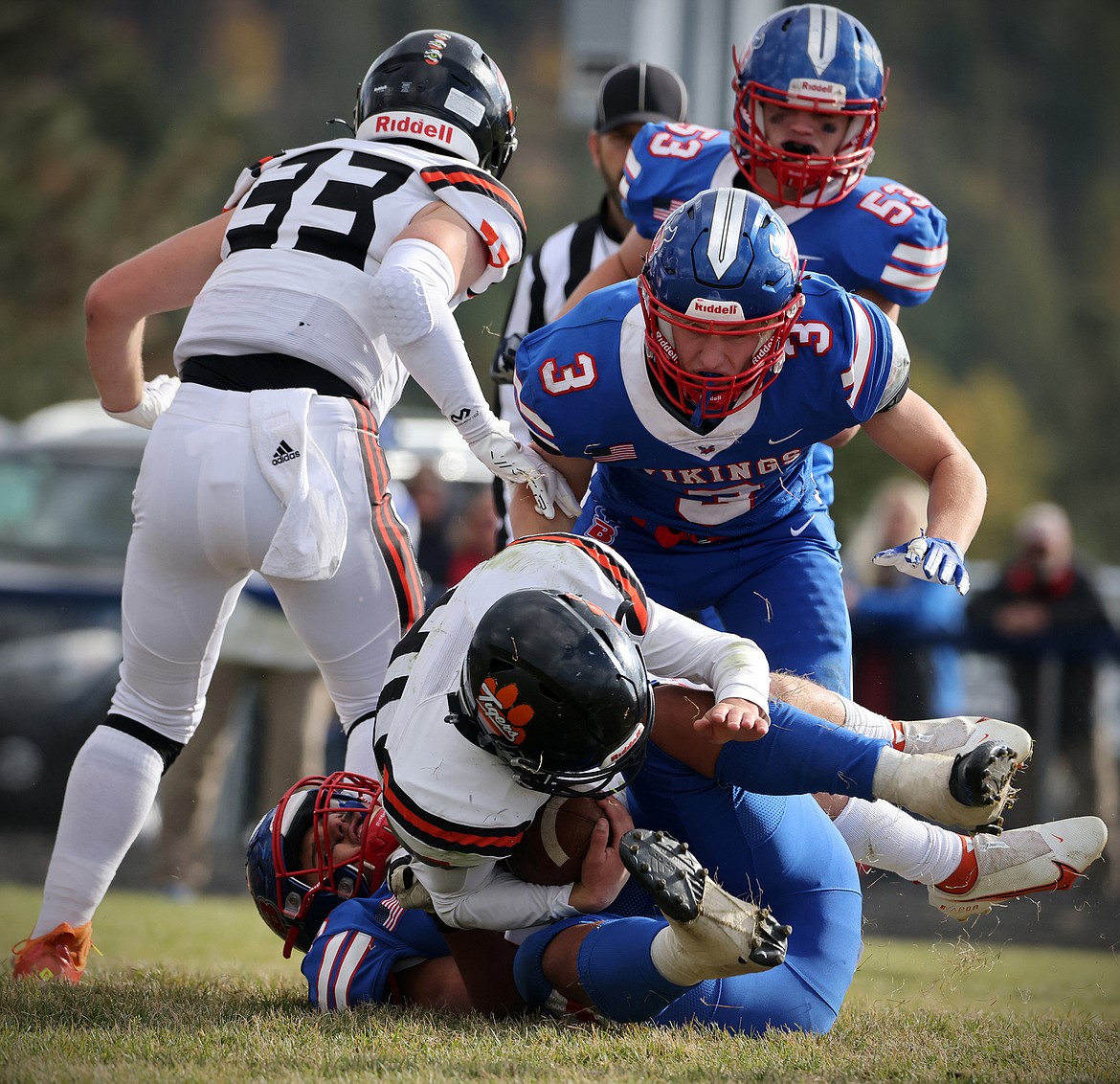 Ethan Rodriguez brings down a Manhattan runner Saturday as teammates Wyatt Johnson (3) and Abe Ochs (53) look on. (Jeremy Weber/Bigfork Eagle)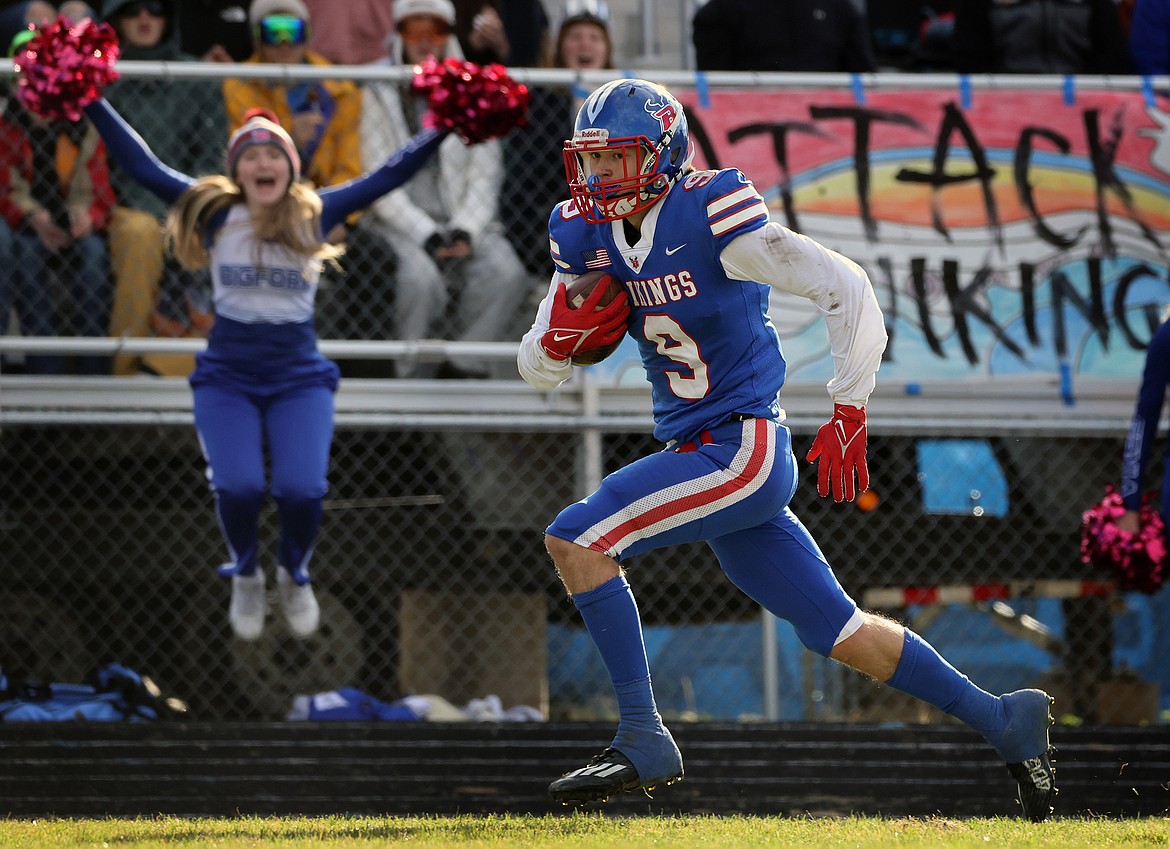 Isak Epperly breaks free down the sideline for the game-winning touchdown in Bigfork's 21-16 victory over Manhattan in the State B Playoffs Saturday. (Jeremy Weber/Bigfork Eagle)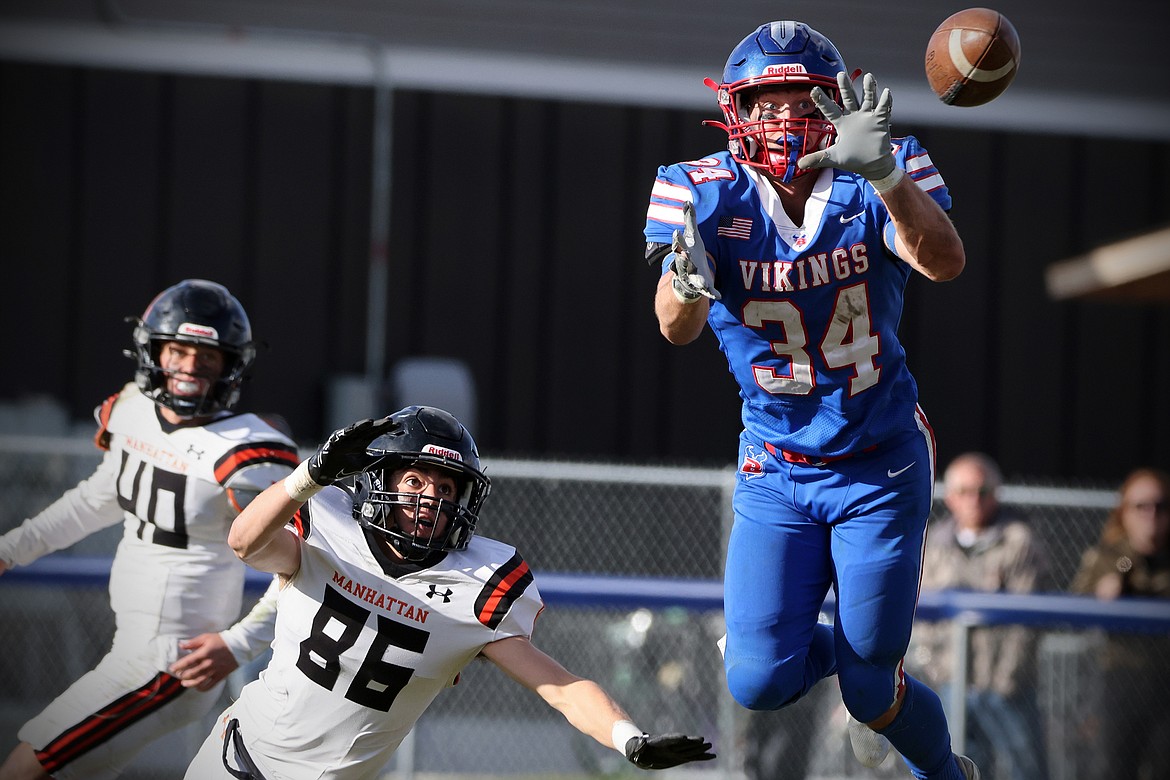 Joseph Farrier had Bigfork's only interception Saturday as the Vikings defeated Manhattan in the State B Playoffs, 21-16. (Jeremy Weber/Bigfork Eagle)
Previous
Next
by
JEREMY WEBER
For the Eagle
|
November 2, 2022 12:00 AM
Bigfork's dream of a return trip to the State B football championship game survived a tough test Saturday as the Vikings needed a fourth-quarter comeback and a strong late-game defensive stand to get past Manhattan in the opening round of the playoffs, 21-16.
Bigfork trailed 16-14 with 7:34 to play when quarterback Tristen Herd connected with Isak Epperly for a 70-yard touchdown pass and run before the Vikings defense held the Tigers out of the end zone on downs at the Bigfork 7-yard line to secure the win.
"We didn't play great. We didn't even play good, but we played just good enough to win," Vikings head coach Jim Benn told his team after the victory. "A win is a win. We knew it was going to be tough. At the end of the day, it doesn't matter what the score was as long as we won. We advance."
The Vikings knew the State B football playoffs were going to be a tough road and probably couldn't have drawn a tougher matchup for a top seed heading into the playoffs.
The Tigers fell to defending state champion Florence-Carlton to open the season with their other two losses coming to tough Whitehall and Townsend squads.
"I was so nervous coming into this game because I knew how good they were," Benn said. "They (Manhattan) have improved so much since they played Florence. This is a team that is going to be a force in Class B in years to come."
The Tigers won nearly every statistical category in Saturday's matchup with the Vikings except the two that count, turnovers and touchdowns.
Manhattan picked up 318 yards of total offense to Bigfork's 273, winning both the passing and rushing battles. The Tigers picked up 21 first downs to Bigfork's 12 and held the ball for 30 minutes to Bigfork's 18, but the Vikings forced four Tiger turnovers (including two fumbles forced by Manny Baldi) and reached the end zone three times to earn the win.
"It wasn't pretty, but it was a win," Benn said.
Herd finished 13 of 19 passing for 189 yards. Epperly had four catches for 86, and Bryce Gilliard had four catches for 56. Joseph Farrier ran 15 times for 53 yards for the Vikings. Epperly and Nick Walker each had fumble recoveries for the Vikings, Walker's turning into a 24-yard return for a touchdown in the second quarter.
The Bigfork defense was led by Cole Knopik and Wyatt Johnson with seven tackles each while Farrier had the Vikings' lone interception. Baldi finished with six tackles and Ethan Rodriguez had 5.5 for the Vikings, who will host Glasgow in a quarterfinal game Saturday at 1 p.m.
The game will be a rematch of last season's first-round playoff game between the two teams, won by Bigfork 49-0.
Glasgow (8-2) is the second seed from the North, with losses to Huntley Project (42-14) and Malta (37-6) this season.
---