Vikings use ground game to dominate Scotties in quarterfinal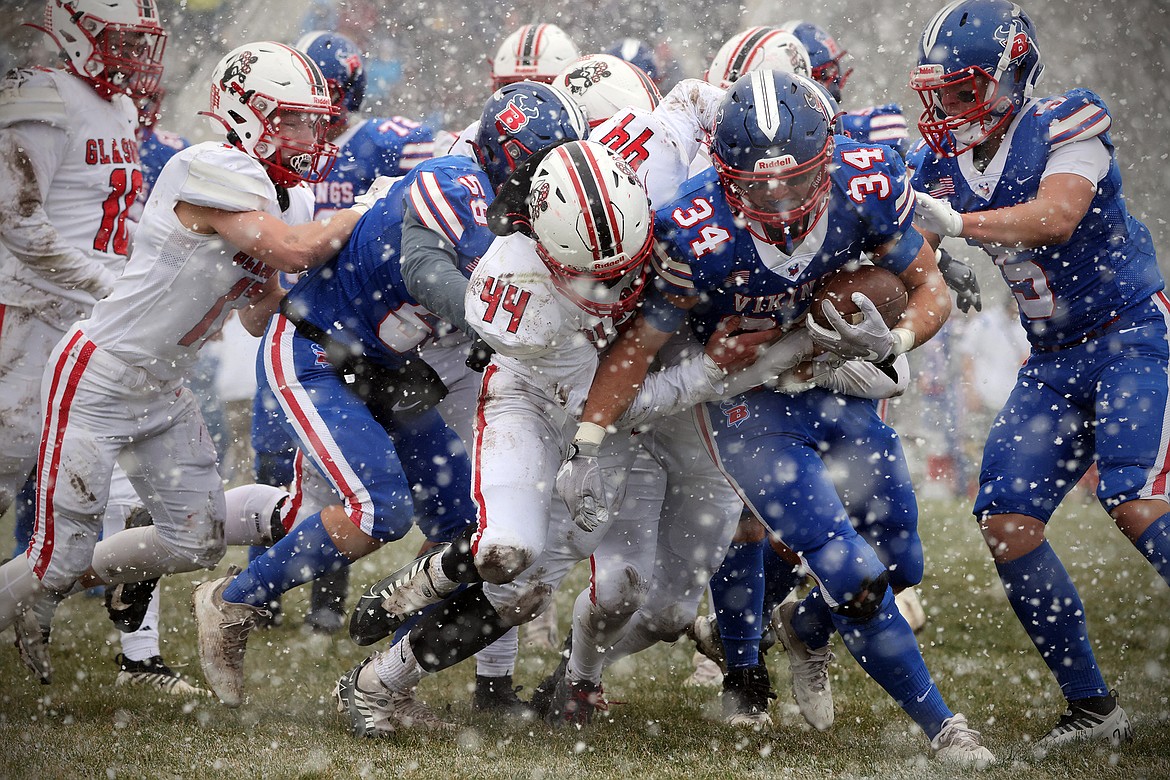 Joseph Farrier battles the Glasgow defense and the weather for several of his game-high 155 rushing yards in the State B Quarterfinals in Bigfork Saturday. (Jeremy Weber/Bigfork Eagle)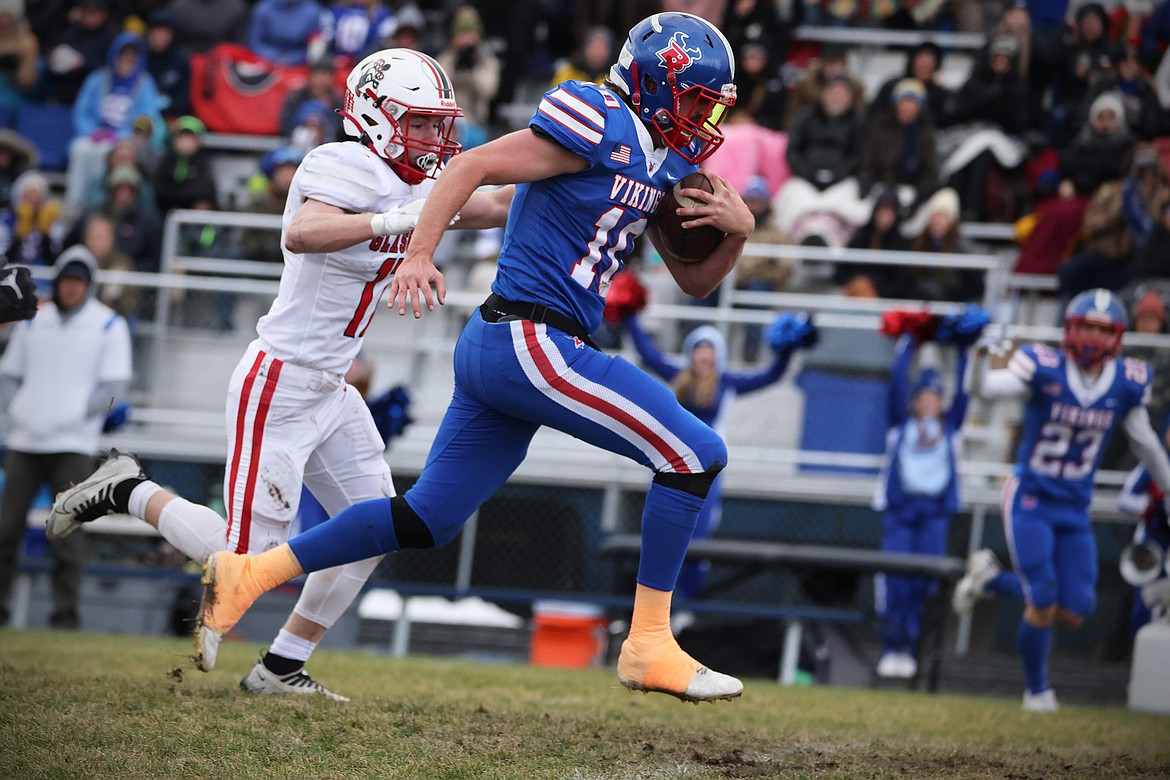 Bryce Gilliard finds room in the middle of the field to run on a 45-yard pass play for the Vikings against Glasgow Saturday. (Jeremy Weber/Bigfork Eagle)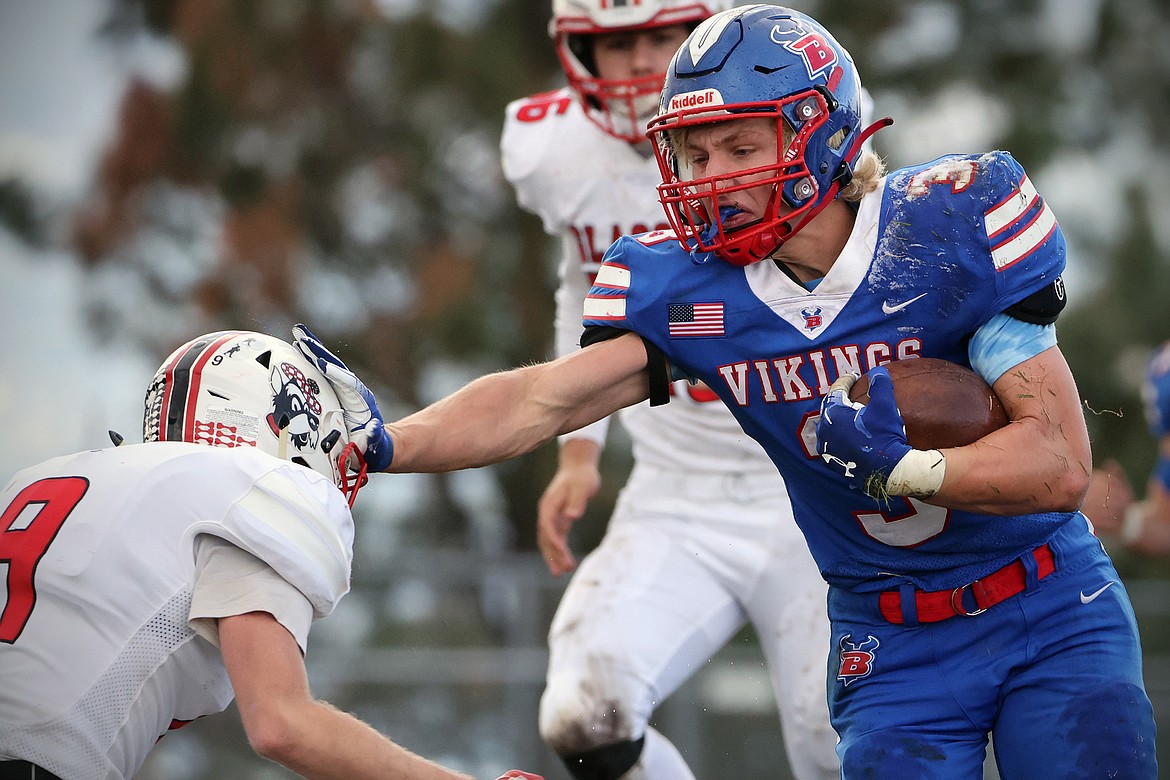 Wyatt Johnson holds off a Glasgow defender for several of his 85 rushing yards Saturday. (Jeremy Weber/Bigfork Eagle)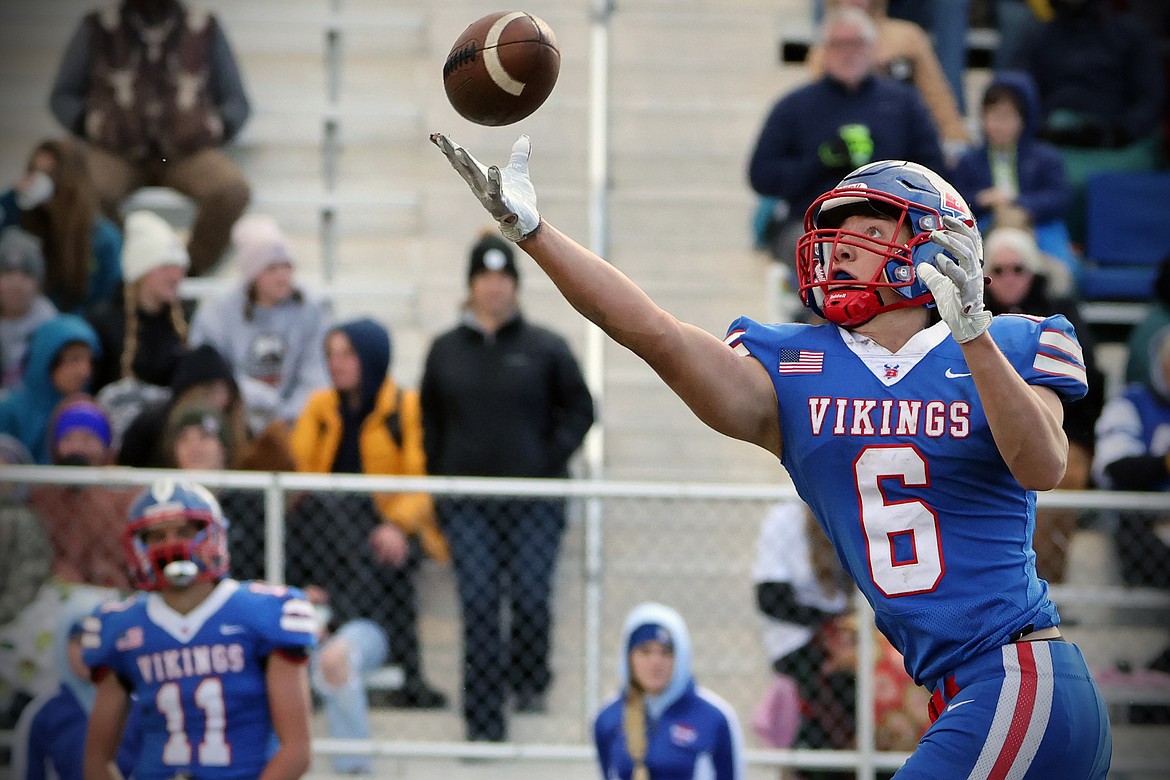 Nick Walker reaches for a pass in the second quarter of Bigfork's 52-12 win over Glasgow in the State B Quarterfinals Saturday. (Jeremy Weber/Bigfork Eagle)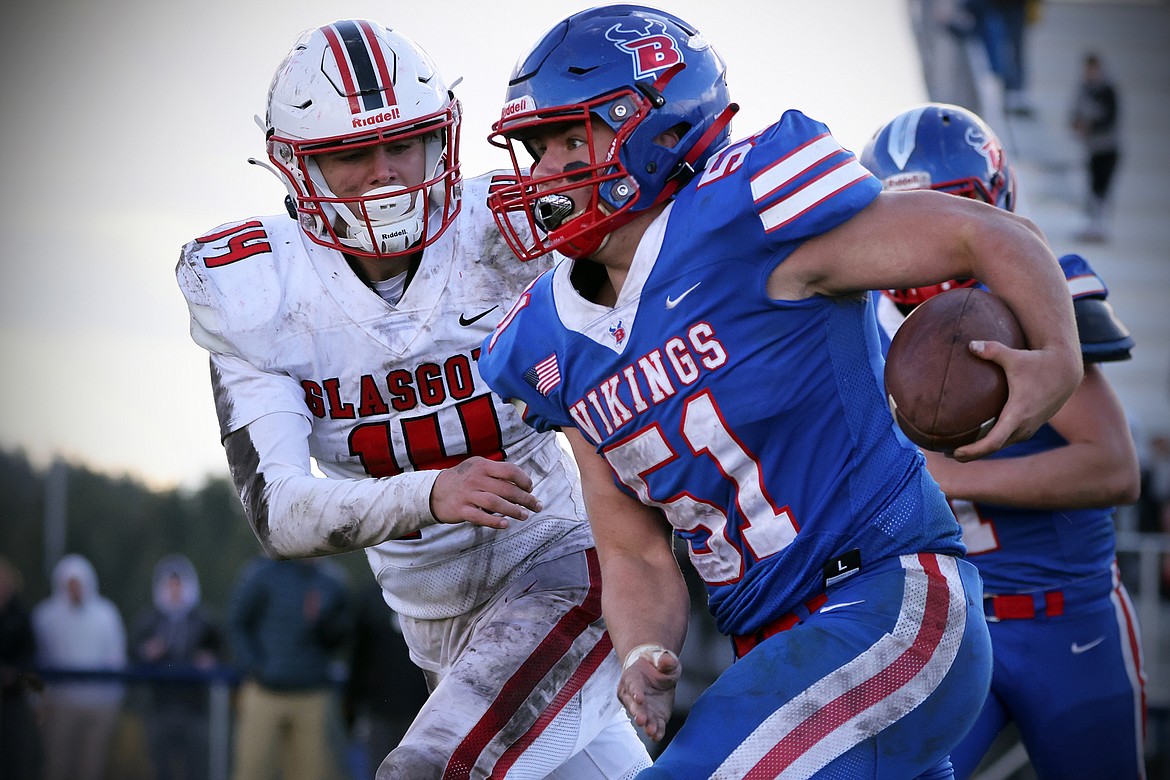 Lineman Manny Baldi returns a blocked punt for a touchdown late in Bigfork's 52-12 win over Glasgow in the State B Quarterfinals Saturday. (Jeremy Weber/Bigfork Eagle)
Previous
Next
The Vikings pounded their way into the State B Semifinals Saturday as Bigfork used 321 rushing yards to crush the visiting Glasgow Scotties 52-12 in the State B Quarterfinals.
Led by Joseph Farrier's 155-yard, five-touchdown day, the Vikings led 21-6 at halftime before outscoring the Scotties 31-6 in the second half.
Bigfork quarterback Tristen Herd connected on seven of his 16 passing attempts for 123 yards and a lone touchdown, a 26-yard strike to Elijah Thorness late in the fourth quarter.
Jackson Nelson and lineman Manny Baldi also found the end zone for the Vikings, Nelson on a 57-yard run early in the fourth quarter and Baldi on the return of a blocked punt late in the game.
Nelson finished with 5 rushes for 69 yards and Wyatt Johnson added 85 yards rushing on seven carries for Bigfork.
The Bigfork offense finished with 444 yards of total offense compared to 125 total yards by Glasgow who was intercepted four times by the Vikings defense on the day, with two takeaways by Farrier and one each by Bryce Gilliard and Johnson.
The Scotties finished the day 1 for 16 on third down conversions while Bigfork was an efficient 7 for 12.
The Vikings defense was led by Baldi with 8.5 tackles while Johnson had 6.5 (including a sack) and Nelson added six.
With the win, the Vikings advance to host No. 4 seed Loyola in the Class B semifinal at 1:00 p.m. Saturday.
Loyola, who lost to the Vikings 47-14 Oct. 7, advanced to the semifinal with an upset win over No. 2 seed Shepherd, 14-7.
---