Bigfork puts 6 on B All-State football team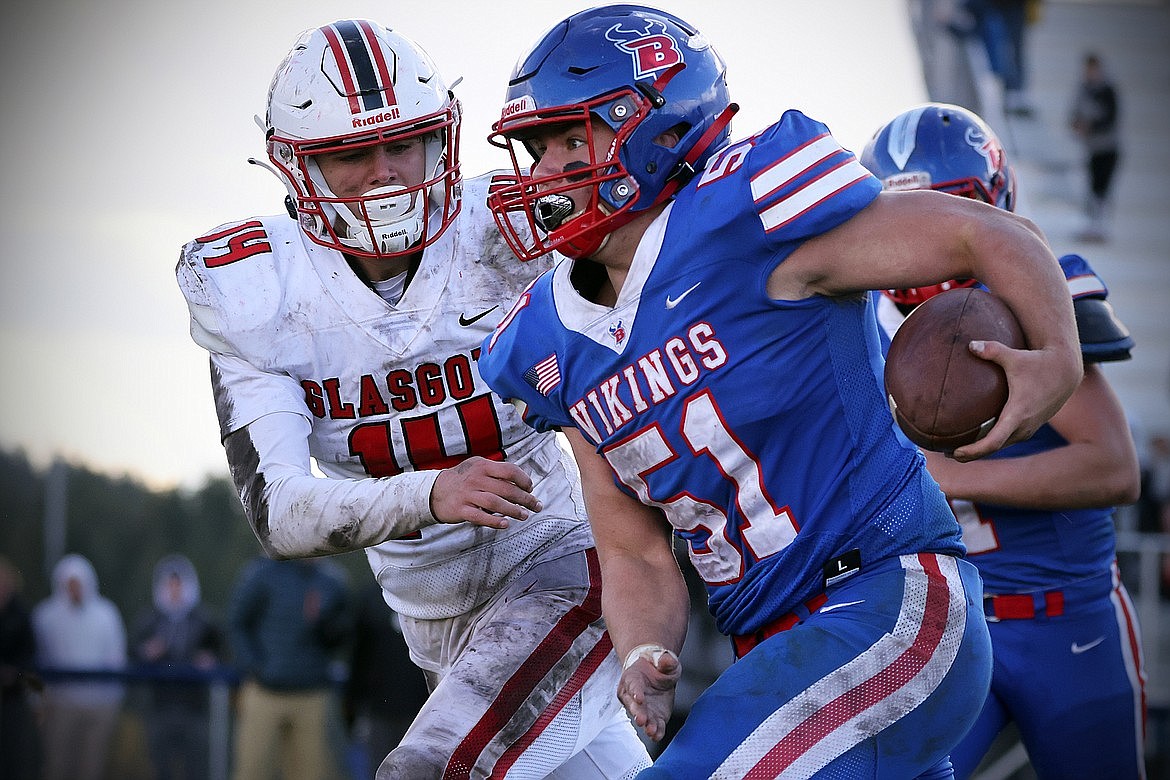 Lineman Manny Baldi returns a blocked punt for a touchdown late in Bigfork's 52-12 win over Glasgow in the State B Quarterfinals Saturday. (Jeremy Weber/Bigfork Eagle)
|
November 23, 2022 12:00 AM
Six Bigfork Vikings made All-State for Class B football, the Montana Coaches Association announced this week.
In all 36 players were honored, spread between the West, South and East divisions.
Bigfork, which lost in the semifinals to Missoula's Loyola Sacred Heart, had the most selections. Huntley Project had five.
Running back Joseph Farrier, who ran 874 yards and 16 touchdowns, was among the Vikings picks. So was linebacker/guard Manny Baldi as well as receivers Isak Epperly and Nick Walker, H-back Bryce Gilliard and quarterback Tristen Herd.
Epperly caught 31 passes for 427 yards and seven touchdowns, all team highs. Walker and Gilliard each averaged over 20 yards a reception and combined for five receiving TDs. Gilliard is All-State for a second straight year.
Herd threw for 1,528 yards and 21 touchdowns, with six interceptions. He's the lone junior among the Viking honorees; the rest are seniors.
Florence, which won its second straight State B crown, had four selections while Missoula Loyola and Eureka each had one: Talen Reynolds and Tristan Butts.
Butts, a junior, threw for 538 yards and seven touchdowns and rushed for 813 yards and five more scores for Eureka.
Reynolds, also a junior, rushed for 1,706 yards for the Rams, who fell 48-7 to Florence in the championship.
Thompson Falls had two All-State picks in junior Hayden Hanks and senior Elijah Ratliff.
Florence quarterback Patrick Duchien is All-State along with teammates Colten Rice, Ethan Alexander and Jonathan Luhmann.
Duchien had another huge season: 2,803 yards and 31 touchdowns passing, 1,124 yards and 19 touchdowns rushing. Luhmann, a 275-pound two-way lineman, announced his commitment to the MSU Bobcats on Monday.
Class B All-State
Patrick Duchien 12 Florence
Colten Rice 12 Florence
Isak Epperly 12 Bigfork
Nick Walker 12 Bigfork
Ethan Alexander 11 Florence
Bryce Gillard 12 Bigfork
Talen Reynolds 11 Loyola
Tristan Butts 11 Eureka
Elijah Ratliff 12 Thompson Falls
Joseph Farrier 12 Bigfork
Jonathan Luhmann 12 Florence
Tristen Herd 11 Bigfork
Hayden Hanks 11 Thompson Falls
Manny Baldi 12 Bigfork
Luke Donally 12 Huntley Project
Connor Hash 12 Shepherd
David Wohlfeil 12 Huntley Project
Braxton Fulton 11 Shepherd
Wylee Lindeen 12 Huntley Project
Garrett Sholley 12 Huntley Project
Kolby Lechner 12 Huntley Project
Bryden Batson 12 Fairfield
Juliun Benson 12 Wolf Point
Morgan Fast 12 Glasgow
Spencer Gibbs 12 Malta
Tatum Hansen 11 Glasgow
Eli Hanson 12 Malta
Camryn Mears 12 Malta
Dawson Sweat 12 Townsend
Case Cruz 12 Manhattan
Ryan Racht 12 Townsend
Miles Hoeruf 12 Whitehall
Dylan Root 12 Boulder
Luke Oxarart 10 Boulder
Ridger Jones 12 Townsend
Leo Scafani 12 Whitehall
---