Joan Corrine Galland Bruce Lundy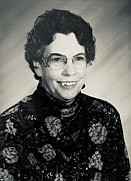 Joan Corrine Galland Bruce Lundy
|
November 30, 2022 12:00 AM
Joan Corrine Galland Bruce Lundy, 91, died peacefully on November 6, 2022 in Kalispell, Montana.
She was born in Lubbock, Texas on March 10, 1931 to Joseph and Zenobia Galland, who moved to Cave Junction, Oregon when Joan was in elementary school. In 1950, Joan married Gerald (Jerry) Bruce while attending Southern Oregon State College in Ashland, Oregon. After Jerry graduated from dental school in Portland, Oregon, they moved to Caldwell, Idaho to open a dental practice. Joan continued her education and graduated with a teaching degree from Boise State University. In Caldwell, Jerry and Joan settled into career and family life with their four children; Kathleen (Kathi), Christine (Chris), Margaret (Peggy), and Greg.
In 1962 Jerry died suddenly in a car accident, and Joan stepped into the role of single parent. Even as a full-time teacher, she was active in her children's lives; leading a girl scout troop, sewing their clothes, and taking them to church. Most importantly, she taught them to love God, love each other, and serve others well.
Joan married Robert (Bob) Lundy in 1973 and moved to Kalispell to build their lives together. Blending ten children into one family wasn't easy, but Bob and Joan diligently worked to create a dynamic and loving family. Joan continued her teaching career at Somers Lakeside School District until retirement. Not only did Joan love teaching, spending hours exploring new methods to help students learn quickly, she also loved learning. Until her death she was buying books to learn new ideas and skills.
Joan's mother was a pianist, so Joan developed a deep love for music. After moving to Kalispell, Joan joined Valley Voices, a Flathead Valley performance choral group, and spent decades performing with them. When Valley Voices was invited to sing at Carnegie Hall, Joan, at 85, jumped at the opportunity.
Local charities Joan diligently supported were Orphan's Lifeline International, Samaritan House, and Meals on Wheels, along with national charities such as St. Jude Hospital, police and veteran organizations, and St Joseph Hospital.
Outside of family and teaching, the Kalispell Church of Christ was where Joan served the longest. As you can imagine, she was a devoted Sunday School and Bible Study teacher. She gave her heart to building up the congregation, which was family to her. When COVID made social interaction risky, she attended church services from the parking lot, listening on the car radio to the sermon being preached inside.
Joan believed in stretching her mind, spirit, and body consistently to become a better person, gifted teacher, gracious wife and mother, and humble servant. She left a robust and bountiful legacy for family, friends, and community. We will miss her dearly and the example she set for us.
Joan is preceded in death by her first husband, Dr. Gerald Bruce, their daughters Kathleen Lamm and Christine Merrick, and her second husband, Robert Lundy.
Joan is survived by daughter Margaret (Peggy) Bruce Engel and son Greg (Lynn) Bruce, as well as step-children Jack (CJ) Lundy, Robert (Bob) Lundy, Rebecca (Becky) Lundy West, Renee Lundy Yarbrough, Craig Lundy, and Gayle (Dave) Lundy Blount. Her grandchildren are Alissa (Brian) Engel-Blankenship, Kyle (Kaylene) Engel, Jonathan (Nikki) Bruce, Kristine Bruce Unger, Jessica (Jeffrey) Bruce Lueken, and David (Meaghan) Bruce, Leslie (Keith) Yarbrough Fletcher, Rebecca Yarbrough, Charles Yarbrough, John (Hannah) Yarbrough, Joseph Yarbrough, and Adam Blount. She also leaves behind nine great-grandchildren. Friends are encouraged to visit our website at www.buffalohillfh.com to leave notes of condolences for the family. Buffalo Hill Funeral Home and Crematory caring for the family.
---