Vikings win epic championship rematch, Valkyries volleyball remains perfect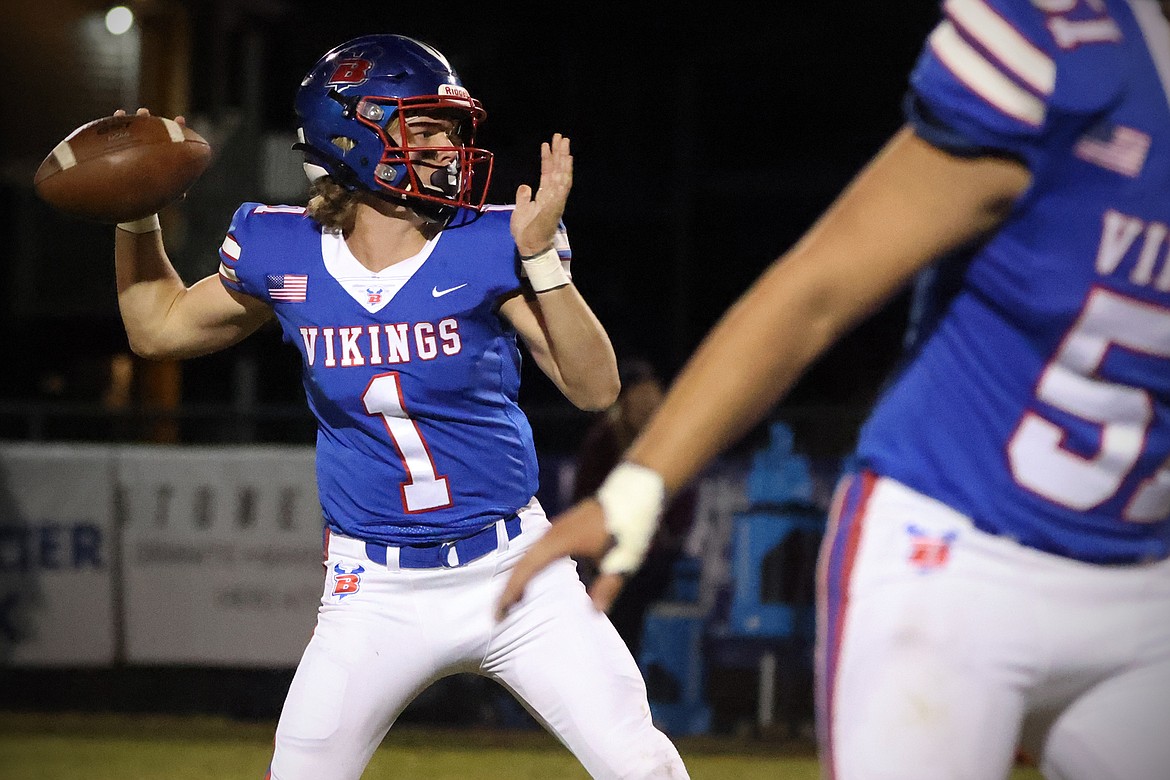 Tristen Herd drops back to pass in the first quarter against the Falcons Friday. (Jeremy Weber/Bigfork Eagle)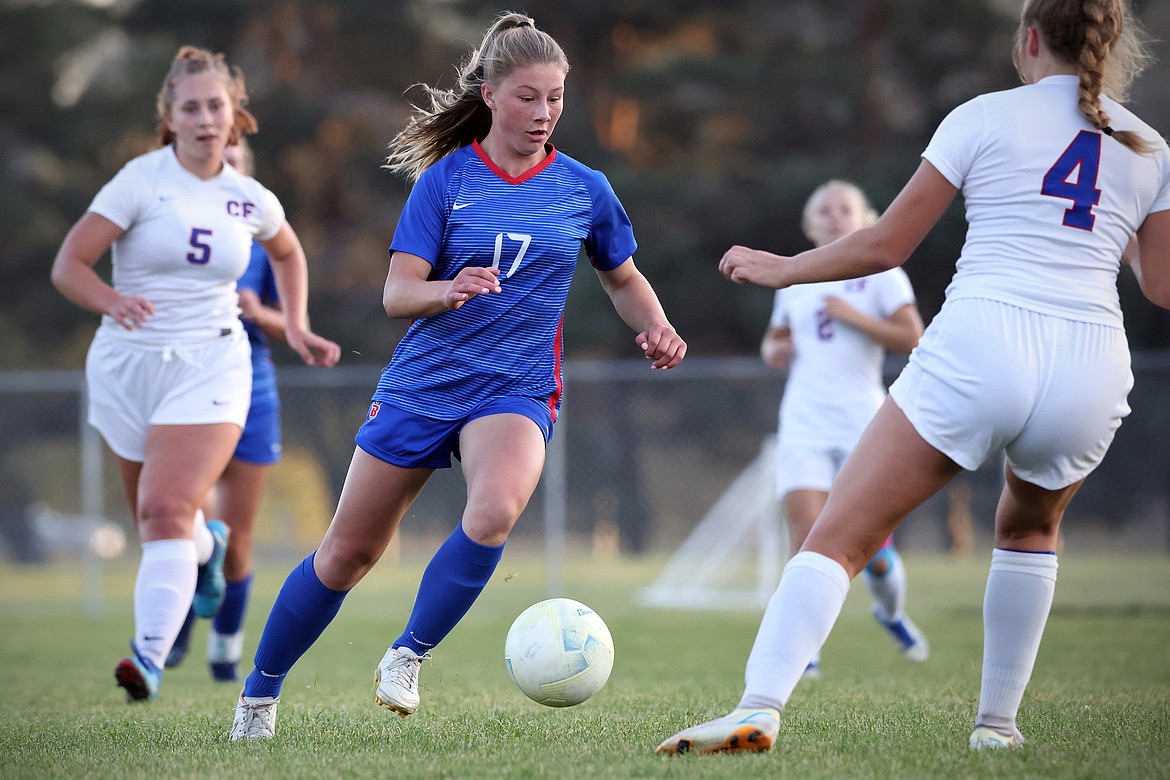 Ione Plummer moves the ball through the Columbia Falls defense. (Jeremy Weber/Bigfork Eagle)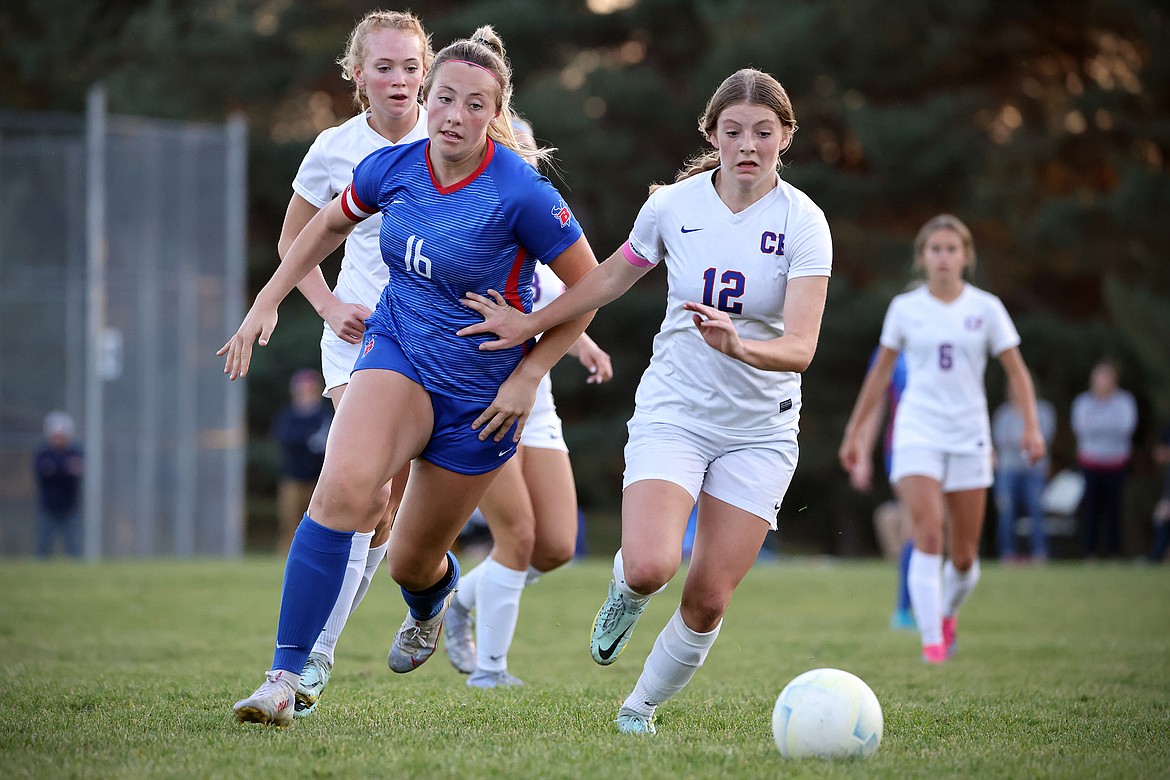 Senior Scout Nadeau chases down a ball during action against Columbia Falls Wednesday. (Jeremy Weber/Bigfork Eagle)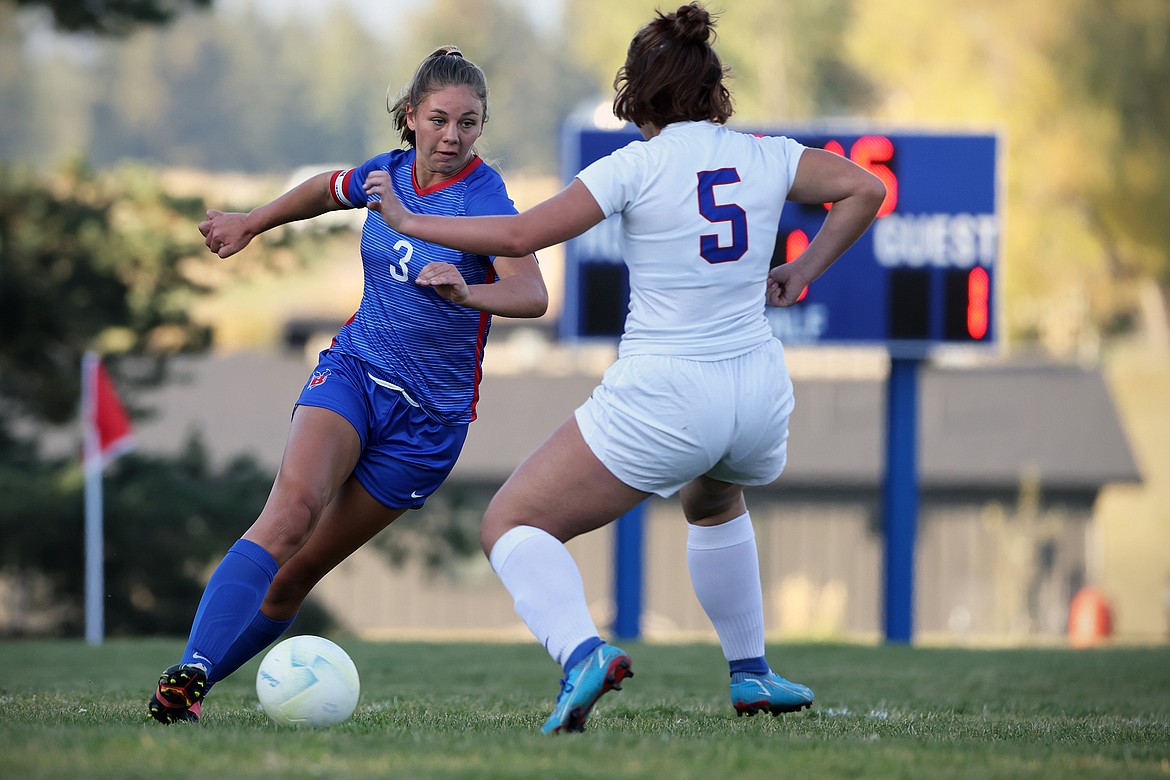 Senior Maddie Chappuis looks to move the ball up the field against Columbia Falls in the play-in game Wednesday. (Jeremy Weber/Bigfork Eagle)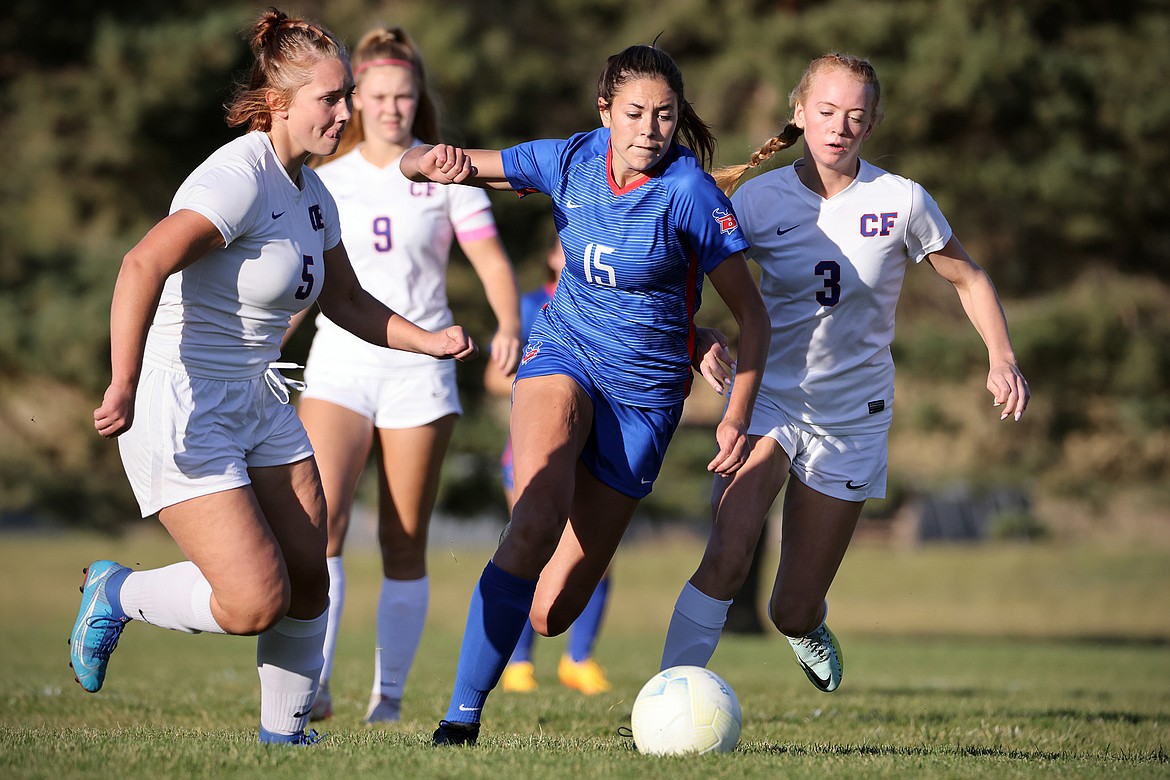 Braeden Gunlock holds off several Columbia Falls players to advance the ball Wednesday. (Jeremy Weber/Bigfork Eagle)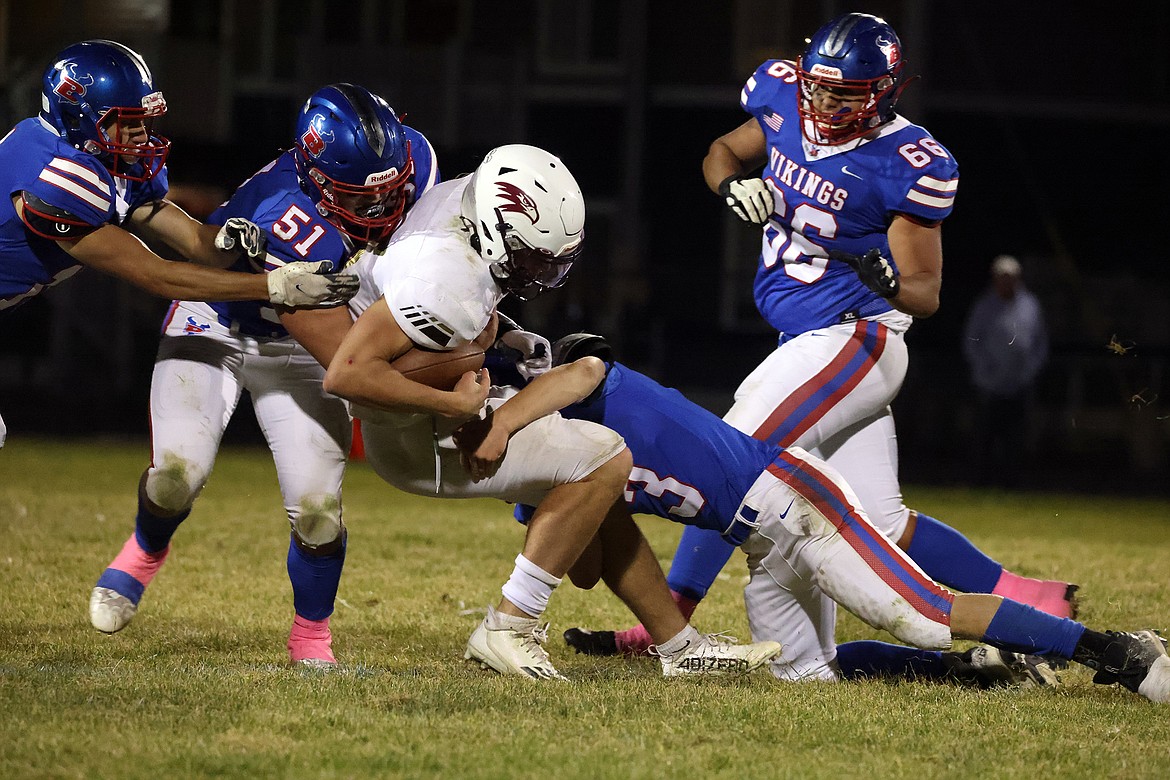 Wyatt Johnson (3) and Manny Baldi combine to take down Florence-Carlton quarterback Patrick Duchien in Bigfork's 20-19 win Friday. Johnson led the Vikings with 9.5 tackles while Baldi added 4.5. (Jeremy Weber/Bigfork Eagle)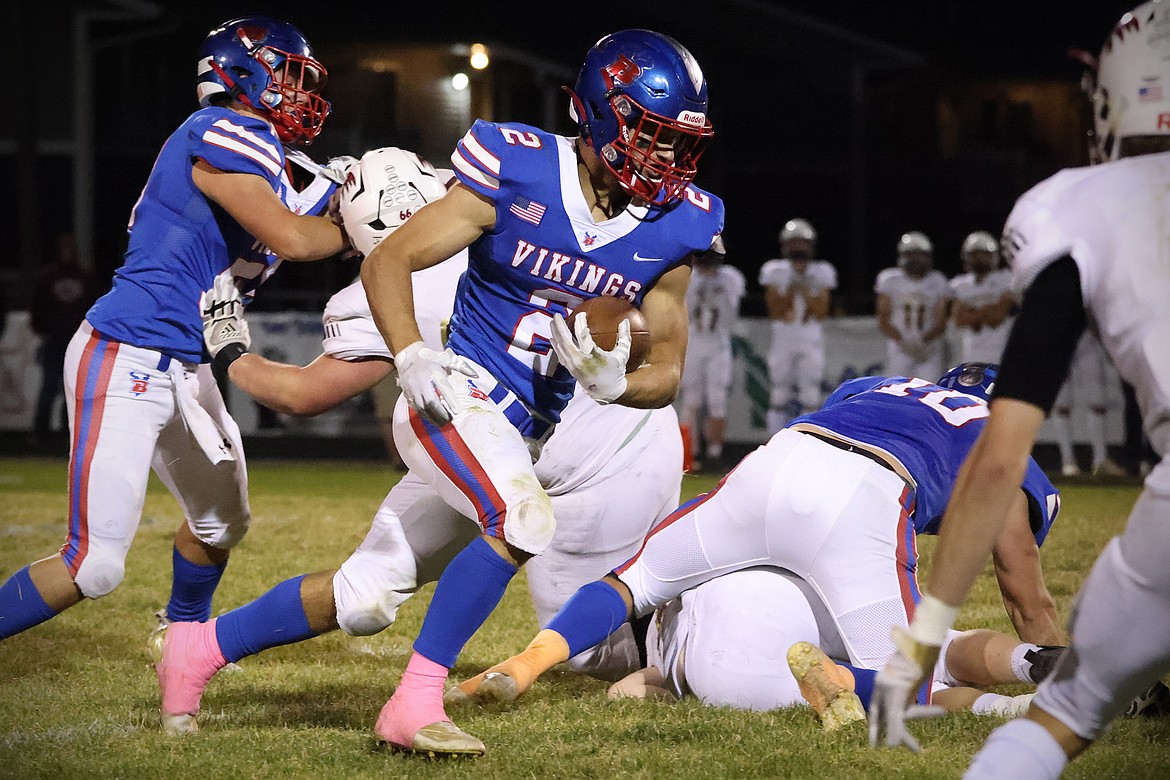 Jackson Nelson finds running room for a big gain in the third quarter against Florence-Carlton Friday. (Jeremy Weber/Bigfork Eagle)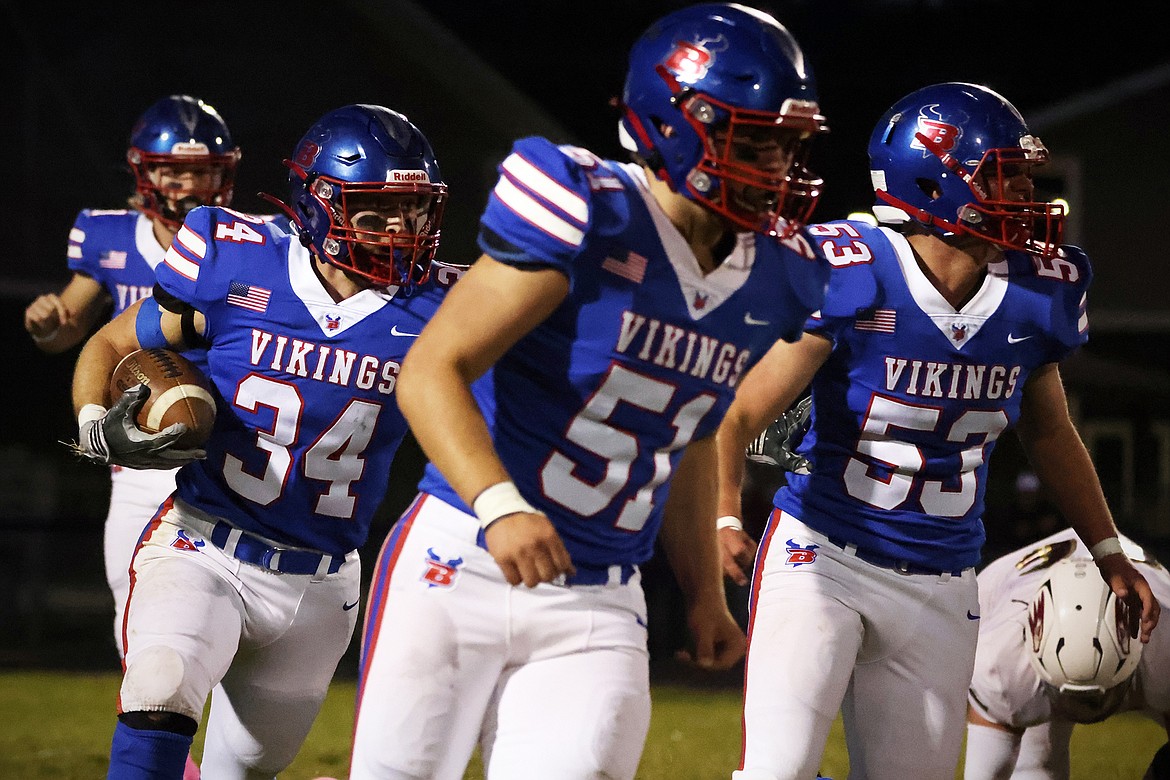 Running back Joseph Farrier follows blockers Mani Baldi (51) and Abe Ochs (53) for a big gain in the first quarter against Florence-Carlton Friday. (Jeremy Weber/Bigfork Eagle)
Previous
Next
by
JEREMY WEBER
For the Eagle
|
October 19, 2022 12:00 AM
It all came down to a matter of inches Friday as the Vikings hosted Florence-Carlton in a rematch of last season's State B Championship game. After leading the majority of the game, the Bigfork saw the Falcons score twice in the fourth quarter to grab a 19-14 lead with 1:32 to play before the Vikings drove 48 yards in less than a minute to regain the lead on an 11-yard touchdown toss from Tristen Herd to Isak Epperly. The Falcons attempted a 42-yard field goal as time expired, only to see the kick bounce off the top of the crossbar and fall into the end zone.
"It was a great win and I am proud of our boys," Bigfork head coach Jim Benn said after the game. "What a great high school football game. That team (Florence) is going to get better and I am very thankful they will be on the opposite side of the bracket in the playoffs."
Bigfork improves to 7-0 overall and 4-0 in conference play with the win while the Falcons fall to 6-2 (3-1). The Vikings reaped the benefits of two blocked punts and three Florence-Carlton fumbles in the first half, jumping out to a 14-0 first-quarter lead on a 4-yard run by Joseph Farrier and 27-yard pass from Herd to Epperly. Florence-Carlton quarterback Patrick Duchien cut the Bigfork lead to 14-7 with a 15-yard scoring run late in the second quarter. After a scoreless third quarter, Duchien scored from three yards out with 8:16 to play, but the point after kick sailed wide right, leaving the Vikings with a 14-13 lead.
Another Duchien touchdown and failed 2-point conversion gave the Falcons a 19-14 lead with 1:32 to play, setting up Bigfork's late-game heroics. Florence outgained the Vikings 334-237, but timely plays and strong defense helped Bigfork pull out the victory. Herd finished the contest 11 for 22 passing for 104 yards and two touchdowns for Bigfork while Duchien passed for 144 yards and ran for another 160, accounting for all but 30 of Florence-Carlton's total offense in the loss. Farrier led the Bigfork ground attack with 68 rushing yards and a touchdown on 17 carries while Jackson Nelson added 42 yards and Nick Walker had 23. Epperly caught five passes for 68 yards and two touchdowns to lead the receiving corps with Walker accounting for 17 yards and Farrier 15. Wyatt Johnson led the Vikings defense with 9.5 tackles, Cole Knopik added 6.5 (six solo) and Bryce Gilliard had five. Ethan Rodriguez recovered two Florence fumbles while Walker had another, ripping the ball out of Duchien's hands in the second quarter. The Vikings will close out the regular season at home Friday as they host 6-2 Eureka.
VOLLEYBALL
The Valkyries survived their toughest test of the season so far last week as they defeated Class A Columbia Falls in five sets Tuesday, 25-23, 17-25, 25-18, 24-26, 15-9. Bigfork got 15 kills from Inga Turner, 11 from Ava Davey and 10 from Zoey Albert to remain undefeated this season as the Valkyries won their 12th straight match this season and 15th regular-season match dating back to last season. Davey also served eight aces in the win and added 18 digs while Piper Linson recorded 40 assists and 18 digs. Albert added 16 digs for a strong Valkyries defense that finished with 81 digs, including 12 each from Tessa Troyer and Ellie Jordt. Turner finished with two blocks in the contest while Linson, Jordt and Albert added one each.
The Valkyries made short work of the Lady Lions in Eureka Thursday, picking up a sweep 25-17, 25-10, 25-18.Bigfork got kills from six different players in the win, led by Albert's seven, while Jordt finished with 11 digs and Linson had 22 assists. The Valkyries were at Plains after press time Tuesday and will host Mission Thursday before closing out the regular season at home against Thompson Falls Saturday.
SOCCER
A promising Valkyries soccer season came to an end at home last week as Bigfork fell to Columbia Falls in a Northern A play-in game Wednesday, 2-1. Bigfork finished second in the conference and Columbia Falls third, but with only one spot available in the playoffs the teams met up with the winner earning the right to host a first-round matchup. Hope McAtee, set up by Sydney Mann, gave the Wildkats their first lead in the 15th minute before the Vals answered five minutes later with a goal by freshman Paeten Gunlock. That goal was a sister-to-sister connection – Paeten's older sister Braeden provided the assist. Columbia Falls scored the go-ahead goal in the 65th minute when Tayler Lingle put in the deflection of a shot by Mila Johns.
Despite a furious Valkyries attack in the final minutes, the Wildkats were able to hold on for the win.
CROSS COUNTRY
The Vikings cross country team will be defending their 2021 state title in Missoula this weekend after finishing second at the divisional race in Thompson Falls last week. Bigfork's 66 points earned the Vikings second place, behind Mission's 18, as Sean Cotman finished ninth to lead Bigfork with a time of 18:41.83.
North Nollan was 10th at 18:42.05, Bo Modderman was 12th at 18:55.65 and Noah Hamilton-Dixon was also in the top 20, finishing 16th with a time of 19:18.34. Colton Ballard took 27th, Elijah Albert was 37th and Ty Anderson finished 43rd.
For the Valkyries, Erika Dowling was 12th with a time of 24:27.90 while Madeline Pomeroy was 45th at 32:41.56.
---