Volleyball, Football remain perfect heading into playoffs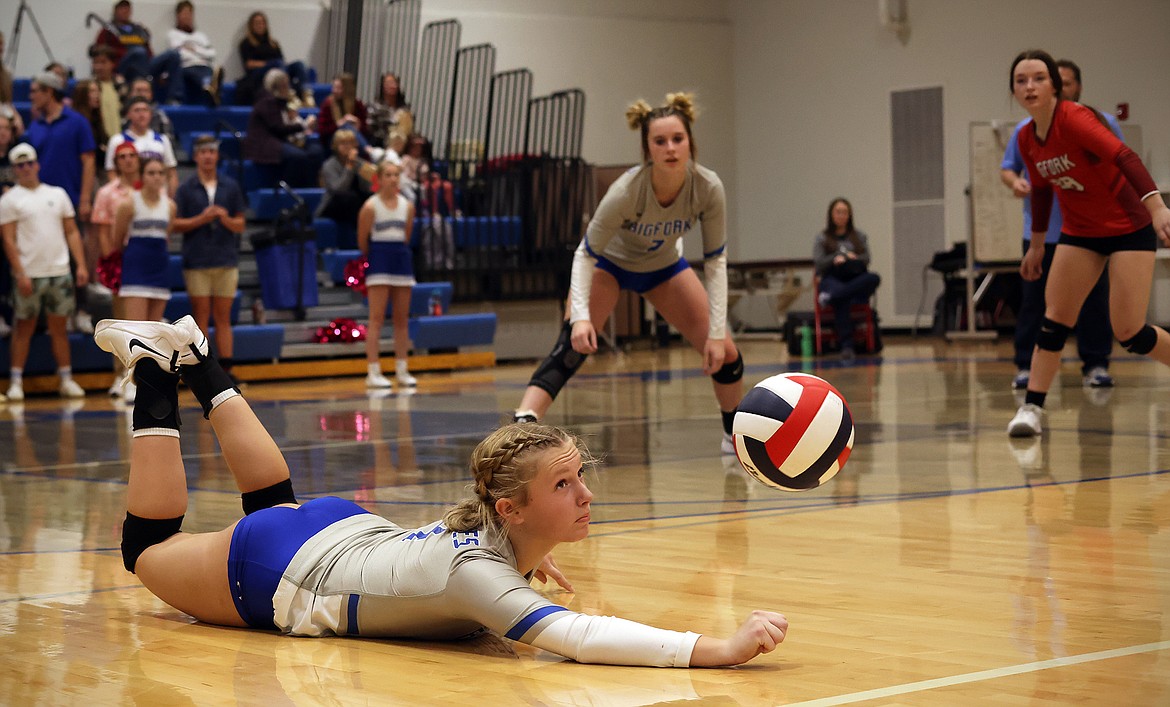 Piper Linson lunges to get beneath the ball in the second set against Thompson Falls Saturday. (Jeremy Weber/Bigfork Eagle)
by
JEREMY WEBER
For the Eagle
|
October 26, 2022 12:00 AM
The Valkyries volleyball team will enter this weekend's district tournament with a perfect record after completing their push for an undefeated regular season last week by sweeping matches against Plains, Mission and Thompson Falls.
Bigfork's regular season winning streak stands at 16 matches this season and 19 overall.
Inga Turner had 13 kills, four aces and a block against Plains Oct. 18 as the Valkyries picked up a win 25-20, 25-13, 25-20. Ellie Jordt added five aces and seven kills, Zoey Albert had seven kills and eight digs and Ava Davey added six kills, six digs and three aces. Piper Linson recorded 28 assists in the victory. The Valkyries got 28 more assists from Linson Thursday as they made short work of the Lady Bulldogs in Mission, 25-8, 25-12, 25-11. Tessa Troyer led the defense with 13 digs and added three aces while Turner and Albert had nine kills each in the win. Turner finished with two blocks while Piper Lee added one.
The Valkyries found themselves in a close battle with Thompson Falls in the first two sets of the regular season finale Saturday before pulling away in the third to sweep the Lady Blue Hawks, 25-23, 25-23, 25-8. Albert led the way with 12 kills and two aces in the win while Turner added 10 kills, a block and an ace. Davey finished with 18 digs and six kills and Jordt added 13 digs and five kills. Linson set up her teammates for 30 assists, had nine digs and served four aces while Turner, Jordt, Lee and Linson all had blocks in the win.
The Valkyries will begin play in the district tournament at Thompson Falls Friday as they take on the winner between Mission and Troy at 1:30 p.m.
FOOTBALL
The Vikings overcame a slow start to pick up a lopsided win against Eureka in their regular season finale at home Friday, downing the Lions 39-0.
Bigfork got three touchdowns through the air and another three on the ground as the Vikings finish the regular season a perfect 8-0.
The Vikings held the ball nearly twice as long as the Lions in the win as Bigfork's offense outgained Eureka 360 yards to 240. Bigfork got on the scoreboard with a 12-yard pass from Tristen Herd to Nick Walker in the first quarter but the Vikings did not find the end zone again until Herd found Isak Epperly from five yards out with 27 seconds to play in the opening half. The Vikings opened things up with a pair of big plays in the third quarter, scoring touchdowns on a 52-yard pass from Herd to Bryce Gilliard and a 35-yard run by Joseph Farrier before Samuel Plummer opened the fourth quarter with a 67-yard touchdown run of his own. Tayden West scored the final touchdown of the contest on a run from two yards out with 6:21 to play. Herd finished the evening 7 for 13 passing for 140 yards and three touchdowns while Gilliard led the receiving corps with 75 yards on two catches. Farrier finished with 83 yards on 13 carries on the ground for the Vikings while Plummer added 80 yards, carrying the ball three times. Wyatt Johnson led the Bigfork defense with 10.5 tackles (7 solo) while Tyler Wickwire added eight tackles and Gilliard had 7.5. The Vikings will open the playoffs at home against the Manhattan Lions at 1 p.m. Saturday. Manhattan comes into the game with a 5-3 record this season with losses to Florence-Carlton, Townsend and Whitehall.
The teams had two common opponents this season as Manhattan defeated Loyola 32-13 and Jefferson 12-0. The Vikings downed Loyola 47-14 and needed two overtimes to take down Jefferson 21-14 in the opening game of the season.
CROSS COUNTRY
The Vikings cross country team was in action at the state meet in Missoula Saturday as Bigfork finished with 245 points to come in ninth. Bo Modderman was the top finisher for the Vikings, coming in 31st with a time of 18:20.41 while Sean Cotman was 45th at 18:42.98. Noah Hamilton-Dixon was 47th with a time of 18:44.23, North Nollan was 54th at 19:00.53, Colton Ballard was 68th at 19:24.07, Nic Gustavson was 94th at 20:00.09 and Elijah Albert was 96th at 20:03.17. For the Valkyries, Erika Dowling was 74th with a time of 24:03.85 while Madeline Pomeroy was 138th with a time of 29:07.89.
---