The cost of growing old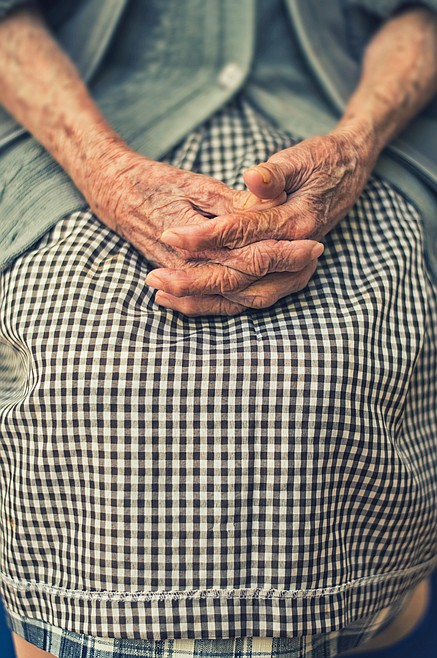 An elderly woman sits with hands folded on her lap. (credit Unsplash)
by
Kristy Naylor RN and Marcy Kleinjan RN
|
September 21, 2022 12:00 AM
Last month we ended with just a bit on advocacy and owing it to yourself to check out options that are available out there. Along those thoughts we've decided to do a three or four part series over the coming months to explore that and more.
This month we will focus on the rising cost of caring for our seniors. According to an article from Office of Policy Development and Research, "the United States' ongoing demographic shift toward an increasingly older population, along with the fact that 89% of Americans over age 50 wish to remain in their homes for as long as possible, conversations about the benefits and costs associated with aging in place will become increasingly critical. Recent research on home-based health programs suggests that aging in place can yield potential cost savings at the individual, state, and federal levels. Although the current body of research is limited, these studies demonstrate the benefits of aging in place — benefits that extend beyond cost savings to include social and emotional benefits to both seniors and the broader community."
So let's explore what that means. Folks wish to remain at home for as long as possible, we know we do. Aging in place has also been shown to have health and emotional benefits over institutional care. In addition to the comfort and known surroundings of home, aging in place also helps protect social connections. Social isolation is a major problem among the elderly, and relationships that are found in a community are important to maintain throughout life. Aging in place allows people to better maintain their social relationships. In a recent AARP survey, 41% of those who want to remain in their community stated that their primary reason for staying was their friends, followed by family, safety from crime, and a pleasant neighborhood/community. Allowing older people to stay involved in their communities has been found to have health benefits as well. Civic engagement and volunteering can reduce mortality; increase physical function, muscular strength, and levels of self-rated health; reduce symptoms of depression and pain; and increase life expectancy. Aging in place has also been shown to have health and emotional benefits over institutional care.
Now, down to the nuts and bolts of it all-money and cost.
National average nursing home cost: $8000-10000 per month for custodial care
National average assisted living cost: $4500-8000 per month
Private duty in home care 24/7: average $700+/day
And here's the thing, Medicare doesn't cover these costs.
Let's consider the following with the above referenced information-If aging in place increases health and emotional outcomes, it's less likely that 24/7 in home care will be needed. Instead, folks may be better with around 2 hours 2-3 x weekly of private-duty in home care vs 24 hour facility care, depending on the situation. Cost of that ranging approximately $950-1600+ per month depending on number of hours and needs. So it's easy to see the cost savings benefits on the individual level and that has a trickle effect on both state and federal levels as well.
Meeting the health needs of an aging America requires sizable changes to our existing approach to treatment and service delivery. Unless policymakers take action now, aging Americans and their loved ones will soon experience or are already experiencing unsustainably high costs for healthcare coverage as well as significant declines in the access to and quality of care.
Stay tuned next month when we will discuss traditional health insurance plans, hidden out of pocket costs and the benefits of continued self advocacy and exploration of options that can save money and help you get better coverage and care.
---