Evacuation warning issued between Hungry Horse and West Glacier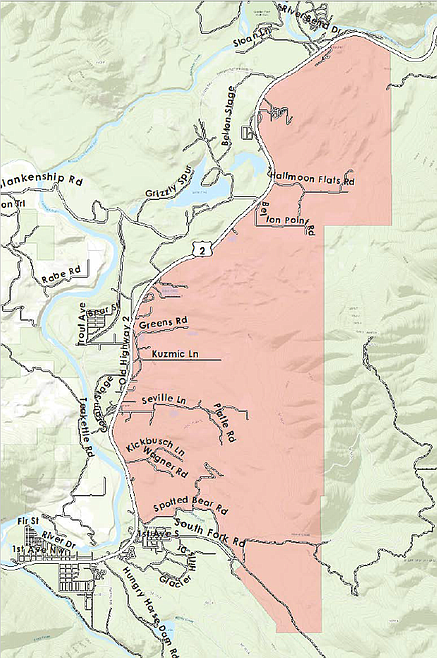 A map shows the areas under a pre-evacuation notice on the east side of U.S. 2 between Hungry Horse and West Glacier.
Residents on the east side of U.S. 2 between Hungry Horse and West Glacier were placed under a pre-evacuation notice Wednesday morning due to the nearby Ridge Fire.
The Flathead County Sheriff's Office issued the notice for people living north of Spotted Bear Road to West Glacier. The agency cited predictions for low humidity and higher winds that could whip up activity on the wildfire burning along Hungry Horse Reservoir near Emery Bay.
A pre-evacuation notice means there is a possibility of wildfire spreading into the area; it is not a mandatory evacuation.
"This time allows residents the opportunity to make arrangements for their home, pets, livestock and family well in advance," Sheriff Brian Heino reiterated in a media release.
Heino advised that residents, landlords, hotels and businesses have an evacuation plan in place.
An American Red Cross shelter is set up in Columbia Falls for people displaced by the fire. People can call the shelter at 1-800-733-2767.
The pre-evacuation notice comes after Hungry Horse Reservoir was evacuated on Tuesday. Campers were cleared from recreation sites and roads were closed to public use.
There was minimal growth on the Ridge Fire over the last 24 hours thanks to favorable weather conditions. Estimates on Wednesday afternoon pegged the fire at 2,940 acres in size, however, fire managers said westerly winds could increase activity on the east flank.
California Interagency Incident Management Team 4 assumed management of the fire Wednesday morning. With the change in command the number of firefighters increased to nearly 250. A Hot Shot crew was set to arrive, as well. People were advised to be aware of increased firefighting resources along U.S. 2.
Aerial resources were not yet assigned to the incident, but helicopters were being pulled from other nearby fires to assist as needed.
Fire managers said the priority was to protect private residences and critical infrastructure on the fire's western edge and keep it east of Forest Service Road 38.
RECENT COOL temperatures and precipitation in the Mission Valley kept the Niarada Fire in check. It was sized at 20,365 acres Wednesday morning, with 25% containment along the west perimeter.
Crews were focused on cooling the northern flank along Cromwell Creek Road and expanding control lines.
"We're trying to get a little more depth on this … trying to get 60 feet in," said Kevin Barger, operations for Northern Rockies Team 3.
Barger said a priority was to protect homes and structures in the Walking Horse Lane area. He reported that the Montana 28 corridor was holding steady.
"This is looking really good. There's not a whole lot of heat on this perimeter," Barger said.
The nearby Mill Pocket Fire was 35% contained, but remained active on the west flank.
"We ended up flying quite a few helicopters on this," said Barger.
Residences near the Niarada Fire were downgraded to pre-evacuation status on Wednesday. The Lake County Sheriff's Office said those residents can return home, but asked people to keep livestock out of the area until the pre-evacuation status is removed.
Also in the Mission Valley, forest fuels in the higher elevations of the Big Knife Fire remain wet on Wednesday, however, the lower flanks of the Mission Mountains were drying out, fire managers said. The fire east of Arlee was sized at 4,864 acres with 5% containment.
The Middle Ridge Fire was 75% contained at 12,700 acres, while the Holmes Creek Fire was 70% contained at 45 acres.
---