Hungry Horse Reservoir wildfires bring unhealthy air, falling ash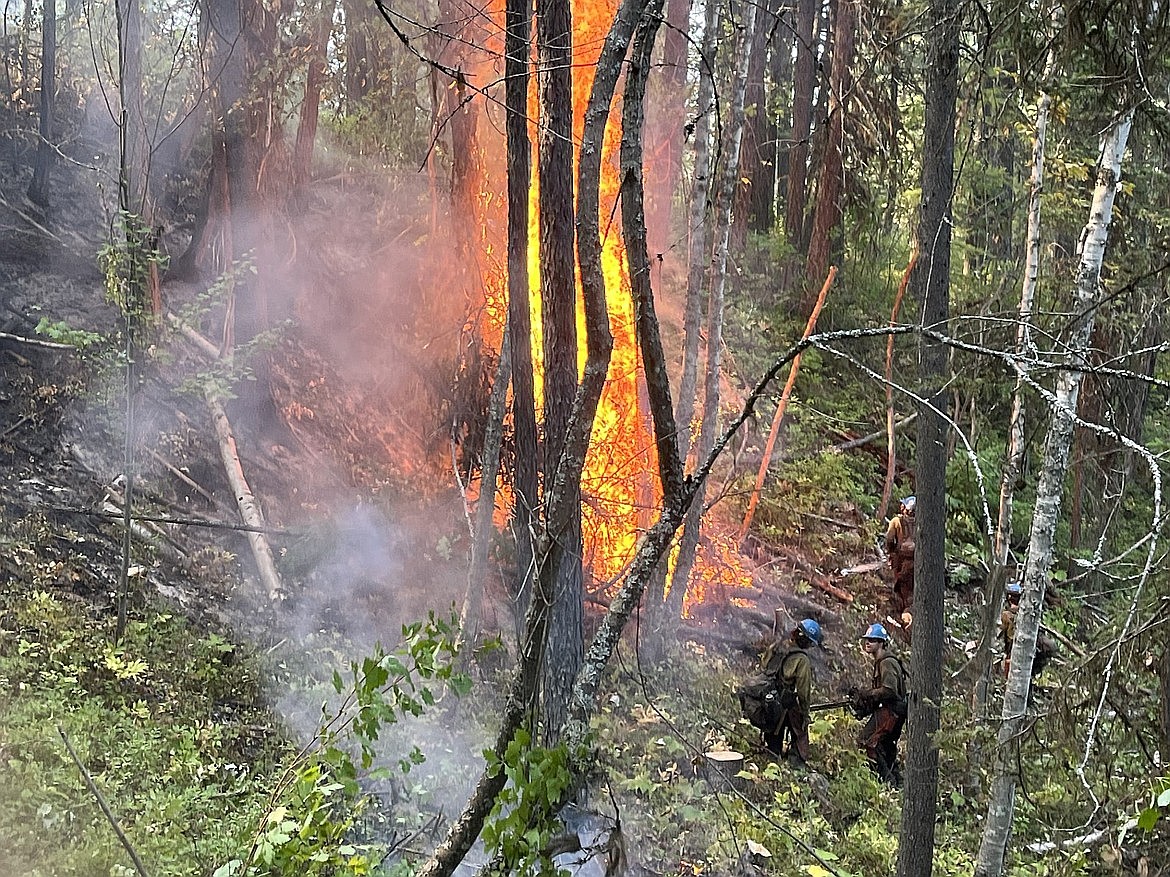 Plumas Hotshots work on the Ridge Fire along Hungry Horse Reservoir on Tuesday, Aug. 15, 2023. (Flathead National Forest photo)
|
August 18, 2023 11:45 AM
Two wildfires along Hungry Horse Reservoir continued to stir up smoky conditions on Thursday, contributing to poor air quality for most of the Flathead Valley.
A monitoring station in Columbia Falls showed air quality deteriorating throughout the morning, reaching "unhealthy" levels by noon. Ash fell over parts of the north Flathead Valley during the worst conditions.
When air quality is rated as unhealthy, health officials recommend that people with respiratory or heart disease, the elderly and children avoid prolonged exertion. Everyone else should limit prolonged exertion.
Particulate levels in Libby and Thompson Falls were slightly better, rated as "unhealthy for sensitive groups."
Along with local wildfire smoke, Canadian wildfires were also to blame for the hazy skies across Northwest Montana.
The Flathead Valley and Glacier National Park were placed under a red flag warning through Friday night.
The National Weather Service warned that a combination of gusty winds and low humidity could bring dangerous fire conditions. A lull in the critical fire weather was expected Friday morning before the most dangerous conditions hit Friday evening into the nighttime hours. West winds of up to 35 mph were predicted, with 10-15% humidity.
High temperatures Thursday were expected to reach 97 in the Flathead Valley, with a high of 87 on Friday.
Relief could arrive by the weekend with a trend toward cool and wet weather expected. According to the Weather Service, subtropical precipitation from Hurricane Hilary may reach the Northern Rockies early next week.
"If we were to get decent rainfall out of this system Monday into Tuesday, it could actually feel kind of chilly with temperatures in the 60s and 70s with rain at times," the Weather Service reported Thursday.
THE RIDGE Fire along Hungry Horse Reservoir's Emery Bay saw little growth Wednesday with size estimates at 3,348 acres and 15% containment.
More than 600 firefighters, including five Hotshot teams, were assigned to the incident under the command of a Type 1 team from California.
Despite smoky conditions, aircraft were able to support ground crews to hold the fire in the current footprint on the active east side. As lines on the west side are secured, crews will transition to the east side, fire managers said Thursday.
"We're working aggressively to try and get the east side under containment," said Drew Graham, operations for California's Team 4.
Fire lines on the south flank continued to hold and crews were mopping up, Graham said.
The nearby Doris Point Fire on the west side of the reservoir was estimated at 763 acres. Firefighters were working to protect campgrounds and boat docks on the reservoir, while helicopters were used to douse the fire from above.
"So far, no impacts," Graham said about the campground infrastructure in the area.
The Hungry Horse Reservoir remained closed to the public on both the east and west sides.
---