Miniature horses teach kids big lessons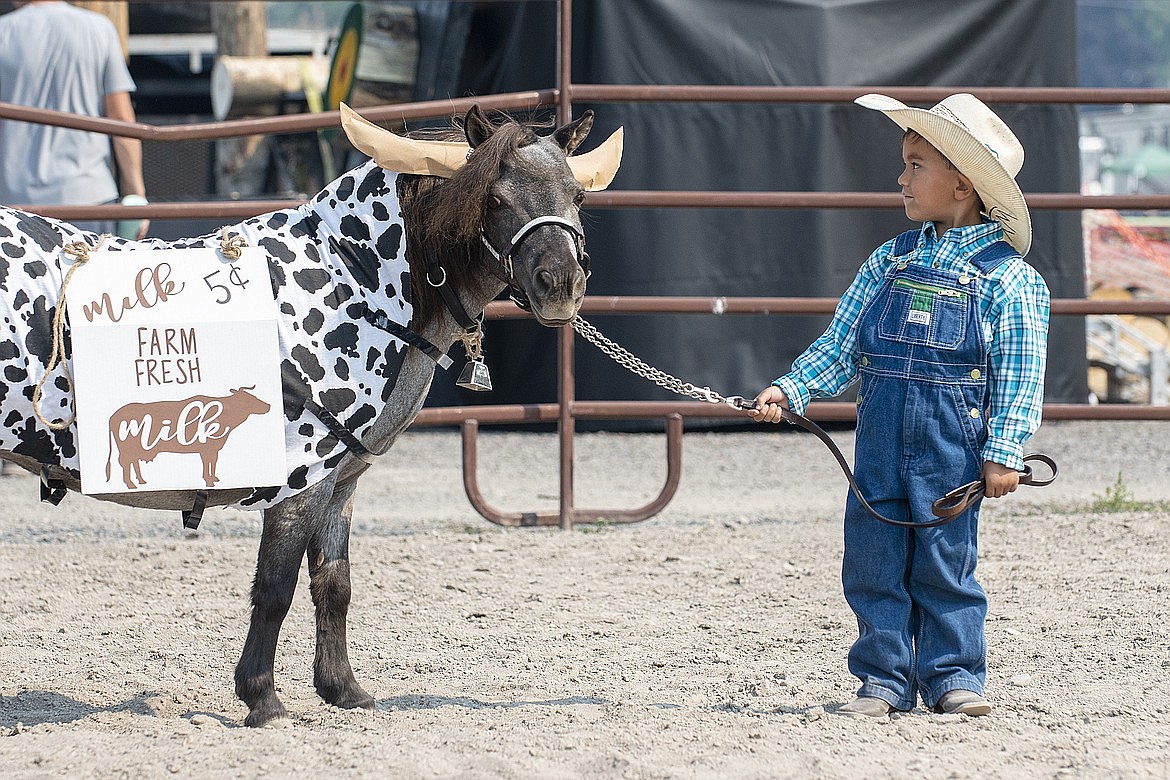 Sally the horse and Whrett Warner dress as a cow and farmer for the costume portion of the Miniature Horse Show at Flathead County Fairgrounds on Thursday, Aug. 17. (Avery Howe/Hungry Horse News)
by
Adrian Knowler - Hagadone News Network
|
August 18, 2023 11:45 AM
From 4-H miniature horse showman Whrett Warner's perspective, his horse Sally seems like a full-size breed.
Whrett is only 4 years old but was already leading Sally through a series 4-H competitions at the Northwest Montana Fair in Kalispell on Thursday morning. Sally, his blue roan miniature horse, at 17 years old, has had years of experience at similar competitions.
It's an odd but adorable pairing, and Whrett and Sally were crowd favorites at this year's competition. For the costume competition, Whrett was dressed as a farmer, with Sally as his cow, horns and all.
Although Whrett got distracted at times by the sights and sounds of the fair when it came to showing the horse he and Sally remained focused.
In the obstacle course competition, Whrett and other 4-H members lead their horses around a series of hazards meant to test their patience and the horses' composure. Contestants lead their scaled-down steeds over a wooden beam (meant to simulate a bridge on the trail), over a tarp, and through a section with aluminum cans rattling in a bag placed on their back. Horses are also directed backward through a set of cones in a weaving motion.
Sally has a very calm demeanor and is happy to be stroked as other children run up to say hello. She's a regular fixture at local petting zoos and show competitions, says Whrett's mother Amie.
Amie Warner is the leader of the Grandview Supreme 4-H Club and has raised her three grown children to care for animals. For the Warners, it was natural that Whrett would follow in his siblings' footsteps.
Raising and training horses and cattle on their ranch outside Whitefish teaches patience, dedication and a strong work ethic, according to Amie. And it's never too early to learn, she said.
She said young Whrett gets up early to feed Sally and other horses, in addition to his daily cattle chores. She said that for the kids, getting a blue ribbon at the fair makes all the hard work pay off.
"They get out of their animals what they put into the animal," she said. "It's like a dance, it takes two to do it."
The fair is an annual fixture for the Warners, who have camped out as a family at the fairground for a week at a time each of the last 12 years. This year, the family will likely once again be taking home top prizes in multiple categories.
For Lilly Joern, who is 17, this year's fair will be among her last as a 4-H competitor before she ages out.
Lilly's been competing in various 4-H project contests for 10 years and has been showcasing her miniature horse Barney for four.
Lilly and Barney secured the blue ribbon in the obstacle course competition. Lilly said he could have done better in the side-stepping portion had he not gotten distracted by his larger cousins.
"He's obsessed with the racehorses," she said, gesturing to the nearby stables.
She trains Barney several times per week in skills such as jumping and ground driving, a precursor to the horse pulling a cart. She's currently training him to bow his head and eventually wants to teach him to sit on command like a canine companion.
"He's very treat-motivated," she said.
After high school, Lilly plans on attending Flathead Valley Community College and is considering a career in equine therapy.
"It would be rewarding to work with horses and help people," she said.
Lilly said her bedroom is already filled with ribbons from many 4-H competitions over the years, and that involvement in the club has taught her important skills such as recording keeping (contestants must document their expenses and submit them for review) and public speaking.
Now, Lilly mentors younger 4-H members, and says she finds their engagement when she speaks fulfilling.
"I think it's more interesting for the kids to be taught by someone my age," she said. "I remember looking up to the older kids at their age and now I'm that person."
---