Crews welcome rain as they battle fires across the region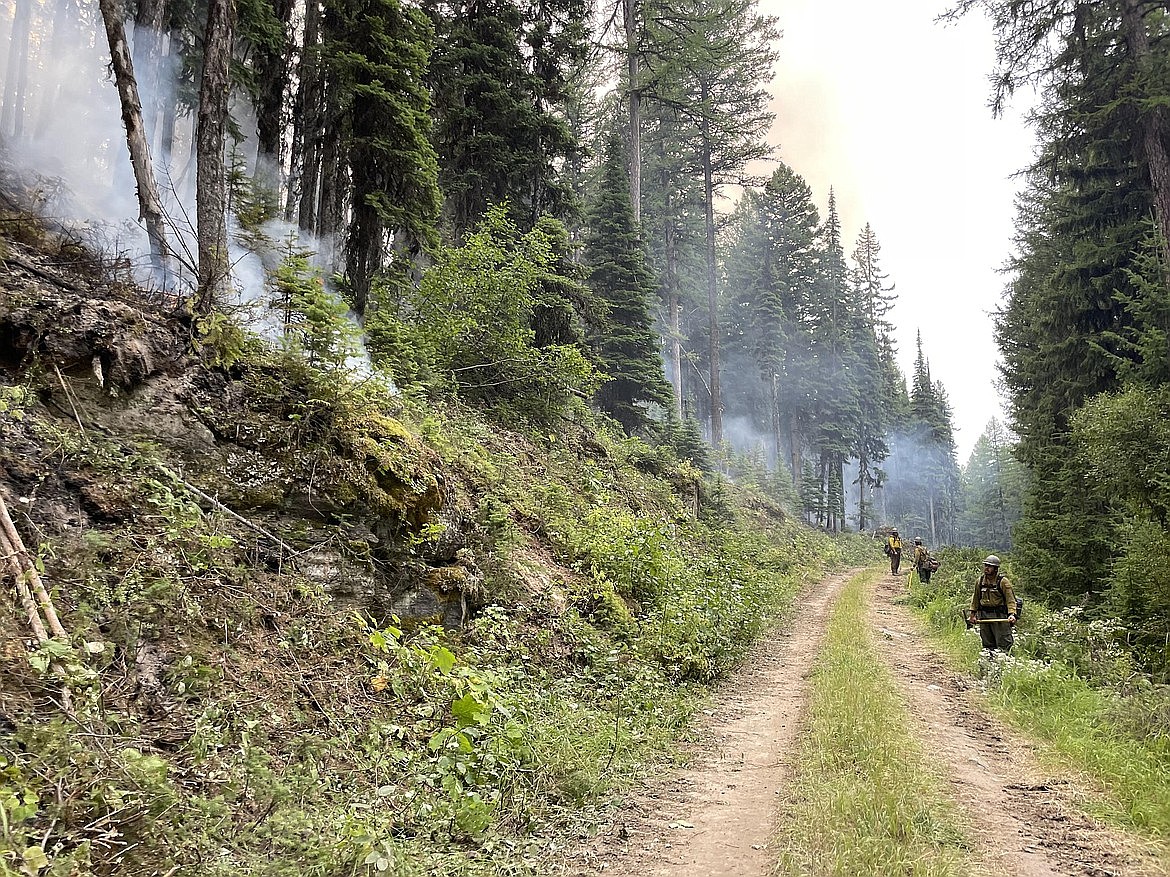 Fire crews work the East Fork Fire on Aug. 22. (InciWeb)
|
August 23, 2023 12:35 PM
Crews working wildfires across Flathead County welcomed rain on Monday, which diminished fire activity across the region.
"Today we have an opportunity to work with the weather," said Danny Lemer, field operations chief at the East Fork Fire, which is burning west of Olney, on Aug. 22. The lightning-caused fire, which earlier this month prompted evacuation orders, was last measured at 4,614 acres and was deemed 5% contained.
Monday's wet, cool weather allowed crews to close in on the wildfire, which is burning in heavy timber and difficult terrain on the Flathead and Kootenai national forests, and strengthen lines, officials said. Authorities estimated a half-inch of rain fell on the wildfire overnight heading into Tuesday.
Crews expected to spend Tuesday building a continuous fire line along the wildfire's northern edge. Officials planned to use heavy equipment on the east side to open up roads and remove burned or weakened trees.
The response to the fire is under the command of the Northern Rockies Team 6, led by commander Paul Roose. Nearly 500 people are working the wildfire.
The area around the fire, which includes Olney and the U.S. 93 corridor, remains under a pre-evacuation warning status per the Flathead County Sheriff's Office. While U.S. 93 is open to traffic, motorists can expect a reduced speed limit of 35 mph between mile post 144.3 and 149.5. Officials with the Sheriff's Office warned that stopping along the highway is forbidden.
NEAR THE Hungry Horse Reservoir, crews working a series of fires saw activity moderated by rain Monday. At the Ridge Fire, which is estimated at 3,651 acres and deemed 62% contained, firefighters along the north and west edges of the blaze focused on areas of heat, mop-up operations and back hauling extra equipment.
To the northeast, crews monitored spot fires and control lines while working areas of heat, officials said. At the fire's southeast edge, firefighters focused on mop-up operations.
Officials expected to spend Tuesday continuing mop-up work and establishing control lines to block the fire's spread to the north and east.
The Sheriff's Office on Aug. 22 rescinded a pre-evacuation status placed on properties to the east of Spotted Bear Road to West Glacier.
Along the 1,534-acre Doris Point Fire, crews continued fuel reduction and structural prep efforts, setting up pumps and sprinklers as well as wrapping structures and signs. Similar efforts were undertaken at the 7,697-acre Tin Soldier Fire, where crews held and secured Meadow Creek Road on Monday.
The Doris Point fire is considered 10% contained while the Tin Soldier Fire remains 0% contained.
The Heinrude community remains under evacuation orders and the Hungry Horse Reservoir is still closed to the public. The Columbia Falls Junior High School at 1805 Talbot Road remains in use as an emergency shelter for those affected by the wildfires. Authorities ask that anyone planning on availing themselves of the shelter to call ahead at 800-733-2767.
While officials expected more rain in the area Aug. 22, they warned that it heightened the risk for mud or debris flows in drainages that saw high fire intensity.
STEADY RAIN falling on the roughly 16,790-acre River Road East Fire outside of Paradise kept fire activity subdued Monday, officials said.
In the Henry's Creek and Camas Prairie areas, firefighters scouted for locations for direct control lines on Monday, officials said. Along the Montana 200 corridor, crews secured lines and monitored fire activity. Nearer Pat's Knob, firefighters scouted for places to establish indirect control lines.
Officials placed the bulk of their efforts on Monday into patrolling and exploring areas to establish control lines.
Tuesday's work was expected to include, if conditions allowed, moving personnel and equipment to the north and east of the fire to start work on a direct line. A hotshot crew dispatched to the northwest corner planned to begin building a direct fire control line.
To the southeast of the fire, fire crews expected to probe the area for possible locations for future control lines. In the southwest section, crews anticipated beginning work on indirect control lines below and to the west of Pat's Knob Lookout and its association communications site, officials said.
Personnel working the Montana 200 corridor planned to launch patrols and continue monitoring fire lines on the north and south sides of the Clark Fork River.
Officials said a long-term fire suppression plan remains in the works.
The state has received a fire management assistance grant from the Federal Emergency Management Agency to help cover the cost of mitigating the wildfire. The grant frees up federal dollars to pay for 75% of the state's eligible firefighting costs, officials with Gov. Greg Gianforte's office said Aug. 21. Those costs include materials, supplies, equipment use and field camp expenses.
Paradise, an unincorporated community of fewer than 200 residents, remains under pre-evacuation status as does Henry Creek Road, Camas Prairie, Quinn's Hot Spring Resort and Camp Bighorn, according to the Sanders County Sheriff's Office.
Authorities have closed McLaughlin Creek Road and placed it under evacuation status. Officials urged non-residents against driving either River Road East or Henry Creek Road and asked that residents limit trips on either roadway.
Officials with the Sheriff's Office gave residents of McLaughlin Creek Road living below Lamaraux Creek Road a brief window Tuesday morning to inspect their properties and collect belongings.
"Take care and continue to lean on each other and the community," officials said in a social media post.
The Montana Red Cross opened a shelter at the Church on the Move, 300 Clayton St., Plains, for those affected by the fire late last week.
---