Exhibit opening reception at BACC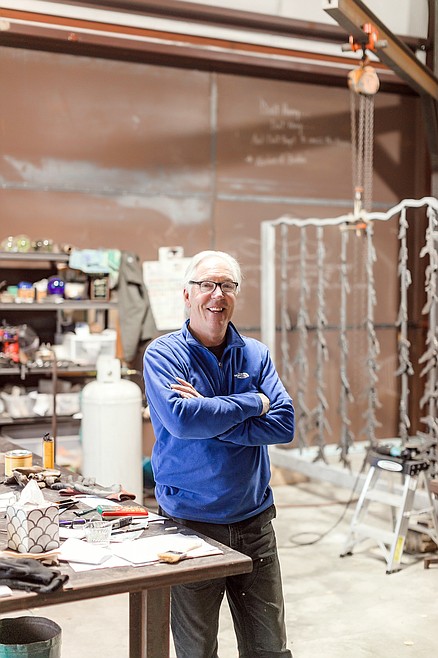 Blown glass artist Lee Proctor in his studio. (photo provided))
by
Arin Lever- Bigfork Art & Cultural Center
|
August 30, 2023 11:50 AM
Join us for an exhibit of rare ceramics of the late David Shaner; some of which can be seen in the Smithsonian catalog. A huge thank you to the Endsleyfamily for sharing this collection for public viewing at BACC throughout the month of September.
David Shaner (1934-2002) is an icon in the field of American ceramic art. His exquisitely formed vessels with their understated glazes reflect the man himself, a man in harmony with his environment and at peace in himself. Shaner was also noted as a teacher, a collector, and a generous contributor to the world of ceramic art and the field of environmental protection. While David Shaner's life was cut short by ALS, his legacy continues through the David and Ann Shaner Resident Studio Complex which opened in 2005 at the Archie Bray foundation.
Alongside the David Shaner exhibit you will also see brand new blown glass art by nationally renowned local artist Lee Proctor on display and for purchase. Lee has had a lifetime of creating with fire; first in metals evolving to with hot glass and metal. For Lee, the creative process is a magical experience, full of depth, mystery and challenge. He has learned to trust his creative instincts and let intuition be his guide. Whether an avid fan or new to Lee Proctor's art, this is a great opportunity to view a wide array of his new work. Join us, meet Lee and take home one of his unique creations at his opening reception Friday September 1st 5:30-7pm!
Bigfork Art & Cultural Center is a creative and educational hub that inspires people of all ages through a wide variety of workshops, lectures, and learning opportunities. BACC is a 501(c)3 organization, located at 525 Electric Avenue in Bigfork, Montana. You can find us online at www.baccbigfork.org, Instagram and Facebook.
---