Bigfork's Inga Turner looking to take her talents to the next level in Arizona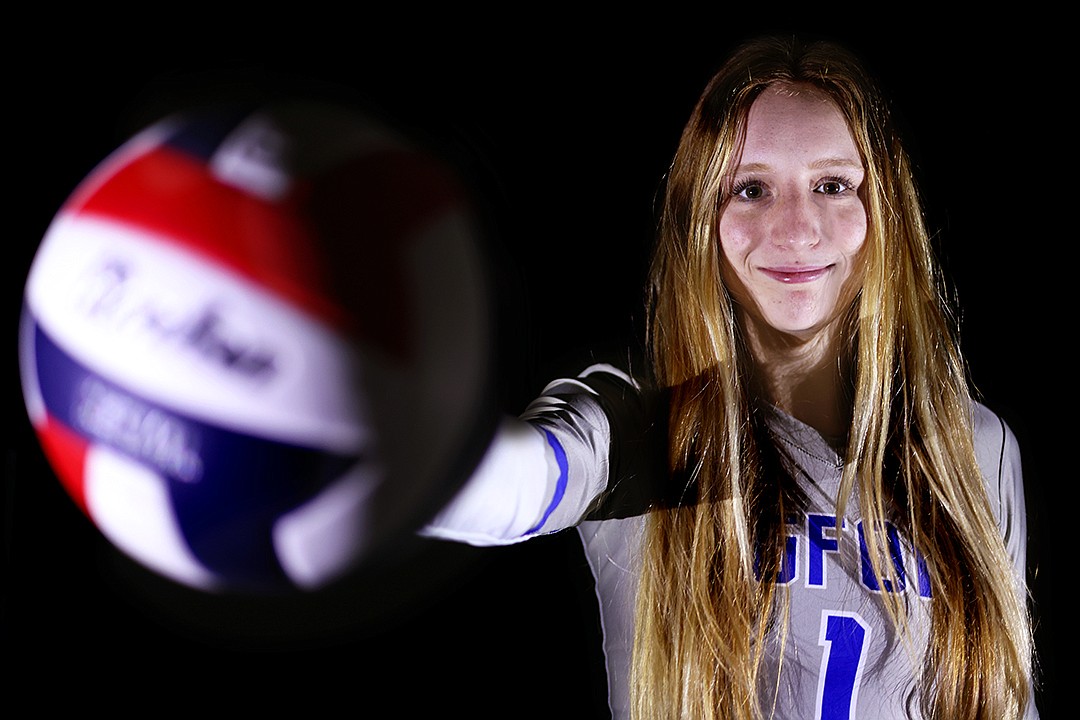 Bigfork's Inga Turner is looking to take her volleyball career to the college level next season. (Jeremy Weber/Bigfork Eagle)
by
JEREMY WEBER
For the Eagle
|
February 6, 2023 11:15 AM
After helping lead the Valkyries to the state volleyball tournament for the first time in 17 years last season, Bigfork's Inga Turner is looking to take her game to the next level this fall.
The 5'10" Turner earned All-State honors her junior and senior year for the Valkyries and is hoping to continue her athletic career at one of three Arizona schools next year: Park University in Gilbert, Arizona Christian in Glendale or Yavapai College in Prescott.
Along with volleyball, Turner says she is also looking into the possibility of also running track.
An athlete from an early age, Turner competed in competitive cheer in Oregon beginning in second grade, but could not find a squad after her family made the move to Montana after her sixth-grade year.
When her parents made her play volleyball in seventh grade, Turner found her calling.
"I went looking for a new sport to fill the void left by cheer," Turner said. "I played, and still play, several sports, but I'm most passionate about volleyball."
Turner says she found the new sport "kinda fun" at first, but she soon found the thing that has kept her coming back to the court for years: the love of getting to play alongside her best friends.
It was that camaraderie and friendship that helped the 2022 Valkyries to an undefeated regular season and a trip to the state tournament, a far cry from Turner's first varsity match as a freshman when she stepping in for ill teammates.
"At first I didn't believe it. I figured all of the varsity players must be sick or something," she laughed. "I thought, there is no way I should possibly be on varsity."
Turner stepped into the role seamlessly, serving 100% in a three-set sweep of Arlee.
"She did so well, we found a position inside our rotation for her. She never really looked back," Valkyries head coach Ariel Stallknecht said. "She made me look really good as a coach and I really appreciated that."
For the next four years, Turner continued to pile up the stats, setting a number of school records along the way.
Turner finished her high school career with a .315 hitting average along with 1.72 blocks per set and holds the school record for career kills with 602 and career blocks with 151.
She also holds the school records for kills in a game (22) and blocks (10), both set in the district title game against Thompson Falls in 2022.
While her name may be in the record books, Turner remains humble and soft spoken, traits Turner displayed when asked how she felt when she learned she had set so many records.
"When did I find out? About five seconds ago," she said. "That's pretty cool, I guess. I think my dad may have told me all that before, but it's no big deal."
"That's what's great about Inga. She's just here for the love of the game. She had the talent to do well and it propelled her to great things, but she was always a team player," Stallknecht added.
Turner hopes to keep advancing her game as she attends school in the deserts of Arizona, where she plans to pursue a business degree with the hopes of someday chasing her dream of becoming a flight attendant and seeing the world.
She plans to use the lessons she has learned on the court to help her achieve her goals.
"You can't let other people get you down," she said. It's important to believe in yourself to have the confidence to do well."
---