'School was closed for Potato Week' – The first schools of Bigfork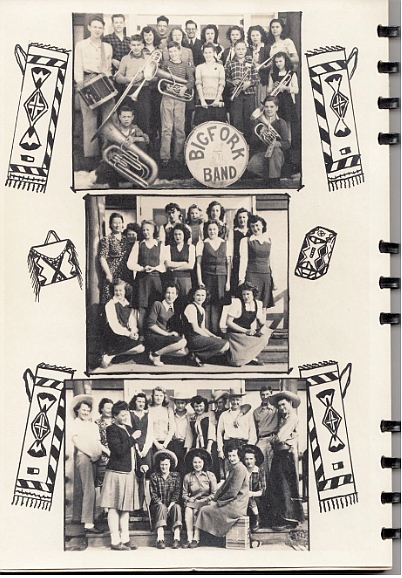 Bigfork High School clubs and activities taken from the 1946 yearbook. (Credit – Bigfork High School Library)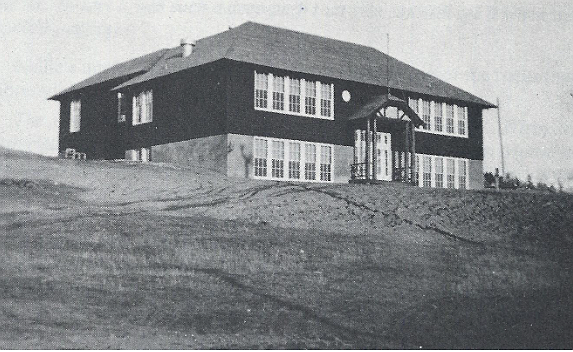 The first Bigfork High School building around 1934, soon after its construction. (Credit – Flathead Lake: From Glaciers to Cherries, R.C. Robbin)

The newer Swan River school sometime in the 1920s. (Credit – Lloyd Fagerland Collection)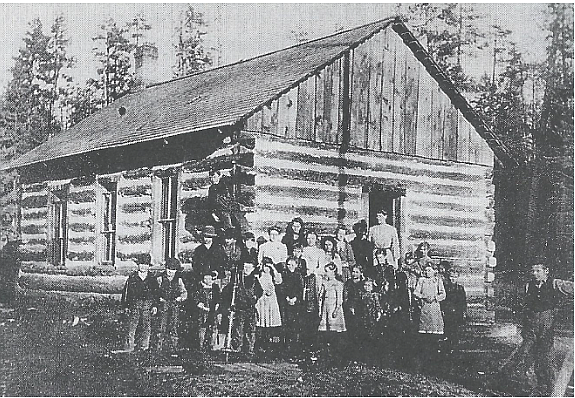 Swan River School and students circa 1900. (Credit – Lloyd Fagerland Collection)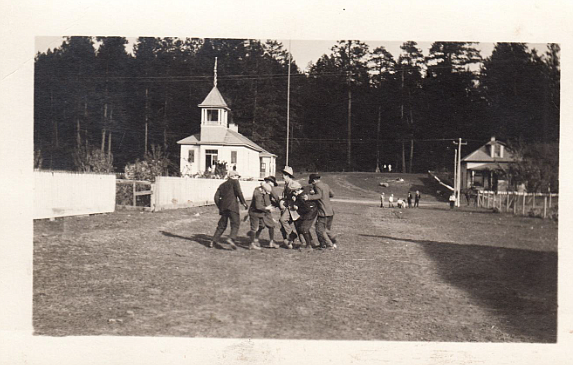 The Bigfork School with students playing. This school was located near where the tennis courts are today. (Credit – Jeff Wade Family Collection)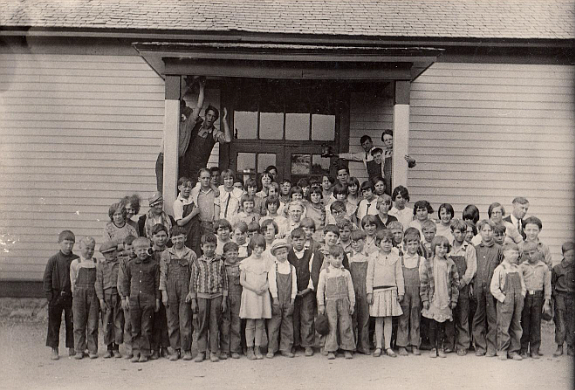 Bigfork School and students around 1929. (Credit – Whitney Family Collection)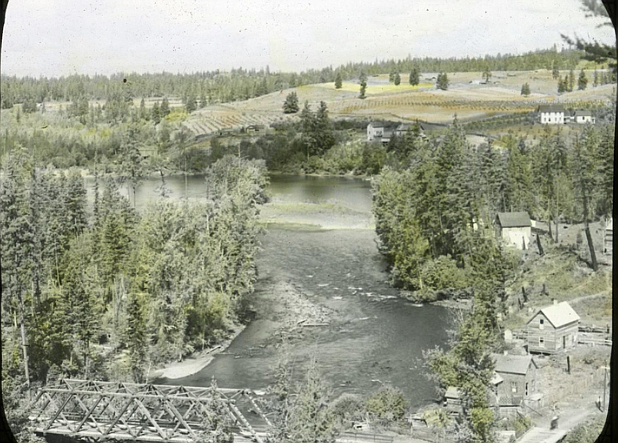 An early view, around 1906, of Bigfork taken my Morton J. Elrod. This view shows the fields, in the distance, owned by E.L. Sliter that would eventually become the home of the Bigfork schools. (Photo Credit – Montana Memory Project taken from the Special Collections at the Mansfield Library – University of Montana)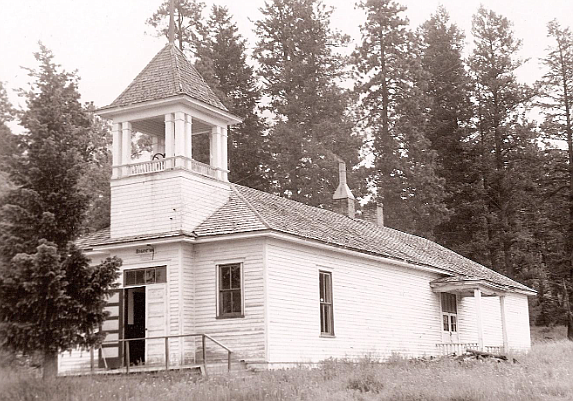 The original Bigfork School likely sometime in the 1960s prior to being torn down. It was used as storage for the Bigfork Summer Playhouse during the 1960s as well. (Credit – Bo Brown Collection)
Previous
Next
by
Kyle Stetler
|
February 8, 2023 12:00 AM
From its founding, and even before that, educating the children of Bigfork and the surrounding areas has always been an important undertaking. In fact, prior to Bigfork even being created in 1902, there were schools already nearby. The Holt School District was formed in December of 1889 and by 1891, had 41 students enrolled. There were also private schools including one on the Elliott Property north of Bigfork and another on Charley Chapman's property on the north end of what is today's Bigfork Stage Road. The Echo Lake school and Mud Lake school were also opened around that same time as well as the Swan River school, which still exists today. The classes at Swan River were initially held in a small log house until 1900 when a formal school building was constructed. Ferndale also had a school, established in 1910, and during the Swan Lake timber sale harvesting, the Somers Lumber Company funded a school at the head of Swan Lake, with a total of 7 students.
Bigfork proper got its first school roughly a year before Bigfork itself became official. In 1901, at what was then the Cheney House, halfway up the hill on what is today's Grand Avenue, Nellie Hopkins welcomed students as the schools first teacher. In 1903, a one room schoolhouse was built but soon became overcrowded. By 1909, with the continued growth of Bigfork, it became necessary to lease the Methodist church and that fall, to the delight of the children, the school even had a brand-new bell installed. In fact, even after the old school was demolished, Superintendent Joe Eslick saved and preserved the bell, which can still be seen in the lobby of the high school today. Back in 1912, however, after some serious debate, the community passed a bond for construction of a permanent school building. L.R. Whitney won the contract and within two months the new structure was ready for students. During those early years, when Bigfork was still a mix of rural and very rural, sometimes homework meant still tending to chores around the house or farm. For example, Carrie Weed Wade wrote in 1918: "School was closed for a potato week for a number of years. The children who lived in the country helped pick up potatoes, and those that lived in town usually got a job doing the same." Something makes me think that potato week didn't count as PE.

For the first couple of decades, however, when Bigfork students got to the 8th grade, their formal education either ended, or they had to travel to Kalispell for high school. And given that travel was not a quick jaunt like it is today, some of the children boarded with families in Kalispell for an extended period of time, or the entire family moved to Kalispell. By 1932, with the country firmly entrenched in the grips of the Great Depression, there seemed little opportunity for a high school to be built. But a chance meeting at the Bigfork Inn between Professor H.A. Veeder, visiting from Wibaux while looking for an east shore cherry orchard to purchase, and Dr. Elizabeth Ireland, the state superintendent of schools, would prove fruitful. The only thing needed was a little spark, provided by none other than school board chairman and Bigfork Inn owner Ernie O'Brien. Professor Veeder asked why so many of the younger Bigfork residents were not in school, to which Mr. O'Brien was able to explain to him and Superintendent Ireland that the costs of sending the children into Kalispell was simply too high for many of the families. That meeting, along with a box of sweet Lambert cherries from the Woods Bay school district chairman, got things moving.
Soon after, the Bigfork and East Shore school districts were combined to broaden the tax base and enough community members saw the benefit of a high school to pass a bond and the new high school opened it's doors by 1934. Professor Veeder took over as the superintendent of Bigfork schools for the next 15 years, his only pay consisting of free room and board at the Bigfork Inn. Another important thing to note is that the land for both schools was donated by E.L. Sliter and have been in roughly the same location since 1910, so talk about continuity! But moreover, it shows the important and deep commitment that Bigfork residents have shown towards education and the children of Bigfork.
---